The Khyber Pakhtunkhwa (KP) government's information department, aiming to counter the effects of militancy and enhance the government's claims to the public while improving local administration's access to better information, has approved the establishment of five new radio stations in tribal districts. These include North Waziristan, South Waziristan, Kurrum, Mohmand, and Bajaur districts. The Bajaur district was the first to see a functional radio station initiating its regular broadcasts. This move was made in April 2020.
Sahil Tanha, who has been working as a host in a program with Khyber Radio Bajaur FM 91.1 for the past two years, shares that nearly 80 per cent of the people in Bajaur reside in rural areas where television culture is relatively less prevalent. Cable TV services are also scarce, and electricity availability ranges from 16 to 20 hours daily, posing an issue. However, radio remains accessible everywhere and is now even on mobile phones. Therefore, radio continues to be immensely popular in these regions, just as it has always been.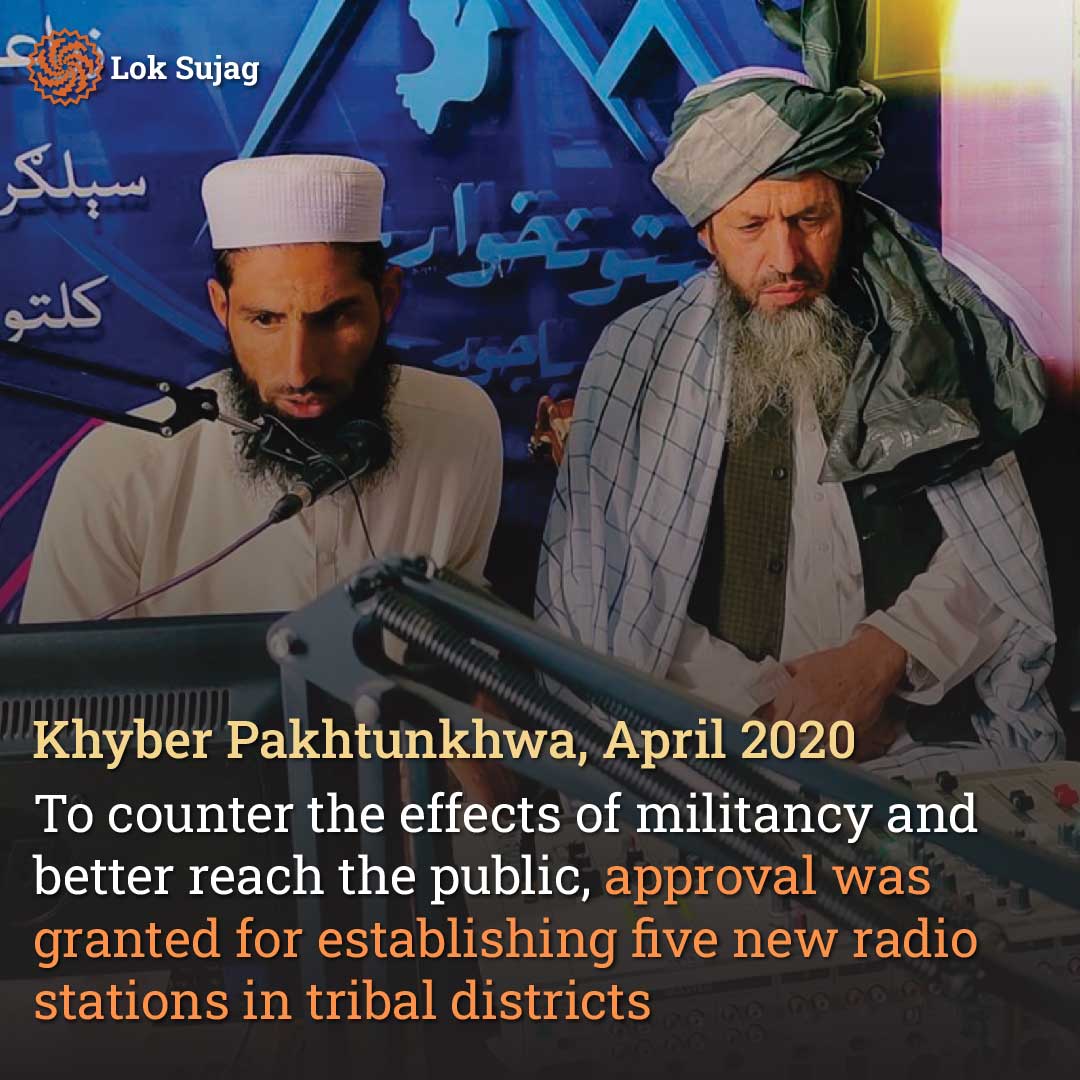 Regarding the inception of this channel, Fitrat Boneri, the Producer and Managing Director of Khyber Radio Bajaur, says that initially, the radio project was underway, and staffing regularisation was a challenge at the beginning. On January 1, 2022, the radio staff was made permanent, a significant achievement. However, since then, the Finance Department has not issued the salaries of the radio's RJ and other staff and operational expenses such as electricity bills, internet charges, and generator fuel.
"We knocked on every door, but neither are these expenses being managed on a regular basis nor are they being provided to us in instalments, which has led us to face severe difficulties. High-ranking administration officials have assured us multiple times that the dues will be paid and the issues of staff and the radio will be resolved. However, a clear timetable for this matter has not been provided yet."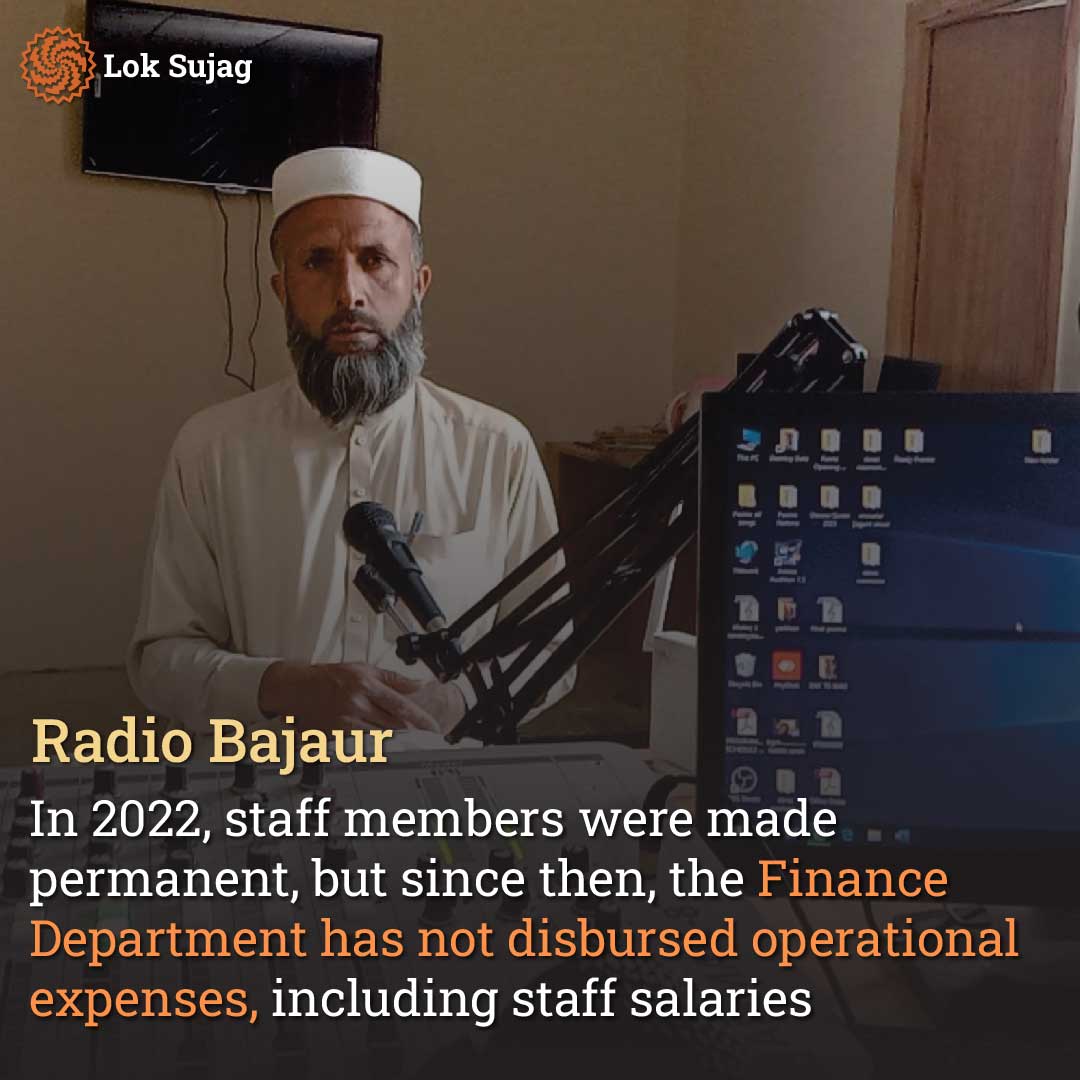 Young journalist Tehseen Allah Khan has been associated with Pakhtunkhwa Radio Bajaur for the past one and a half years. He says that it has been a year since the government has not provided the necessary funds to run the radio. "Each time, hopes are raised that our outstanding dues will be settled this time, but so far, that hasn't happened, which is very disheartening."
Bajaur resident Sheikh Jehanzada states that for the tribal population, Pakhtunkhwa FM Radio is nothing short of a blessing, but the government might intentionally want to deprive the people of this blessing. If the employees are not provided salaries and the operational expenses for running the radio, then this channel might be shut down.
Bajaur politician Sheikh Jehanzada has contested several times in the National Assembly elections. He mentions that he started listening to the radio in 1982 when he was a student of Matric because, during that time, radio was the only means of accessing news in tribal areas like Bajaur. He emphasises that this avenue should continue to provide local people access to information.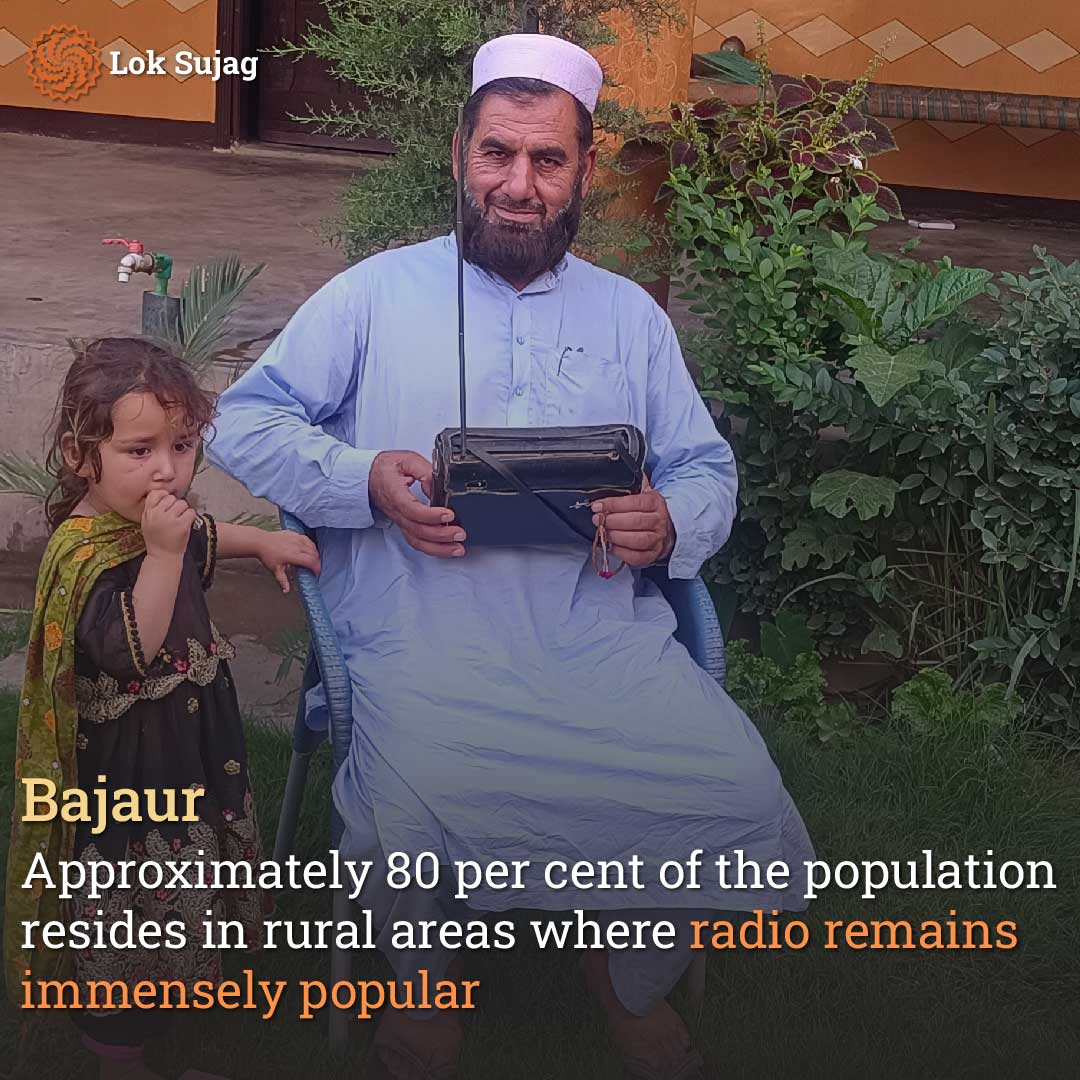 Originally from the Mamond area of Bajaur, Ziauddin Mamond is a dedicated listener of Pakhtunkhwa FM Radio. He says that previously, Pakhtunkhwa FM Radio used to broadcast day and night. "However, now the radio remains off during the evening hours, depriving us of the opportunity to listen to informative programs. There's concern that the entire channel might be shut down."
In the absence of modern means of information like TV channels and fast internet access, the residents of KP's integrated tribal districts still rely significantly on radio as a vital source of information. According to a survey by the UNDP, in the tribal districts, 34 per cent of the population still depends on radio for information and news. To meet this need, international media organisations, government-run radio, military public relations radio channels, and various private radio channels are operating.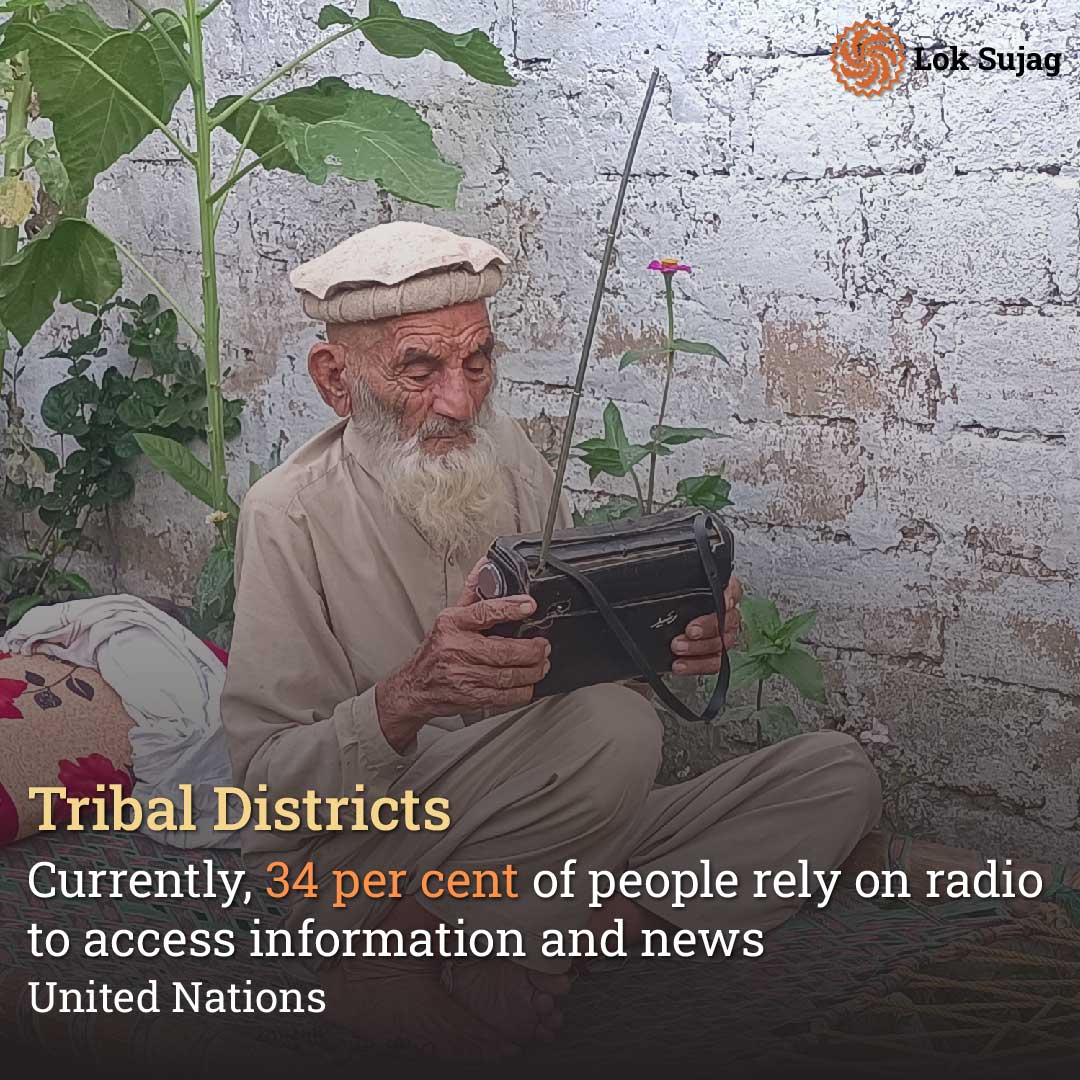 Researcher and Assistant Professor Dr Ilm Khan, affiliated with the University of Swabi, working on the history, utility, and impacts of FM Radio in tribal areas, has published an article titled 'Relevance of Radio in Social Construction in FATA, A Case Study of Bajaur'. He is associated with the marginalised region of Bajaur.
He states that the Jamiat-e-Islami initiated the 'Sounds of Bajaur' radio channel through the Ahya Ul Uloom Madrasa, Yusufabad. The channel broadcasted religious programs throughout the day, gaining instant popularity. Later, in 2007 and 2008, the local leader of the banned Tehreek-e-Taliban Pakistan (TTP), Molvi Faqir Muhammad, started FM radio broadcasts from the Sawai area of Mamond in pursuit of his propaganda. These broadcasts featured details of their activities and disseminated jihadi songs.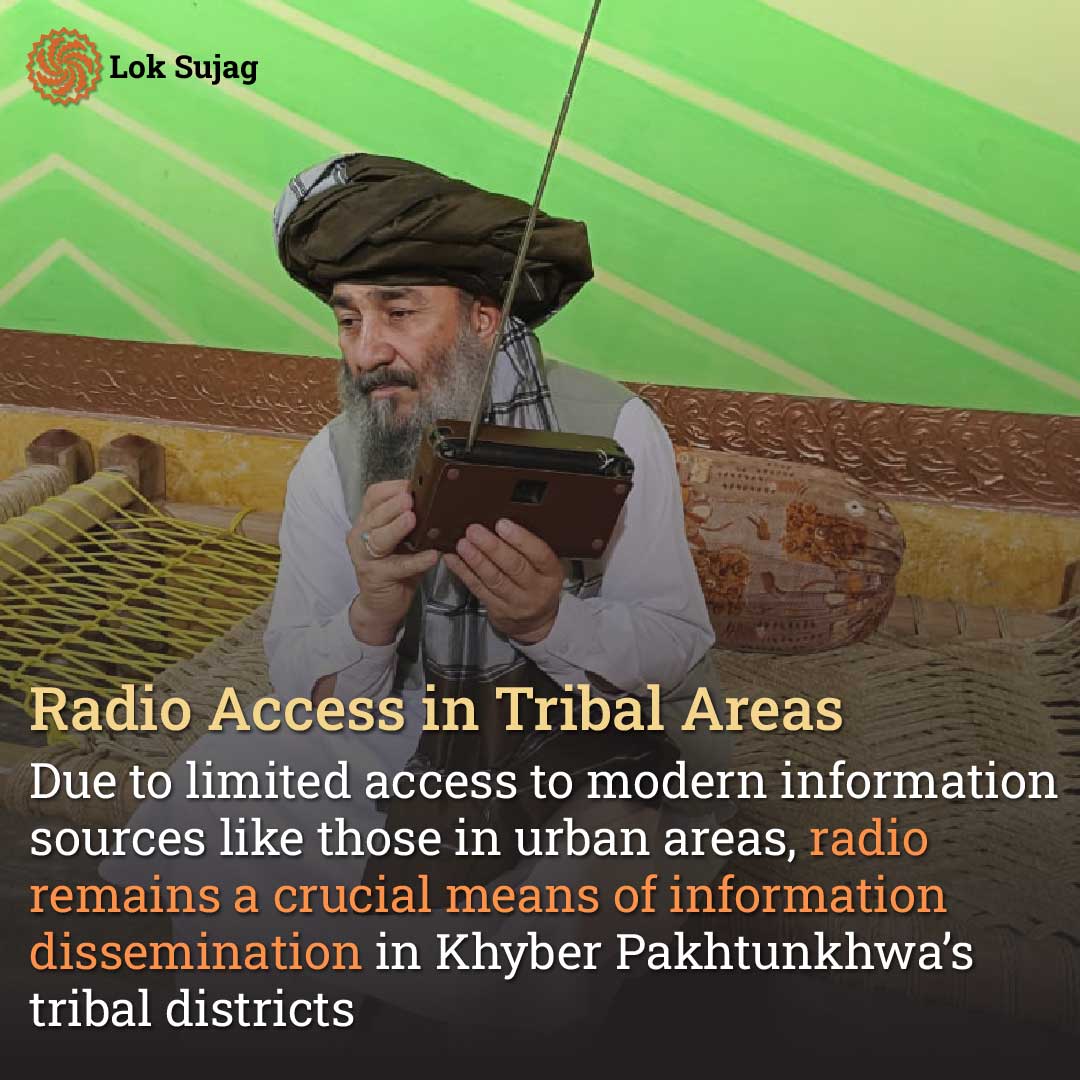 In those days, more than a hundred FM radio channels were operational in Khyber Pakhtunkhwa, through which militancy proponents were advancing their agendas. They used FM radio to engage the public through religious programs and furthered their agendas under its guise.
In 2009, as military operations intensified against militants, a series of shutting down FM radio stations was initiated from their end. Under the military's supervision, 'Radio Aman' (Radio Peace) broadcasts commenced during this period. These broadcasts included daily news, programs on various topics, and live commentary on sports, primarily aiming to reduce the effects of Talibanisation among the public.
Also Read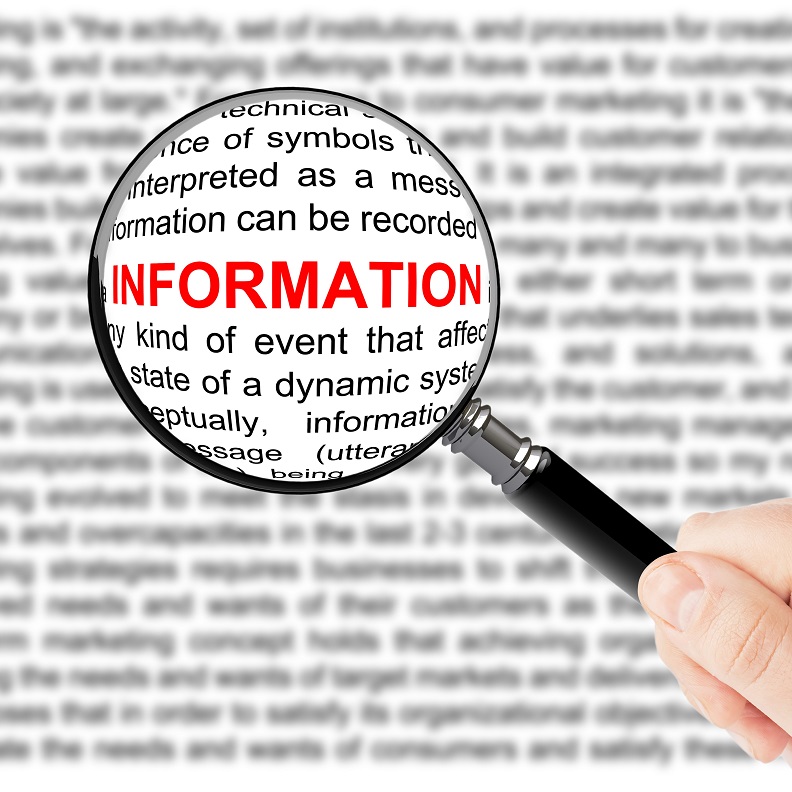 Khyber Pakhtunkhwa's Right to Information Act faces decline in effectiveness, raising concerns over government accountability
In the same year, the provincial government also granted permission to initiate private FM radio channels alongside government radio channels. These FM channels mainly present their programs in the local language, with the aim, as per authorities, to provide free information to tribal communities and to reduce or eliminate the reliance on foreign radio channels in those regions.
These channels provide the public with information, entertainment, and recreation. They cover essential sectors like information, commentary, educational dramas, current affairs, sports, culture, health, education, and other significant areas. Among them, the most popular 'Radio Shumal' (Radio North) was launched in collaboration with the district administration by the Pakistan Peoples Party (PPP) local leader, Syed Akhunzada Chattan.
The establishment of Khyber Pakhtunkhwa Radio is part of this process, and its continuous operation is essential for enabling access to information for the public.