In Khyber Pakhtunkhwa, there has been an unusual increase in tobacco prices, which has brought relief to farmers who were previously distressed due to losses caused by heavy rainfall and hailstorms during the season.
Tobacco farmer Khan Muhammad, who resides in the Gohadi area of Swabi district, explains that until last year, he was earning up to two hundred thousand rupees per acre from cultivating tobacco. This year, although tobacco cultivation was affected by hailstorms, the produce on one acre of land was sold for one million rupees.
Muhammad Ismatullah, Farm Manager at the Pakistan Tobacco Board Research Center in Khan Garhi, Mardan, reported that in 2022 Khyber Pakhtunkhwa produced 64 million kilograms of tobacco. The expected yield for the current year was 85 million kilogrammes (kg), with a 30 per cent increase in demand compared to the previous year.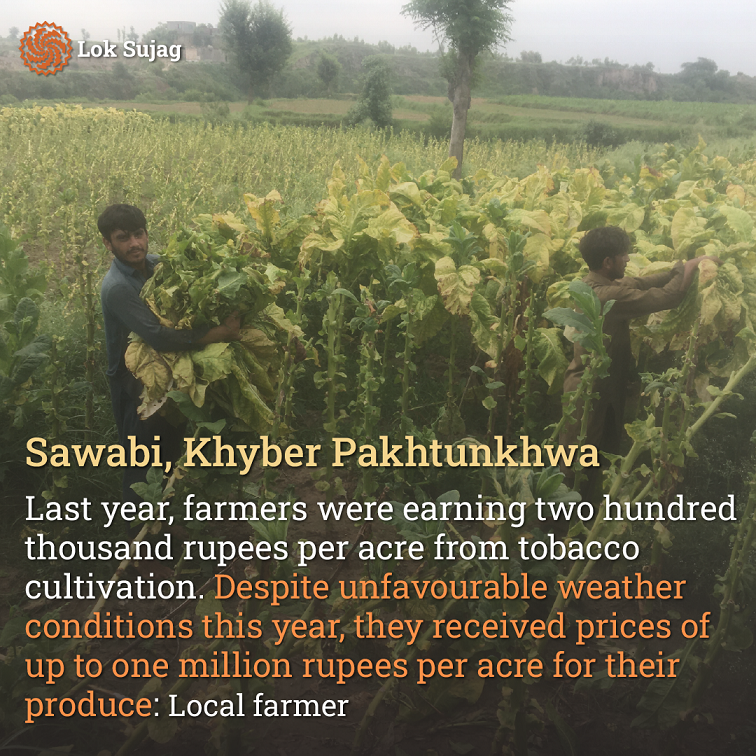 "This year, there was a decrease in production due to weather fluctuations, untimely rainfall, and hailstorms, affecting tobacco cultivation in Swabi, Charsadda, and Takht Bai (Mardan) regions," he said.
In Sher Garh, Mardan, tobacco farmer Muhammad Ali mentioned that the Tobacco Board had set the price at 325 rupees per kg. However, companies initially increased the price by one hundred rupees per kg, gradually reaching 1,100 rupees per kg.
He added that farmers in areas where the crop was saved from natural disasters are earning income ranging from twenty to thirty lakhs from a five-acre cultivation.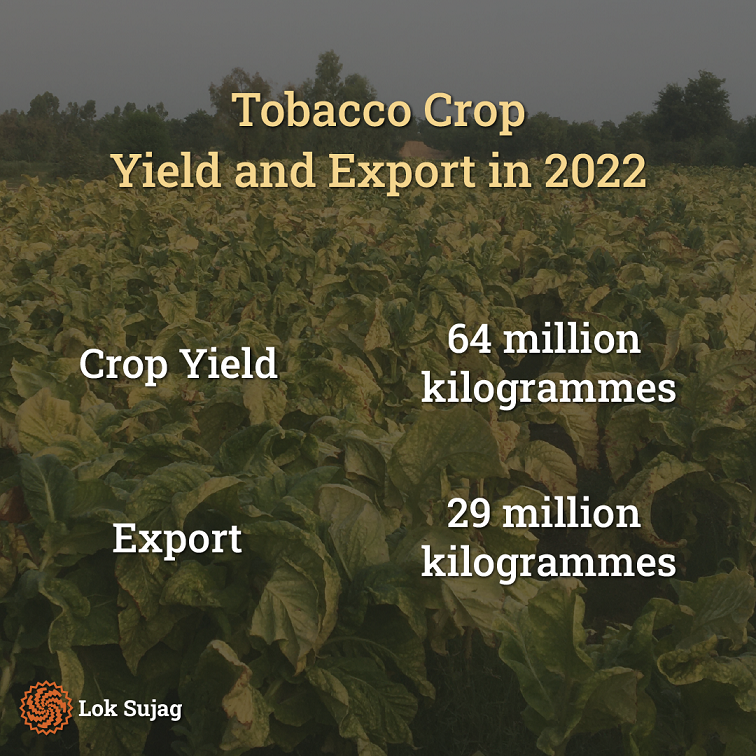 He expressed satisfaction, saying that for the first time, tobacco growers are receiving the correct price for their produce because cigarettes made from this tobacco are sold for thousands of rupees, generating substantial profits for companies.
He also expressed concern that the per-acre rental rates for farmland (taken on lease for cultivation) have already risen with the price increase.
Tobacco cultivation already involves a significant expenditure, and farmers have to work harder compared to other crops. With the rise in land rental rates, the expenses for tobacco cultivation will also increase.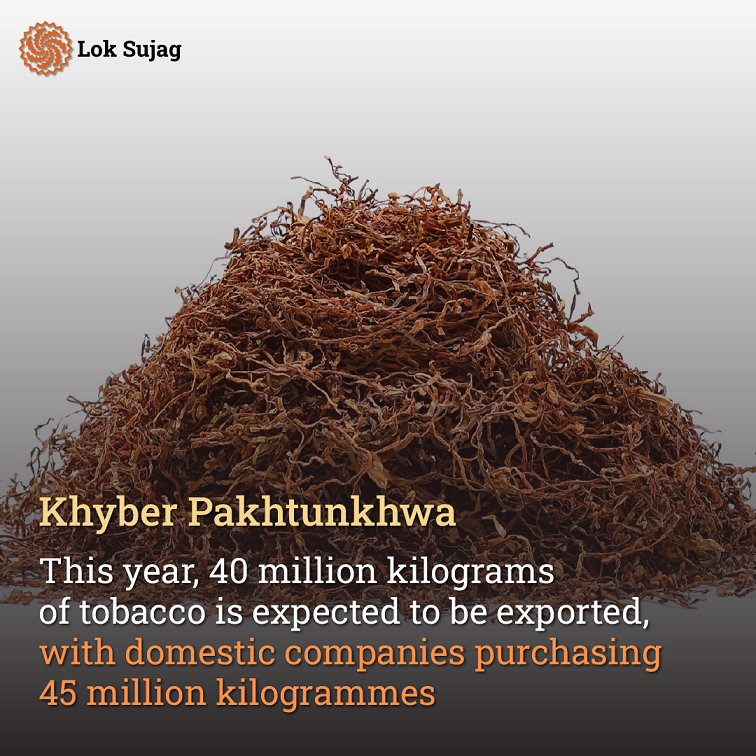 Kamran Khan, Assistant Chemist and Assistant Development Officer at the Tobacco Board stated that this year, tobacco was cultivated on 29,000 hectares in Khyber Pakhtunkhwa, including 15,500 hectares in the plains of Swabi, Charsadda, and Mardan, while in the hilly regions of Mansehra and Buner, it was grown on 13,500 hectares, only five hectares more than the previous year.
While explaining the price increase, he mentioned a higher demand for tobacco this year, leading the Tobacco Board to issue guidelines to farmers to plant tobacco accordingly. Last year, out of the 64 million kg of production, 29 million kg of tobacco were harvested, and local companies purchased 35 million kg for cigarette manufacturing. This year, it is expected that 40 million kg will be exported, and local companies will buy 45 million kg of tobacco.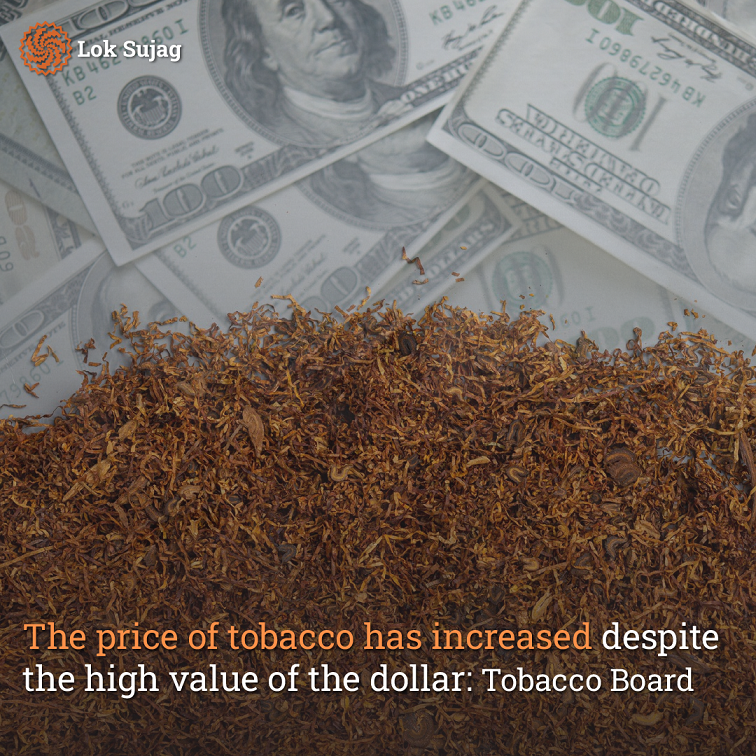 Furthermore, the increase in the dollar's value has also contributed to the rise in tobacco prices. Purchasers took advantage of the favourable exchange rate and began exporting more tobacco, increasing prices.
He mentioned climate change as the third significant factor behind rising tobacco prices. Heavy rains, storms, and hailstorms adversely affected farmers who planted tobacco before March. Regions like Swabi, most parts of Charsadda, Mandani in Mardan, and Takht Bai in Mardan suffered significant losses in tobacco crops due to these weather conditions.
Kamran Khan explained that when there was a decrease in production, competition between local traders and companies intensified. As a result, daily tobacco prices increased from one hundred rupees per kg to a thousand rupees per kg.
The process of determining tobacco prices
According to Kamran Khan, every year in November, officials from the Tobacco Board survey the crop. Afterwards, representatives from farming organisations and tobacco-buying companies gather to set the per-kg price for buying and selling.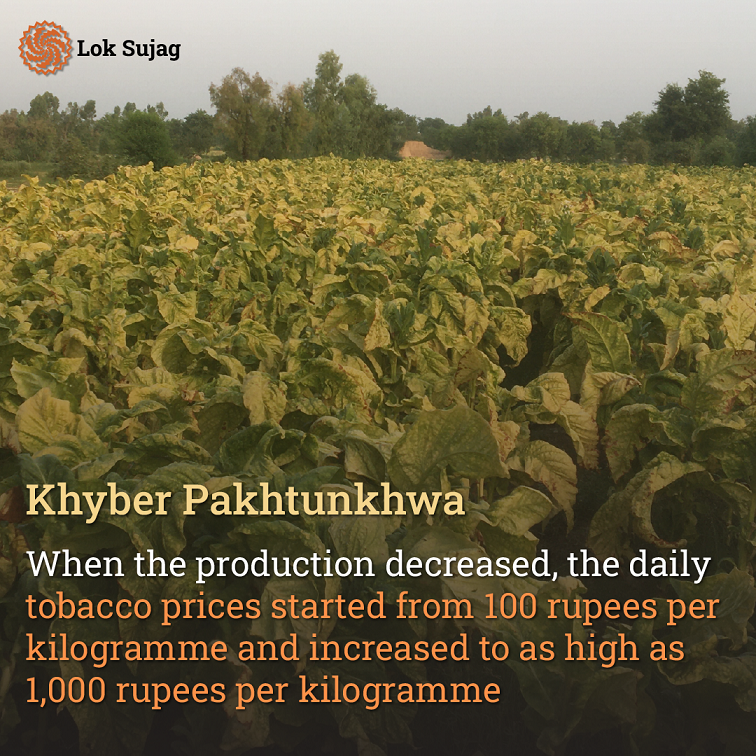 This year, after thoroughly examining all expenses incurred by farmers in tobacco cultivation, a 35 per cent increase in prices was announced. Additionally, a minimum price of 325 rupees per kg was fixed to ensure fair returns to the growers. Companies are bound not to pay less than this price to the farmers, and there is no restriction if they wish to pay more.
Muhammad Ali Daggiwal, the President of the Union of Farmers in the Yar Hussain area of Swabi, mentioned that this year, the high temperature caused the crop to mature earlier than usual. As a result, farmers started selling their production to tobacco companies and local traders promptly.
The price increase has benefited the middleman more than the farmer.
Also Read
Global warming comes home to Upper Dir: 'Climate Change is causing destructive flash floods and deadly landslides'
When local traders and tobacco purchasing companies bought from farmers at low prices in the early days of the season, most farmers were apprehensive due to past experiences, so they quickly sold their crops.
He demanded that companies should be required to settle payments based on the final purchase rates for those who purchased tobacco from farmers at lower prices.
Kamran Khan cautioned the farmers that they should continue cultivating tobacco in the coming year per the Tobacco Board's instructions. This is to prevent a scenario where farmers increase tobacco cultivation upon seeing the current prices, leading to decreased demand and higher supply, which could result in losses.
He also expressed concern that if farmers expand tobacco cultivation after seeing the prices, it might lead to a decrease in the cultivation of other crops, including wheat and vegetables.
Nawaz Shah, the President of the Farmers' Association in Khyber Pakhtunkhwa, mentioned that farmers, driven by the profitability of tobacco, may cultivate this crop in larger areas in the future. To curb this trend, he urged the government to provide farmers with subsidised fertilisers and loans for wheat and other food crops to ensure their production is not affected.