Jaber Hussain of Laiyyah works as a lab assistant at Muzaffargarh Thermal Power Station and has lived with his wife and two children in the station's colony for the past twenty years.
After a few years of employment, spots started appearing on his face. At first, he did not pay much attention to it, but when the spots started to grow, he consulted a dermatologist for treatment.
After conducting some tests, the doctor said that these marks were caused by the consumption of unclean water or environmental pollution and would never go away.
During the treatment, Jaber Hussain realised that the thermal power station was responsible for the pollution that caused his problem.
Dr Nida Yasir, who treated Jaber Hussain, said that this disease is called Dermatitis, which damages the skin. As a result, fluid-filled blisters, inflammation, and red, itchy rashes appear on the body.
Three thermal power stations function in the Muzaffargarh district under Independent Power Producers (IPPs), Generation Companies (GENICO) and WAPDA. All three were planted in the last two decades of the last century.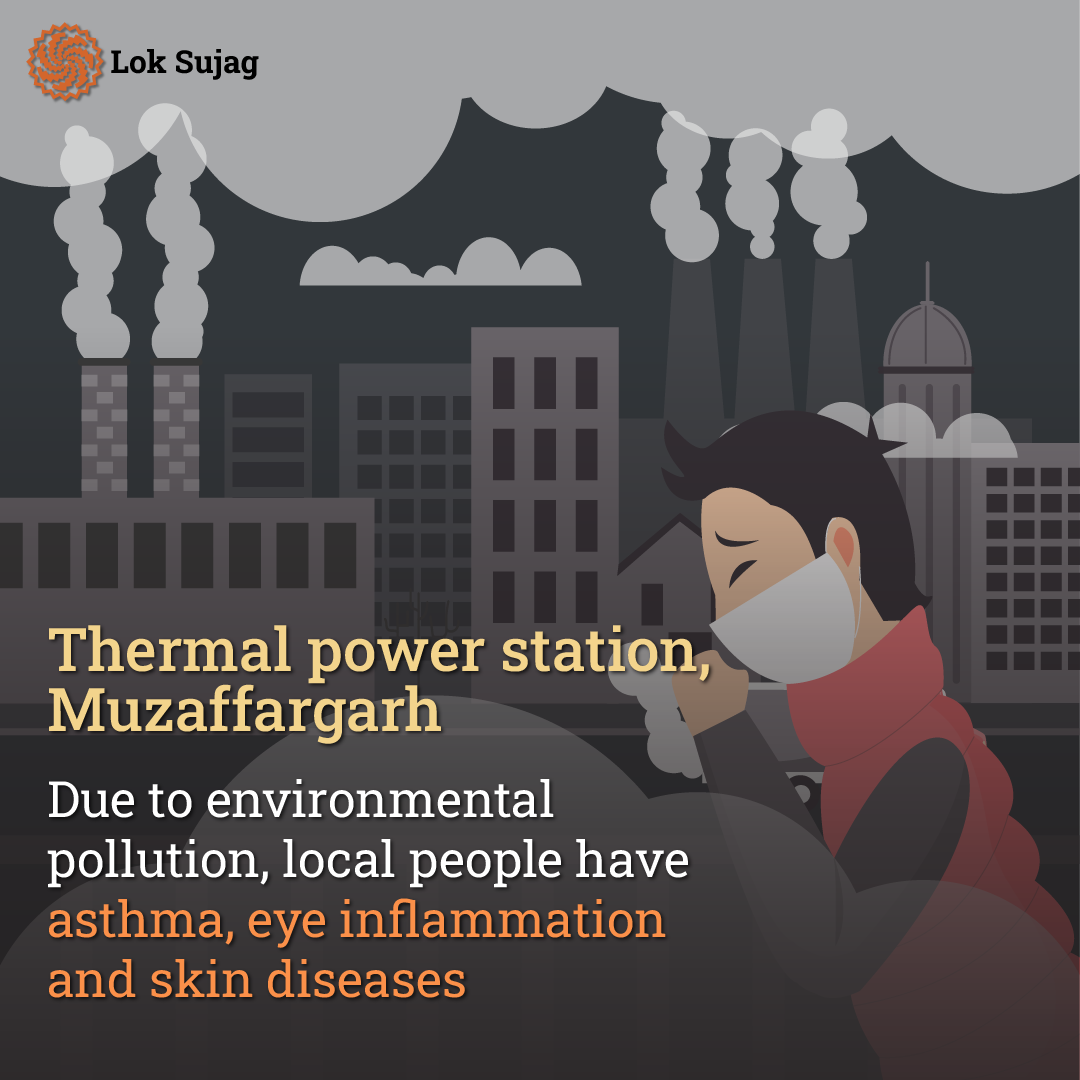 The largest thermal power station in the district was installed at CAPCO Tehsil Kot Addu. Its production capacity is 1600 MW. It uses gas, furnace oil and diesel as fuel but has been closed for almost a year due to the non-renewal of a contract with the government.
Another thermal power station is AES Lal Peer, which has a production capacity of around 730 MW and generates electricity from furnace oil. This power station is currently generating 360 MW of electricity.
The Lal Pir Thermal Power Station management claims they fully follow the environmental guidelines.
The third and public sector-run Muzaffargarh thermal power station, where Jaber Hussain works, is just four kilometres from the city. Electricity generation from this power station began in 1997.
This power station is spread over about 1,300 acres, including power plants, power installations and residential colonies. This thermal power has created many other opportunities at the local level, employing around 2,000 people.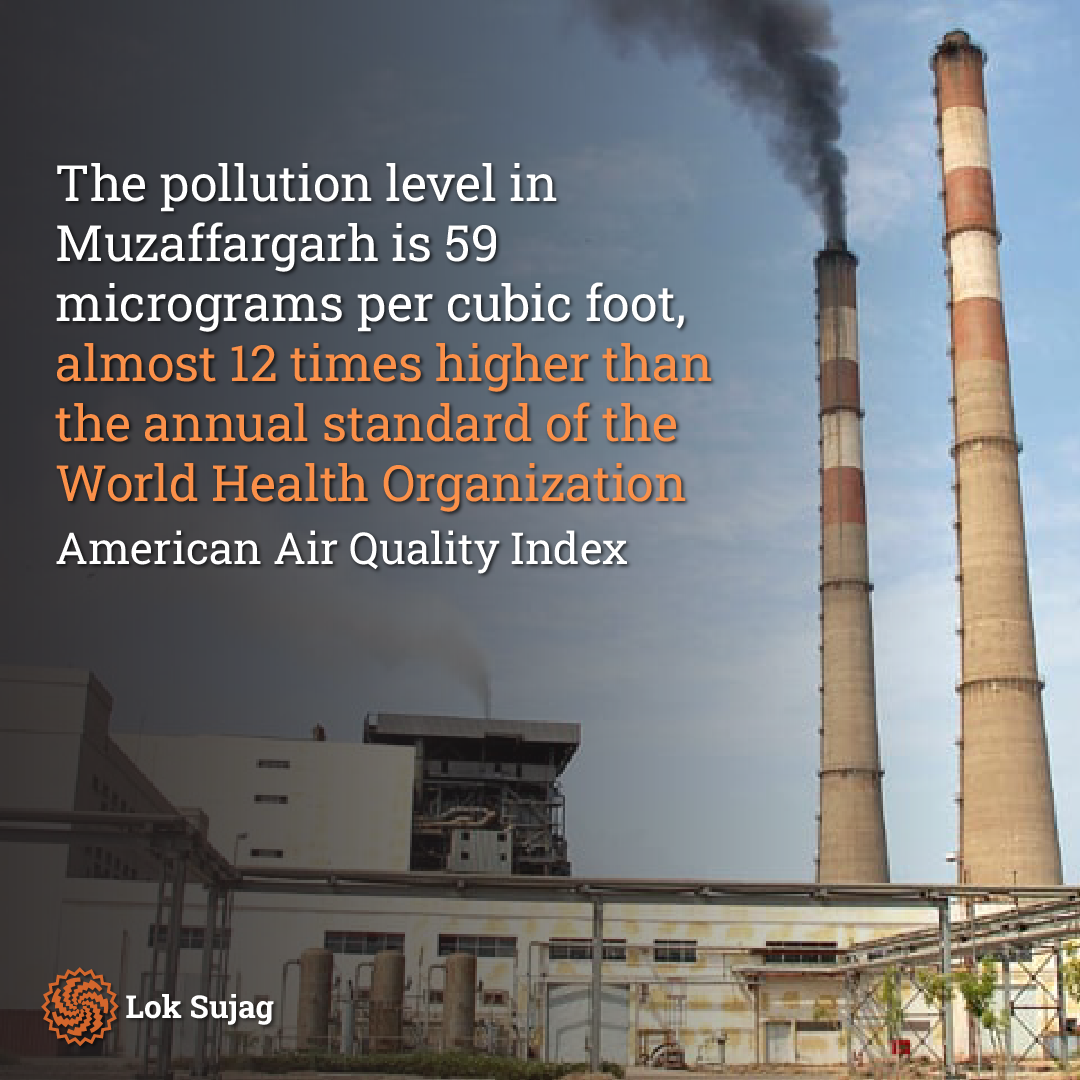 Muzaffargarh Power Station consumes 6,000 tons of furnace oil when running at full capacity. Its three big chimneys keep spewing smoke into the air day and night and this pollution has enveloped the entire city.
According to the American Air Quality Index, the pollution level in Muzaffargarh is 59 micrograms per cubic foot, which is almost 12 times higher than the World Health Organization's annual standard.
Thermal power is not the only cause of air pollution here. Rather, large-scale water use and subsequent discharge of polluted water create separate problems. The result is that clean water is no longer available in the city, even at a depth of six hundred feet.
Also Read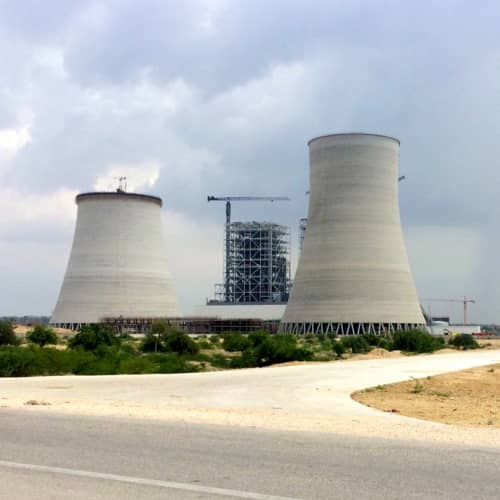 Coal-fired power plants in Thar: 'Our lands are being taken away and our way of life is being changed'۔
According to the Government Water Testing Laboratory report, the TDS (Total Dissolved Solids) pollution level in Muzaffargarh's underground water is between 1,000 and 1,360 ppm (parts per million). According to experts, the TDS rate in potable water should be between 600 to 900.
In this regard, the TPS administration says there was less environmental awareness when thermal power was installed. That is why the government did not pay attention to the treatment plants and neither did the people installing the units.
However, Chief Engineer TPS Sheikh Akram says that the three big chimneys of thermal power have been placed at the highest level so that the impact of smoke on human life is minimal.
However, the health of the local people is being badly affected by the smoke in the air and the polluted underground water. Asthma, eye inflammation and skin diseases appear here in every region.
Dr Mehek Rasool, head of the Urgent Diseases Department at District Hospital Muzaffargarh, says that every tenth patient who comes to the hospital is suffering from acute diseases due to unclean water, which can be estimated from the fact that in the last three years, 876 such patients have been admitted to his ward.