In Sialkot district, some candidates are worried about the reduction of one provincial constituency. This is because the population of the abolished constituency has now been divided into other provincial constituencies of Pasrur, Daska, and Sialkot. However, objections have also been filed.
In 2017, the population of Sialkot district was 38,94,938. In the last election, there were five constituencies of the National Assembly (NA) and eleven constituencies of the Provincial Assembly.
In the recent census, the population of Sialkot district is 44,99,394. According to the Election Commission of Pakistan (ECP), a provincial constituency in Punjab forms a population of 4,29,929.
Thus, five NA seats in Sialkot have been retained in the new constituencies, but one provincial constituency has been reduced. Now, there are ten provincial constituencies here.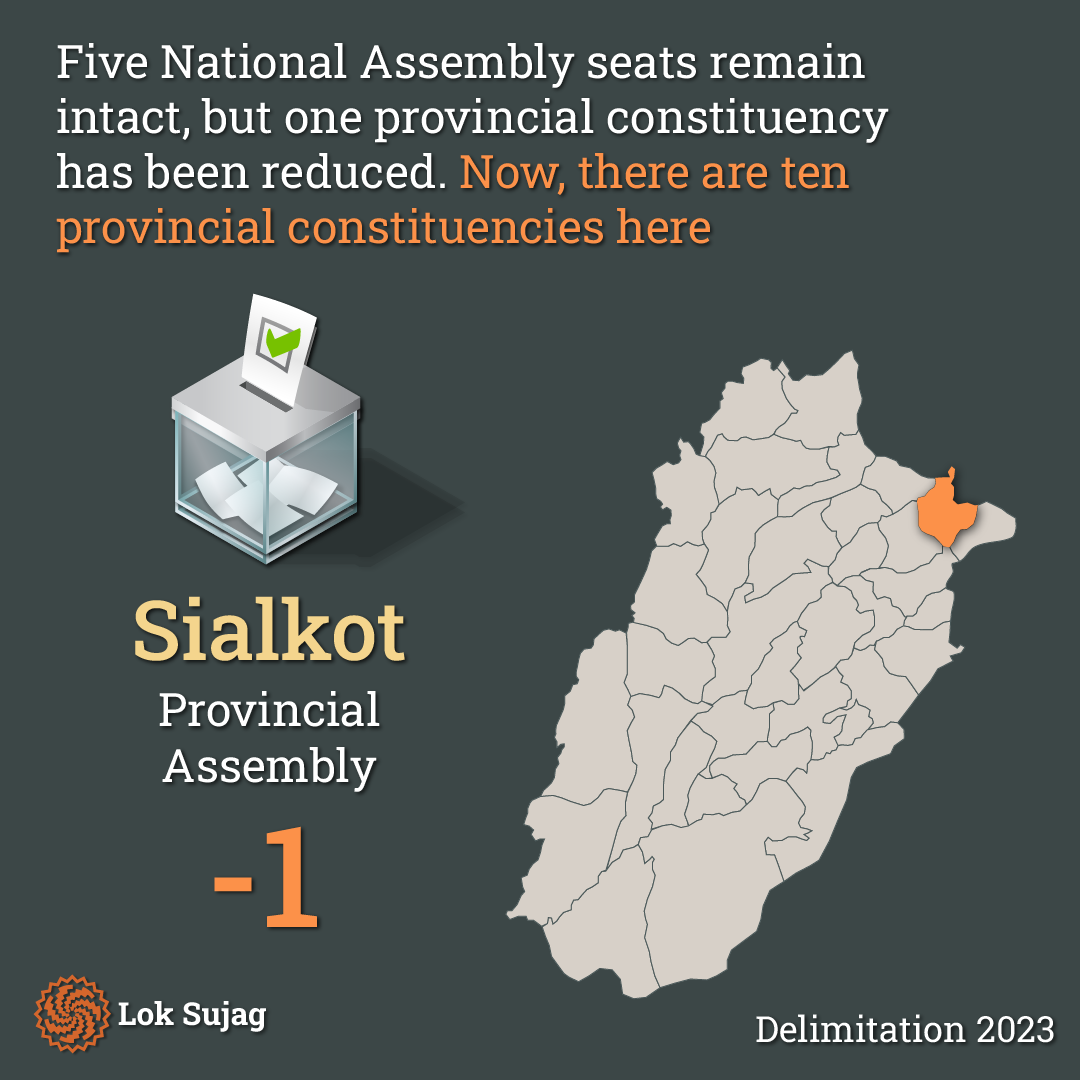 Earlier, national constituencies in Sialkot were from NA-72 to NA-76. Now, serial numbers have changed from NA-70 to NA-74.
Similarly, the numbers of the provincial constituencies were from PP-35 to PP-45, which have now been arranged from PP-44 to PP-53.
Under the new constituencies, Constituency PP-44 will consist of Sialkot One, Town Committee Kotli Loharan (Charge No 8), Kotli Loharan Legislature, Phuklian, Chapar Khas Legislature and Patwar Circle Saroba of Kambaranwala Legislature.
Constituency PP 45 Sialkot 2 consists of legislative constituencies Gunah Kalan and Sialkot 1, Patwar Circle Rachara and Matteke Nagra of Legislative Constituencies Buddha Goraya of Daska Tehsil and Patwar Circle Perochak of Mirza Goraya Legislative Constituency.
Constituency PP-46 will consist of Sialkot III, Sialkot Cantonment, Charge No 11 to 16 of Metropolitan Corporation Sialkot, and Charge No 17 of Circle No.1.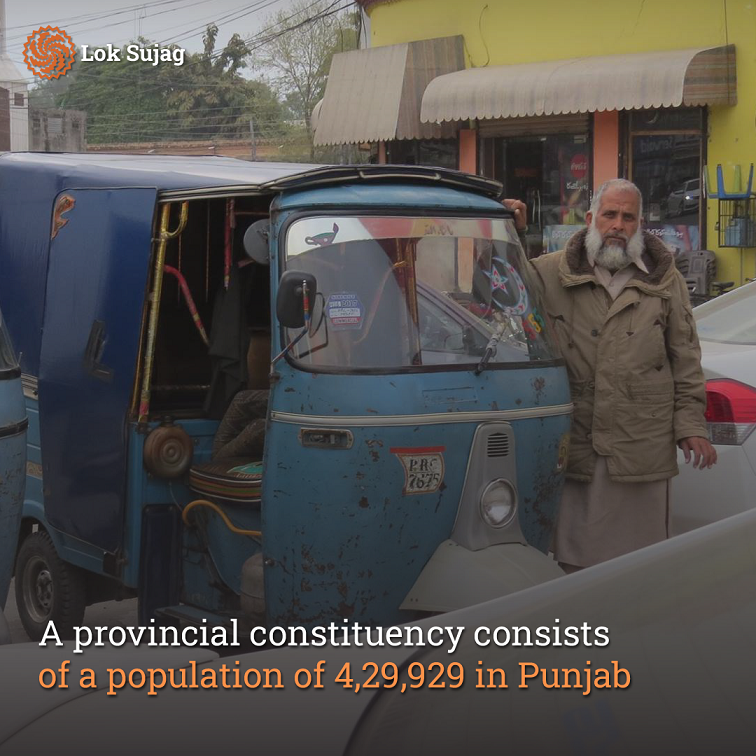 PP-47 Sialkot Four includes four parts No 9, 10, 18, 19, and Circle No 1 of Corporation Sialkot except Charge 17 and Patwar Circle Bhagwal No 2 and Adalat Garh No 1 of Tehsil Sialkot two legislation.
Constituency PP-48 Sialkot Five includes Town Committee Chondah (Charge No 9) of Tehsil Pasrur, Chobara legislation, except Patwar Circles Nagwal 1, Nagwal 2, Charwah 1 and 2, Pindi Bhago.
Similarly, Pasrur 1 constituencies except Patwar circles Jajopur and Kapur Pur, Pasrur constituencies 2 except Patwar circles Balgan and Kachian Bhattian, Patwar circles Basiwala of Kalaswala legislation, Bhalir 1, Bhalir 2 and Faqiranwali population were also made part of PP-48.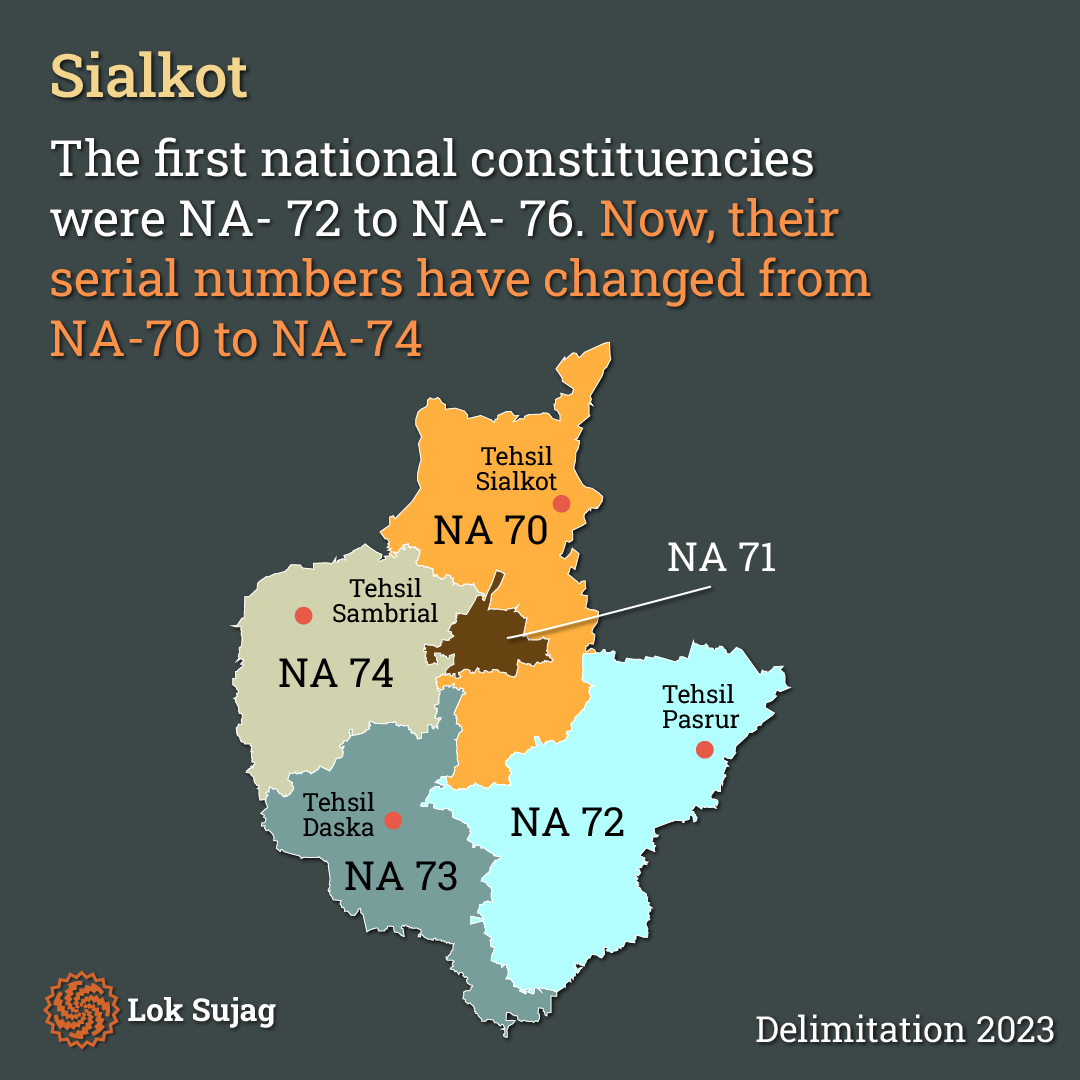 Constituency PP 49 Sialkot VI includes Municipal Committee Pasrur (Charge No. 10), legislative constituencies Chobara, Chonda legislation, Pasrur 1, Pasrur 2, and the rest of Kalaswala (except the population included in 45, 46, 47 and 48). Apart from these, Kangra and Sukanwind Constituency, except Patwar Circles Maloke 1, Maloke 2, Qila Sobha Singh 1, Qila Sobha Singh 2, and Ghatialian are also part of this circle.
Constituency PP-50 Sialkot 7 includes the constituencies of Daska tehsil Wadala Sandhwan, Budha Guraya constituencies (except the Patwar circles included in PP-45), Daska 1 constituencies Patwar circles Raja Ghumman, Ghalotian Khurd, and Kalan, Dhamonke.
Apart from Patwar Circle Odowar and Alumehar of Mirza Guraya Constituency, Patwar Circle Malook 1 and 2 of Constituency Sokanwind, Gaithian Qila Sobha Singh No 1, 2, and Ghatialian have also been given to the same constituency.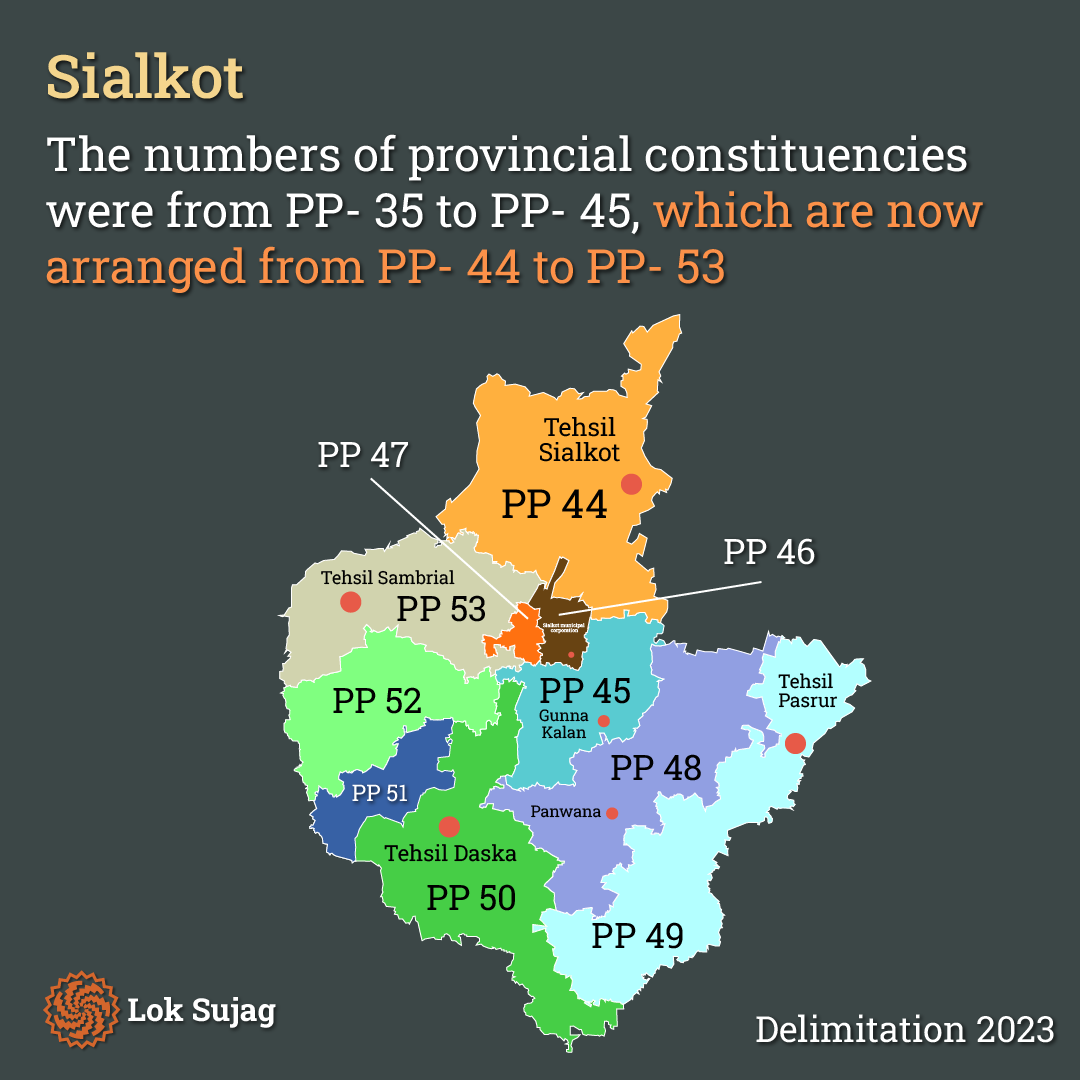 PP-51 Sialkot- 8 includes Municipal Committee of Daska Charge No 7, 8 & 9, Town Committee Jamke Cheema Charge No. 6, Daska legislation except Patwar Circles (Raja Ghumman, Galotian Khurd, and Kalan, Dhamu, Ladhe), Daska 2 legislation except Patwar Circles Goojrah No 1 & 2, Sandhanwala, Mitranwala No 1 & 2, Bamban Wala, Bhadewala, Mirza Guraya Legislature except Patwar Circles Odwar, Alumehar, Ghoinke, Nagaure, and Perochak.
Constituency PP-52 consists of Sialkot No Patwar Circles Gojra No 1 and 2 of legislative Constituency Daska 2, Sandhanwala, Mitranwala No. 1 and 2, Bamba Wala, Bhade Wala, and Mirza Guraya Patwar Circles of legislative Constituency Ghoinke, Nagaure, Patwar Circle of Daska 1 Ladhe and The Municipal Committee Sambrial.
Town Committee Bhopalwala Charge No. 5, Gujra Legislature, Sambrial Legislature except Patwar Circles Habibpur, Kaluke, Kuthiala, Majra Kalan, Chouke Kalan, Randheer Kopra, Pukigarhi No 1 and 2 are also part of this constituency.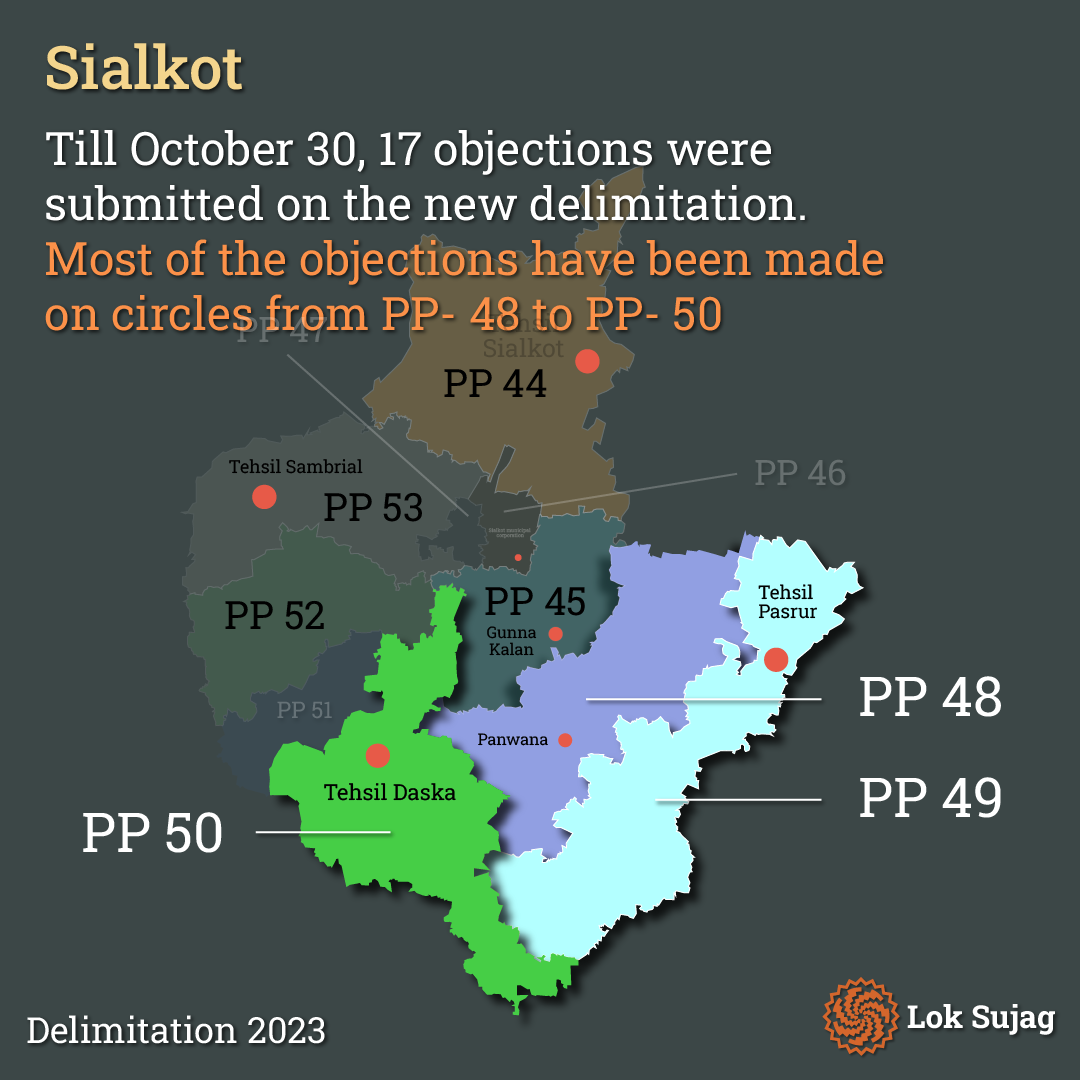 Constituency PP-53 Sialkot-10 includes Sialkot Tehsil area Kambaranwala Constituency except Patwar Circle Saroba, Sialkot 2 Constituency except Patwar Circle Bhagowal No 2, Adalat Garh No 1, Patwar Circles of Sambriyal Tehsil Habibpur, Kaluke, Kuthiala, Majra Kalan, Chouke Kalan, Randheer Kopra, Pakki Garhi No 1 and 2.
MPA Bao Muhammad Rizwan from erstwhile provincial constituency PP-41 (ex) and MPA Chaudhary Naveed Ashraf from PP-43 (ex) were successful. Most of the areas of these two constituencies have been merged in the new delimitation.
They confront each other in the PP-50 and patronise large factions in rural areas. Chaudhry Naveed Ashraf won on the Pakistan Muslim League-Nawaz (PML-N) ticket, while Bao Rizwan won on the Pakistan Muslim League-Q (PML-Q) ticket. However, now he is in Pakistan Tehreek-e-Insaf (PTI).
Seventeen objections were submitted to the ECP on the new constituency of Sialkot till October 30. Meanwhile, PP-48 to PP-50 received most of the objections. Two of these petitions have come in defence of the delimitation of PP-48 and PP-49.
Also Read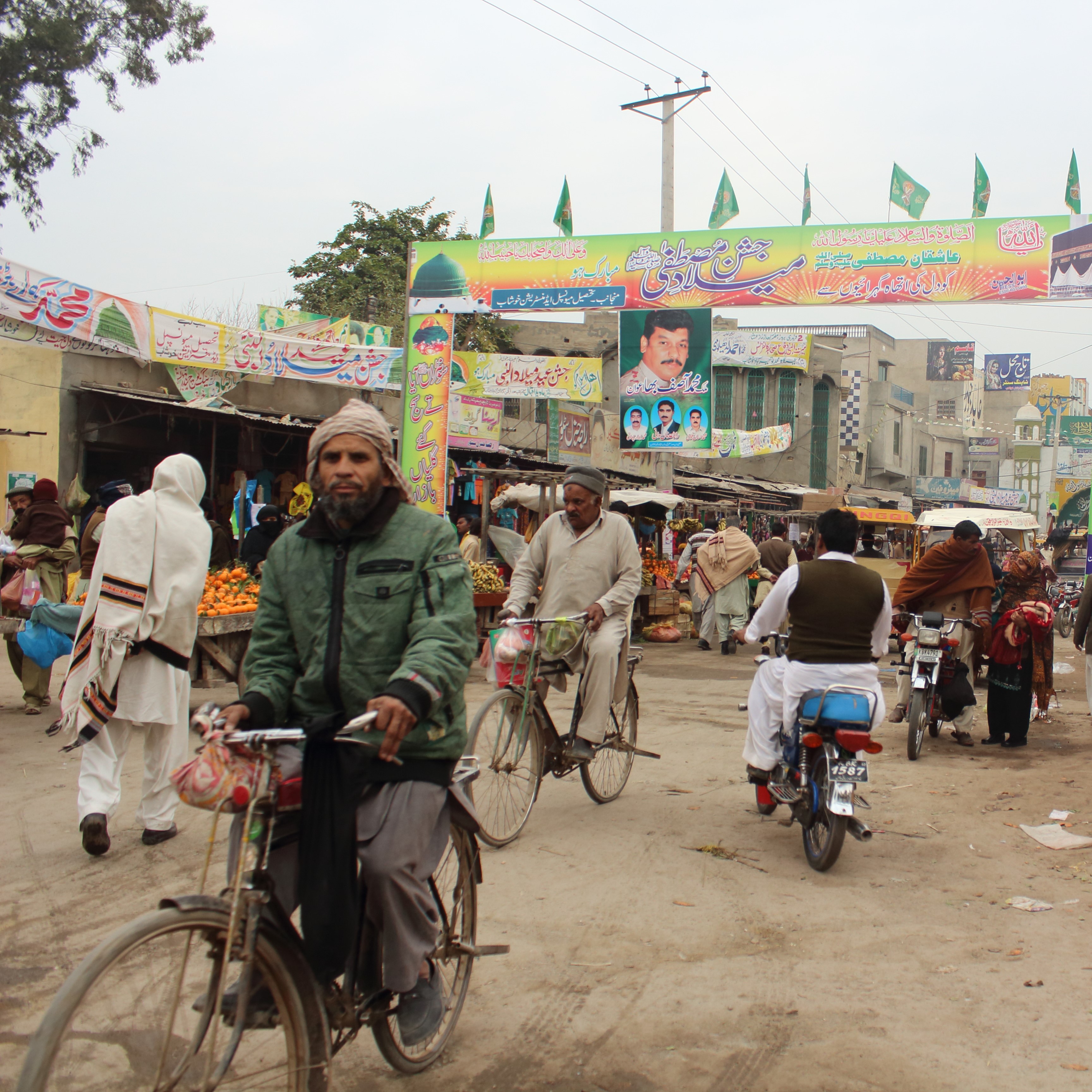 Addressing past oversights: Khushab sees boost with added provincial assembly seat
PML-N General Secretary Kashif Niaz submitted a notable objection to elections.
The petition has requested the restoration of an abolished seat in Sialkot.
The petition contended that the Bureau of Statistics did not correctly guide the ECP on Population Statistics. Therefore, the 11 provincial seats of Sialkot district should be retained by re-evaluating the data.
If, after hearing the objections in the ECP, the new constituency retains PP-50, it will be declared as a major political battle of the provincial constituencies of Sialkot.
Chaudhry Naveed Ashraf is hopeful for the revival of the 11th constituency. He says he has filed appeals, and the decision will be pronounced on November 30.
Bao Rizwan tells Lok Sujag that he belongs to the Parvaiz Elahi Group and is also a candidate for the PTI ticket from the National Constituency. Irrespective of the constituency, the election has to be fought in all circumstances. "People who have problems are making appeals; I have no tension."
Umar Farooq, who keeps a close eye on local politics, says that urban provincial constituencies have not been affected much in the new constituencies of the district, but there has been widespread vandalism in rural constituencies.