Twenty-five-year-old Sarah* hails from a backward area of Chakwal district. She works in a private company based in Rawalpindi and is the sole breadwinner after her father's death.
Sara lives in a private hostel on Sixth Road in Rawalpindi and has changed hostels twice in the last eight months, but her problem remains the same.
In the third hostel, too, male staff send messages to her asking her to meet alone and become friends.
She says that she has spoken to the hostel warden several times but they have taken no significant action.
She says she doesn't have the resources to take action against harassment. She further says that she has been threatened with dire consequences in case she tells anyone.
She says that she is now thinking of leaving her job and going back.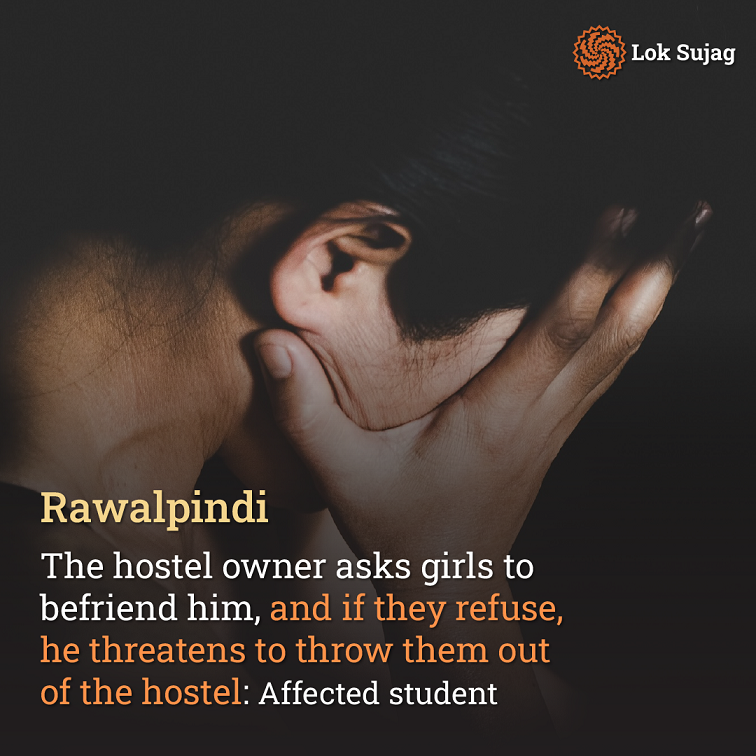 Noor* from Haripur has lived on Seventh Road in Rawalpindi for the past year. She works in a call centre.
She says that the change of the hostel's owner has added to her problems.
Noor says that the owner has set up an office in the hostel itself, where drunken men keep coming and going. "These people sexually harass the hostel girls. The hostel owner asks girls to befriend him, and if they refuse, he threatens to throw them out."
Advocate Iman Fatima of the District Bar Rawalpindi says that after going through such experiences, women remain silent due to the potential dangers. She urges the affected women to be brave.
"Even educated women are not aware of the laws that provide protection. If they face any such experience or intimidation, they should raise their voice against it."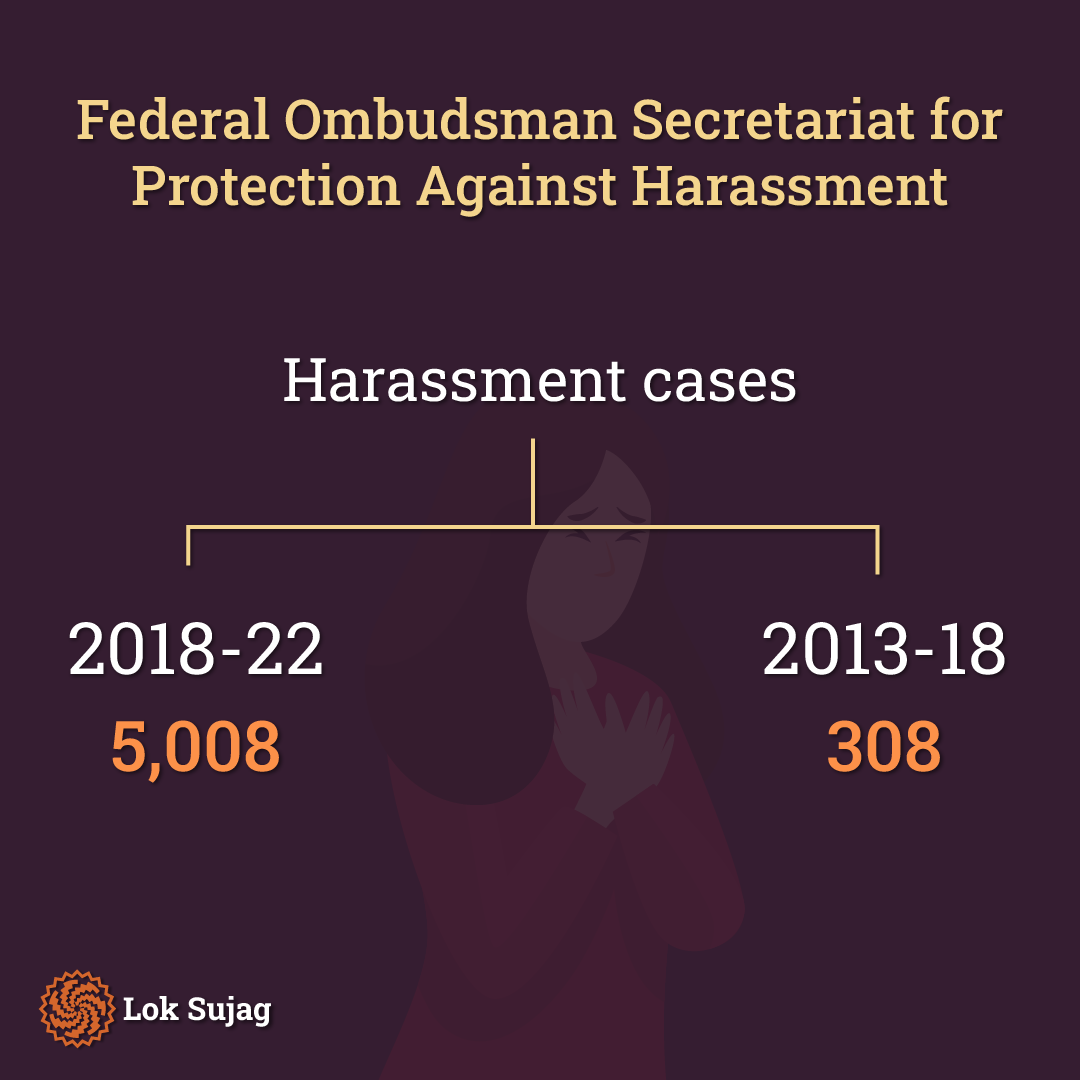 A women's desk officer at a police station in Rawalpindi, Aasia Batool, agrees with Iman Fatima. She says that most women are not aware of their rights and laws, which is the main reason why incidents of harassment are less reported.
Abbas Zakir works as a PS at New Town Police Station, Rawalpindi. He says that although such incidents are common, the police station receives very few cases.
Muhammad Tauqeer, who works at the same police station, says that in the last two years, 11 cases of harassment were reported in his police station, six of them were withdrawn, and three criminals settled in the police station. Only two cases reached the courts.
According to the 2022 report of the Federal Ombudsman Secretariat for Protection Against Harassment, 5,008 harassment cases were registered between 2018 and 2022, while from 2013 to 2018, 398 cases were registered.
According to the Federal Ombudsman Secretariat, 32 per cent of women are victims of violence in gender-based crimes, while 40 per cent of married women are also harassed.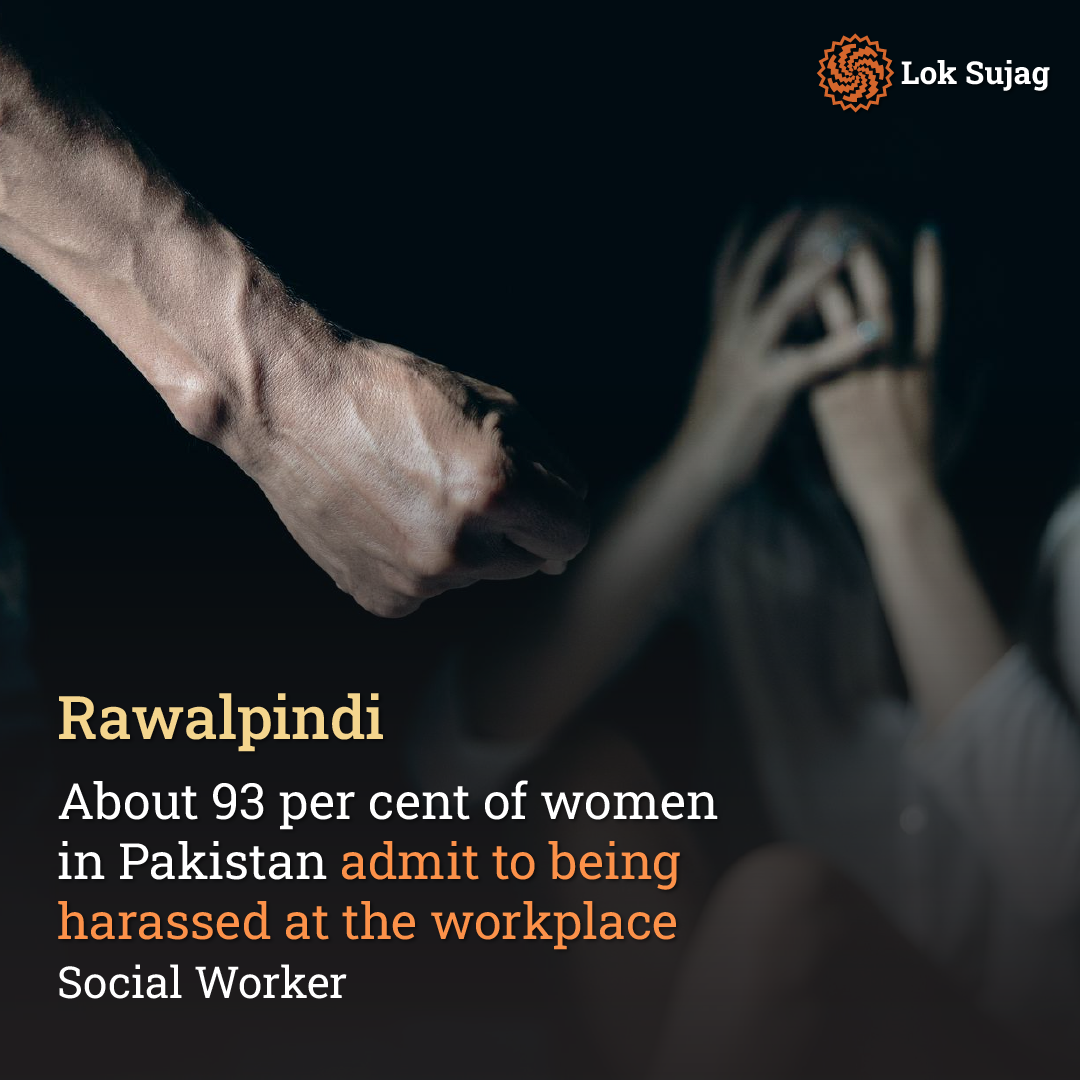 According to an estimate, the number of unreported cases may be much higher.
Iman Fatima says that in 2010, Parliament passed the Act Against Harassment at the Workplace. In January 2022, the Parliament of Pakistan amended the 2010 Act. The new law includes a broader definition of harassment. This law protects women against harassment and violence. It facilitates the process of filing complaints and also provides for the prevention of retaliation by the accused.
Advocate Khansa Rasool of High Court Bar Rawalpindi says that there are different ways to file a complaint in case of sexual harassment.
She says that the victim should talk to the manager or owner of the place where she works or lives; if the problem is not resolved there, the second option is the police station or online complaint portal.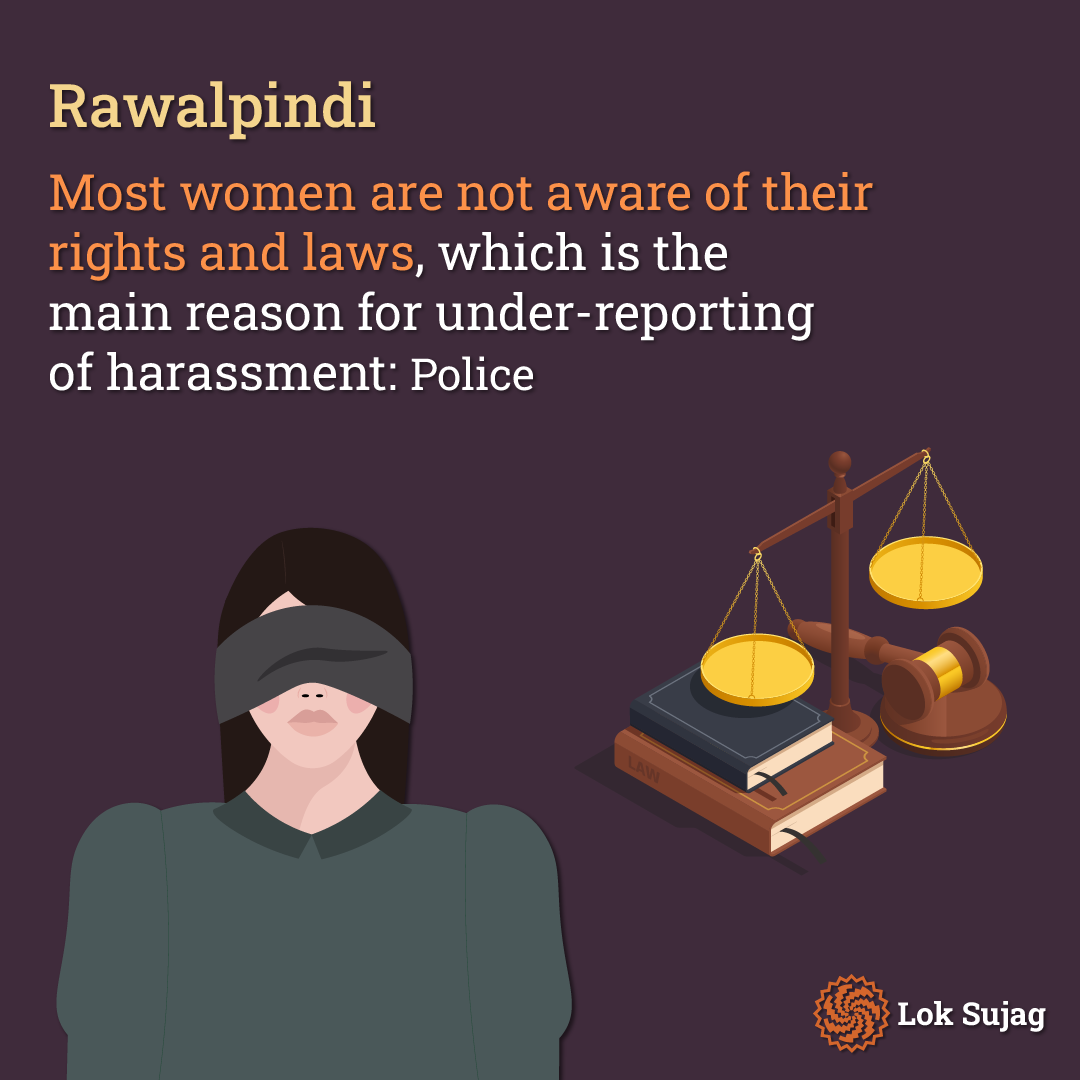 "In case of a complaint on the portal, the police or concerned members will contact her themselves. The victim can also go to the police station herself and file a complaint."
A case will be registered under Section 509 of the Pakistan Penal Code 1860 and the person responsible for the offence may be punished with five lakh rupees or imprisonment of up to three years or both.
Fatima*, a hostel resident in Chandni Chowk, Rawalpindi, says that in many cases, nothing is done even after complaining to the owner.
Fatima is doing an internship in a hospital. She says that many times when she was returning from night duty, boys near the hostel gate surrounded her, but there was no one to stop her as there was no hostel guard. She says that she had reported this to the hostel owner, but instead of keeping a guard, he was evasive.
Also Read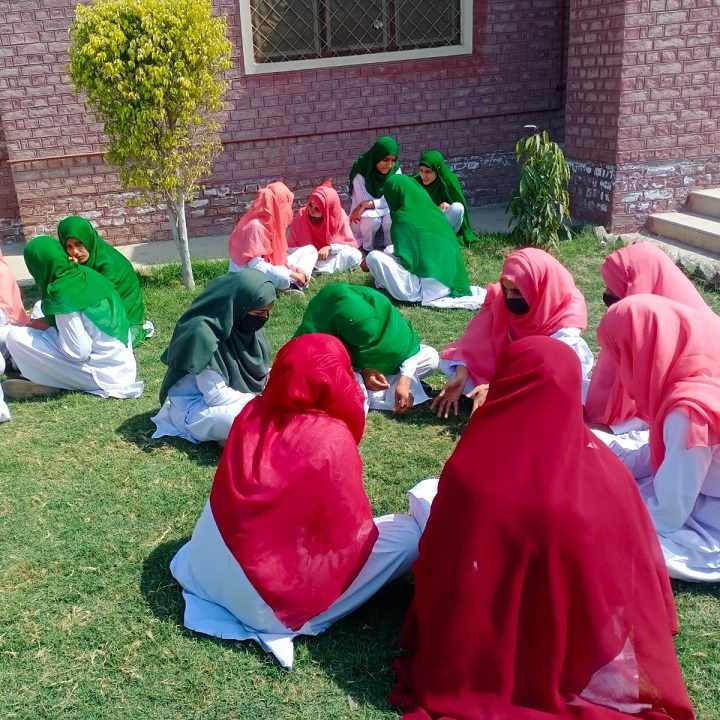 kundian Girls' Degree College Students grapple with harassment, fear, and vulnerability
"I came here for an internship after convincing my family. I don't want to tell them anything out of fear that they might call me back home."
The management of the hostel located on Seventh Road in Rawalpindi says that in early 2023, they received such complaints and formed a committee to investigate them.
"On receipt of evidence, powers were withdrawn from the employees running the hostel. No such complaint has been received since then."
Social activist Sidra Rana says that nearly 93 per cent of women in Pakistan have admitted to being harassed at the workplace. In the World Economic Forum's Global Gender Gap Report 2023, Pakistan has been ranked 142 out of 146 countries.
Women's rights groups in Pakistan have long called for effective protection against violence and harassment, she says. The Protection of Women from Harassment at Workplace (Amendment) Act, 2022 is an important step towards this.
"Of course, becoming a law will not fix things. It should be implemented. For this, harassed women will have to come forward and raise voices for their rights. Household members have to trust them. Only then can they confront these mentally ill people."