Forty-three-year-old Manzoor Ahmad is a resident of 'Utla Patan' resident in Kalabagh city. He mines at 'Salt Mine Mari Indus' four kilometres away. He was seriously injured nine months ago while drilling in a tunnel hundreds of feet deep.
He says that a heavy piece of salt fell on his feet in the mine. Nearby colleagues picked him up and took him to a local hospital. He was treated there for three months. The contractor had given ten thousand rupees, which was spent on the treatment in one month.
He says that, on the one hand, money was being spent on treatment, and on the other hand, his income had also stopped. "How could my wife and children survive? Therefore, as soon as I recovered, I returned to work in the salt mine."
But since then, Manzoor Ahmed has feared that someday an accident will take his life. As earlier, his elder brother Bhai Zaheer Ahmed had also died in the salt mine. On February 15, 2017, a landslide fell on him in Mine No. 22 of Wadha Seiksh.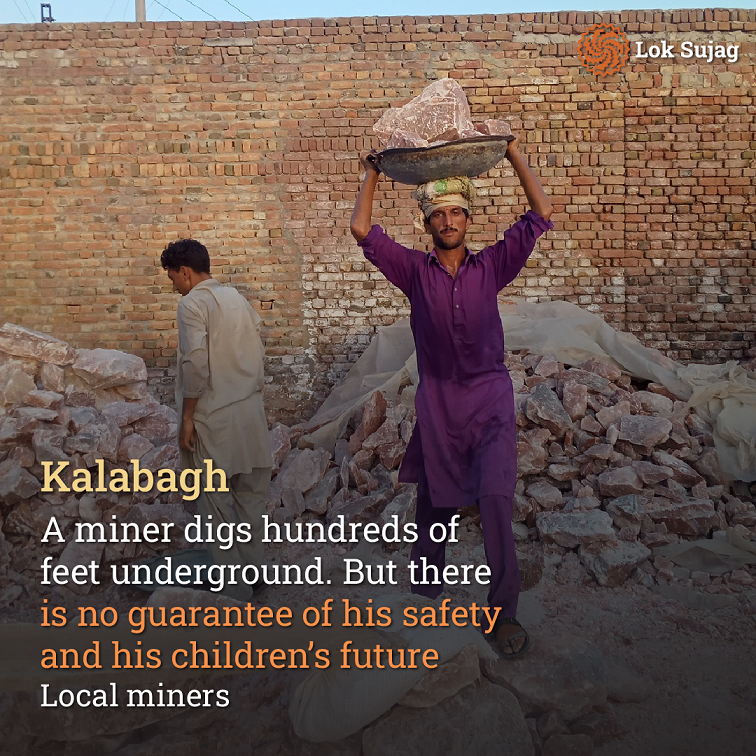 Manzoor Ahmad says that no one cares about the miners here. He considers each day his last and enters the mine, reciting the Kalima. He digs hundreds of feet underground. But there is no guarantee of their safety and their children's future.
Pakistan is among the twelve largest salt-exporting countries in the world. The country earns more than 80 million dollars annually through salt exports. There are three major salt fields in the country, including Khewra (Pind Dadan Khan District Jhelum), Warcha (Quaidabad District Khushab), and Kalabagh (Mianwali District).
Faisal Ahmad Shah is the Pakistan Mineral Development Corporation (PMDC) project manager in Kalabagh. He says salt has been mined in this area, 50 km from Mianwali, since the British era. "There are four sections (parts or blocks) of salt mining. Among them, the Mari section is located on the east of the Indus River, while the Kalabagh, Wanda Kakkaranwala, and Kacha Bangi Khel sections are located on the west of the river.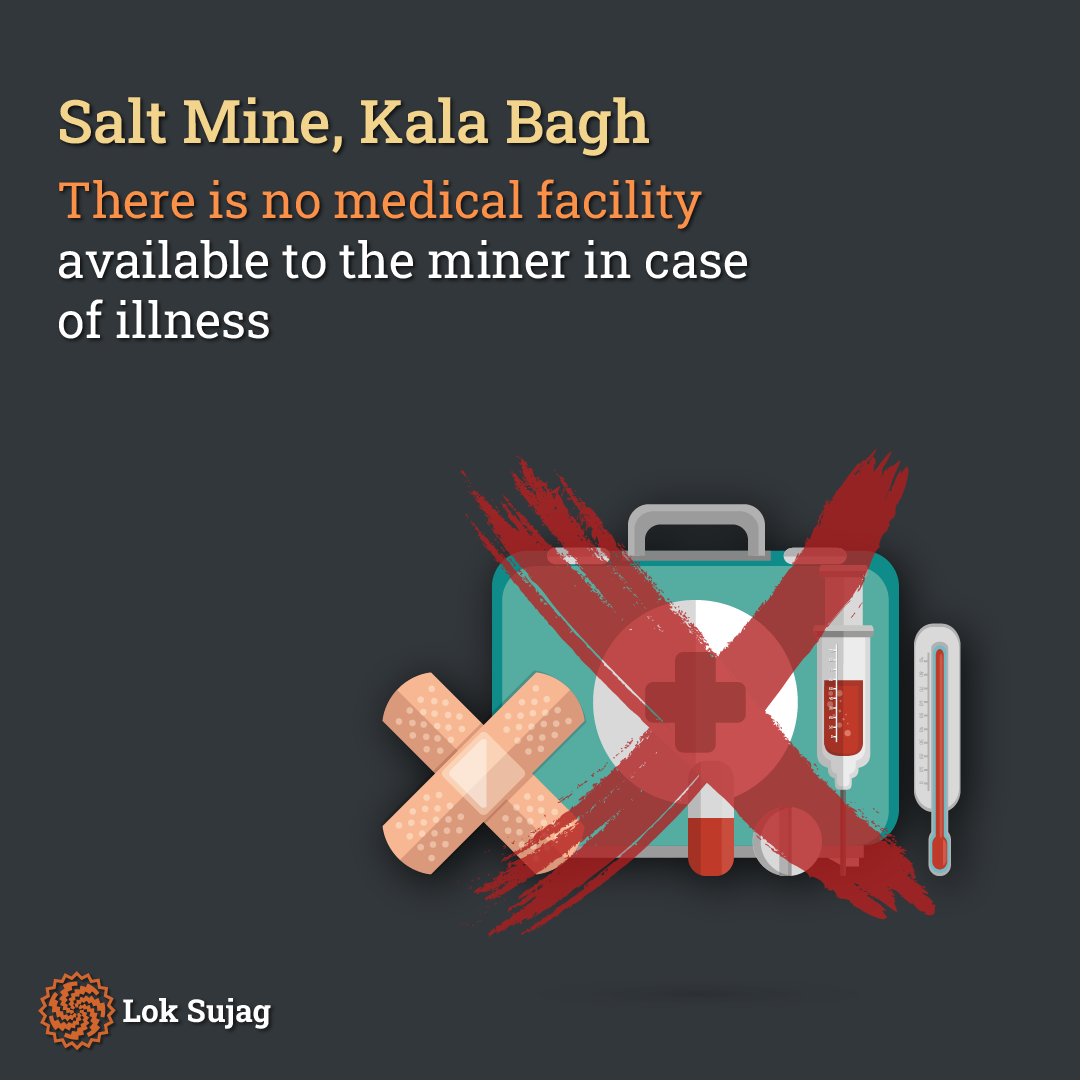 He says that there are around 100 mines in Kalabagh field. Salt of different quality is extracted from here. Among them, red or meaty colour, dark pink colour, and light pink colour quality salts are the most important. Pakistan exports salt of all three qualities to the world in different forms.
Besides its widespread use in food and industry, Faisal Ahmed mentions that salt finds applications in various sectors. Different grades of salt are utilised in swimming pools and bathing tubs. Salt tiles are employed in patient rooms in the health sector to assist individuals with respiratory diseases. Additionally, artisans craft lamps and various decorative items from salt, known for its ability to absorb radiation emitted by computer screens.
More than 2,500 workers work in the salt mines of Kalabagh. And four to five hundred tons of salt is extracted from here daily. About 28,500 tons of salt is exported from this field. And salt can be extracted from these mountains for a hundred years.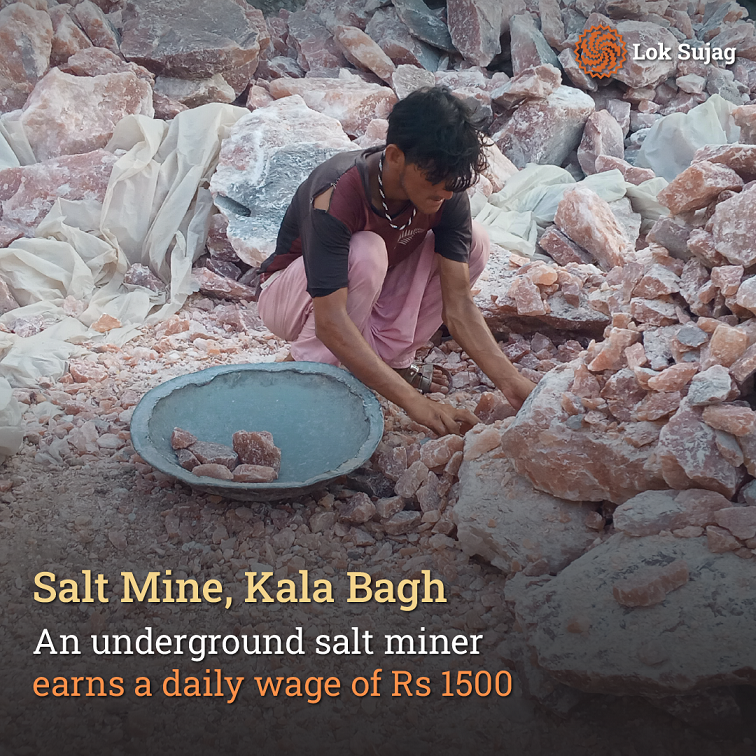 Muhammad Shoaib, Mine Engineer of PMDC, says his department charges Rs150 to Rs2,751 per ton for different salt categories apart from royalty. According to the project manager, the department earned more than 38 lakhs from here last year. And in the first six months of this year, an income of 5 crore 20 lakh 83 thousand rupees has been achieved.
PMDC controls Kalabagh Salt Mines. However, the department only regulates mining and receives royalties, taxes, etc. The rest of the mine work is outsourced. Thus, contractors also earn crores of rupees from here.
According to the PMDC Salt Mine Workers Union, the number of employees in the department is only 66. At the same time, other 2500 workers work for contractors.
Miner Manzoor Ahmed is very sad. "As long as hands and feet are safe, we are valuable to the contractor and the PMDC. God willing, if we get injured or amputated, no one asks. Many disabled workers in these mines are alive and forced to beg," he added.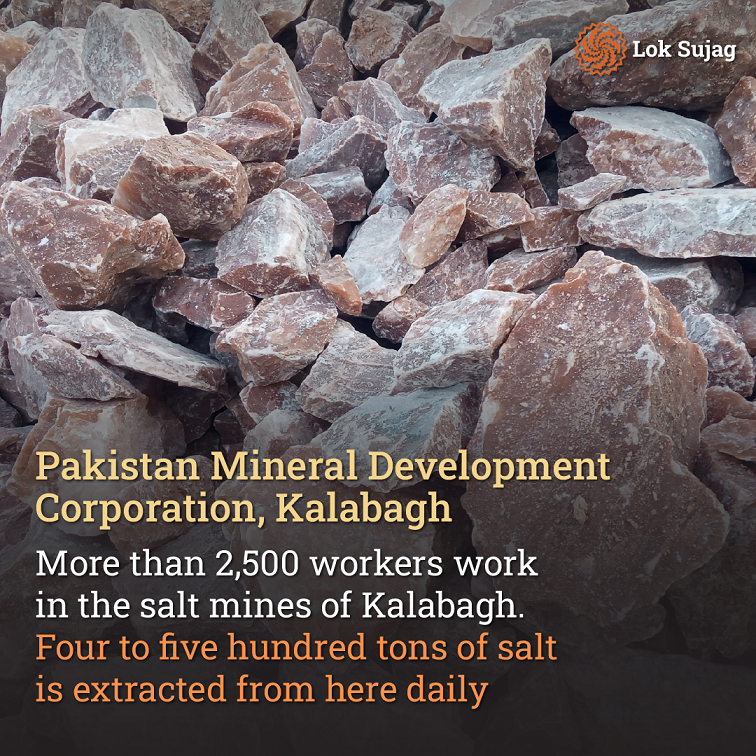 He says that even if laws are made for the welfare of miners in the country, they are not implemented. If the existing laws are followed, the labourers may live a normal life with dignity instead of looking towards 'charity'.
Atta Rasool is the PMDC Salt Mine Workers Union General Secretary in Kalabagh. He tells Lok Sujag that a miner who digs underground salt gets a daily wage of 1500 rupees. While a manual labourer who digs a hole is paid 1,000 rupees.
He explains that the labour of the loader is Rs 200 per tonne. And contractors pay wages every 15 days. Salt mines are never closed except during the Muharram and Eid holidays. However, the production would be greatly reduced in monsoon (July-August).
Regarding the safety measures of the miners, Atta Rasool says that first of all, the 'Mine Sardar' leads the workers in the mine and checks that no big rock is about to fall into the mine. Sardar does not allow the workers to work inside if there is any danger.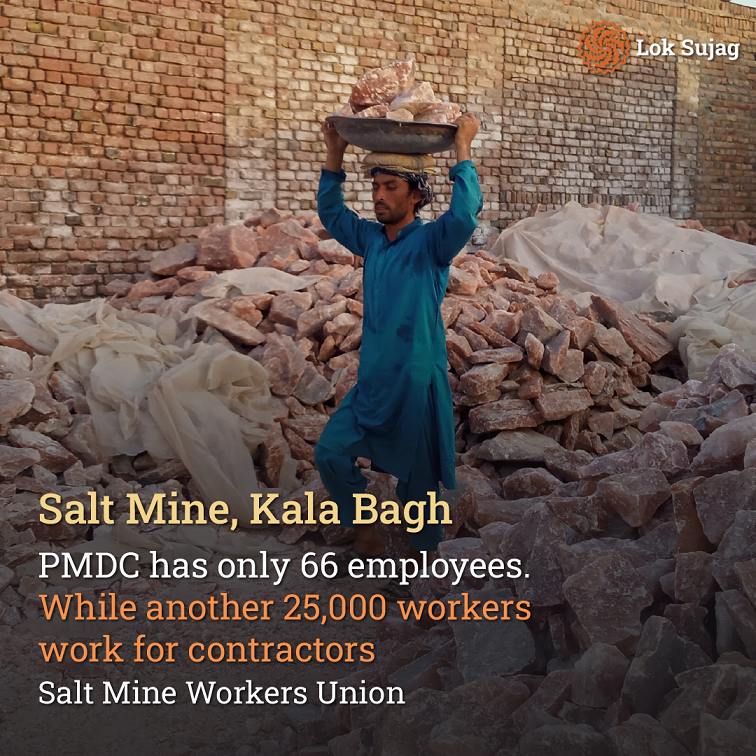 He says that helmets must be worn in mines. However, measures are being taken for workers who do not have safety shoes. A dispenser of PMDC is available here in case of an accident. And if anyone is seriously injured, they are shifted to Kalabagh Civil Hospital.
The Union General Secretary said that currently, the department does not have its own ambulance. Therefore, if necessary, a Kalabagh Civil Hospital ambulance must be taken. Now, the headquarters has approved an ambulance vehicle along with a boat ambulance. Which will take the injured to the hospital through the river.
Also Read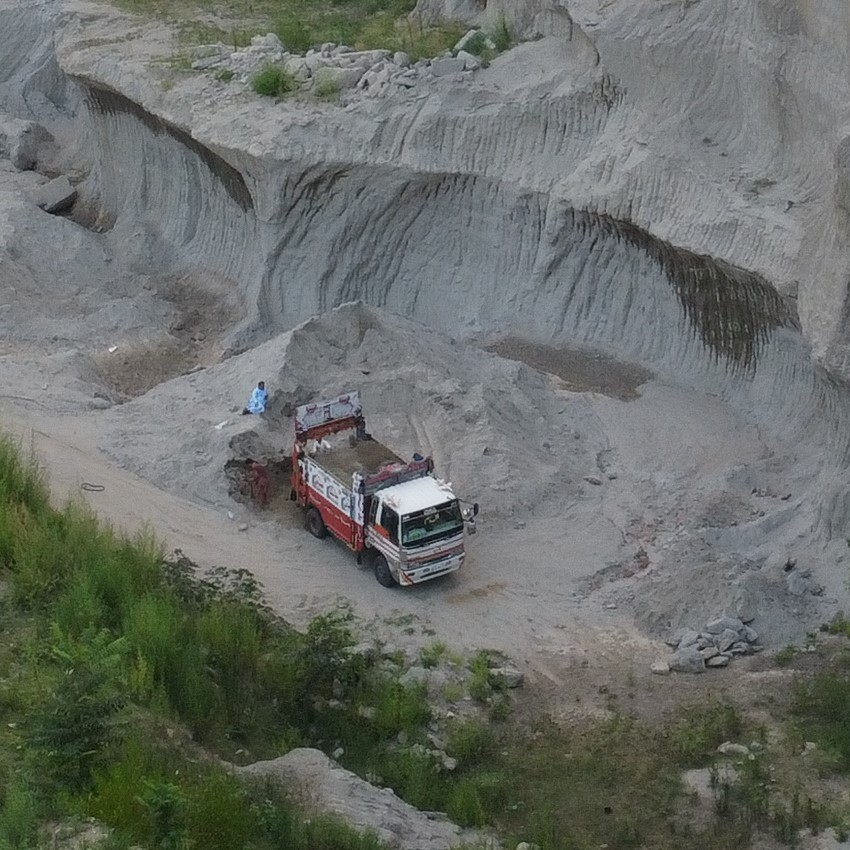 Tragedy strikes: Children buried in sand as illegal mining ravages Shangla community
The union leader claimed that PMDC was paying for the treatment of the injured. In case of death in an accident, PMDC pays five lakh rupees to the worker's next of kin. And the Workers Welfare Trust gives a compensation of Rs12 lakhs. However, there is no medical facility available in case of illness.
He said 139 workers are registered in the Old Age Benefit Employees Institute (EOBI). The institute has also given scholarships to their children. He is trying to get more workers registered with EOBI now.
Atta Rasool complained that no dispensary, hospital, or school for children exists. He said that he has requested Labor Welfare in this regard. Hopefully, it will improve.
However, Project Manager Faisal Ahmed said that PMDC also provides workers with medical facilities and ration once a year. Apart from this, machinery tractors, compressors, excavators, and loaders are also being used in mining along with labour.