In Hafizabad district, many people have gathered at Kasoki's rural health centre, where some are waiting for their turn for medical examinations from a few doctors, while others await their turn for various tests.
Forty-five-year-old Mohammad Arshad has come to get his pregnant wife's initial tests done and is arguing with the hospital staff. He alleges that not only did the hospital staff fail to conduct all the necessary tests for his wife, but they also charged an exorbitant fee for the few tests they did perform.
Muhammad Arshad has had his wife's haemoglobin (Hb), hepatitis B, hepatitis C, and two additional essential tests done. In his opinion, the government offers these tests for free, but he was charged for them.
Dr. Hashim Asif Ali, who is on duty at the hospital, confirms that most of the tests for pregnant women are done here for free. Regarding the issue of collecting fees from Muhammad Arshad, he suggests that the new technician in the laboratory may have made a mistake.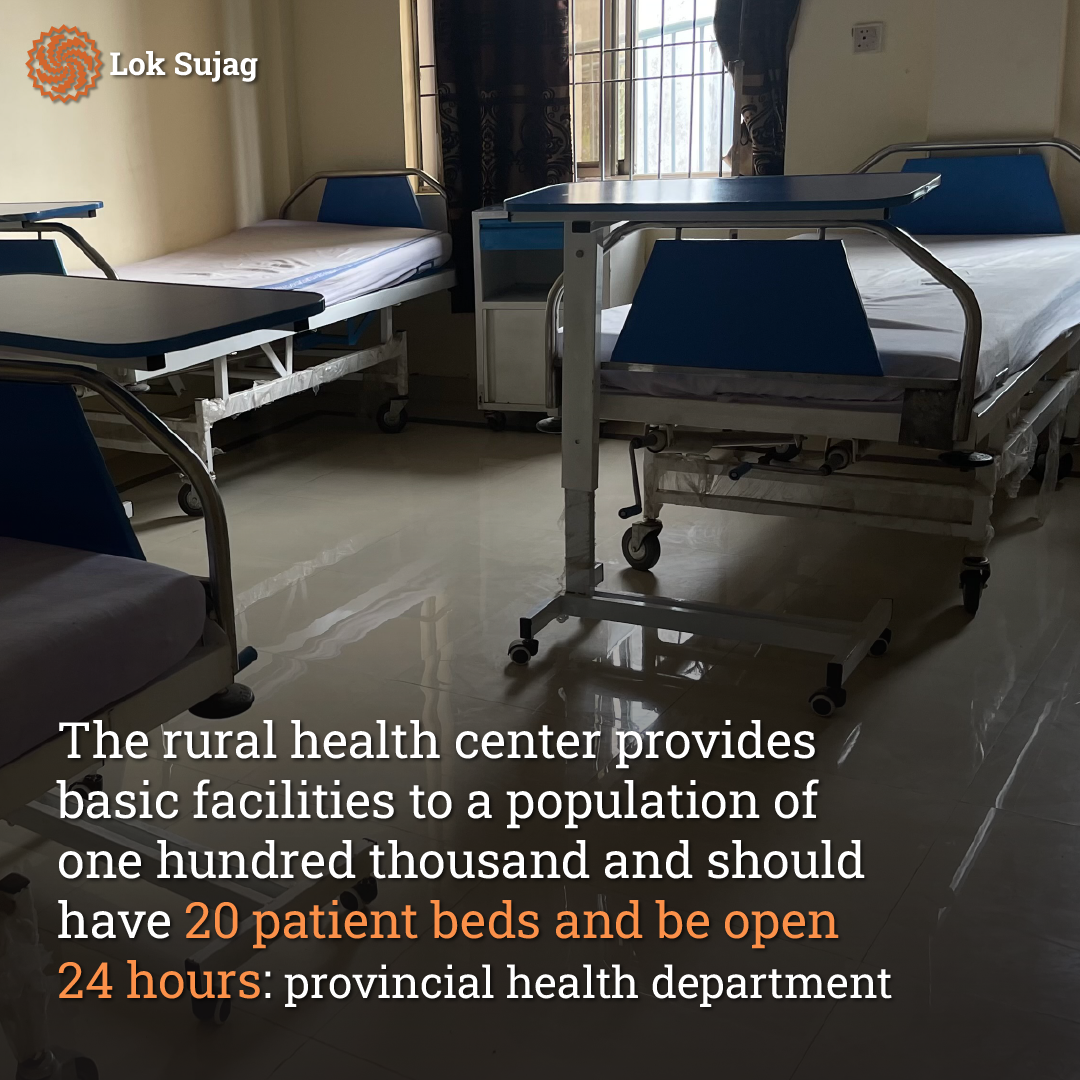 He further clarifies this 'mistake' by stating that since they charge concession fees for such tests from other patients apart from pregnant women, it might not have been apparent to him that Muhammad Arshad's wife is pregnant.
After a short while, a hospital staff member returns the money to Muhammad Arshad. He believes that he might not have received his money back if the media had not been present.
Muhammad Arshad sells fruit on his bicycle, travelling from village to village. He is the sole breadwinner for his family, which includes his wife and five children.
He says he usually does not come to this hospital and prefers to go to the district headquarters hospital in Hafizabad, about 15 kilometres away. This is because he believes that the care for patients here is not up to the mark, and Hafizabad provides more facilities. He brought his wife here this time because he knows the government has provided free testing facilities for pregnant women.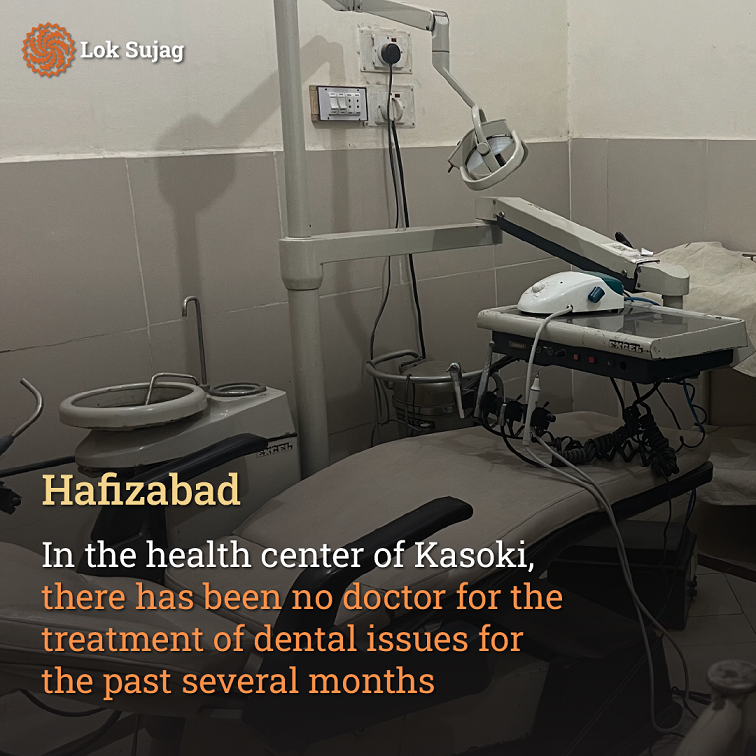 According to the provincial health department, a rural health centre provides basic facilities to an area of one lakh population. The hospital must have 20 patient beds and be open 24 hours.
However, in the district of Hafizabad, with a population of 1.319 million, there are only seven rural health centres. Ideally, there should be at least 13 such centres in this area.
The Department of Health's website states that in the Punjab health system, healthcare is provided through three tiers. Each union council will initially have a basic health centre where patients receive primary medical care. After initial treatment, they may be referred to rural health centres.
In addition to the basic health centre, Lady Health Workers and Community Midwives can also refer patients to rural health centres for treatment. Rural health centres provide various services, including general outdoor (OPD) care for maternal and child health, deliveries, vaccinations, diagnostic services like X-rays and laboratory facilities.
Furthermore, dental OPD services are also a mandatory requirement at these centres. To strengthen the referral role, every rural health centre needs an ambulance.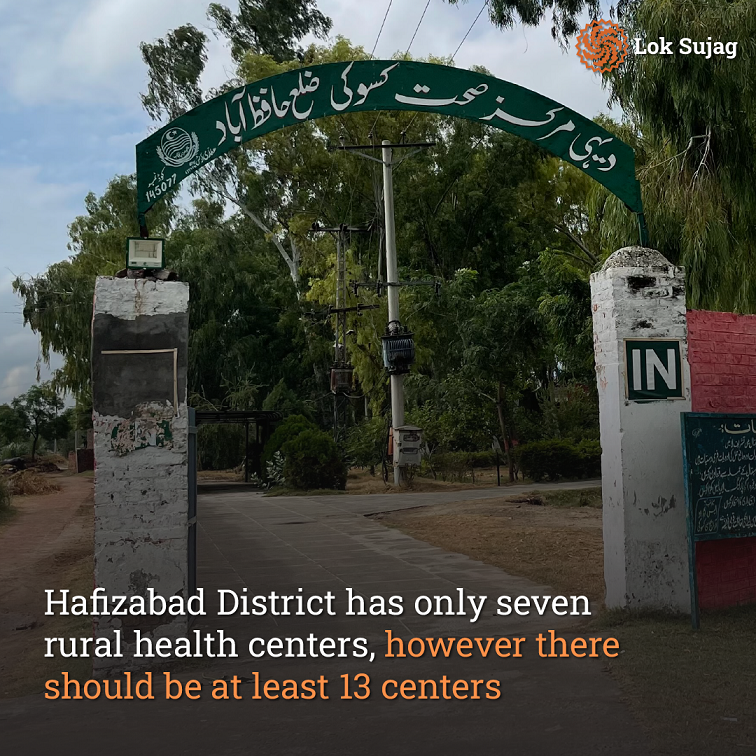 Contrary to the Health Department's claims, no doctor has been available for dental treatments at the Kasoki Health Centre for several months. Maternity care, including deliveries, is managed by the midwives at this hospital. According to Dr. Hashim Asif Ali, the X-ray machine is also out of order.
According to the Health Department, this hospital should ideally have 20 beds, but currently, only 13 beds are in place, with no patients present on any of them.
Dr. Hashim insists that despite the shortage of beds, the hospital provides all kinds of basic facilities to the patients. He says the hospital examines around 200 patients daily in all three shifts. Regarding the shortage of beds, he says that three beds have been given for repair.
He says that the centre provides patients with ambulance services at all times.
However, the local residents here do not seem convinced by these claims. According to them, such facilities are unavailable, and even if they are, the patients do not benefit from them because the hospital staff does not cooperate.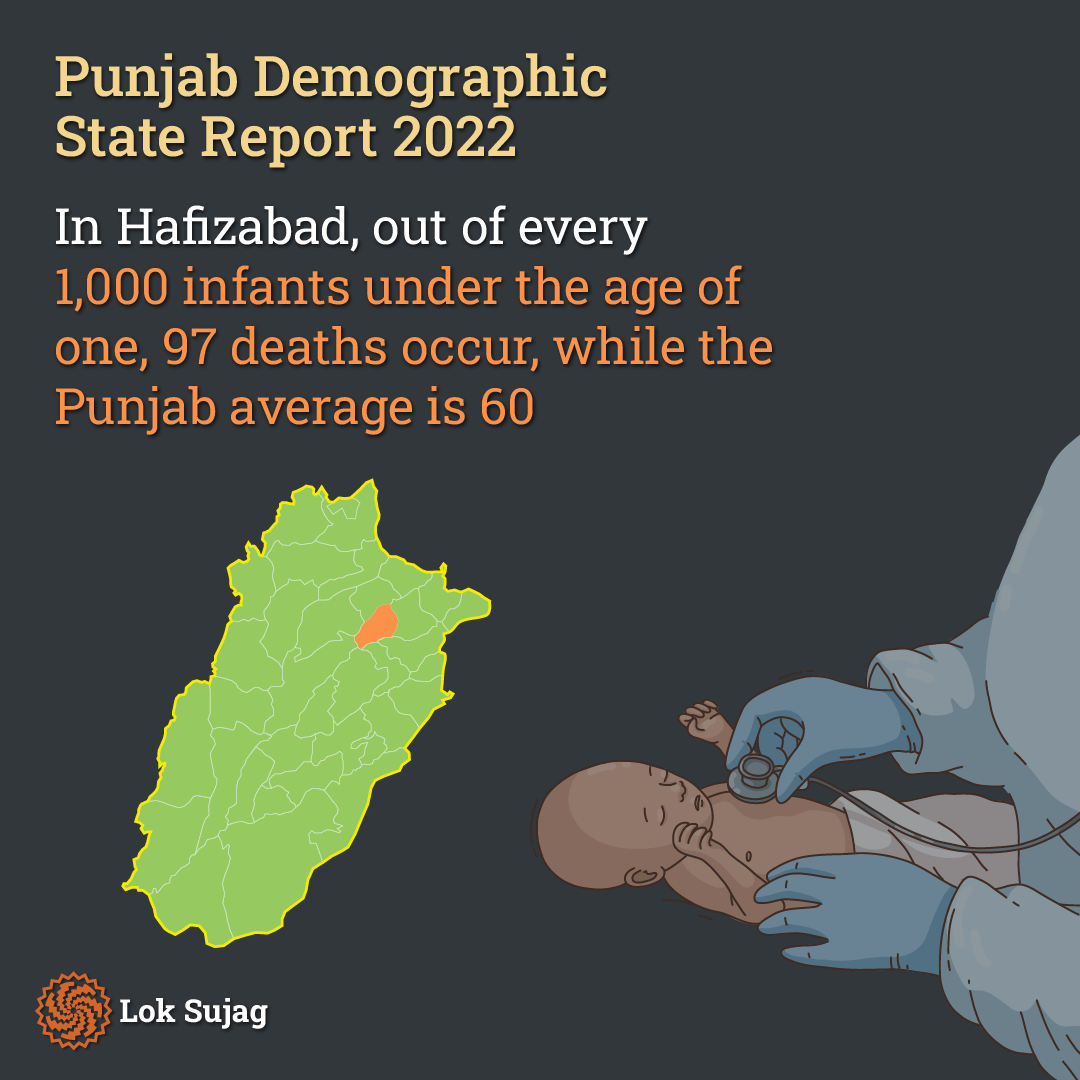 According to the Punjab Planning and Development Board's latest report, "Punjab Growth Strategy 2023," Hafizabad has been designated as one of the six districts in Punjab with the most deprived healthcare facilities. Among these districts, Hafizabad is the only one located in Northern and Central Punjab, while the remaining five districts, namely Dera Ghazi Khan, Rajanpur, Muzaffargarh, Khanewal, and Lodhran, are all situated in South Punjab.
Two years ago, the Punjab government issued a Gender Parity Report, which also indicated that Hafizabad ranks at the lowest position in terms of healthcare facilities among all 36 districts in Punjab.
According to this report, the district has 61 healthcare or medical facilities, including BHUs (Basic Health Units), RHCs (Rural Health Centers), Tehsil and District Headquarters Hospitals, and government dispensaries.
During pregnancy and post-childbirth, the number of healthcare centres dedicated to maternal and child health and nutrition in this district is only 22, which is the lowest after Khushab. This lack of healthcare infrastructure has contributed to high infant and child mortality rates in Hafizabad. According to the Punjab Demographic Report for 2022, in Hafizabad, out of every 1,000 infants born, 97 die within the first year of life, whereas the average infant mortality rate in Punjab is 60.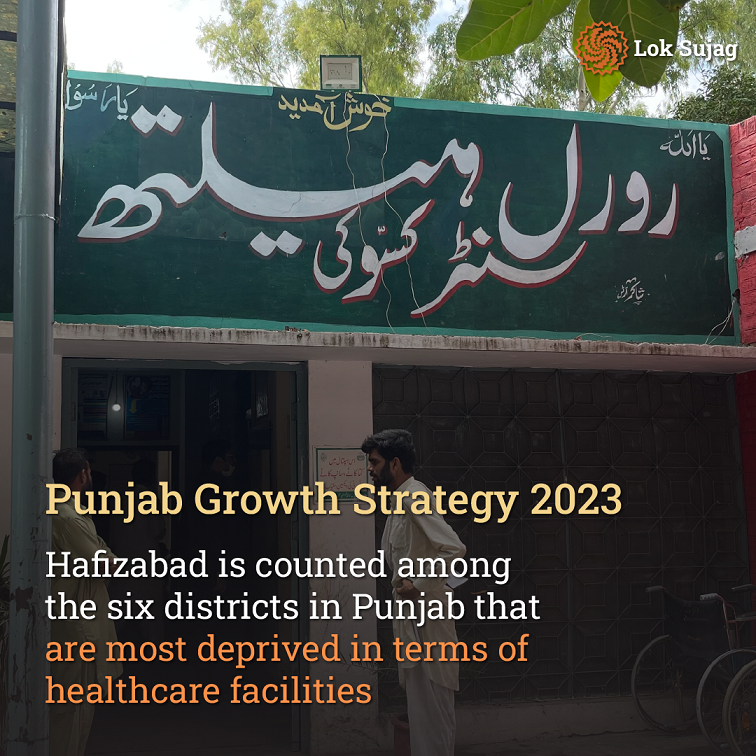 Similarly, for children aged one to five, the district sees 13 child deaths per 1,000, while the rate for Punjab is 9 per 1,000 in this age group.
In Hafizabad, the overall mortality rate for children aged five is 109 per 1,000, significantly higher than 69 per 1,000 in Punjab as a whole.
The Chief Executive Officer of the Health Department in Hafizabad, Omar Sharif Rathore, does not agree with these findings. He asserts that Hafizabad lags mainly in terms of vaccination, and one reason for this is the lack of reliable internet access in remote areas, which hampers timely updating of their reports.
The Chief Executive Officer of the Health Department in Hafizabad, Omar Sharif Rathore, does not agree with these findings. He asserts that Hafizabad lags behind mainly in terms of vaccination, and one reason for this is the lack of reliable internet access in remote areas, which hampers timely updating of their reports.
Muhammad Aslam Khokhar, who serves as the District Health Officer and the Deputy Commissioner in Hafizabad, explains that doctors in rural centres refer patients to the tehsil or district headquarters, and the district headquarters refer them to Lahore.
"If someone goes there in an emergency, they don't even get medicines, to the extent that they have to buy a syringe from outside. Why would anyone go to basic or rural centres in such situations?"
Also Read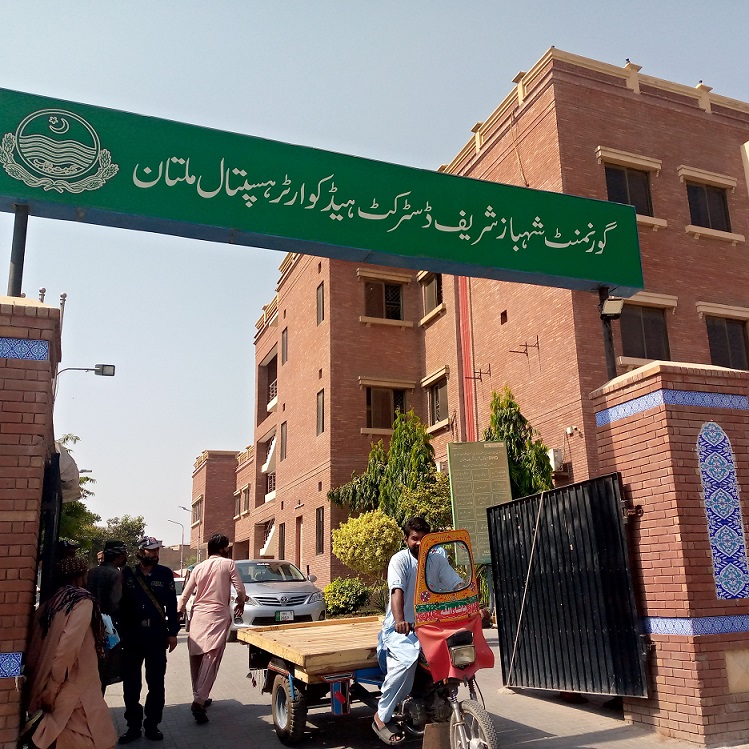 Medicine shortage hits hepatitis patients in Multan: A growing health crisis
Kaliki Mandi is a tehsil located 23 kilometres west of Kasoki, where a new two-story building has been constructed for the rural health centre. The only patient here, Iftikhar Ahmed, complains to the hospital staff that he had to buy a drip set, cannula, and injection from outside to administer a drip set.
He explains that he has stomach pain and diarrhoea, so he came here. Otherwise, in case of a medical emergency, people from his village prefer to go to Hafizabad, as the doctors here also refer them to DHQ Hospital after routine examinations. Dr
Syed Mohsin Raza, on duty here, states that the hospital has all the emergency facilities. In response to the complaint by Iftikhar, he mentions that the rural health centre here only provides initial screening, after which patients are referred to Hafizabad for further treatment. This is why the local people have complaints, as they do not get all the facilities available to them in the city.
Chief Executive Officer Health, Omar Sharif Rathore, was asked what happens when patients are referred to the Kaliki Mandi Centre, but no ambulance is available. He responded that this responsibility has been entrusted to Rescue 1122 now. If a patient needs it, he can immediately call the rescue helpline to request an ambulance.
About the shortage of beds in rural health centres, he says that many of the health centres have due to old infrastructure and these buildings cannot accommodate the recommended 20 beds, which is why not all the beds are available in these centres.
He is confident that the essential equipment and machinery shortage in hospitals will be addressed within six months. Furthermore, there are plans to fill the shortages in various medical specialities, including doctors, surgeons, gynaecologists, paediatricians, and medical consultants, to rebuild people's trust in these health centres.