In Rajanpur's Fazilpur village, the healthcare system has been modernised, and now patients are given tokens after registering online, making it more convenient for them. However, there has been a significant reduction in the medicines provided, causing distress to patients who cannot afford expensive medications from the market.
According to records, 63,252 patients have been treated here for the past three years. Every day, 50 to 70 tokens are issued for medical treatment.
Regarding the shortage of medicines in the health centre, an official stated that previously, trucks of medicines were sent here, which provided relief to 70 per cent of the patients. However, now employees have been instructed to issue only 30 medicines to patients per day. Notable among these medicines are Panadol, Brufen syrup, Flagel tablets, and Methi Kobal, among others.
He mentioned that until a year ago, the hospital received 40 cartons of medicines every month. However, now only 15 cartons are received monthly.
Rajanpur is considered one of the most backward and underdeveloped districts in Punjab. Social worker Abrar Khan Dreshak says that the wave of inflation has hit areas like Fazilpur the hardest. Now, many people here struggle to feed themselves or seek medical treatment.
55-year-old Shamaan Bibi from Hajipur came to this health centre for treatment and expressed her frustration, "It feels like the doctors are not interested in us. When we come to the hospital, no one pays attention.
"I travelled a long way in the morning to get here. After receiving the token and waiting in line, the doctor examined me and prescribed medicine unavailable at the hospital but must be purchased from the market. Now I'm going back home disappointed," she added.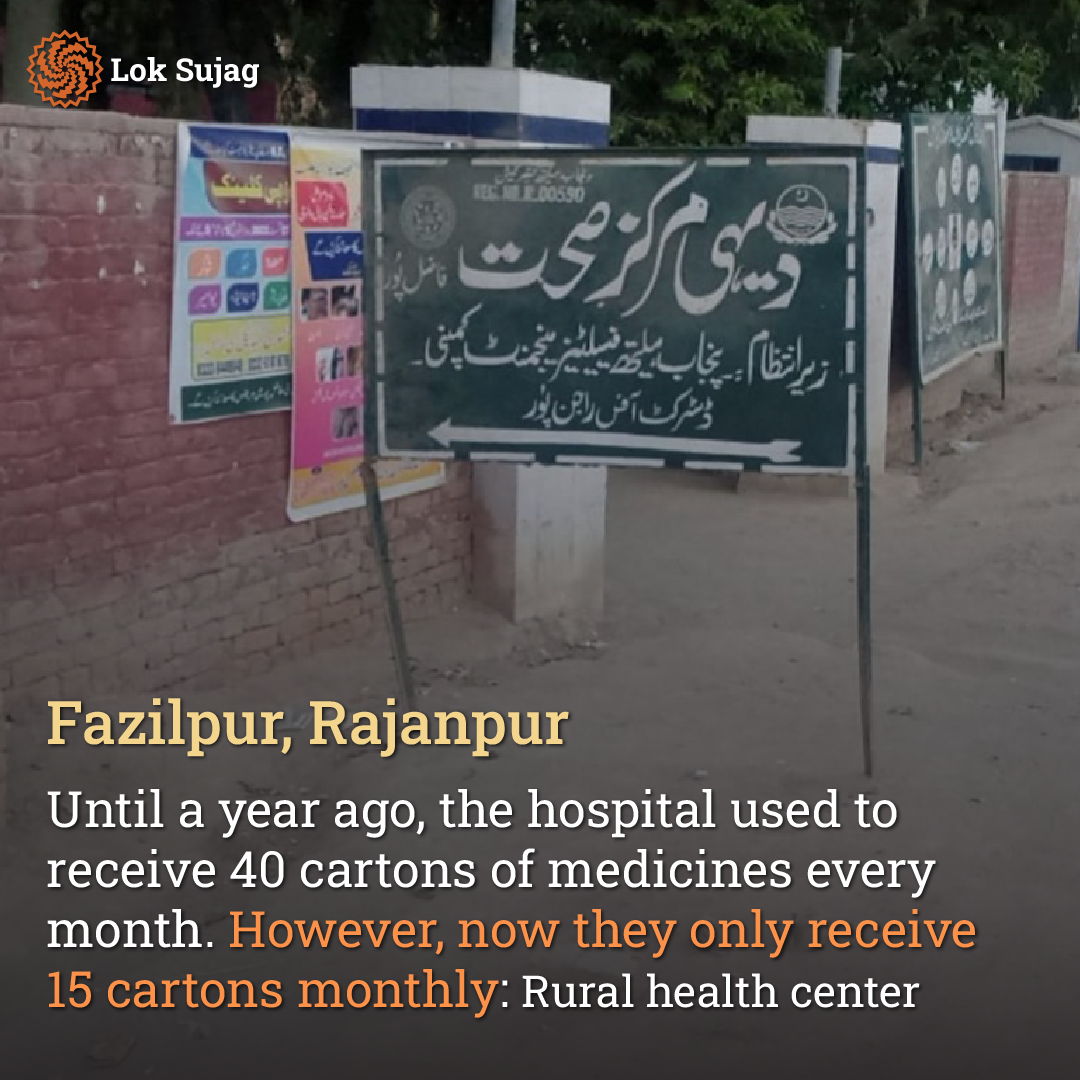 A woman from Malook Bibi, who came for the treatment of joint pain, revealed that the health centre provided her with only Panadol and prescribed Dicloran gel and pills for joint pain, which she needs to buy from a medical store. She cannot afford the expensive medicines.
Previously, these medicines used to be available at the health centre, and doctors used to check her condition regularly. However, the situation has deteriorated significantly now.
Shahida Bibi, a 40-year-old suffering from severe skin itching and eye allergies, visited the health centre hoping to receive free medication. She mentioned that the doctor prescribed medicines on a piece of paper. She received two Panadol pills from the health centre, but the doctor instructed her to purchase allergy lotion and eye drops from outside.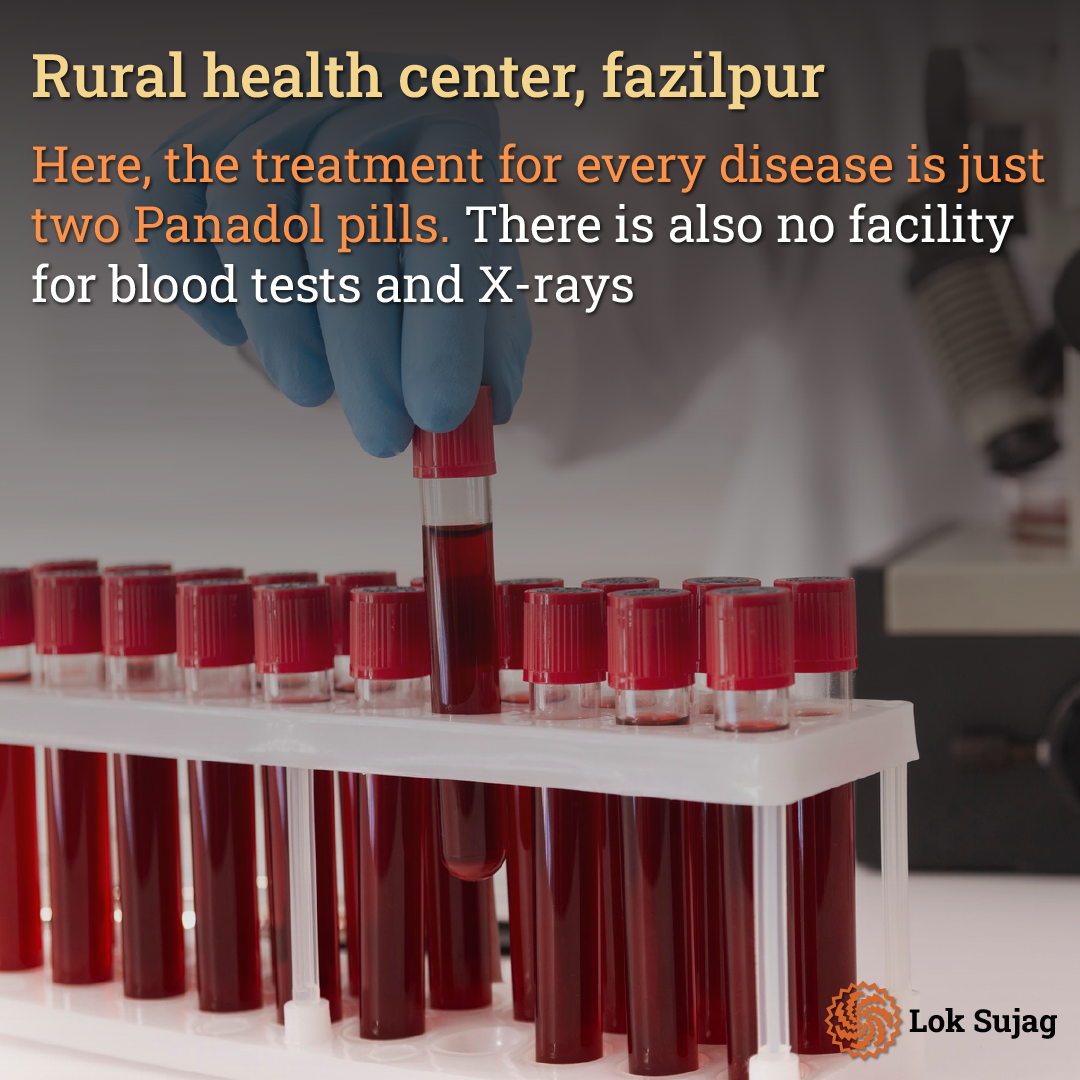 According to Shahida, she first visited the hospital on August 8th, then returned on August 16th when she didn't receive the medication. Finally, she came again, hoping to get the medicine, but she only received two pills and nothing else.
Here, the treatment for every disease is just two Panadol pills. There is no facility for blood tests and X-rays. Where should we go?
The Senior Medical Officer (SMO) at the health centre, Dr Qasim Mustoi, claimed that medicines are available and people are being provided with them. When Shahida Bibi mentioned that she couldn't find the allergy lotion, Dr Qasim said it had run out. He stated that they are working to improve the hospital's system and ensure that people receive all medicines.
Also Read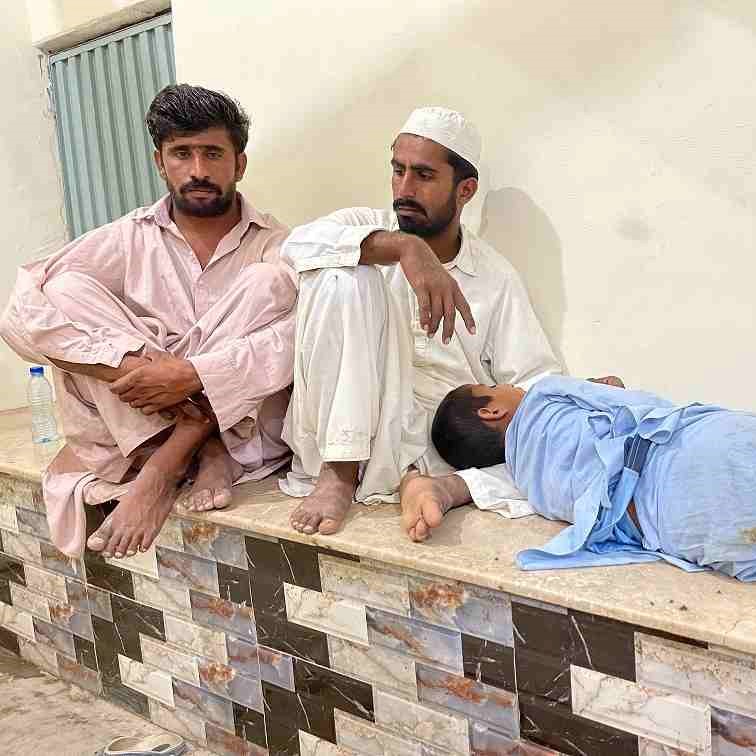 Tharparkar's healthcare despair: Islamkot THQ hospital leaves residents disillusioned with lack of treatment
According to the Chief Executive Officer (CEO) Mohammad Arshad Khan and the SMO, besides Panadol, Brufen, Hydraulic syrup, and Flagyl, only some antibiotics, syringes, and drips are now supplied from the provincial headquarters. However, about a year ago, almost all essential medicines used to be provided.
The SMO (Senior Medical Officer) denied showing any documentation related to the supply of medicines, stating that he does not have permission from higher authorities.
In the same context, Dr Muhammad Rashid, (CEO) of District Headquarters Hospital Rajanpur, mentioned over a telephone call that due to the current economic crisis, the Punjab government's budget has been reduced, which has resulted in a decrease in the supply of medicines. However, efforts are being made to improve this system now, and the shortage of medicines will soon be resolved.