On October 6th this year, the courtroom of Justice Shahid Karim at the Lahore High Court (LHC) is overcrowded with litigants, lawyers, their assistants and media-persons. Punjab's Advocate General Ahmed Owais and Imran Amin, chief executive of Ravi Urban Development Authority (RDUA), are also in attendance. A low hum of voices is constantly audible in the courtroom.
This hum stops the moment a lawyer, Waqar A Sheikh, starts speaking. He is representing a resident of Lahore, Muhammad Abdullah, who has challenged a provincial law that provided for RUDA's formation in 2020.
Sheikh makes a startling revelation at the very start of his argument.
"During my 20-year-long career as a lawyer, I have never faced the kind of pressure to withdraw a lawsuit that I am facing in this case," he says. "But let me tell this honourable court that I shall not be scared and will take this case to its logical conclusion."
Hearing this, Justice Karim puts his pencil on the table, takes off his face mask and addresses the advocate general: "Ahmed Owais Sahab, are you listening to what Mr Sheikh is saying. This is a very serious matter".
Owais: I have no knowledge of this.
Justice Karim: I am surprised that the advocate general is unaware of all this.
Owais: May I ask Mr Sheikh to provide the details.
Sheikh: I think I will have to file a petition to inform the court about what's going on.
Justice Karim: It seems I, too, will have to submit an application (to know more about it).
The entire courtroom bursts into a laughter and Justice Karim adjourns the hearing for a day.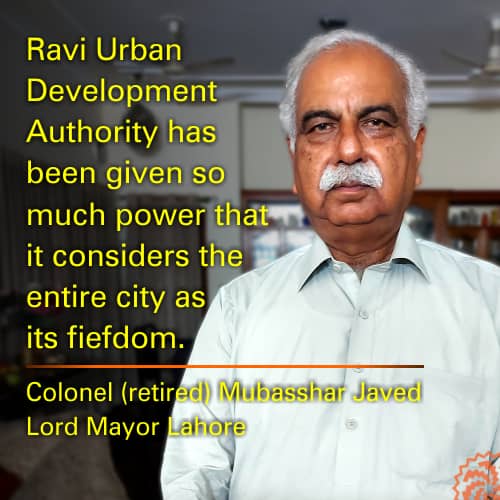 When he resumes the hearing the next day, he asks the advocate general again as to whether he has tried to get information about the pressure that Sheikh referred to during the previous proceedings. "Mr Sheikh has represented a large number of government institutions as a counsel. How can anyone put pressure on him?" the advocate general replies.
Justice Karim responds to this by saying: "I don't want to say anything more on this issue in the open court but do see me once this hearing is over and I will inform you how this case is being engineered."
Local versus provincial
The petitioner, Abdullah, has taken the plea that Ravi Urban Development Authority Act, 2020 violates the provisions of the constitution and also contravenes certain parts of the Lahore Development Authority Act, 1975.
RUDA was essentially set up to oversee the construction of a residential and commercial project -- Ravi River Front -- around the river Ravi. The petitioner contends that it has been given so much power that, without involving or seeking the permission of local governments or other relevant departments, it can change the status of agricultural, residential and commercial lands not only in the jurisdiction of Metropolitan Corporation Lahore but also in its adjoining district of Sheikhupura.
Moreover, he states, the authority has been entrusted with a number of tasks which, legally and constitutionally, fall within the purview of local governments. These include the provision of potable water, sewage disposal and solid waste collection.
Many other people have the same reservations about RUDA as Abdullah does. One of them is the Lord Mayor of Lahore, Colonel (retired) Mubashir Javed, who, following a Supreme Court decision, has recently been reinstated to his post after a two-and-a-half-year long suspension. RUDA, he says, has been "given so much power that it treats the whole city of Lahore as its fiefdom".
He then asks: How come RUDA is building a new city within Lahore without any permission from or conversation with the Lahore Metropolitan Corporation? He says, similarly, it has not bothered to consult the local government of Sheikhupura while it is planning to utilise thousands of acres of that district's land.
During the October 6th hearing, Justice Karim also asked RUDA to show him any agreement it has signed with the local governments of Lahore and Sheikhupura. RUDA's lawyers have failed so far to submit any such document.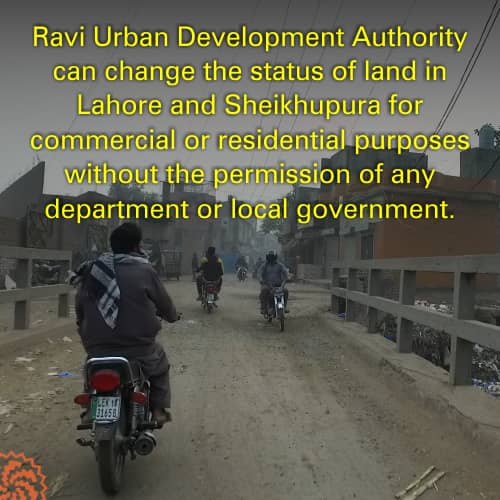 Javed says he is unaware of the existence of any such agreement. He then adds that even if the authority has entered into any agreement with the unelected administrator of the Lahore Metropolitan Corporation during his suspension (from May 3rd, 2019 to October 18th, 2021), it has no legal standing. Rather, he says, it will be in violation of Article 140-A of the constitution which states that only elected representatives have the right to exercise the powers of a local government.
Zahid Islam also agrees. By setting up RUDA, he says, the government wants to put its interests ahead of the constitutional provisions.
He has been associated for the last many years with several non-government sector research projects that evaluate the performance of local governments and identify barriers in the way of their smooth functioning. Going by the constitution, he argues, all the institutions providing various civic amenities within the territorial jurisdiction of a local government come under its administrative control.
"But RUDA has been taken out of the Lahore Metropolitan Corporation's control and has been placed under the direct authority of the provincial government," he says. "This means that whenever it faces any resistance from the local government to any of its plans, it can bypass that resistance by using the provincial government's powers."
Master Plan: what's that?
Ravi River Front project was initially launched in 2014 by the Lahore Development Authority (LDA) but was soon abandoned by the then Punjab government due to financial constraints. The incumbent government, however, decided to resume it in 2020 by establishing RUDA.
The prime objective of the original project, Lord Mayor Javed says, was not to construct buildings around the Ravi but to improve the quality and quantity of water flowing through it. It was basically aimed at transforming the river into a freshwater lake in order to restore Lahore's rapidly-declining groundwater resources, on the one hand, and, on the other, to increase the river's water-flow and rid its water of contamination, he says. The incumbent government has started the project from the opposite end – prioritizing the building of residential and commercial properties over the original plan of turning the river into an uncontaminated lake of fresh water, he adds.
To achieve this, RUDA has been empowered to make changes in Lahore's master plan as per its own discretion. But, as Javed puts it, only the Lahore Metropolitan Corporation has the legal authority to make such changes.
Lahore's last master plan was drawn up by LDA in 2005 when it was working under the Lahore Metropolitan Corporation. (After 2009, however, LDA was taken out of the jurisdiction of the local government and was subordinated to the provincial government, with chief minister becoming its chairman.)
During a hearing in September 2021, Justice Karim also raised this question: Is RUDA preparing its own master plan or is it working on the master plan prepared by LDA?
He got two different answers.
The petitioner's lawyer Sheikh told him that no separate master plan was prepared for Ravi River Front project; RUDA's lawyer, Barrister Ali Zafar, said a separate master plan for it was released on June 8th, 2021.
His opposing lawyers raised an important question about his response. Why did the government, they contended, start working on the project eight months before its master plan was released? They pointed out that an official notification for the acquisition of more than 100,000 acres of land required for Ravi River Front was issued in October 2020.
Similarly, they said, in March 2021 -- three months before the release of the master plan -- not only the price of the land in question was fixed but the process of transferring its proprietary rights to RUDA was also commenced. Until LHC stayed it.
Similarly, the master plan had not yet seen the light of the day when, on May 28th, 2021, RUDA accepted a bid by a private company to develop a section of the project called Sapphire Bay and stretching over an area of 2,000 acres.
Also Read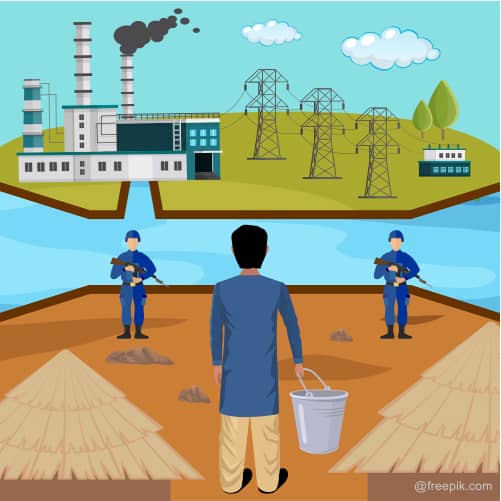 Water, water everywhere nor a drop to drink: Water reservoirs built for power plants imperil a thirsty Tharparkar village
After these facts were pointed out, RUDA's lawyers changed their statement and said the master plan of Ravi River Front was basically a slightly-modified form of LDA's plan of 2005. This admission, in fact, is a violation of the Ravi Urban Development Authority Act which states that RUDA will draw up its own master plan.
Sheikh believes that any change in LDA's master plan, in any case, is a violation of the law. "The master plan," he says, "is made with a holistic approach keeping in mind the entire city. RUDA cannot tinker with this plan for a project that covers only a small portion of the city."
While arguing before LHC on October 7th, he, however, stated that RUDA was not making just minor changes in LDA's master plan but it was altogether altering the status of land that has been assigned a specific role in that. The master plans of both LDA and Sheikhupura district, he pointed out, show that the proposed site of Ravi River Front project has been designated as a "green area".
He then asked: "Can RUDA justify the conversion of an entire green area into a residential and commercial one as a minor change in the LDA's master plan?"