Since inaugurating the Ravi River Front project in August last year, Prime Minister Imran Khan has held 70 various level meetings on it. This was claimed by his special assistant for political communication, Shahbaz Gill, in a recent press conference. Gill also said that Khan was taking personal interest in the project.
That perhaps explains why many high-ranking government officials are already talking about the success of this project. For instance, Sindh's governor Imran Ismail not only praised the performance of the Ravi Urban Development Authority (RUDA), the project's supervisory body, on 29th May 2021, he also said a similar performance was required for the development of two islands off the coast of Karachi.
But the fact is that almost ten months after the inauguration of the Ravi River Front, RUDA has neither acquired the land required for it nor has it started any construction activity. In the meanwhile, it has borrowed five billion rupees from the Punjab government to cover its daily expenses and to pay the salaries of its employees. This was revealed by its chief executive, Imran Amin, while addressing a press conference at the Chief Minister's Office in Lahore on 1st June 2021. (He said the money would be returned to the government in a year and a half.)
At the same press conference, he talked about a bidding process for the commencement of development and construction work on the 2,000-acre Sapphire Bay section of the Ravi River Front. Advertisements about this process were published in news media in April this year as a means to invite private companies which had previously worked on any development project worth 10 billion rupees to take part in it. Application fee for joining the bidding was set at three million rupees.
Eight different companies and groups participated in the bidding (which earned the authority a revenue of 240 million rupees through the application fee). In the first phase, three companies -- Javedan Consortium, Bahria Town and Metrocon -- were selected as the highest bidders. In the final phase that took place on 28th May 2021, the offer made by Javedan Consortium was accepted.
As per that offer, the consortium will pay 10.75 billion rupees in cash to RUDA. It will also give 15 percent residential plots and 15 percent commercial plots to RUDA in Sapphire Bay after the completion of development works. In a way, the authority is giving 2,000 acres of land to the consortium at the rate of 5.375 million rupees per acre but, after that land is developed into plots and is sold for domestic and commercial construction, RUDA will get a certain number of plots as well -- as part of the profit to be made from their sale -- so that it can sell them separately.
The bidding process, however, has not only surprised the owners of the land along the river Ravi (where Ravi River Front is being planned), it also astonished the members of civil society and many lawyers. They point out that the Lahore High Court has suspended the Ravi River Front project's implementation until the Punjab government gets its final environmental analysis report approved by the Environment Protection Department.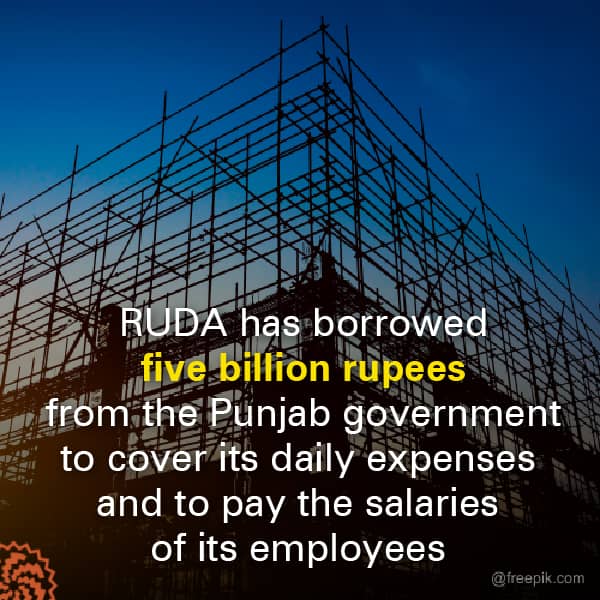 Several landowners whose lands have been included in the project have also filed petitions at the Lahore High Court seeking status quo orders against land acquisition for it. These petitioners include a private housing scheme whose lawyer, Waqar Amin Sheikh, believes that "the bidding done by the authority in the presence of a restraining order constitutes contempt of court".
Amin, on the other hand, said that RUDA planned to go even further and would start the project's development and construction work in the next two months. In his early June press conference, he said that although the Ravi River Front would take 25 years to complete, its contours would become clear in the next four years. He expected the construction of three barrages and a lake inside Ravi to be completed within this period.
Sheikh questions these claims and says, "What power does RUDA have to know that the court will decide all the cases about the Ravi River Front in two months and those too in its favor?."
Serving private interests
Amin also claimed in the press conference that the Ravi River Front project, spread over 102,000 acres, had become the "need of the hour" due to Lahore's growing population. It will provide world-class residential and business facilities to the people, he said.
Similarly, addressing an event at the Lahore Press Club on 21st June 2021, he said the Lahore Development Authority (LDA) had received applications from private sector for the development of 171 residential schemes just before the inauguration of the Ravi River Front. "We reviewed and rejected all of them because [instead of small projects] the government wants to build a new city with world-class facilities just like Dubai and Singapore have and with buildings which are considered among the [best architectural] masterpieces of the world," he said.
Sheikh, on the other hand, wonders if Lahore really needs a new city. There are many housing projects in the west, south and east of Lahore which have been going on for many years but there is still a lot of empty land in them, he says.
In the petition he has filed at the Lahore High Court, he claims that a large part of a government housing scheme called Johar Town -- started about 30 years ago -- has not yet been fully populated. Similarly, according to him, only scattered construction can be seen in another government scheme called LDA Avenue even though it was initiated more than fifteen years ago. Various private schemes along Ferozepur Road, Raiwind Road and Sharaqpur Road also are only 30 per cent to 40 per cent populated, his petition states.
"If the Ravi River Front is being built to meet the housing needs of the people of Lahore, then this objective could have been achieved through all the existing housing schemes," says Sheikh. "This did not require the acquisition of more than one hundred thousand acres of land."
He, therefore, believes that the Ravi River Front has been planned "only to reward the upper class". And, that too, for investment purposes because, as he claims, the housing needs of even this class for the next 40 years can be met by various DHA phases.
Pointing to the law passed by the Punjab Assembly to give a legal status to RUDA, Sheikh says this law authorized the authority to plan and design residential and commercial projects on public and private lands only in public interest. During its passage, however, no discussion took place in the assembly on what constitutes 'public interest' and whether acquiring land and giving it to private companies serves public's interests or the business interests of certain people, he says. "The completion of the bidding process for Sapphire Bay, though, has made it clear that the Ravi River Front has nothing to do with public interest."
He also points to a legal anomaly created by the bidding. By accepting the offer to get residential and commercial plots from the successful bidder, RUDA has become a partner in the project rather than just overseeing it, he says. This is "not legally valid".
Mian Mustafa Rasheed, leader of an organization of farmers affected by the Ravi River Front, also sees the project only serving the interests of rich investors. Land is being taken for it by imprisoning and threatening the farmers but such tactics will not succeed, he says. The farmers, he vows, will continue to fight against the project and will never give up their land for it at any cost.
Institutional boundaries
In 2013, when the then Punjab Chief Minister Shahbaz Sharif planned to build a city on the river Ravi, he assigned the task of implementing his plan to LDA. A high-level meeting held on 2nd August 2013, however, concluded that LDA did not have the financial and human resources to undertake a large project like this.
After the incumbent government came into power, it notified in 2019 that LDA would still work on the project. As soon as the notification was issued, several petitions were filed against it at the Lahore High Court. These petitions contended that LDA did not have a legal mandate to carry out development work for construction projects and that its function was only to supervise such projects. They also argued that LDA neither had the authority to acquire land for any construction project nor did it have any resources to carry out construction and development work on tens of thousands of acres of land.
Due to these objections, the Punjab government took away the task of building a city on the Ravi from the LDA and set up RUDA specifically for this purpose. But, as Sheikh points out, many legal complications were not taken into account in this transition.
LDA alone, for example, has the legal mandate to develop Lahore's master plan (which, indeed, is being prepared currently). This still does not stop RUDA from announcing that it will draw up a separate master plan for the area falling within the Ravi River Front. The authority also proclaims that it will be making changes in this master plan on its own.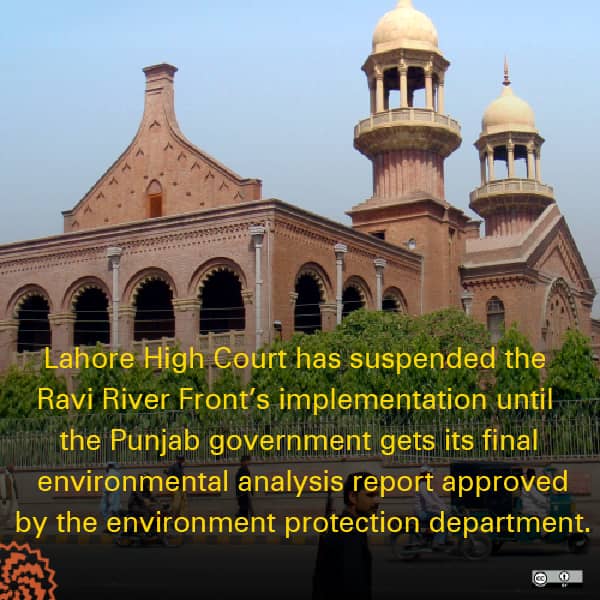 Similarly, RUDA's powers will be in direct conflict with local governments in Sheikhupura district (which partially falls within the proposed limits of the Ravi River Front). An instance of this clash of jurisdictions came to the surface on 27th April 2021 when RUDA wrote a letter to the secretary of Punjab's local government department, asking him to instruct local governments not to take any action on any residential or commercial project in the areas to be covered by the project. In response to various petitions filed against the letter, the Lahore High Court suspended its implementation in the month of June.
Controversial appointments
Karachi's Arif Habib Group owns 51 percent stake in Javedan Consortium that has won the bid for developing Sapphire Bay. The owner of the group, Arif Habib, was one of the founding members of RUDA's board of directors.
In a recent interview with Dawn newspaper, Amin, however, clarified that Habib had resigned from the board before the bidding process started. But Aqeel Karim Dhedi, a known Karachi businessman, is still a member of the board of directors while he is also a partner of Habib in a controversial construction project in Karachi called Nia Nazimabad.
Such controversies are not new at RUDA. Its first chairman, Engineer Rashid Aziz, for instance, resigned a few months ago because he was left powerless by Amin's appointment as chief executive. The appointment of S M Imran as RUDA spokesperson has also been controversial from the very beginning because he is also working as LDA's vice chairman. The critics of his appointment point out that he is the chief executive officer of a company called Din Properties which deals in real estate so his appointment as the head of a government agency also associated with the sale and purchase of land is a clear manifestation of conflict of interests.
Also Read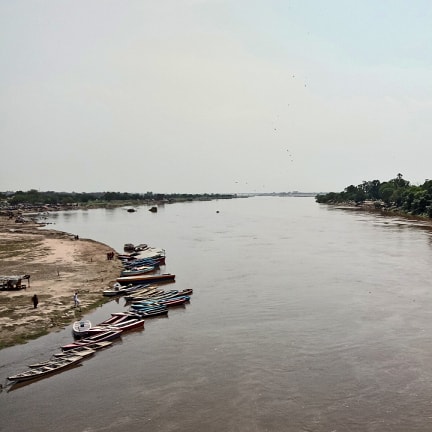 The cost of building a city on Ravi: 'The government is robbing us of our homes and hearths'
They also allege that his appointments at both LDA and RUDA were made not solely on the basis of his merit and qualifications but also because of his family's long-standing relationship with Prime Minister Imran Khan. For the past 25 years, his father S M Munir has been a member of the board of governors of Shaukat Khanum Memorial Cancer Hospital, a health facility named after the prime minister's mother. Munir is also the head of Din Group, an industrial and business entity which also has large stakes in construction and real estate.
A petition filed by a citizen, Muhammad Mushtaq, at the Lahore High Court against the Ravi River Front project points to another apparent contradiction. It says that, as LDA's vice chairman, Imran told the prime minister in a recent meeting that high-rise buildings should be constructed in Lahore rather than expanding the city horizontally. Following his proposal, the legal height of a building to be constructed on a plot of land measuring between 10 marlas and one kanal was increased to 48 feet and several other building rules were also changed. As RUDA's spokesperson, however, the same person is working on a project that will increase Lahore's horizontal expansion by more than 100,000 acres, the petition contends.
This report was first published by Lok Sujag on 27 Jul 2021, on its old website.