The first phase of Punjab Ujala Program was meant to be completed in nine months but its first phase alone took four years to complete. Its second phase has not even begun.
This program is part of a project under which the Asian Development Bank has lent 325 million dollars to Pakistan in order to provide clean and sustainable energy to backward areas and economically marginalised communities. Out of this money, 87 million dollars are being spent on providing solar energy to educational institutions and health centres across Punjab.
Initially, the solarization of schools in the province was named Khadim-e-Ala Ujala Program after former Punjab Chief Minister Shahbaz Sharif (because he called himself Khadim-e-Ala instead of chief minister). In a meeting he chaired on March 6th, 2017, it was decided that 20,000 schools across the province would be provided with solar power by the end of that year.
Soon, however, this target was changed.
In a later meeting Sharif chaired on March 29th, 2017, Shaheen Jabbar, secretary of school education department, said his department had provided data about 22,080 schools to energy-related institutions for the implementation of the program. About 15,000 of these schools are located in the southern districts of Punjab, he is reported to have said.
Almost two and a half years later, in December 2020 to be exact, National Transmission and Dispatch Company, a federal agency responsible for power distribution, sent an audit report of the Punjab Ujala Program to the Asian Development Bank. It stated that 10,861 schools in southern Punjab and 4,200 schools in central and north Punjab would be provided with solar energy under it. The total number of beneficiary schools was, thus, supposed to be 15,061.
The second major change was made by dividing the program into two phases. In the first phase, schools in southern Punjab were to be solarized and the second phase was meant for central and northern parts of the province.
The government documents show the first phase was to be completed by December 2017. On the contrary, it was only on July 28th, 2021 that the project management unit of Punjab's energy department informed the provincial school education department through a letter that it had been finally completed. The letter also stated that solar energy equipment had been installed in 10,750 schools till then.
As this information reveals, the first phase took 52 months to complete – which is almost six times longer than the government's initial timeline. This delay notwithstanding, National Transmission and Dispatch Company's audit report suggests that some work is still pending as solar energy has not been provided to at least 111 more schools in southern Punjab.
A senior official working in the Punjab energy department says the main reason for delay in the first phase was that installing solar energy equipment in about 11,000 schools in just nine months was an unrealistic target to begin with. This is because it involved a number of stages, ranging from the selection of contractors to the installation of equipment, each of which requires months to complete if all laws are to be followed. For example, he says, it took the government "nine months to select contractors who could provide and install high quality equipment within the allocated budget". He also says: "all solar energy equipment is imported from other countries and it takes several months to reach remote rural schools".
Bids versus budget
In November 2020, the provincial government launched the second phase of the Punjab Ujala Program. It aimed to provide solar energy to 4,200 schools located in 25 districts of northern and central Punjab. But 16 months later, only the selection of contractors has been completed for this phase.
Arif Mansoor Kaisrani, project director of the program, says the delay has been caused by the fact that the contractors offering to supply and install equipment were constantly demanding more money than the government's budget allocations. The government, therefore, had to "repeat the bidding process over and over again, delaying the start of the second phase".
Its bidding process started on November 23rd, 2020. According to the documents obtained from the Punjab energy department, bidding's second round was deemed necessary because the companies that had participated in the first round were asking for higher amounts of money than the officially allocated sums.
The second round was, thus, held on January 20th, 2021. In it, bids for package 3 (which consists of 337 schools in Chakwal district), package 5 (which consists of 464 schools located in Toba Tek Singh, Sahiwal, Pakpattan, Okara, Kasur and Lahore districts) and package 7 (which includes 288 schools in Jhelum, Gujarat, Mandi Bahauddin, Hafizabad, Chiniot and Faisalabad districts) were accepted. On the contrary, through a notification issued on April 9th, 2021 by Kaisrani, all bids for package 1 (which consists of 909 schools of Attock and Mianwali districts), package 2 (which includes 639 schools of Rawalpindi district), package 4 (which covers 1,031 schools located in Khushab, Bhakkar, Sargodha and Jhang districts) and package 6 (including 532 schools of Sheikhupura, Narowal, Sialkot, Gujranwala and Nankhana Sahib districts) were rejected.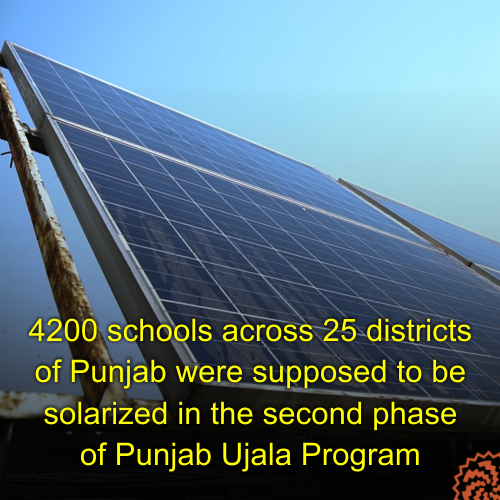 Later, Kaisrani also rejected the bids approved for package 7 through another notification issued on June 14th, 2021. Thus, after two rounds, only bids for package 3 and package 5 were accepted.
The third round of bidding was held in April 2021 in which the lowest bids made by the contractors for package 2 and package 6 were accepted while the bids for package 1 and package 4 were rejected again.
The fourth round of bidding was held on January 27th, 2022 in which the bids for package 1, package 4 and package 7 were finally accepted.
After the completion of these rounds, the government has signed contracts with all the successful companies except the lowest bidder of package 5, says Kaisrani. "The process of providing solar energy to schools will start soon and will be completed by the end of this year," he says.
Package deal
The successful bids for the second phase have some surprise statistics hidden in them.
According to them, the cost of supplying and installing solar energy equipment in a school included in package 5 districts (Toba Tek Singh, Sahiwal, Pakpattan, Okara, Kasur and Lahore) is 416,845 rupees. This is the highest cost in the whole province even though these are neither far-flung districts nor are they part of a mountainous or desert area which requires special means to transport the equipment there.
The geographical features of the adjoining districts in package 6 (Sheikhupura, Narowal, Sialkot, Gujranwala and Nankana Sahib) are the same as those in package 5 districts but over there the cost per school is 339,604 rupees – the second lowest in entire Punjab. Similarly, per-school expenditure in package 7 districts (Jhelum, Gujarat, Mandi Bahauddin, Hafizabad, Chiniot and Faisalabad) is 350,020 rupees which is also much less than per-school expenditure of package 5.
Also read this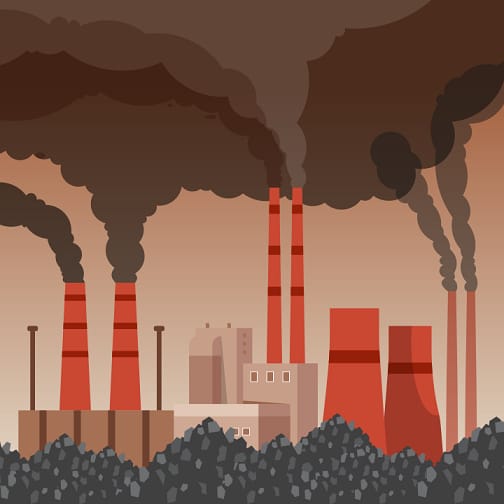 How the use of coal in cement production is increasing carbon emissions in Pakistan's air
What is more astonishing is that per-school expenditure of package 5 is even more than that in package 4 (329,935 rupees) which includes remote desert and semi-desert districts like Khushab, Bhakkar, Sargodha and Jhang. Surprisingly, package 4 has the lowest per-school expenditure in the whole of Punjab.
Similarly, per-school expenditure of backward and hilly districts like Attock and Mianwali is 340,463 rupees and it is 376,635 rupees per school for 11 districts of southern Punjab. This is despite the fact that technical and human resources required for transporting and installing solar energy equipment in these two areas are available in very limited numbers as compared to those available in Lahore and Sahiwal.
The government's stance on these discrepancies is that its officials have accepted the lowest bid for each package by fully complying with the law. Hence, they say, if the lowest bid for one geographical package has been higher than the lowest bid for other areas, it cannot be blamed on any dishonest practice by an official or any irregularity in the bidding process.
The only official solution to bridge this financial disparity is that fresh bids are invited for package 5. That, however, will inevitably cause further delay in the completion of the already much-delayed second phase of the program.