Iram Shehzadi's professional troubles came to an end in a way she had not expected: She was fired from her job as an assistant director at the Punjab Land Records Authority (PLRA) on 17th March 2021. A departmental inquiry had found her to be involved in corrupt practices.
Shehzadi had joined the Punjab Board of Revenue in 2013 and was transferred to PLRA in 2017 when it was set up by the Punjab government to computerize land records across the province. Her woes began soon after she became a PLRA employee, she says.
She narrates how in September 2017 she, along with another female colleague, went to the office of Captain (retired) Zafar Iqbal who was then heading PLRA. She says Iqbal was sitting with his feet on a table and a cigarette in his hand. "When we sat down in front of him, he put his feet down and started scratching his crotch while staring at us." This, she says, "made us very uncomfortable so we hurried out of his office".
At another time, Shehzadi alleges, Iqbal asked her if he could take her out for dinner. She also alleges that he offered her an apartment in order to seduce her.
She says she continued to ignore "this misconduct" until 2018 when she was transferred her to Safdarabad – a tehsil in Sheikhupura district – while she was pregnant. According to her, Iqbal rejected her application for a medical leave although she told him that she was having a complicated pregnancy. So, she says, "I had to travel every day from Lahore to Safdarabad" – a 240-kilometer two-way journey involving travel on potholed rural roads. Consequently, she says, her fetus was aborted.
Frustrated, she filed an application at the Supreme Court's human rights cell against Iqbal for misusing his administrative authority to harass her. Her plea was heard in an open court by then Chief Justice of Pakistan, Justice Saqib Nisar, who suspended Iqbal and ordered PLRA to reverse her transfer.
Since then, she alleges, she has been subjected to many retaliatory actions by Iqbal's "cronies". One of them, Colonel (retired) Rehman Saqib, who works as director vigilance at PLRA, threatened her of serious consequences for complaining to the Supreme Court, she says.
Iqbal's Lahore-based lawyer Chaudhry Sultan Mehmood, however, says his client has nothing to do with her troubles. "He has moved on," says Mehmood. "Why would he waste his contacts and resources on an old case?"
After he left PLRA, Iqbal has worked as provincial secretary of the industries department and as commissioner of Sargodha division. He now works as commissioner Bahawalpur division. "His appointment to these senior administrative posts shows that he is a credible person," his lawyer says.
Shehzadi, on the other hand, says that, since May 2020, she has filed a harassment complaint against Iqbal at the office of the federal ombudsperson on sexual harassment (because he is a federal government employee). "The proceedings on that complaint have still not taken place so he cannot claim innocence," she says.
The legal battle
The narrow alleys of Lahore's district courts are lined with makeshift stalls under which yellowing cane chairs can be seen behind wooden desks. These stalls serve as chambers for lawyers.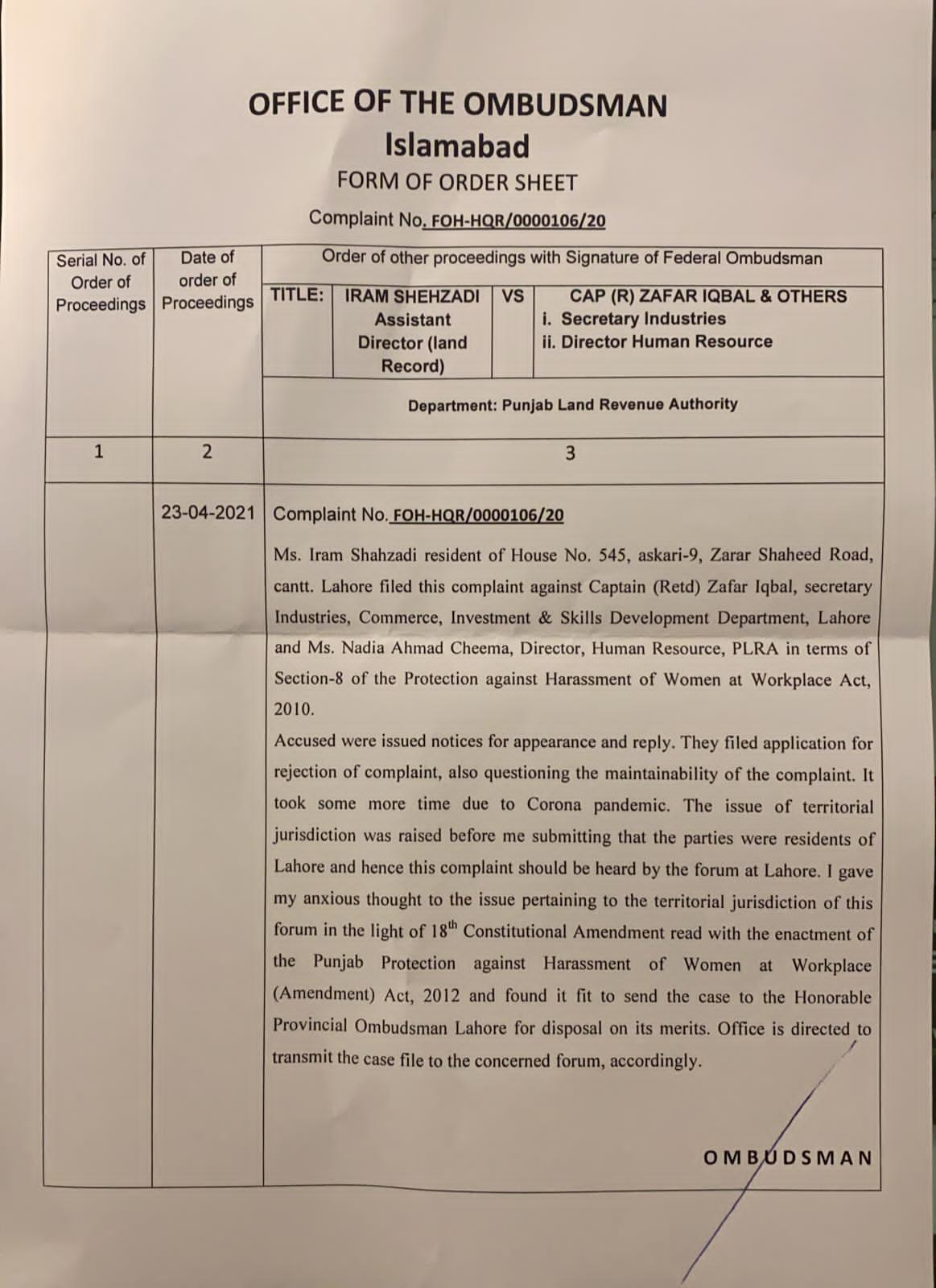 Looking at the stacks of paper lying on the desks and also changing hands in the chambers, one can imagine the emphasis this place puts on documentary evidence. The victims of sexual harassment, however, can hardly present any document to support their allegations.
As a PLRA employee puts it, "there is no place for women in the judicial system". She claims to have been harassed multiple times but has never found the courage to file a complaint.
Shehzadi is different.
Dressed in a plain cotton shirt paired with a white shalwar and dupatta, she navigates the courts premises with an odd familiarity. She greets a lawyer, drags a bench and sits on it, looking at the crowd of men milling around. They all seem to be in a rush yet, without exception, they stare at her when they pass her by.
"I have nothing to lose," she says when asked about her lack of concern for being among so many men. "I have already been harassed and defamed," she says and insists with a grim resolve that she "will knock at every door to seek justice" no matter what the cost.
Shehzadi has been to the district courts 15 times in the last couple of years. She has also faced six different departmental inquiries and is involved in several other cases too.
One of them was her complaint to Punjab's ombudsperson on harassment at workplace. Another was a civil defamation suit. She has also filed two petitions at the Lahore High Court: one for the enforcement of the ombudsperson's order that no departmental action is taken against her which could be seen as a retaliation to her harassment complaint; the other is a request for the court's injunction on who the competent authority is to take action against her -- PLRA's director general (whom she alleges to be vindictive towards her) or the head of the Board of Revenue which had hired her in the first place.
Her harassment complaint pertains to the alleged mistreatment she faced from Rehman Saqib. Filed in August 2019, it was dismissed on 2nd December 2020. "It can be safely inferred that most of the issues raised by Ms. Iram Shehzadi are linked with administrative matters while no specific allegation of sexual harassment has been leveled by the complainant against the accused," the ombudsperson wrote in her order.
Shehzadi is not happy with the decision. She believes that she has not been given a fair hearing. She says that she was not even present during the proceedings in which the ombudsperson gave her verdict. She also possesses a recording of a call between herself and the legal consultant of the office of the ombudsperson which purports to suggest that the ombudsperson changed her mind at the last moment in her case.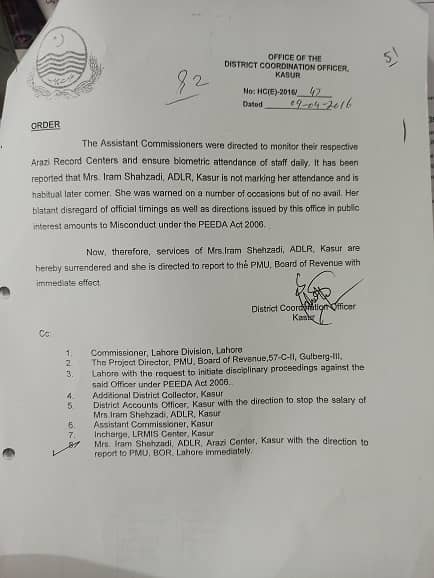 One of the warnings letter given to ADLR Iram Shehzadi
In the recording, the consultant can be heard saying that the ombudsperson "had decided to impose a minor penalty" on Saqib and had "even dictated an order" in this regard but then PLRA's director general Moazzam Iqbal Sipra convinced her otherwise.
In the hour-long recording, the consultant says that Sipra was able to change the ombudsperson's mind by arguing that a penalty would jeopardize 250 inquiries being conducted by Saqib against different PLRA employees. "That will cause a lot of logistical problem for us," the consultant can be heard quoting Sipra.
Personal slurs
Captain (retired) Zafar Iqbal's lawyer Mehmood says Shehzadi is resourceful and influential enough to hire the best lawyers in the city and move courts in her favor. "How come she gets a stay order whenever she approaches a court?" he says and adds that, in spite of being a Supreme Court lawyer, he cannot get judicial relief as frequently as she has managed.
Her opponents also allege that she is a habitual litigant. To substantiate their allegation, they say that she has accused several men of harassment. One of her early complaints was against the in charge of a PLRA service center in Lahore. She alleged that he would look at her slyly while she breastfed her child at work. She filed another harassment case against a lawyer who visited her officer regularly. She says her female colleagues had complained to her against him.
Mehmood alleges that Shehzadi has the habit "of using harassment claims" as a tool to ward off disciplinary actions against her. "She is not an innocent woman. She is a vile person," he claims.
Saqib also gave a similar argument in front of the ombudsperson. "…the complainant habitually uses the tool of harassment against those who some way or the other try to inquire any matter connected with her".
Shehzadi, however, is not alone in complaining of harassment at PLRA. At least one more female employee of the authority, an assistant director, tells Sujag of how she suffered a miscarriage due to her transfer which had forced her to travel every day from her home town to Lahore during her pregnancy.
She also talks of several other women having been harassed by the department's high officials. She describes how PLRA's women officials facing disciplinary actions are confined to a room in the authority's headquarters and are not allowed to even keep their mobile phones with them.
Shehzadi, additionally, is also accused of being insubordinate and corrupt. While her harassment complaint was being heard by the ombudsperson, PLRA launched four different inquiries against her. This prompted the ombudsperson to direct her superiors to take no retaliatory action against her as long as her harassment complaint was not addressed.
They chose to ignore the direction though. In fact, the inquiry that led to the termination of Shehzadi's job was also -- at least partially -- conducted while the ombudsperson was still hearing her complaint.
On 7th September 2020, Punjab anti-corruption department also started investigating her alleged involvement in corrupt practices. Only two days later, she says, more than 30 police officials came to arrest her from the house of her in-laws at 8:30 pm. "The police hardly ever acts so swiftly in any other case and that too in such large numbers," she says.
Also Read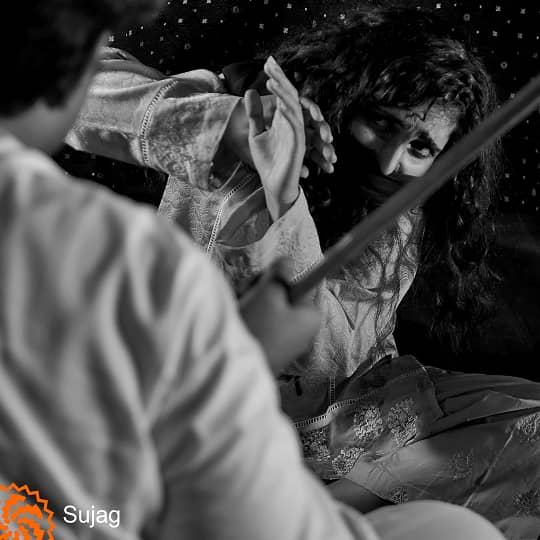 The cross on their little shoulders: Kidnapping and forced marriages of Christian girls in Pakistan
She had to move the Lahore High Court to avoid arrest and imprisonment.
Earlier, in October 2019, a highly scandalous and libelous letter about her started circulating on social media. It accused her father and brother of being petty criminals and her mother of having lose morals. It also contained highly derogatory and insulting language about her family – all without any evidence.
Shehzadi says the letter was a brainchild of Zafar Iqbal's brother. She filed a complaint about it at the cyber-crime wing of the Federal Investigation Agency (FIA) but her complaint was dismissed.
FIA claims that it has found no proof of the involvement of Zafar Iqbal's brother in the writing and the circulation of the letter. Surprisingly, it also did not take any action against the person who had purportedly written the letter even though his name appeared very clearly at the end of it.
"Sometimes I just want to commit suicide," says Shehzadi while talking about the personal attacks she has faced. "Had my husband not supported me, I would have given up."