The Pakistan Tehreek-e-Insaaf (PTI) government has approved the import of 500,000 tons of sugar after sugar prices in the country have increased by 7 to 10 rupees in the last couple of weeks. The government has announced that no import taxes will be levied on these imports.
The government has also allowed sugar mills to import 350,000 tons of raw sugar and sell it in local markets after refining it locally.
One of the most important reasons behind these announcements is a letter sent to Prime Minister Imran Khan by the Pakistan Sugar Mills Association. The letter has been written to apprise him that by December 31, 2020, sugar production in Pakistan was 300,000 tons less than the target the government had set for the year.
According to the Pakistan Sugar Mills Association, this target was not met because the Punjab government had asked sugar mills to start crushing sugarcane by November 15, 2020, even though sugarcane crop in many parts of Punjab had not fully matured by that time. It claims that the sugarcane bought as a result of this government decision had a recovery rate -- the ratio of syrup extracted from sugarcane – that was less than the usual which, consequently, brought down the production of sugar.
The association also alleges that the Punjab government has not been able to control agents and middle-men that buy sugarcane from farmers and then sell it to sugar mills. It claims that these agents buy sugarcane from farmers at the government's notified minimum price (Rs 200 per 40 kilograms) and then sell it to sugar mills at Rs 270-300 per 40 kilograms.
Advertisements in newspapers and television channels run by the Pakistan Sugar Mills Association also hold Punjab's Cane Commissioner responsible for the decrease in sugar production. These carry allegations that he forced the mills to start the crushing season earlier than usual and did not do enough to check the activities of agents and middle-men.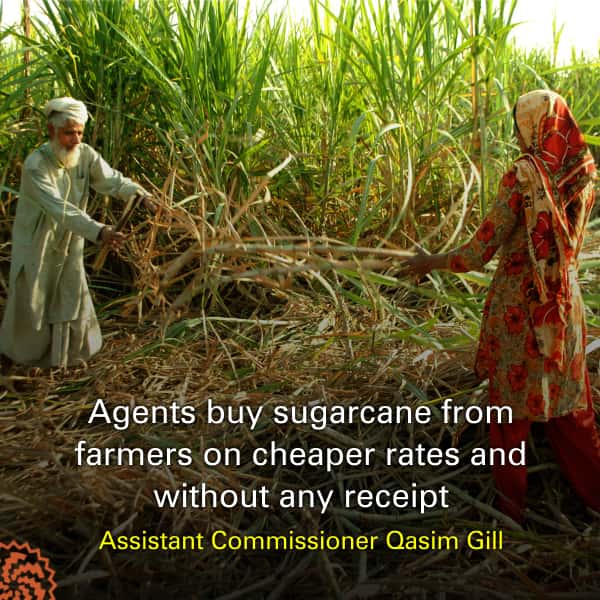 On the other hand, Punjab's Cane Commissioner Muhammad Zamman Wattoo has recently got sugarcane crop tested by private laboratories to determine its recovery rate. These tests show that the recovery rate has been higher than what sugar mill owners have claimed in their correspondence with the government. He, therefore, rejects the allegation that sugar production has decreased because of the government's decision to start sugarcane crushing in November 2020.
He also states that his department does not have enough manpower to control agents and middle-men in all the areas of Punjab. "Nevertheless, we are trying to do as much as we can with the help of the district administration," he says.
He claims that "since the start of this sugarcane season, we have shut down 367 illegal sugarcane purchasing centres, registered cases against 200 people and arrested at least 71 middle-men."
Muhammad Irfan Hanjra, assistant commissioner at Kamalia, a tehsil in Toba Tek Singh district, has also been involved in this crackdown. He claims that his department has registered ten cases against illegal sugarcane purchase centres in Kamalia while legal proceedings have been initiated against more than 40 illegal purchasing centres and agents throughout Toba Tek Singh district.
Two types of agents are buying sugarcane from the farmers: some are authorized by sugar mills to do the buying on their behalf and the others are buying the crop privately for selling it to sugar mills on a premium.
According to Khalid Rasheed, an official of a sugar mill in Patoki, a town in district Kasur, agents are legally allowed to establish centres for buying sugarcane if they get permission from the provincial government as well as from local sugar mills. They also have to abide by the official rules and regulations while making any purchase. He, however, admits that "there are people who purchase sugarcane stealthily without any official approval."
Khalid Rasheed believes that the provincial government and sugar mills are both worried about these agents. On the other hand, Muhammad Zamman Wattoo alleges that "these agents cannot buy any sugarcane without the connivance of a sugar mill."
A recent case verifies Wattoo's claim. Jhang's assistant commissioner Qasim Gul has arrested two agents who were buying sugarcane illegally. According to Gul, it was later revealed that "these agents were working in collaboration with a sugar mill's officials. They were paying less than the notified rates to the farmers and were also buying sugarcane without issuing any sugarcane purchase receipts (CPR) to them."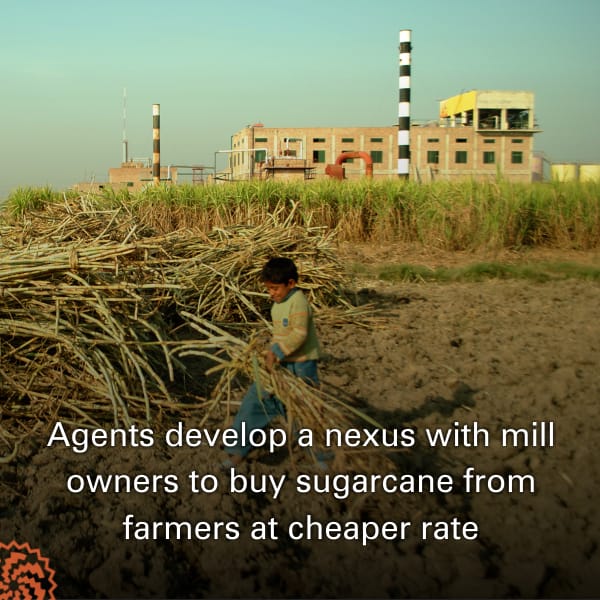 Shaukat Ali Chaddar, president of a farmers' organization, Pakistan Kissan Board, claims that these agents always work at the behest of sugar mills. "In most cases, they are either employees of sugar mills or their relatives," he says.
Khalid Pervaiz, information secretary of Pakistan Kissan Board, alleges that a sugar mill in Okara district has a registered sugarcane purchase centre in the name of Muhammad Afzal, who is one of its employees, but in reality the sugarcane being purchased here is through agents.
An agent named Muhammad Irshad buys sugarcane for this centre.
He tells Sujag that he is not afraid of any legal proceedings because he works in collaboration with Muhammad Afzal.
Riaz Ahmed, another agent in Okara, says that sugar mills do nothing against agents as long as they benefit from their work. He used to buy sugarcane for a sugar mill in Okara but it would reject his weight calculations and paid him less than the actual price. So he started to procure sugarcane for mills in Kasur and Faisalabad which gives him a better price. When the sugar mill in Okara came to know about this, it got three cases registered against him for illegally purchasing sugarcane.
How do agents work?
Muhammad Irshad says he at times purchases sugarcane straight from the field. In such situations, he pays the farmers less than Rs 240 per 40 kilograms. He also says that he regards every 40 kilograms of sugarcane to be 39 kilograms and in this manner takes home 1000 kilograms per every 40,000 kilograms of sugarcane he buys.
In other words, if the sugarcane price is Rs 240 per kilogram, then for every batch of sugarcane worth Rs 240,000, he would pay only Rs 234,000.
Muhammad Irshad justifies this cut in price by claiming that a part of sugarcane is pulled out by people while it is being transferred to the mill. It is, however, far-fetched to say that for every 20,000 kilograms of sugarcane that a trolley carries, around 500 kilograms is pulled out. He similarly says that sugarcane dries up in transportation which decreases its weight and then mill officials also cut 250 grams from every 40 kilograms of sugarcane on account of the material used in binding it.
But Muhammad Zamman Wattoo says that any cut in price is illegal. He refers to the Sugar Factories Control Act 1950 which states that sugar mills cannot levy cuts on the price of any variety of sugarcane.
Muhammad Irshad also confesses that he never provides farmers with any sugarcane purchase receipts (CPR) but also never gets a similar receipt from the sugar mill he sells the sugarcane. The payment for sugarcane is directly transferred to his bank account so he "does not even know whether any cut has been made in the weight or the price of sugarcane. I do not have any proof of the transaction."
Muhammad Zamman Wattoo, too, also acknowledges that sugar mill owners have established purchase centres where they buy sugarcane but never issue any CPRs.
An agent in Okara named Zulfiqar says the absence of CPRs helps sugar mill officials claim that they have bought less sugarcane at higher price.
He knows a sugar mill in Kasur that has established a purchase centre in Vehari. The mill is buying sugarcane at a price of Rs 215-220 per 40 kilograms but the CPRs being issued after its transportation to Kasur show a price of Rs 320-340 per 40 kilograms.
Also Read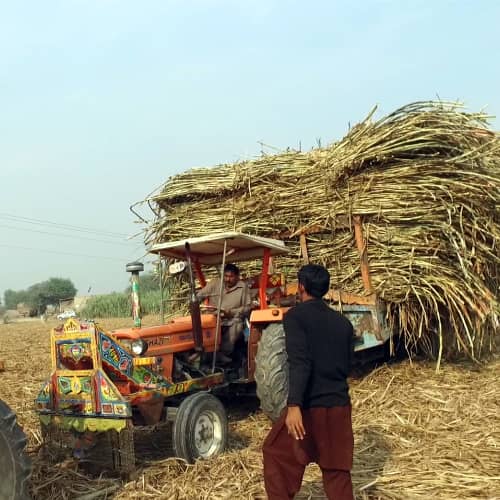 Growers await payment six months after selling their sugarcane crop to Pasrur Sugar Mill
He further says that sugar mill owners will be exhibiting these CPRs in the near future to claim that since they have bought sugarcane at a high price, they have no option but to increase sugar prices.
Shaukat Ali Chaddar claims that all sugar mills levied big cuts in sugarcane's weight in 2017 when there was a bumper crop in Punjab. They also imposed many cuts in its price. "Even though the Cane Commissioner is not allowing sugar mills to do the same this year, the process of purchasing sugarcane through agents and overstating the buying price by forging CPRs is still going on rampantly," he says.
A report published by the federal government last year after investigations into a sugar price crisis also confirm that this happens as a matter of routine. It reveals that mill owners sold sugar through illegal means by understating the weight of the sugarcane they had purchased and not bringing the excess sugar they had produced on record.
According to this report, six sugar mills increased their profits by 53 billion rupees by forging records and evaded around 18 billion rupees in tax alone.
Muhammad Zamman Wattoo confirms this and says that the practice of selling sugar illegally is also being followed this year. In a letter he addressed to the provincial industries department, he claims that he has evidence about how sugar is being sold without proper intimation to the provincial government.
This report was first published by Lok Sujag on 1 Feb 2021, on its old website.