Forty-five-year-old Maulvi Latif, living in a one-room house with two daughters and one son in the Chungi Amarsadhu area of Lahore, has regularly worked as a senior machine operator in Pakistan Electron Limited (Pel) company for the past 20 years. Last year, he was fired without notice.
Before being expelled, the factory management informed him that he had been transferred to another company branch in Lahore.
He was pleased with this decision because, according to him, he had heard about the employees in the other branch receiving better wages. However, the next day, when he went to the other branch, he was first made to wait for two hours, then asked to sign some documents, and finally told that the factory no longer needed him.
When he reached home amid anxiety, his health had worsened due to extreme stress. His senses were restored only after his family members consoled him.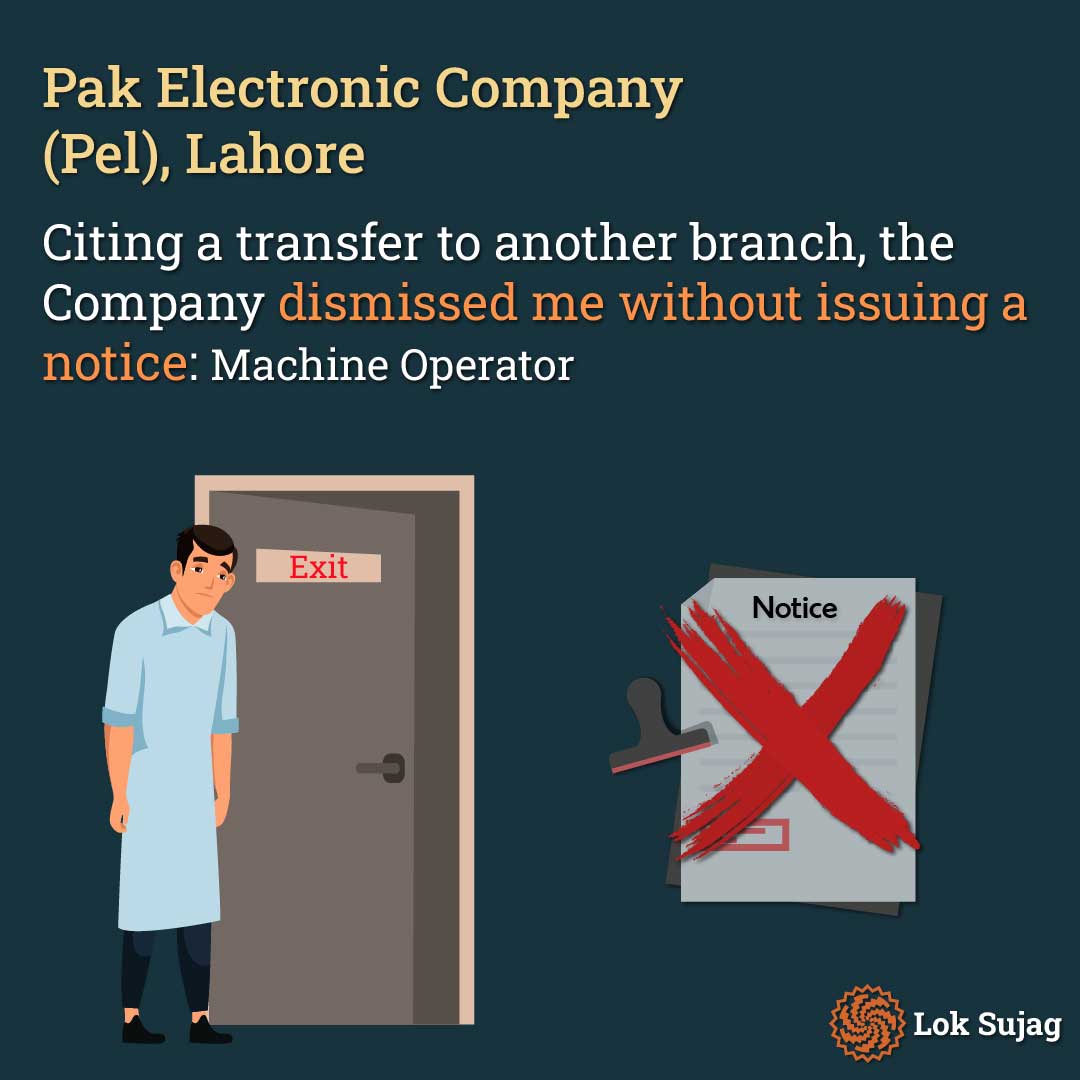 Maulvi Latif worked in this factory for 20 years, but he was fired in just one moment, which worsened his financial situation. He decided to raise his voice against this decision and started going to the Lahore demonstrations for workers' rights. During this time, some other factory employees who were abruptly fired like him also came with him.
When Latif campaigned for his rights, he was allegedly called again by the company management six months later, where he was "fraudulently made to sign a blank stamp paper." According to him, he was told that he was being reinstated, but later, he came to know that his signature was later used in an apology letter, which testified to his involvement in the "processions that damaged the company's reputation."
Since Latif is illiterate, he did not understand this conspiracy.
When Maulvi Latif started demonstrations with the affected employees again, the Company allegedly threatened him with legal action based on his signed apology.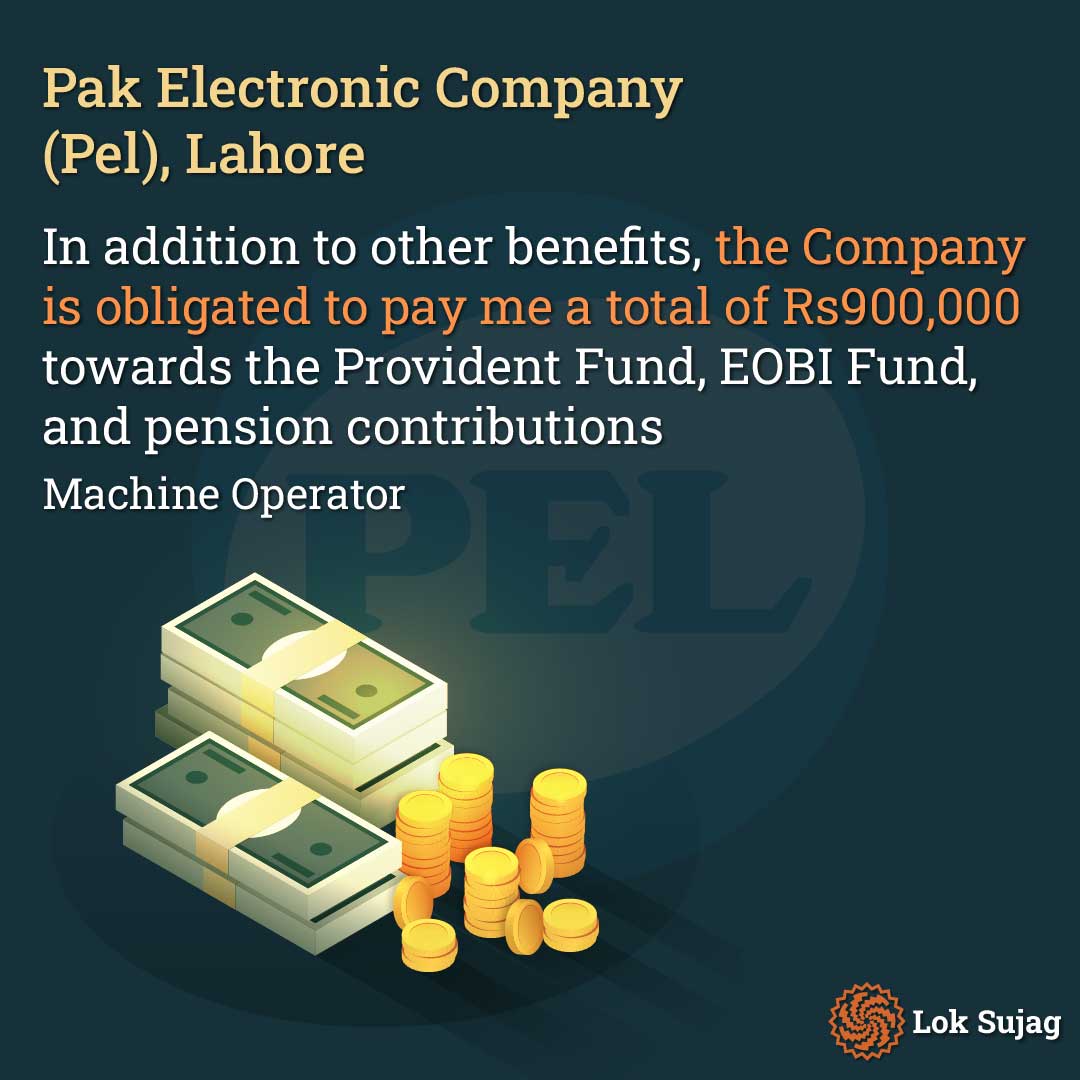 He claims that after signing the blank paper, he was only given Rs 260,000 as a bonus and other benefits, whereas Provident Fund, EOBI Fund, and pension contributions, along with other benefits, should have amounted to an additional Rs 900,000, as per the Company's obligations.
After losing his job, Latif took his daughters out of school and enrolled them in a Madrassa.
He says that he devoted 20 precious years of his life to the Company, but in return, the Company has forced him to face setbacks at age 45.
Latif has been unemployed for the past year. He has tried to find jobs in various places, but other companies or factories tend to avoid hiring him due to his advanced age.
He claims that since he was sacked, Pel has laid off another 1,000 workers, of which around 400 are protesting with him for their rights. The Company lured many workers with the promise of arrears if they did not protest. Many workers have fallen into this temptation and have stopped protesting.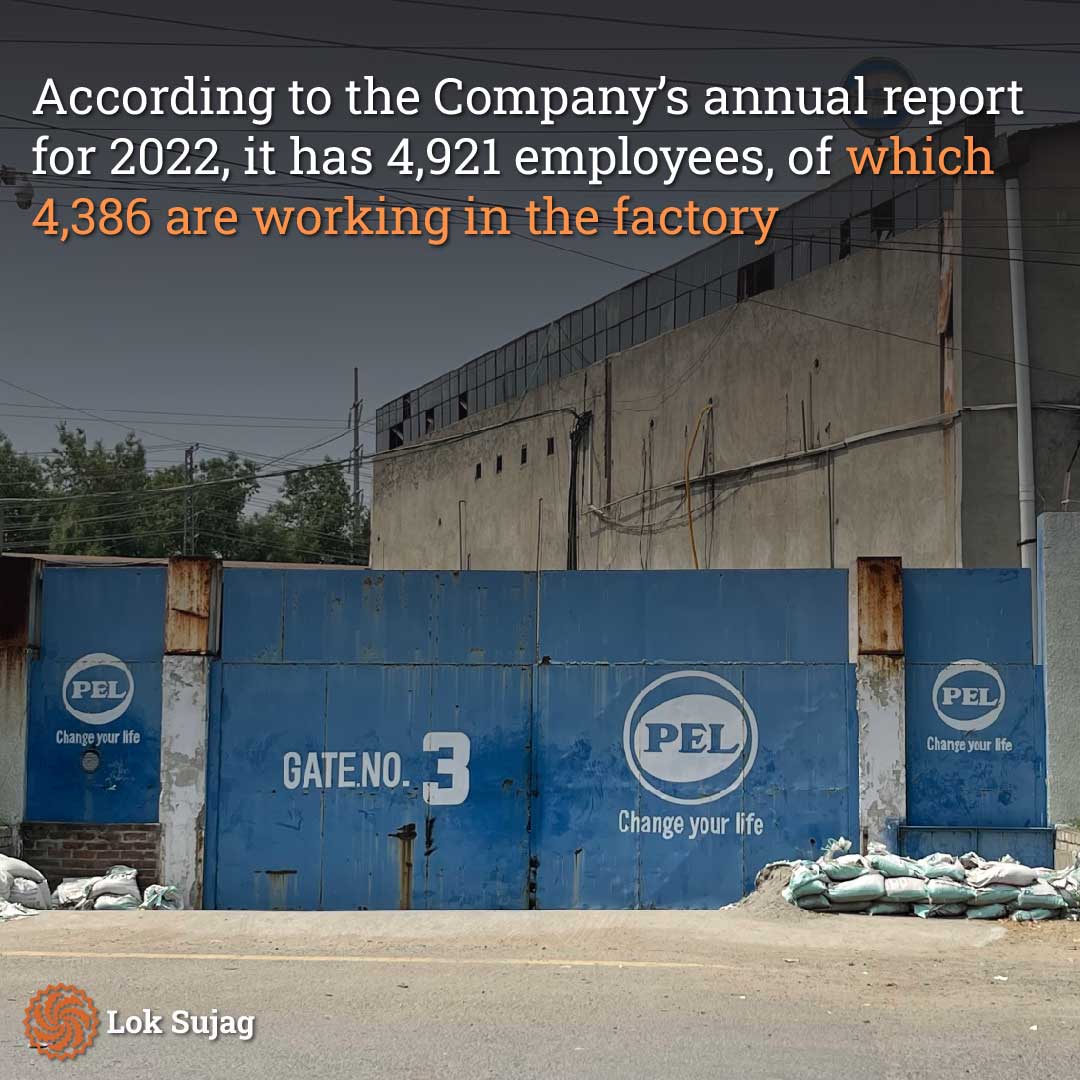 According to its annual report for 2022, Pel has 4,921 employees, of which 4,386 work in the factory.
Fifty-year-old Rana Rasheed, a resident of Bustan Colony in the Qainchi Bazaar area of Lahore, has worked in this Company for the last ten years. When he was dismissed, his salary was Rs 25,000. He also says that he gave ten years of his life to this Company, but the reward he got from the Company was that it fired him without giving any prior notice.
Rashid has also been unemployed for a year. He has no savings, and as no job is available anywhere, he survives by taking loans from people.
He is the father of a 14-year-old son and two daughters, aged 11 and 6. One of his daughters has epilepsy. He says that he used to get the child's medicine from the Social Security hospital because of his job in the Company. But ever since the job ended, it has become difficult for him to buy his daughter's medicine. There are times when he has to visit one hospital, and other times, he seeks help elsewhere, but currently, he cannot afford the necessary medication for his daughter.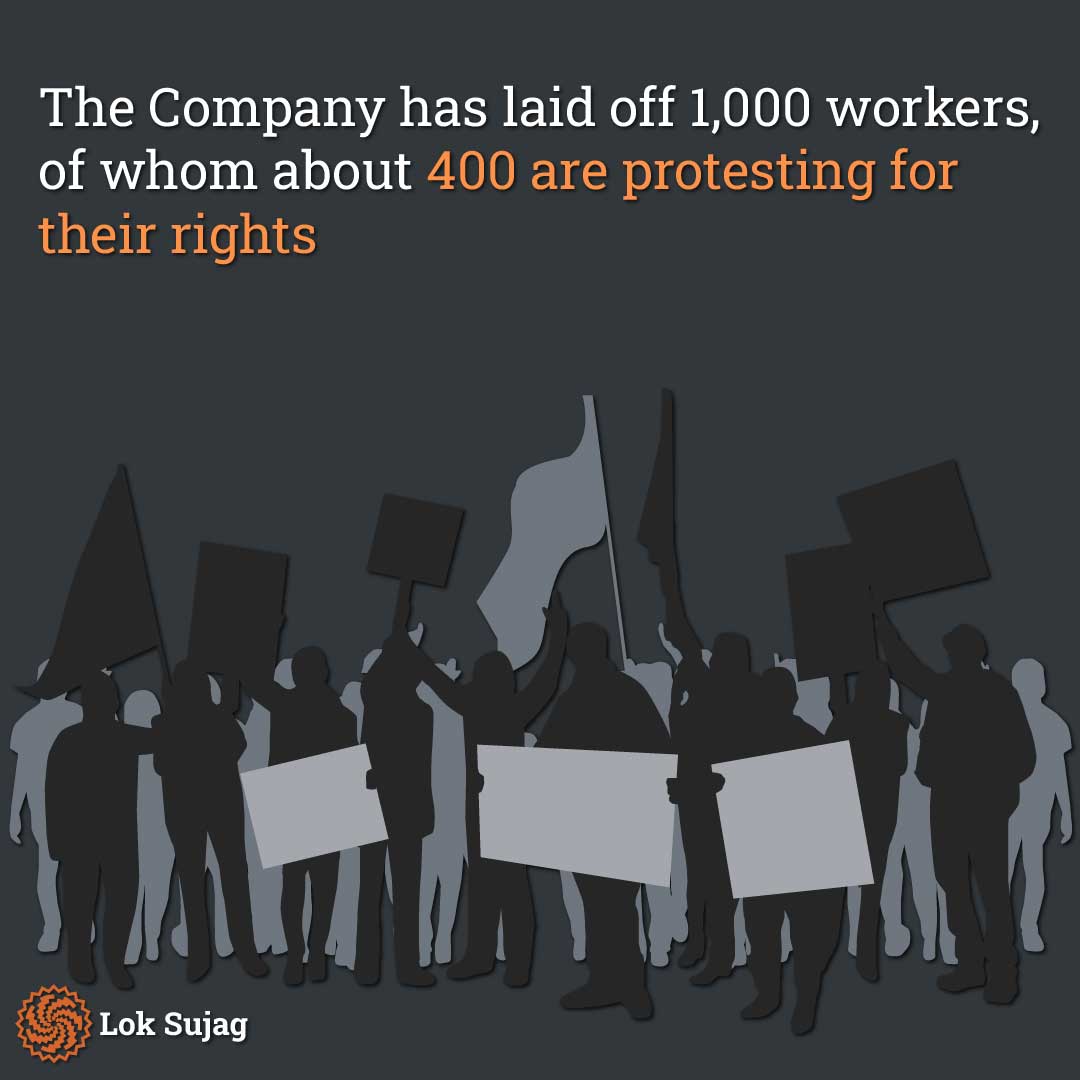 He alleges that in Pel, one worker is assigned three different tasks. If any worker refuses, they are dismissed by the Company. Therefore, he continued to perform three tasks because he feared that refusing any job might lead to losing his job. However, when the workload became too much for him to handle, he told his supervisor that he could not do so much work. The supervisor and manager then transferred him to a section where he had to work in hotter and more demanding conditions.
He was transferred to another section before being fired in 2022 after being allegedly told he could not work.
Rashid says that if his hourly time is estimated, it will be apparent that he worked more than the scheduled time and took no leave without any reason.
He says that when he was about to be fired, many workers were gathered together in a hall. There were also a significant number of security guards present on that occasion. The factory management called each worker individually and asked them to sign on the stamp paper and receive their dues.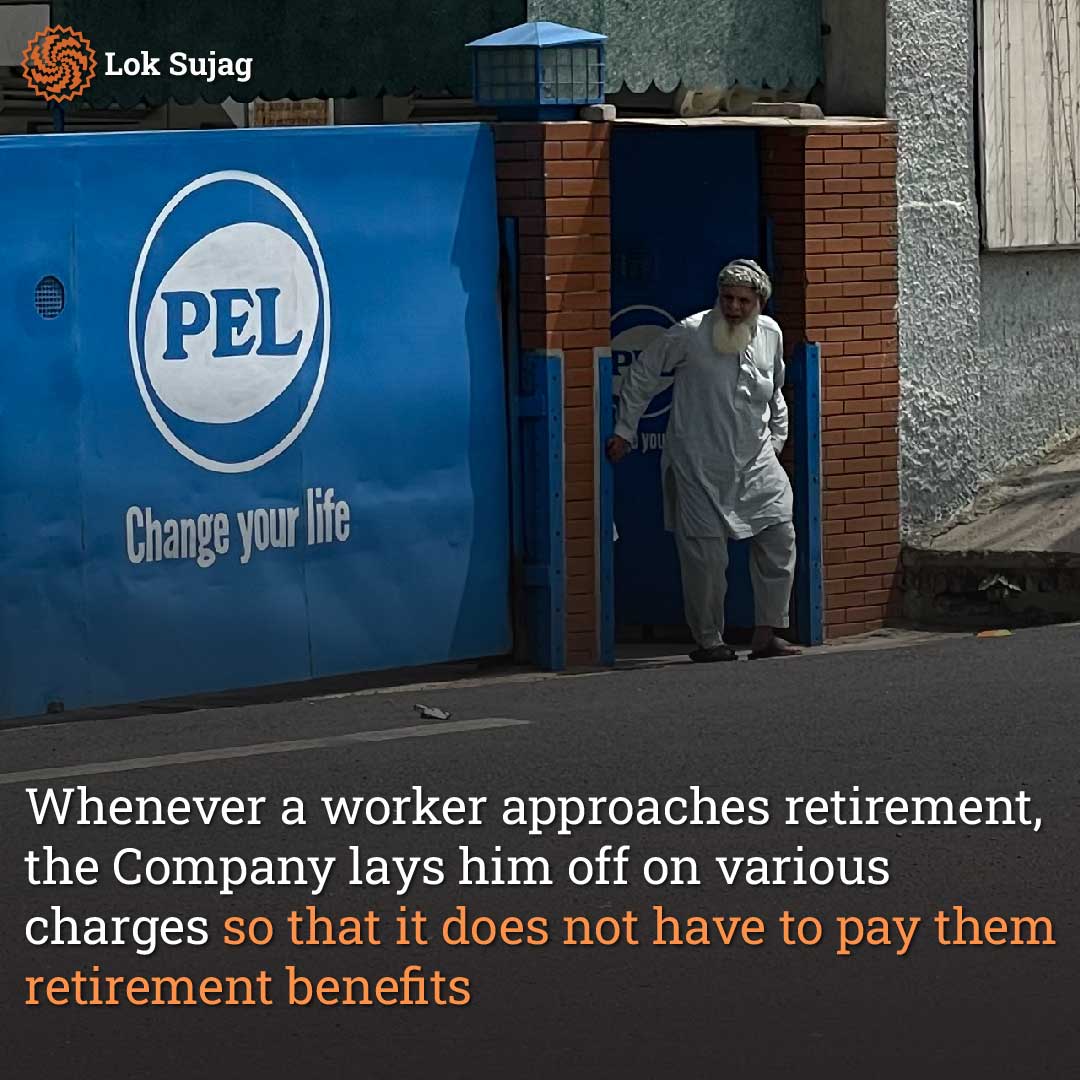 He says his paid dues were much less than the amount he was entitled to by law. Afterwards, the security guards escorted him to the gate. He demands that the Company either reinstate them or give them their rightful dues.
Latif Ahmed and other workers have filed an application for their rights in the Directorate Labour South in Lahore. The application says that these labourers have been working in Pel One and Pel Two factories located on Ferozepur Road in Lahore, and the management received no complaint against them. Despite this, they have been dismissed, and their legitimate arrears and dues have not been paid. They have demanded the Directorate Labor to reinstate them or pay full dues.
Mehwish Irfan, Area Officer of the Labour Department South, says that she processed the request, and the Labour Department ensured the payment of dues of several workers of Pel Company. At the same time, the Company also reinstated some of the workers. The Company had told the department that it was not in a position to hire these people due to the current economic situation. Besides, the Company also says that these workers were notified before being fired.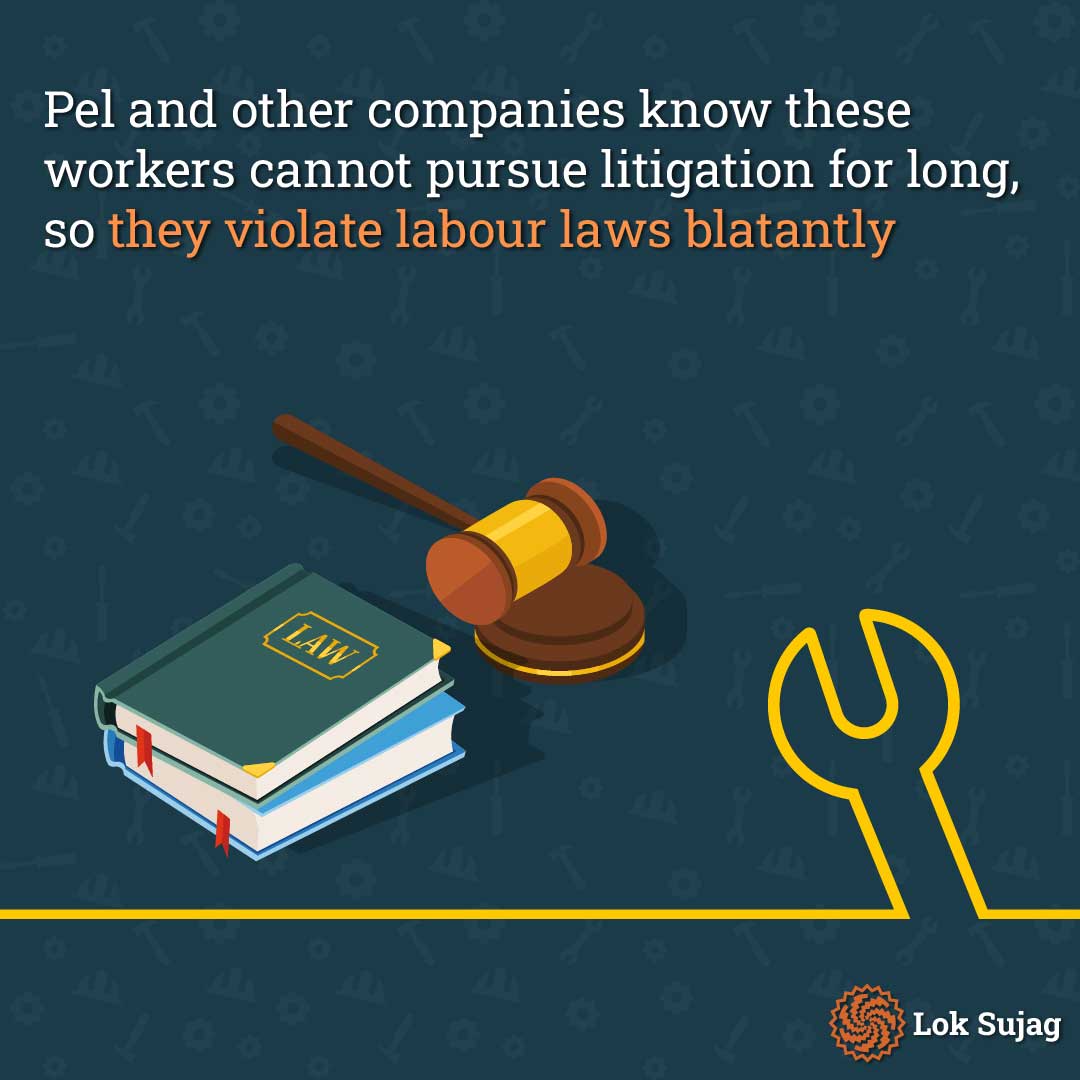 But Latif denies this and says he did not receive any notice but was dismissed from his job by fraudulently obtaining his signature within a day.
Baba Latif Ansari, Chairman of the Pakistan Labour Qaumi Movement, has condemned this move of Pel, saying that it is a major electronics manufacturing company in Pakistan. Still, despite this, workers' rights are being violated there.
He says the Company has wrongfully terminated thousands of workers without notice and fulfilling their obligations, citing excuses like a shortage of raw materials (LC) and a lack of dollars. This action is a clear violation of labour laws.
Also Read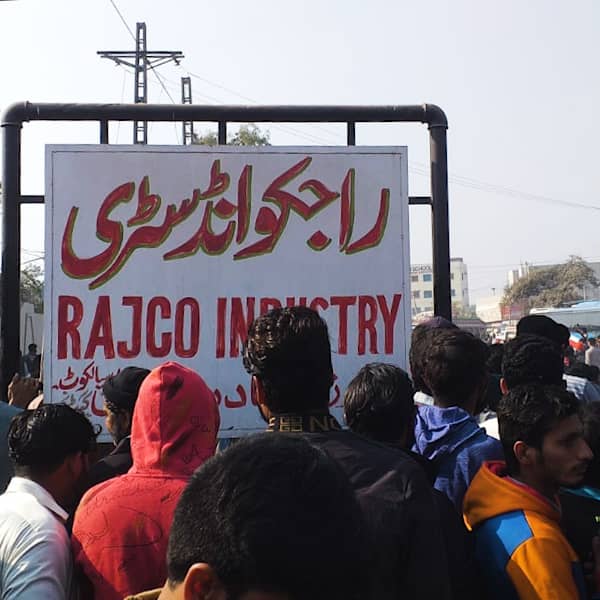 Rajco lynching: Factory labourers oppressed and deprived of fundamental rights
He mentions that his organisation conducted protests and demonstrations in response. While the individuals who had already been terminated were not reinstated, the Company ceased further layoffs.
Chaudhry Shoaib Saleem, a lawyer in the Lahore High Court, terms the termination of the employment of these workers as a violation of labour laws, saying that whenever a worker approaches retirement, the Company charges them with malpractice or any other charge so that it does not have to give benefits in the form of retirement.
He says that no labourer has the power to take a job elsewhere or to go around the courts for years. Pel and other companies know that these workers will not be able to prosecute for long and will drop out.
Lok Sujag repeatedly tried to contact Pel's management to understand the Company's stance on the matter but received no response. This reporter also sent questions to company secretary Muhammad Umar Farooq through e-mail but never received any reply.