A Khanewal-bound train is scheduled to leave Lahore only two hours later but repair work on its engine is still going on.
A number of mechanics at Lahore's Mughalpura Diesel Shed are putting in a lot of hard work to fix the faulty parts of the engine. Seemingly, however, the button that automatically activates the engine cannot be repaired in time.
After realizing this, one of the mechanics tells the engine's driver, waiting in a nearby room, that they still have a lot of work to do to fix the problem. If the train has to leave in time, he suggests, the engine will have to be connected to the battery of another engine to start it.
Upon hearing this, the driver asks, "What will I do if the train stops somewhere along the way?" His query, however, goes unanswered.
As a matter of fact, the driver has no choice but to run the train with this malfunctioning engine. Because, if he refuses to do so, he may lose a part of his monthly payment from Pakistan Railways. He cannot afford that.
To save himself from any blame, he asks the mechanic to write it down as a proof that the button is not working so that he can prove his innocence in the event of an accident. The mechanic immediately writes a note and signs it.
The engine is then started without using the button and the driver takes it to the railway station so that it can be connected to the train on time.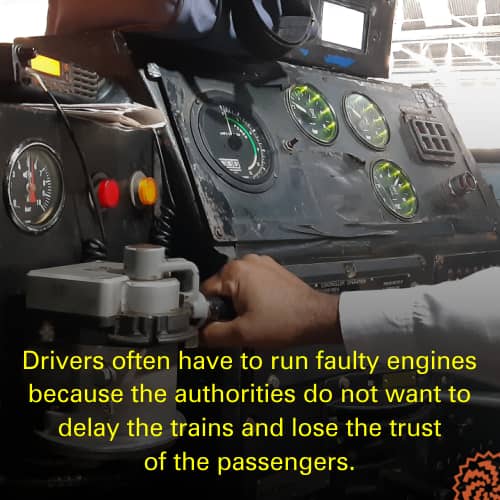 Pakistan Railways workers say this incident — which took place on the evening of August 31, 2021 — is not unprecedented. Such incidents, in fact, are a daily occurrence in their department, they say.
Declining to be named, an employee who has worked as a train driver for 21 years says: "Drivers often have to run faulty engines because, in a bid to restore passengers' confidence in the rail system, railway administration wants to end train delays at all costs." (The administration did not respond to repeated queries about the matter.)
The employee also says a driver with a faulty engine suffers from severe anxiety while driving a train especially through densely-populated areas and railway crossings. "He passes through such places only with the help of God, because he is always afraid that there could be an accident due to the engine's failure."
Accidents don't happen overnight
The Chief Personnel Officer of Pakistan Railways estimates that there are more than 2,500 drivers currently working in his department. These include assistant drivers and deputy drivers as well. Many of them have been injured and killed in various accidents in the last few years.
Although there is no collective data about these casualties at the railway headquarters in Lahore, the drivers claim that the number is in dozens.
A driver — who has been working in the railway for almost six years — points to 10 recent accidents in Lahore division alone in which drivers have lost their lives. For drivers, it is normal to get minor injuries while working, he says, but the survival of a driver and other crew members working in the engine cabin would only be a miracle in the event of a major accident.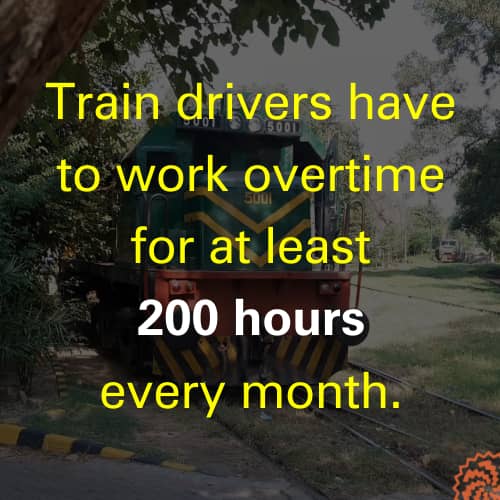 While sitting in the courtyard of a mosque near the diesel shed, Nazir Ahmad Awan — who has 40-year experience of operating railway engines — confirms these claims. "I have attended the funerals of many of my colleagues right here."
He, however, complains that railway administration does not bother even to deliver the body of a driver killed in an accident to his family. Instead, "after an accident, all its attention is focused on how to restart the train." As a result, he goes on to say, injured or killed drivers are left at the scene of the accident unattended.
Lamenting the treatment meted out to the drivers, he says: "Leave alone the consolation that the drivers' families should get from the top railway officials, these officials don't even attend their funerals."
Awan — who also runs an association for the welfare of railway drivers — says even the injured drivers have to undergo treatment on their own, at least initially. Pakistan Railways later reimburses the expenses incurred on this treatment but the injured driver has to visit the offices of the department repeatedly to get his medical bills reimbursed.
In addition to pointing out these issues, many railway drivers also complain that, in the event of any accident, departmental statements issued to the media put the entire responsibility on drivers. A detailed investigative report is never publicized, they say. According to them, Pakistan Railways section responsible for investigating accidents always says that, as per the departmental rules, such reports must be kept confidential.
A driver sitting in the engine cabin of a train going to Khanewal from Lahore, on the other hand, claims that there, in fact, is a formal mechanism in place for correcting a driver's errors to avert any untoward situation. Under this procedure, a driver cannot put a train on a line unless he gets a go-ahead from the staff assigned to the respective railway stations and tracks. Moreover, he cannot pass through a station or crossing until he is given a signal to move forward.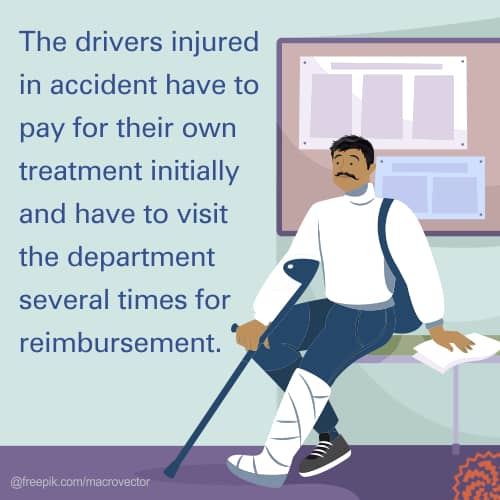 As an additional proof of the existence of this mechanism, he points to a white button next to his seat. It emits a red light. If the driver does not press it once every minute while driving the train, the moving train stops automatically. "In the presence of this button, how can it be assumed that the driver was asleep at the time of an accident?" he asks.
Another driver says that, in view of the increasing number of railway accidents, Pakistan Railways, as in other countries, should "install cameras both in and outside the trains so that the real cause of accidents can be ascertained." But, he hastens to add, senior railway officials "do not listen to us" on the subject.
Another driver, hailing from Lahore, says some of the engines imported from the United States have cameras installed in them but the top officials never release the videos made by these cameras. The videos of accidents involving senior officers are always reported to have some technical fault, he alleges. "On the contrary, whenever a driver makes a mistake, he is immediately shown the video and reprimanded."
His fellow driver, who also works in Lahore, has a serious problem with such departmental attitude. "Did the top officials of the department ever try to find out from a negligent driver why he could not keep his focus on the train? Did they ever ask him if he is in some financial trouble?"
A thankless job
Drivers working in Pakistan Railways are recruited as assistant drivers in 9th pay scale (grade). As their career progresses, they at the most reach 15th grade in which their monthly salary gets approximately 50,000 rupees.
According to the departmental regulations, a driver is required to work at least 240 hours a month. If he works more than that, he is paid extra for every hour. A driver with 10 years of experience says his salary is so low that he has to work at least 200 extra hours a month to meet his financial needs. Almost all the drivers do the same – and for the same reason.
Along with overtime, railway drivers are given a daily allowance of 190 rupees for every 100 miles travelled. Their associations complain the amount of the allowance was fixed decades ago but is still frozen at the same old level. On the contrary, inflation has multiplied manifold and the purchasing power of the Pakistani rupee has fallen sharply.
Due to these financial conditions, drivers are often reluctant to take leave so that they do not miss out overtime and daily allowance payments. But many of them say that their officers, too, do not give them leave easily, no matter how serious the situation. One driver claims he was not allowed to attend his grandmother's funeral until he refused to run the engine in protest.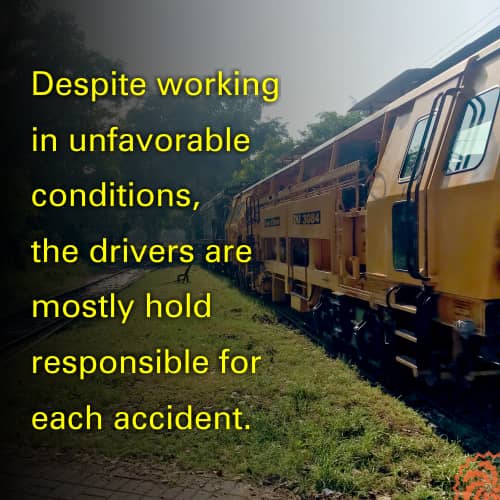 Drivers complain that the facilities provided to them for this purpose are extremely inadequate. The dilapidated condition of the room allotted for rest near the diesel shed in Lahore verifies this complaint. There are eight beds in this room, but it has only two fans to keep it cool during summers. According to a driver, "these fans don't work properly because of the frequent power outages on hot days."
The mirror of the dressing table in this room is matted and cannot show clear image. "This table is from the British era and, thanks to the department, it is still in the British era," says a driver resting there.
Gas for cooking is available here only during the day, so, according to a driver who are staying in the room, "at night we have to cook on a diesel-powered stove, which adds the smell of diesel to our food."
All the drivers in the room agree that in these circumstances they are not able to relax as they should. "In the department's papers, we've rested for eight hours, but only we know what we undergo," says one of them.