Sardar Zeeshan is employed at one of the Urdu-language news broadcasting TV channels. Recently, his phone number was added to a WhatsApp group that seemingly dealt with selling non-customs paid goods.
Within this group, regular advertisements were posted for the sale of items like LCDs, motorcycles, mobile phones, laptops, iPads, refrigerators, air conditioners, and various other electronic products, all at remarkably low prices.
One could find listings such as an LCD TV, which typically costs around two hundred thousand rupees in the market, being offered for a mere thirty thousand rupees. Similarly, refrigerators worth seventy thousand rupees were supposedly available for only twenty thousand.
Zeeshan says that a new mobile phone from Samsung, valued at approximately three hundred and fifty thousand rupees, could be obtained for just fifty thousand rupees within the group. He further mentions that a limited quantity of these phones had arrived in the border region of Chaman, Balochistan. Interested buyers were instructed to make bookings.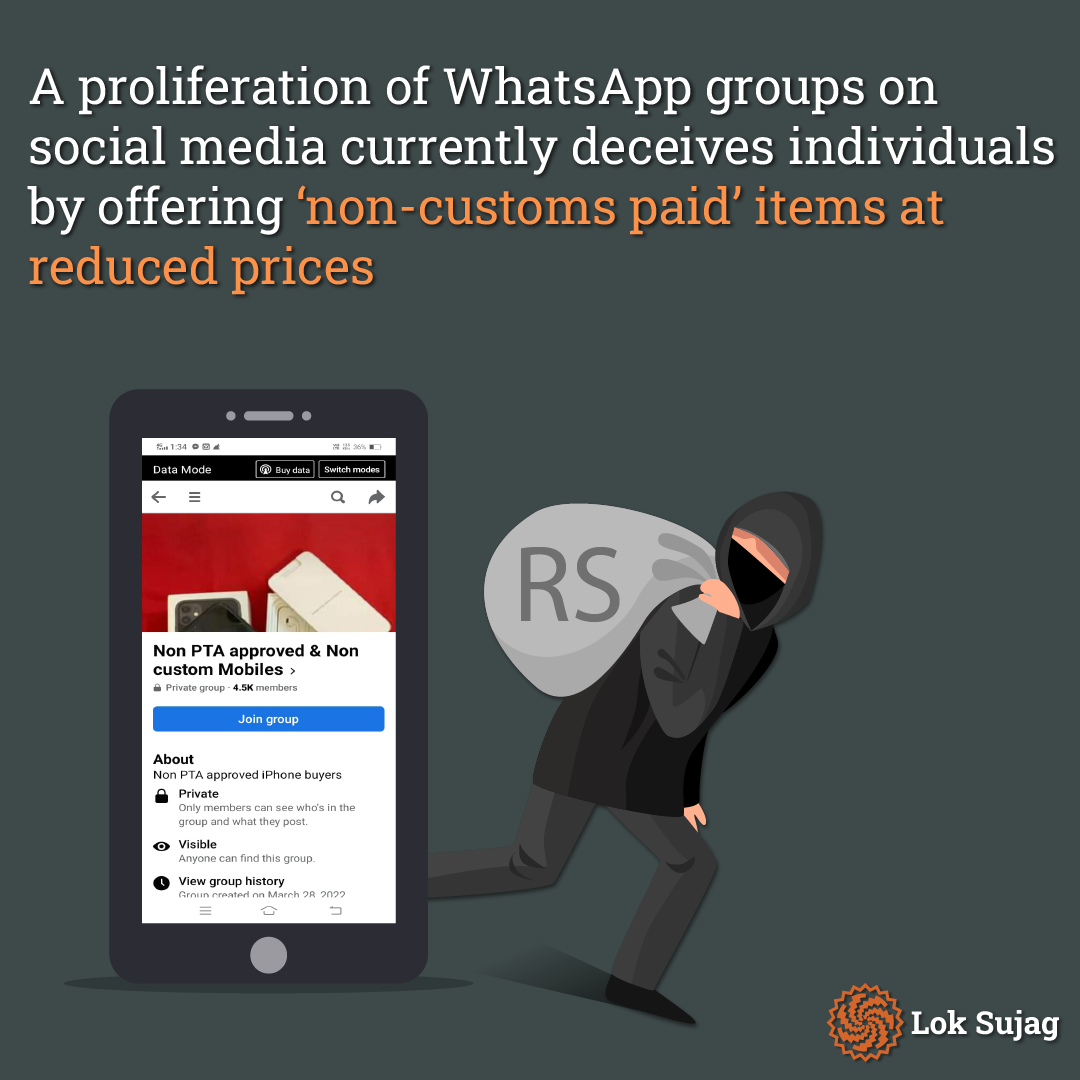 "I found it unbelievable that such high-quality mobile phones were available at such low prices. When I inquired about the booking process, I was asked to pay half the price, twenty-five thousand rupees, in advance. I immediately transferred twenty-five thousand rupees via EasyPaisa."
Zeeshan says his waiting time started. After a few days, he received a WhatsApp message from a courier company stating that his mobile phone had been dispatched. The group admin provided him with a tracking ID two days after that.
Meanwhile, another group member contacted him, stating that he had reached the provided address and requested that the remaining amount be sent to the group admin to collect the parcel.
"Within a short span, I realised that this was a scam. The courier company appeared fake, and the tracking number was inactive. I asked the caller to come to my address, deliver the parcel, and collect the remaining amount. However, he neither arrived nor responded."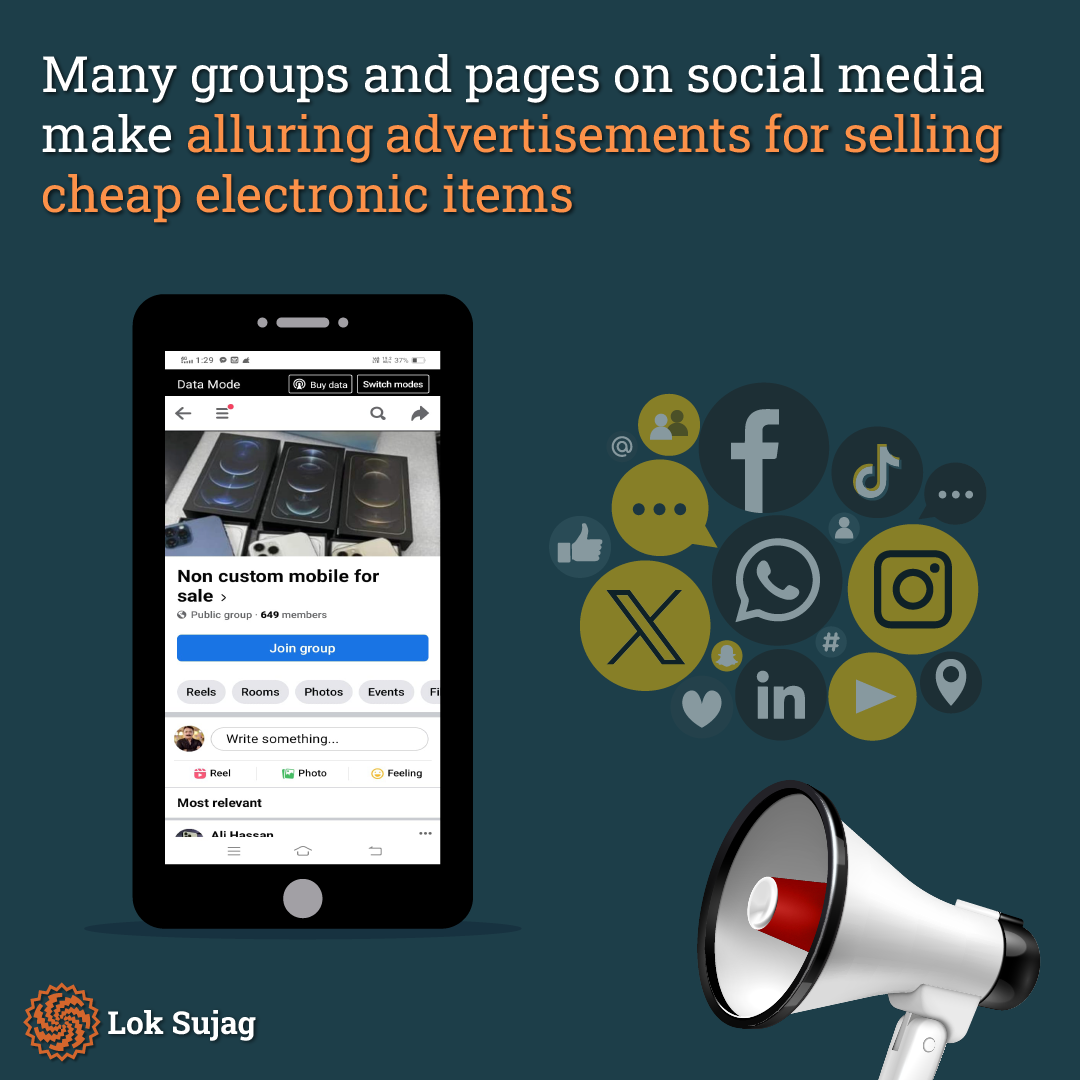 He revealed that upon contacting the CIA police and tracing the mobile phone's location, it was discovered to be in the Khushab area, contrary to the caller's claim that he had reached Gujranwala. As the group admins realised their scam was exposed, they turned off the messaging option in the group.
Currently, multiple WhatsApp groups on social media are actively promoting the sale of items at 'cheap' prices. In truth, all these groups are created by fraudulent individuals, and many individuals, lured by the prospect of inexpensive purchases, become victims of these scams.
These scammers operate on WhatsApp and share images and clips of mobile phones, motorcycles, TVs, refrigerators, and other items on platforms such as Facebook, Instagram, and other social media sites. They claim to have limited stock and urge people to immediately take advantage of their offer. Concerning mobile phones, they particularly emphasise that there's no need to pay Pakistan Telecommunication Authority (PTA) Tax for their use.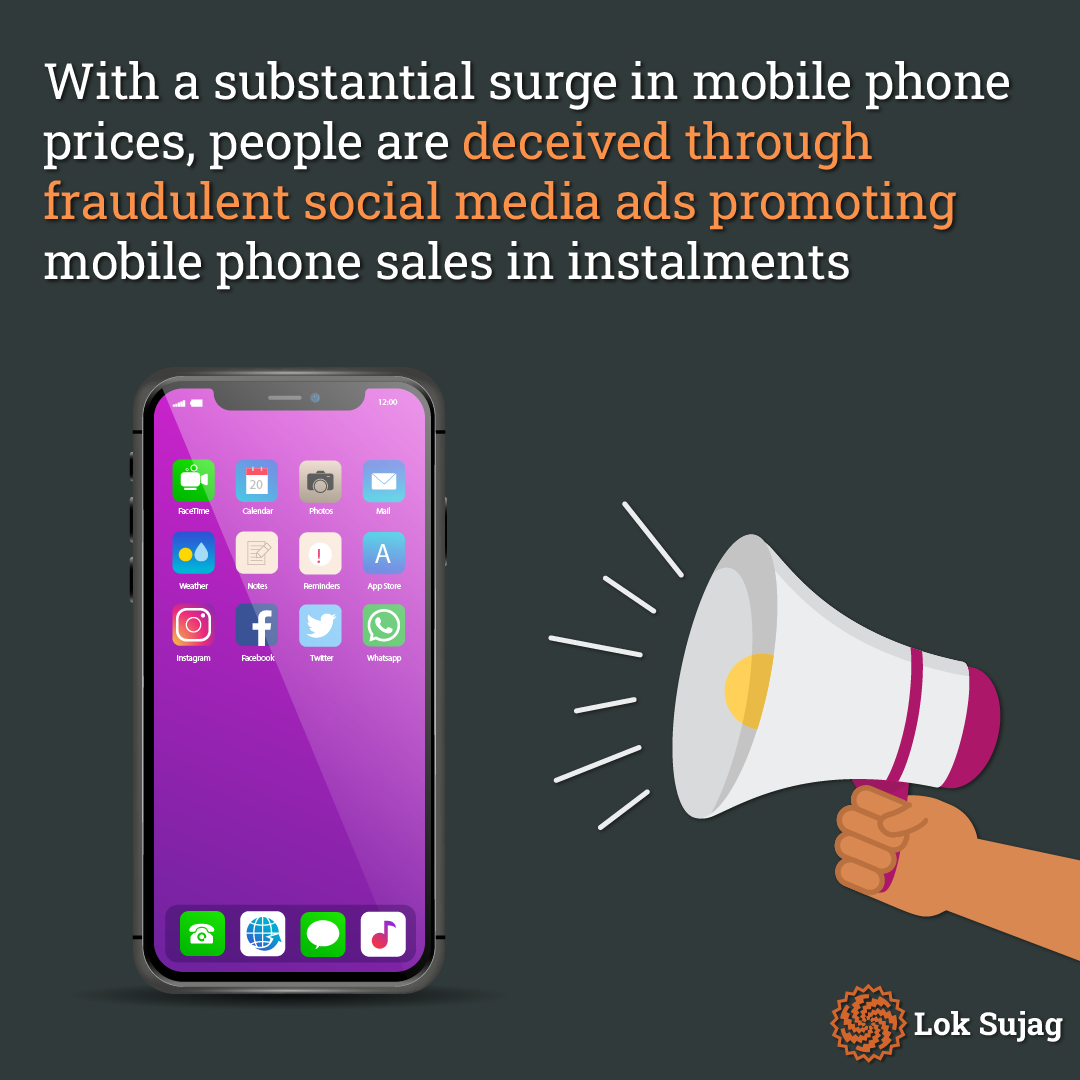 Many individuals are now well-informed about their tactics and leave comments on these group posts, warning others about the scam. However, many people disregard these cautions.
Due to a substantial increase in mobile phone prices, advertisements promoting mobile phones for sale in instalments have begun appearing on social media. Unfortunately, these advertisements are also part of the scam.
Nurunnisa from the Talwandi area in Gujranwala has filed a complaint with the FIA Cyber Crime unit, stating that she was scammed through an Instagram advertisement offering mobile phones in instalments.
"The ad said, 'Get a mobile phone for ten thousand rupees per month in 24 instalments', but I have not received the phone despite depositing fifty thousand rupees in five instalments. Now neither the money is being refunded, nor the phone is being sent."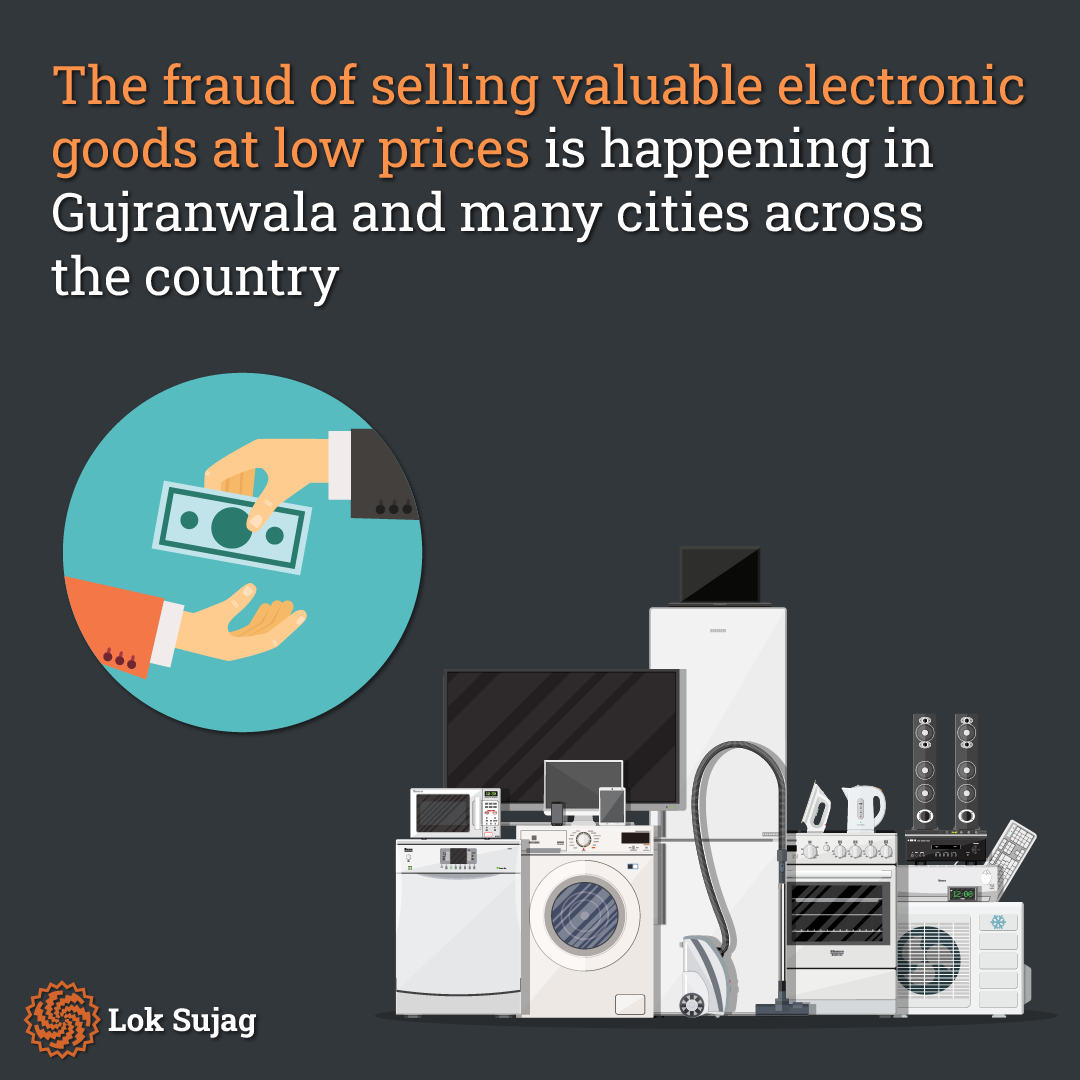 Shahid Majid, Chairman of the Mobile Phone Dealers Association Gujranwala, asserts that the modus operandi of all these scammers is identical. They establish WhatsApp groups, advertise on platforms like Facebook and OLX, and lure individuals with the promise of non-custom paid mobile phones.
He clarifies that mobile phones imported from foreign countries are solely non-PTA approved, meaning buyers must pay the tax imposed by the PTA to use foreign-imported mobile phones. The terms "custom paid" or "non-custom paid" tax are not applicable. Nevertheless, scammers manipulate people using these terms.
"Almost every day, we witness individuals standing before shopkeepers, narrating how they fell victim to scams on social media. We advise people to approach the FIA Cyber Crime unit since we lack the authority to address legal matters on behalf of citizens."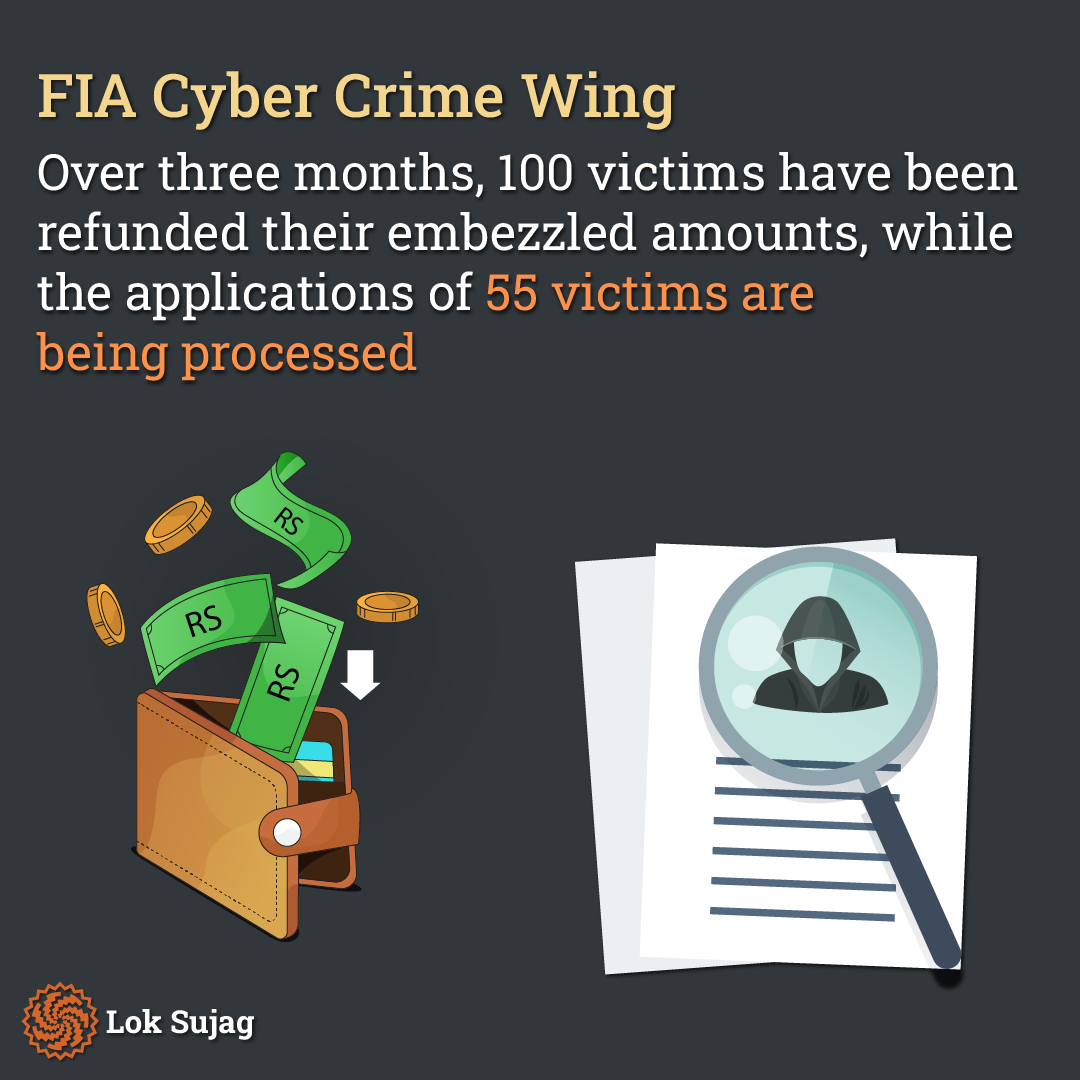 Shahid Majid discloses that some scammers upload images of well-known electronics stores' signs on their social media groups or pages. Consequently, when fraud occurs, affected individuals approach the authentic shopkeepers, accusing them of deception. The platform deactivates the page if a shopkeeper reports that their name is being fraudulently exploited on Facebook or other platforms. However, scammers then create new pages under different names.
Advertisements on social media with the moniker "Chotay Bhai Baray Bhai", claiming to distribute mobile phones for free, can also be seen. These scammers falsely assert that they own a Dubai-based store called "Zam Zam Electronics," and by using lucky draws, they distribute mobile phones and watches in Pakistan and India. They request money in the name of courier charges, but the parcels are never dispatched.
There are many groups and pages on social media under the name "Zam Zam Electronics," where attractive advertisements for selling cheap items are posted.
Also Read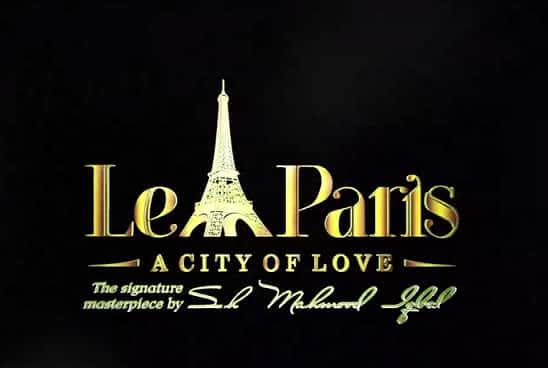 The city of dreams: How a fraudulent housing scheme plotted to deceive its customers
Furqan Ali shares that he received a video clip announcing his victory in a mobile phone lucky draw. The video directed him to send courier charges. In response, Furqan conveyed that they should cover the courier charges if they were genuinely gifting him an expensive phone.
Recognising that he was dealing with fraud, Furqan managed to protect himself.
Furqan explains that when he contacted the genuine representatives of Zam Zam Electronics on their Facebook page, they responded that the company had not sent any such message to anyone. Now, who is telling the truth remains to be seen.
Rabb Nawaz, Deputy Director of the FIA Cyber Crime Wing, says that his department continuously receives requests from the affected citizens on which the investigation is ongoing. Over three months, they have reimbursed a hundred victims and are addressing the requests of 55 affected individuals.
He adds that the fraudulent practice of selling valuable electronics at low prices is not limited to Gujranwala; it has proliferated across many cities in the country. Numerous scammers intend to exploit individuals through deception, capitalising on the recent escalation in electronic item prices.
Rabb Nawaz underscores the dedication of FIA Cyber Crime teams to locate and apprehend such culprits through location tracking. Efforts are in progress to refund money to victims.