Shabbir Hussain Mayar knows what it means to be on the Schedule Four list compiled under the Anti-Terrorism Act. He is subjected to stringent restrictions on his travel, speech and the freedom to do business; and his every move and action are closely monitored by police.
A resident of Kharmang valley of Gilgit-Baltistan, 41-year-old Mayar was added to the list in July 2018 when he was protesting against illegal occupation of land in his native area along with hundreds of other local residents. "The government misused Schedule Four to silence political activists," he says.
The placing of his name on the list also led to his dismissal from his job as a marketing officer in a pipe company. So, his eldest son, who was then studying in grade 12 in Karachi, had to discontinue his education and become the bread earner for their family.
Around 250 people were included in the Schedule Four list at that time – including Ghulam Shahzad, a member of the Gilgit-Baltistan Assembly. His identity card and bank accounts are still blocked and he is required to report to police every time he has to travel.
Many of these people, including a Skardu-based lawyer and political activist, Asif Naji, were gradually taken off the list. He was arrested under the Anti-Terrorism Act merely for showing solidarity with women protesting against the scarcity of drinking water. In April 2019, however, a court rejected terrorism charges against him and, in 2020, his name was removed from the Schedule Four list as well.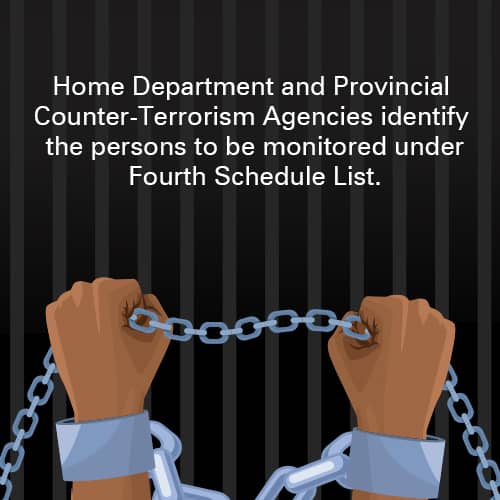 Mayar, on the other hand, remains on it along with 37 other residents of his area – all of whom, according to him, are political activists. Such problems are nothing new for him though, he says, because he has been raising his voice against social injustices since he was in grade eight.
He had to leave his hometown for study in his childhood because there were next to no educational facilities there. Consequently, he realized at a very young age how backward his people were.
He says even after his name appeared in the Schedule Four, he continued to protest about the issues of public importance until he was arrested in September 2018 and kept in detention for many months without being convicted.
The making of the list
The headquarters of the National Counter Terrorism Authority (Nacta) is located on Islamabad's Khayaban-e-Suharwardy across the Rose and Jasmine Garden in a three-storey building with tinted windows and grey walls. Its tall, imposing entrance is manned by a guard in uniform who does not let anyone in without a nod from his superiors.
The headquarters exudes an aura of importance but Nacta's director for coordination, Tahir Ali, says that all his organization does is to "coordinate and make policies". His colleague, who happens to be in the same room with him, explains that Nacta makes such principles and guidelines that help counter terrorism departments and interior ministry to do their job.
An important task assigned to Nacta is to maintain the list of people placed under Schedule Four. Its officers, however, clarify that they are authorized to neither include anyone in it nor exclude anyone from it. They explain that it is the responsibility of the four provincial counter-terrorism departments and the federal interior ministry to identify people who fall under the purview of Schedule Four. After they have been identified, these departments send their names to Nacta which, in turn, includes them in the list already published on its website.
The list currently has 3,067 names. Only recently, more than 200 members of a religious-political organization, Tehreek-e-Labbaik Pakistan -- including its head, Saad Hussain Rizvi -- have been removed from it. This has happened despite the fact that they are accused of killing police officials, damaging public and private property and disrupting public order.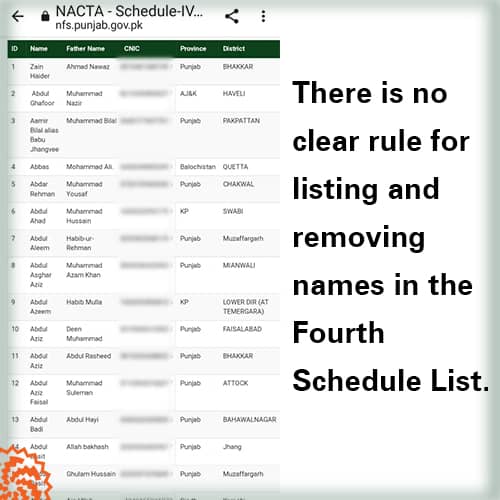 Dr Muhammad Makki, a member of Nacta's advisory board and editor-in-chief of the Journal of International Peace & Stability, published by the National University of Sciences & Technology, says the way the list is maintained is a mystery. There are neither any clear rules for putting or removing names on it nor is the person concerned informed that he has been placed on it (or removed from it), he argues.
Lawyer and human rights activist Jibran Nasir agrees. He is representing someone who has been placed under Schedule Four for the last three years but, as Nasir puts it, his client has never been informed about its reason.
He says terrorism is a complicated term so the law made to check it is also vague. On the basis of this law, he alleges, sometimes people are placed under Schedule Four merely for belonging to a certain area or a particular tribe. For instance, he says, many innocent people are subjected to it only because they come from the tribal districts of Khyber Pakhtunkhwa.
Once a person's name is added to the Schedule Four list, police and other law enforcement agencies in his area are notified about it so that they can restrict his movement. This August, the government also announced that people on this list will not be able to buy or sell real estate. Anyone caught doing that kind of business with them is now liable to be imprisoned and fined.
Judicial guidelines
Reema Omer works as a legal advisor to the International Commission of Jurists, a global human rights entity. She says that restricting someone's right to liberty and freedom of movement under the Anti-Terrorism Act is a violation of fundamental rights guaranteed by the constitution. "It is a matter of grave concern that the government officials sometimes misuse the powers they have under this act to punish human rights activists and political workers," she says.
She also points out that, in order to check this misuse, higher courts have directed the government officials multiple times that they exercise their authority judiciously. The judges have made it clear in many cases that no one's name should be included in the Schedule Four list merely on the basis of allegations, suspicion and rumours, she says. "They have advised the government officials to find reasonable grounds and solid evidence before doing this."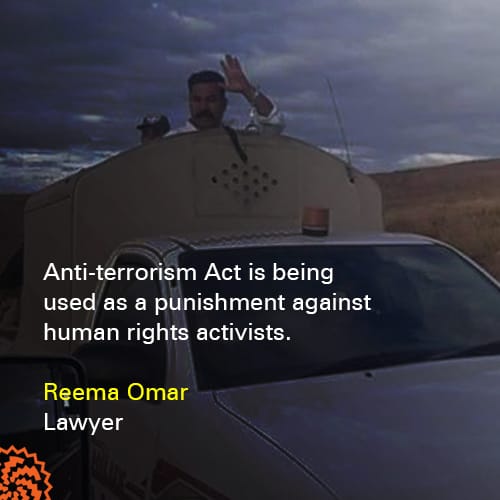 An important case in this regard was heard by the Chief Justice of Pakistan, Justice Gulzar Ahmad, and the senior Supreme Court judge, Justice Mazhar Alam Khan Mian Khel, on November 16th this year. During its proceedings, the judges asked Nacta as to why the bank accounts of four Shia Hazaras from Balochistan have not been restored despite the fact that the Balochistan High Court had ordered the removal of their names from the Schedule Four list on August 11th, 2021.
The war of narratives
Mehdi Shah Rizvi, a resident of Kharmang, uploaded a video message earlier this year. He admitted in this message that he had worked for India's intelligence agencies in order to carry out anti-Pakistan propaganda. He also alleged that many other people, including Mayar and Naji, had also worked with him on the same assignment.
His claim, on the one hand, is refuted by the court decision that has acquitted Naji of terrorism charges and, on the other hand, there is no solid evidence to prove beyond any reasonable doubt that these people have been in contact with India, says Mayar while responding to these allegations.
He also says the objective of levelling such allegations against him and others like him is to suppress their voices. "We are being portrayed as the enemies of the state but we are peaceful and democratic political activists who want the institutions in Gilgit-Baltistan to be strong and empowered," he says.