"If Kot Addu becomes a district, the people here will greatly benefit." The benefits articulated by the politicians have not been seen yet. However, due to the division of Muzaffargarh district into two districts, one provincial seat has decreased here.
In the previous census, the population of Muzaffargarh district (including Tehsil Kot Addu) was 43,32,549, so this district was given six seats in the National Assembly (NA) and 12 seats in the Provincial Assembly.
In the new constituencies, Muzaffargarh has four national and eight provincial constituencies, while Kot Addu has two national and three provincial constituencies.
The residents of the dissolved constituency are suffering a lot, but they don't understand what to object to as this constituency consisted of the populations of two different tehsils. And now, both of them are part of separate districts.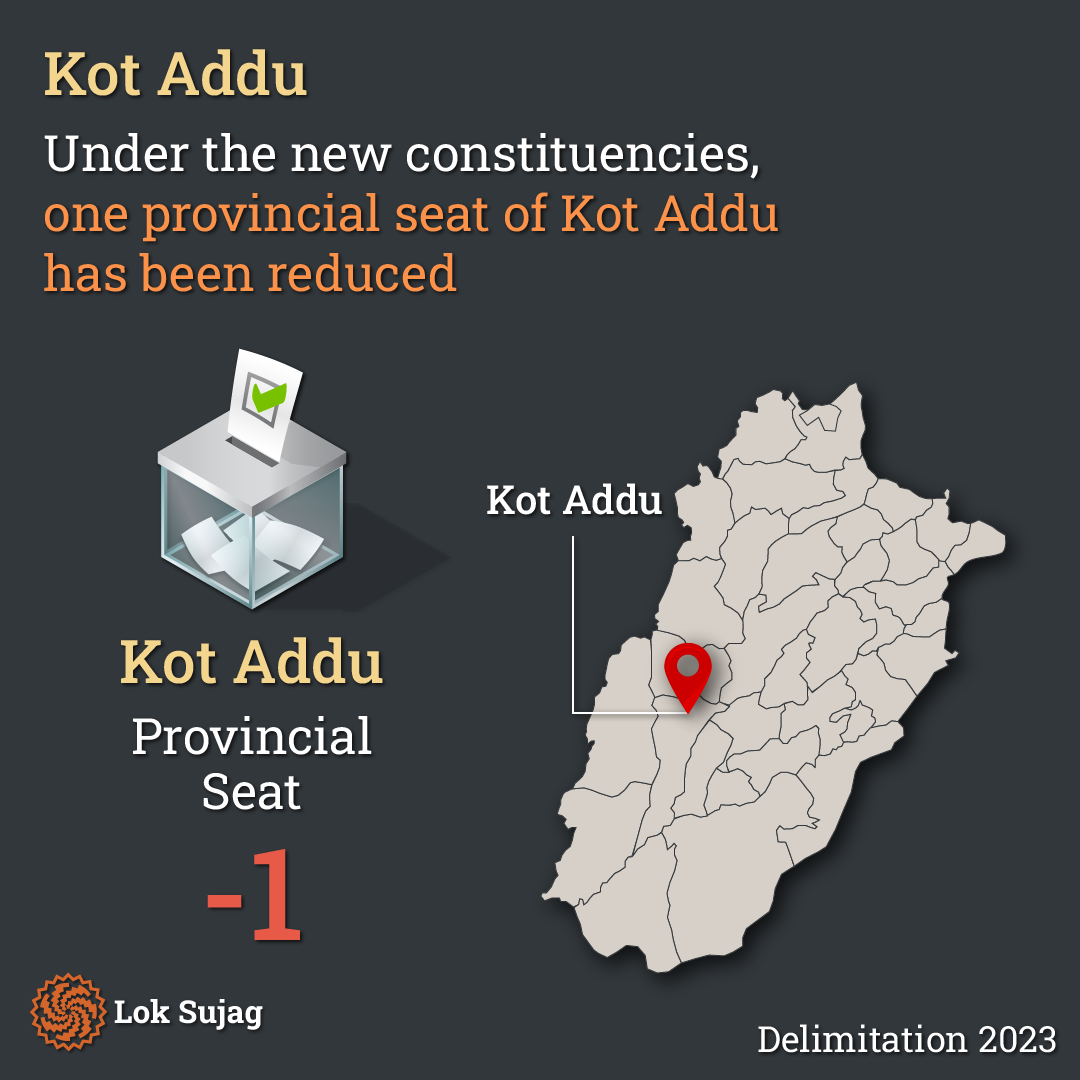 In the recent census, the population of Muzaffargarh district (including Kot Addu) has been counted as 50,15,325. In the new constituencies, the NA Constituency in Punjab will have a population of 95,595 and the provincial constituency will have a population of 429,929. It may decrease by ten per cent.
Thus, if the Muzaffargarh district had remained, then the previous seats could have remained intact, but the population has been divided since Kot Addu got the status of a district.
Now, the population of Muzaffargarh district is 35,28,567 and the population of Kot Addu district is 14,86,758.
According to the preliminary report of the Election Commission of Pakistan (ECP), the share of Muzaffargarh was 3.90 national seats in the new constituencies under the formula, so four constituencies were created. Kot Addu's share was 1.64 seats; hence, two constituencies of the National Assembly were made here.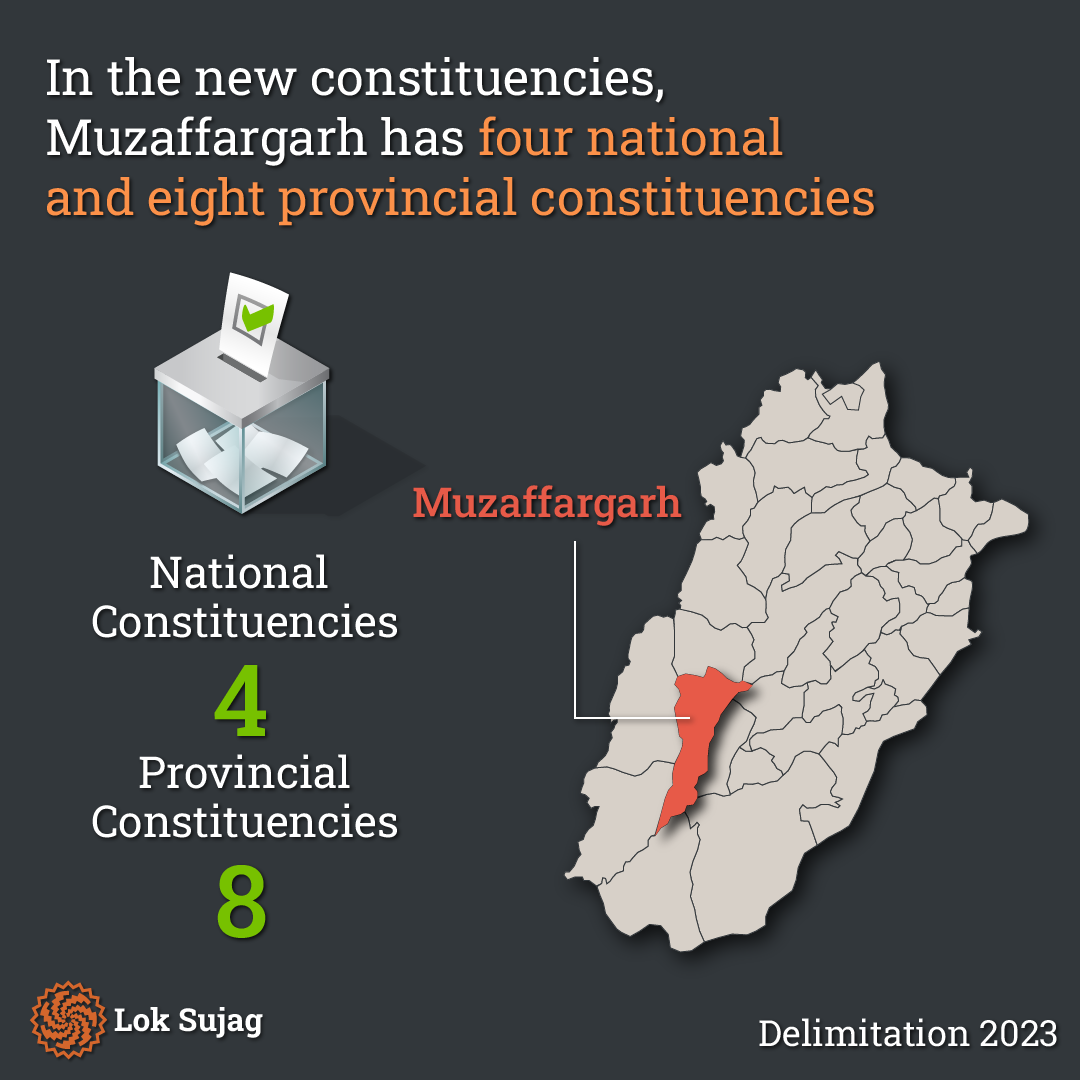 Similarly, Muzaffargarh district's share in the provincial assembly is 8.21 seats, so eight provincial constituencies have been formed. The share of Kot Addu district used to be 3.46 seats, so three constituencies have been formed here.
If the population of the two districts were combined, 11.66 seats would have been formed in the provincial assembly, but one seat would have been lost due to the formation of two districts. According to the rules, a provincial seat cannot be formed by (combining) the population of two different districts.
Earlier, the provincial constituencies of Muzaffargarh district (including Kot Addu) were from PP-269 to PP-280, but now the serial numbers of the provincial constituencies here go from PP-268 to PP-275. Next comes the Kot Addu constitutions, from PP-276 to 278.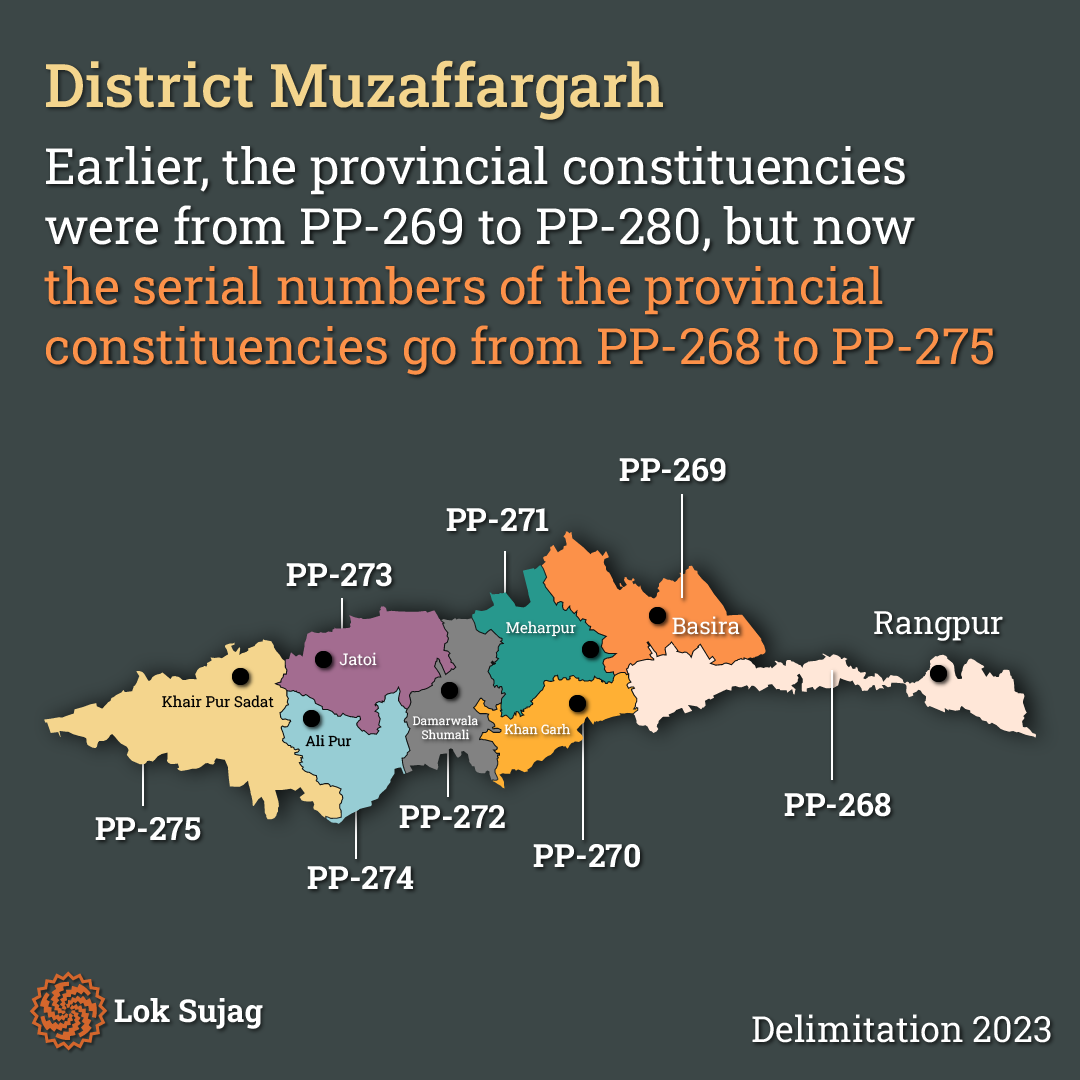 Former PP-269 (which has been dissolved) included one legislative constituency of Muzaffargarh tehsil Rangpur, Moradabad, and Muzaffargarh except Rakh Khanpur patwar circle, Muzaffargarh two Lalpur patwar circle of Muzaffargarh tehsil. Patwar Circle Patal Munda East of legislative Wandhar and Chowk Sarwar Shaheed legislative area of Tehsil Kot Addu were included.
Legislative constituencies Rangpur and Moradabad of tehsil Muzaffargarh included in dissolved erstwhile PP-269 have now been merged with Municipal Committee Muzaffargarh (Charges 12 and 13) to form Constituency PP-268 Muzaffargarh One. Apart from Mubarakpur Patwar Circle, it includes the settlements of the Muzaffargarh II Legislature.
All Muzaffargarh I legislation has been included in Provincial Constituency PP-269 (New). Naseera, Karamdad Qureshi, and Mubarakpur Circle of Muzaffargarh 2 have also been included in this circle.
There was no significant change in the provincial and national constituencies of Alipur and Jatoi southern tehsils of Muzaffargarh district.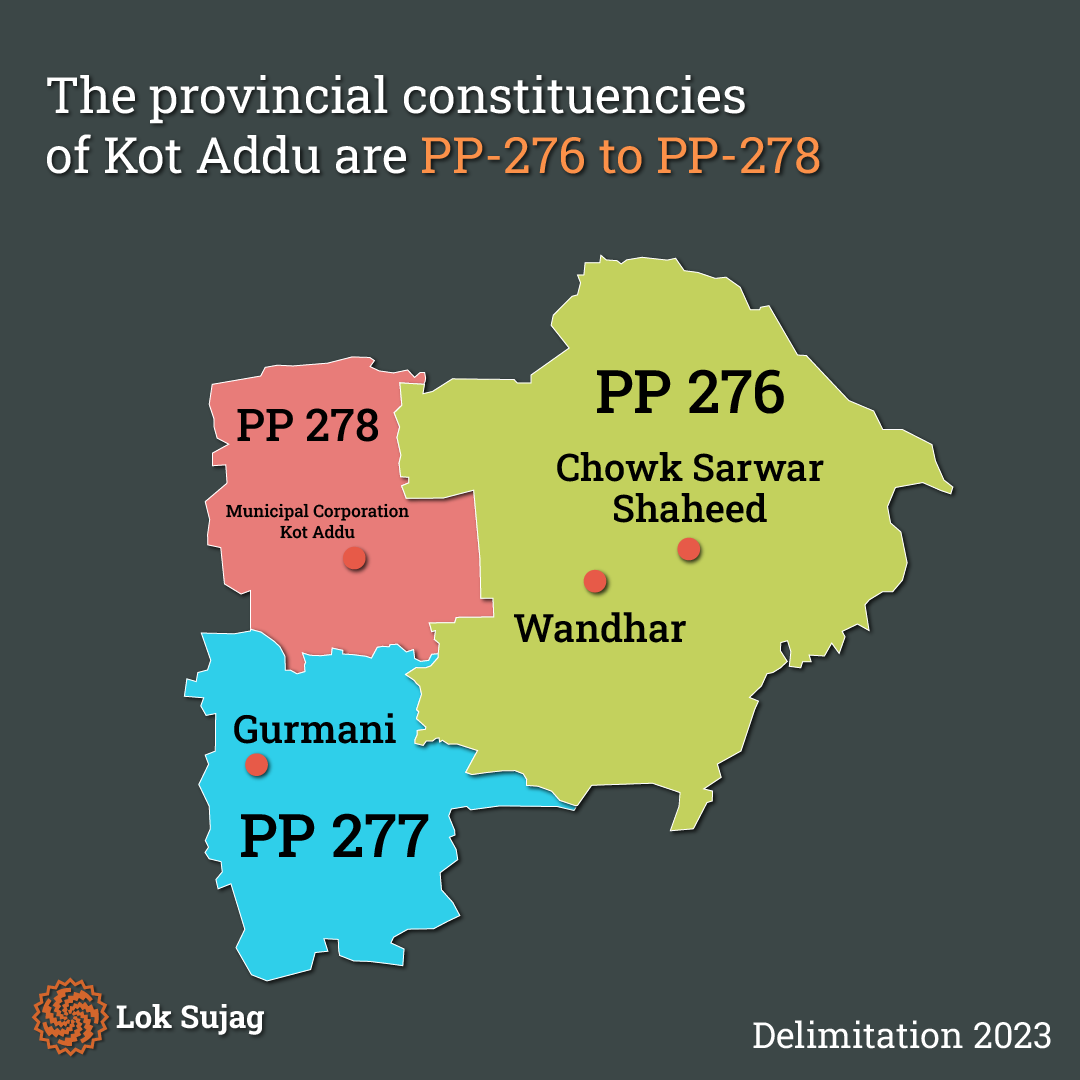 A total of 33 applications containing objections have been filed from Muzaffargarh district on the new delimitation. Most of them are related to the national and provincial constituencies of Tehsil Muzaffargarh.
Most of the objections associated with the provincial constituency PP-268 (which also includes Rang Pur) talk about removing the urban areas and Moradabad constituency from this constituency and adding Doaba, Taliri, etc. However, no one has proposed a solution to the problems of the people of Rang Pur.
A notable petition in objections from Muzaffargarh district has been submitted by Nawabzada Adnan, Nawabzada Nasrullah's grandson and Nawabzada Iftikhar's son. They have requested that the delimitation of NA Constituency NA-176 be declared final.
New constituency of Kot Addu district
The population of Tehsil Kot Addu included in the currently dissolved (old PP-269) constituency has been included in the new PP-276 Kot Addu One.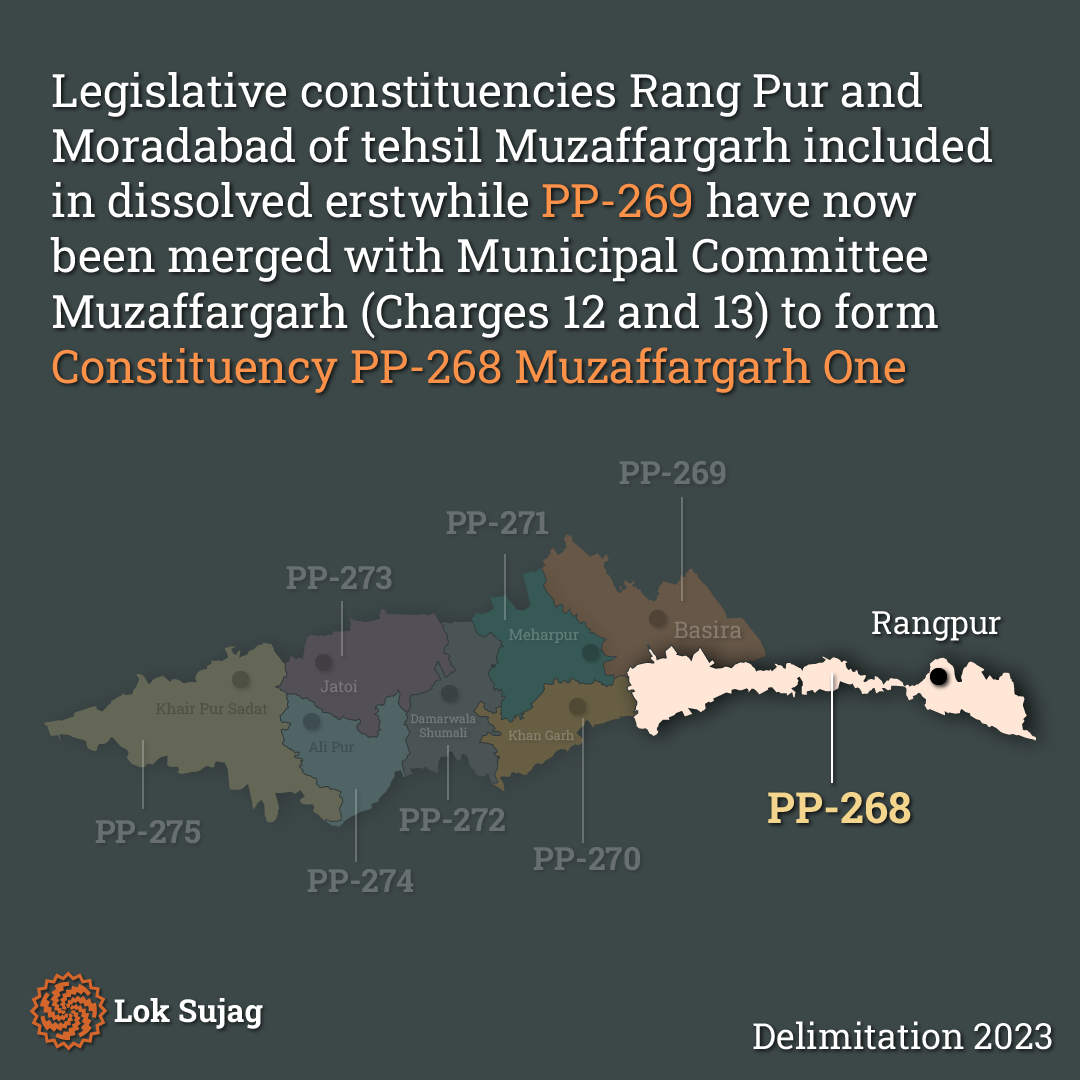 In addition to Tehsil Chowk Sarwar Shaheed, Patwar Circle Shadi Khan Munda of Kot Addu Law No. 2 and Pati Daya Chokha, Pati Ghulam Ali and Pati Naich of three Patwar Circles of Sanawan legislation are included in this constituency.
PP-277 will consist of the population of Kot Addu to Municipal Committee Sanawan (Charge 13), Gujrat Legislature, Gormani Legislature, and Sanawan Legislature except Patwar Circles Pati Daya Chokha, Pati Ghulam Ali and Pati Naich.
PP-278 Kot Addu 3 includes Town Committee Daira Din Panah, Municipal Committee Kot Addu (Charge 9, 10), Kot Addu Legislature No. 1, and Kot Addu Legislature No. 2 except Shadi Khan Manda area.
The disadvantage of the abolishment of the Rang Pur provincial seat
Rang Pur is an area of Muzaffargarh Tehsil bordered by Jhang and Layyah districts in the north and Khanewal district across the Chenab river in the east. With the dissolution of the constituency (formerly PP-269) here, this area has been included in the provincial constituency PP-268 of Muzaffargarh city, 65 km away.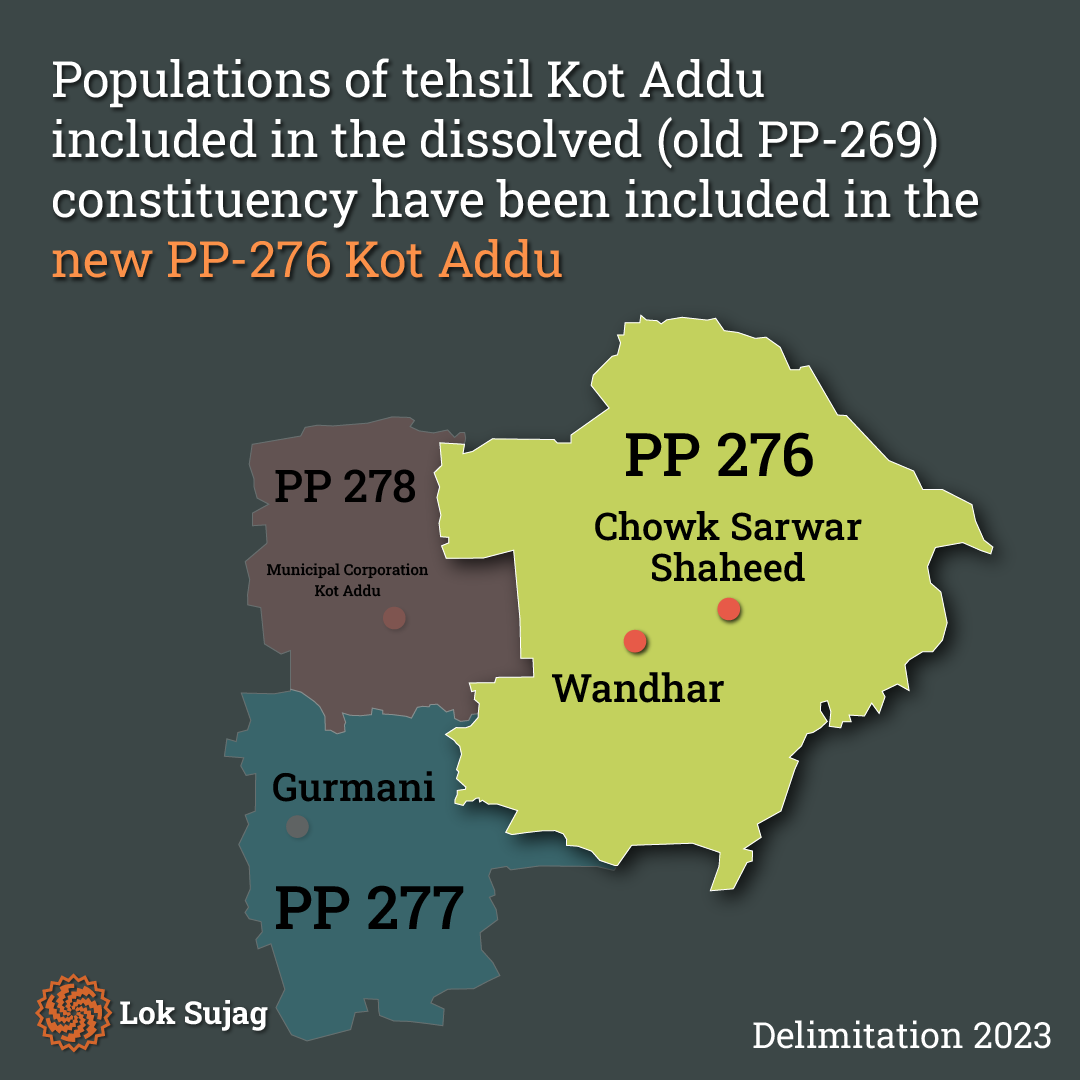 Around 70 thousand people of Rangpur have suffered the most. How will the city of Muzaffargarh allow development projects or funds to reach here? This is a separate question. Even with the objections filed on the delimitation of Muzaffargarh, no solution has been proposed that would reduce the distance for these people to reach their representatives.
Journalist Naveed Frayad explains that the area of Rangpur, which was already backward, has now suffered even more. It would have been better if Muzaffargarh and Kot Addu districts were merged to form provincial constituencies. Combining Rang Pur and neighbouring villages into a separate provincial constituency would be better.
Sardar Azhar Chandia was elected MPA from the dissolved (old PP-269) constituency. He says that he has benefited politically from the proposed delimitation, but the problems of the people here will increase. He believes that his community is more in Chowk Sarwar Shaheed's constituency, so he will not be harmed.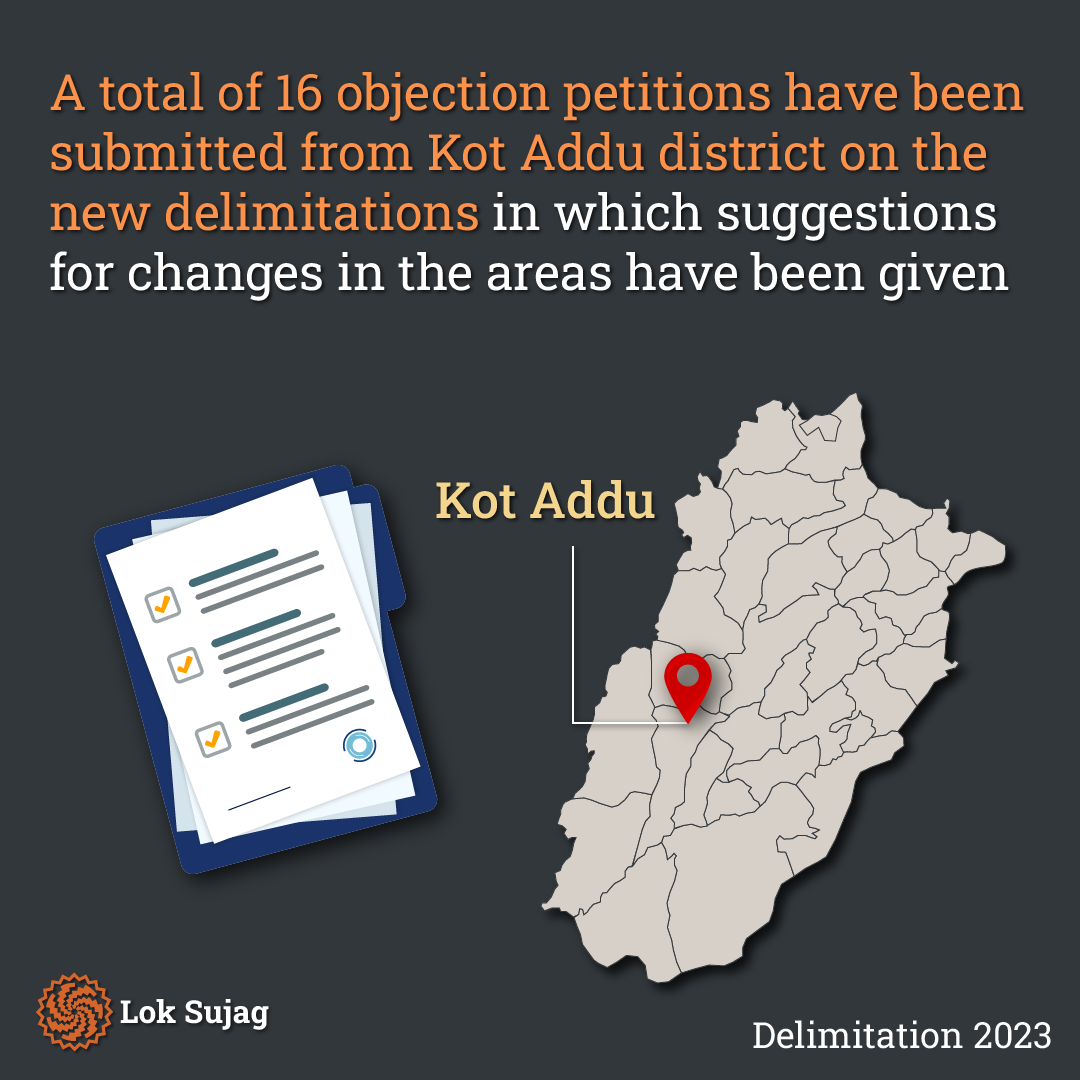 On the new constituencies, candidates and political party officials in Kot Addu District have major concerns regarding the population and spread of the constituencies. A total of 16 objection requests have been submitted from here, with suggestions for changes in areas.
Former Senator Amjad Abbas Qureshi's brother, Arshad Abbas Qureshi, also submitted objections. His objections are on the formation of national constituencies along with the three provincial constituencies. He says that the constituencies have expanded by merging some legislations and patwar circles with unrelated constituencies.
He has suggested that the patwar circles Pati Naich, Pati Ghulam Ali, Daya Chokha I, and Shadi Khan Munda should be removed from PP-276 and included in PP-277.
Similarly, Patwar Circle Jhanjhunwali, Bait Angra, Khar Gharbi, Daya Chokha Gharbi, Ladha Langar, and Lal Mir should be removed from PP-277 and added to PP-278.
Also Read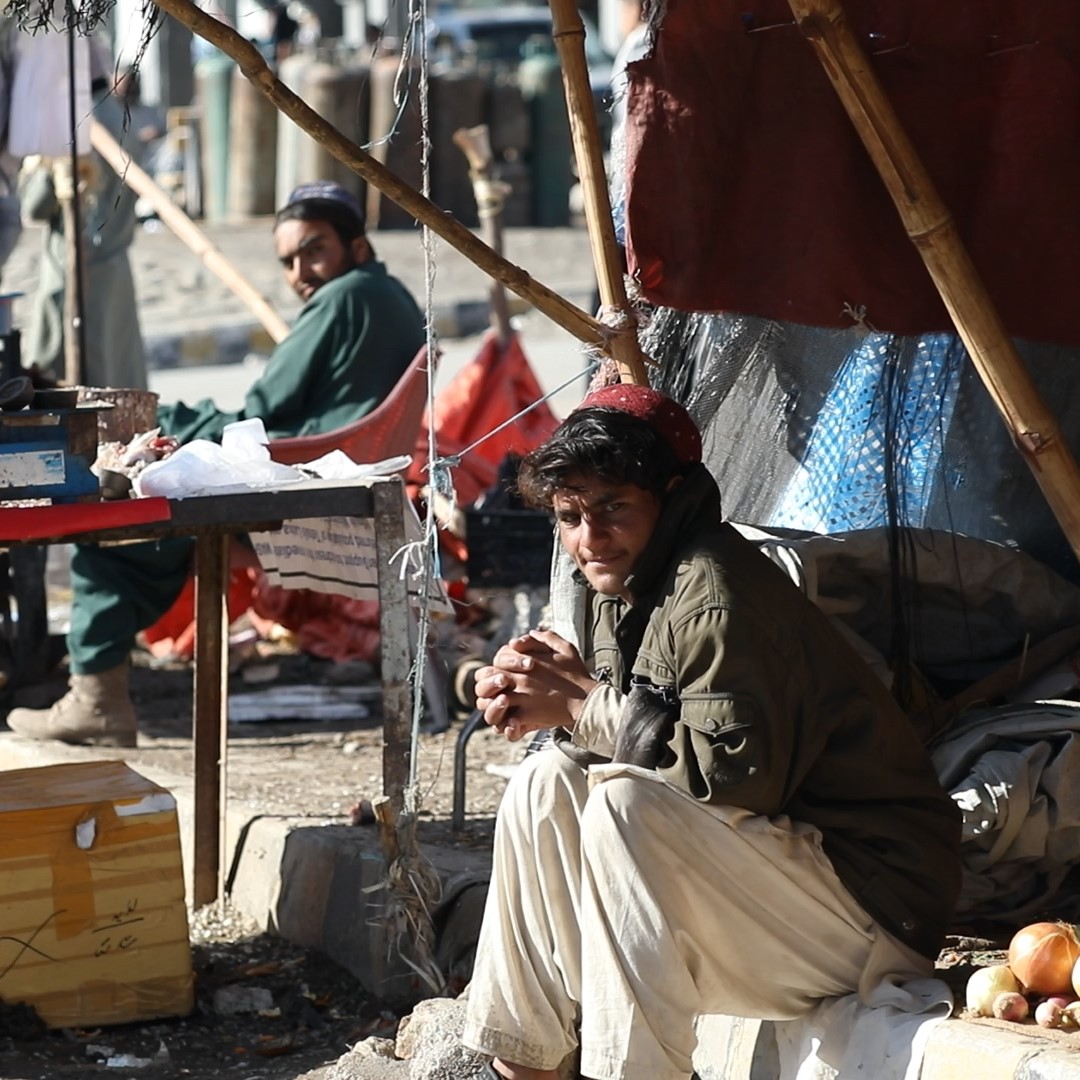 Political shifts in tribal districts: Kurram's unease over reduced representation in National Assembly
It has also been requested that Patwar Circles Ehsanpur, Hanjarai Permanente Sharqi, and Taba Permanente Sharqi be separated from PP-278 and included in PP-276. In this way, the distance of the constituencies from the central cities will be reduced.
PML-N district president Ahmad Yar Hunjara says that the three provincial constituencies of Kot Addu have been made unnecessarily large. In this way, there will be a fair distribution of resources, and the hardships of the people will not decrease.
PPP Muzaffargarh District President Malik Mazhar Pahor says that the proposal to reduce the provincial seat is not a good decision. Both Kot Addu and Muzaffargarh districts need to increase their seats.
The district general secretary of Pakistan Tehreek-e-Insaf, Mehar Javed Hassan, says the urban constituency PP-268 of Muzaffargarh has expanded a lot due to the elimination of a provincial constituency. Similarly, the burden on Kot Addu's provincial constituencies has also increased. How will the elected representatives be able to meet public expectations?