A 22-year old driver is taking his waste-filled truck to Lakhodair, a village on the northeastern outskirts of Lahore. He will unload the waste there at a 131-acre government-run landfill.
This, indeed, is his daily routine: picking up solid waste from different parts of Lahore and dumping that at Lakhodair. Every workday, he makes several trips to the site, each taking about 45 minutes.
On April 26th, 2022, he seems extremely exhausted and takes a couple of breaks on the way before completing each trip. This is because weather that day is unusually hot -- with maximum temperature reaching 40 degree Celsius -- since Lahore is passing through its second heatwave in less than two months.
As he unloads his truck in the middle of the landfill, he is completely unbothered by the foul smell of rotting garbage around him. It, in fact, may not be as dangerous as its pungent odor suggests.
An odorless emission from the landfill is far more dangerous. Called methane, it is one of the greenhouse gases whose presence in the atmosphere traps heat like a greenhouse does. This heat, then, contributes negatively to climate change which explains why Lahore is experiencing intense summer in months otherwise known as spring season.
Also a major constituent of natural gas used for cooking and heating homes, "methane is 80 times more potent than carbon dioxide when one looks at the 20-year impact of these two greenhouse gases on climate change", says Sanval Nasim, an environmental economist working at the Lahore University of Management Sciences (LUMS). Landfills, he says, are one of the two major sources of methane's emissions in the atmosphere – the other being livestock. "When organic matter [thrown at landfills] decomposes in the absence of oxygen, it creates methane that gets trapped under that matter," he says. "Over time enough methane is produced that it then shoots out in the atmosphere."
Global methane emission data released by GHGsat, a Canadian company that specializes in gathering and analyzing data about hazardous emissions, for 2020 suggests that approximately 20 per cent of it originated from landfills. In comparison, according to Global Methane Initiative, an internal voluntary multilateral partnership, only around 11 per cent of all methane emissions were contributed by landfills in 2010. This shows how their negative contribution to climate change is increasing rapidly.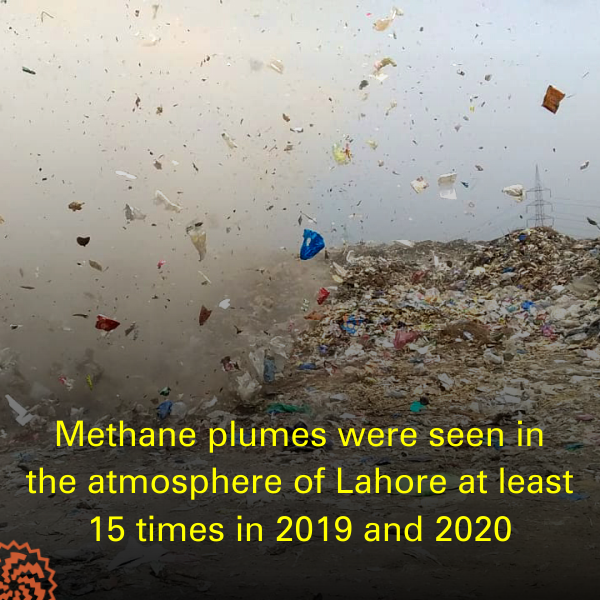 Deadly clouds
The landfill at Lakhodair was designed and constructed by the National Engineering Services Pakistan (NESPAK), a government agency, in consultation with experts from a Turkish company, Cevka. It was made functional in April 2016 so that Lahore's solid waste that cannot be recycled, composted or handled in any other sustainable manner is dumped here. According to GHGSat, it gets 6000 tons of solid municipal waste every day.
Expert such as Bram Maasakkers, a researcher at Netherlands Institute for Space Research, suspect that this garbage could be a possible source of large methane plumes being routinely observed in Lahore's atmosphere.
He made the revelation while talking to Bloomberg news agency in September last year, a few days after Sentinel 5P, a satellite launched in space by the European Space Agency, had spotted a methane plume over Lahore on August 6th, 2021. Kayrros SAS, an international firm that, according to its own website, provides governments, companies and investment markets with "global energy and environmental geoanalytics", estimates that this plume had a methane emission rate of 126 metric tons – or 126,000 kilograms -- per hour.
Data collected by Kayrros SAS also shows that this was not a one-off incident. Instead, methane plumes were seen in the atmosphere of Lahore at least 15 times in 2019 and 2020. One of these plumes, according to the statistics gathered by a satellite named TROPOMI, had a methane emission rate of 205 metric tons per hour.
Clement Giron, a data scientist at Kayrros SAS, however, explains that it is difficult to pinpoint the landfill as the only source of these plumes. 'They might have originated from several sources in Lahore and its surroundings which may include landfills, water and waste management facilities, coal stockpiles, gas distribution network and agriculture etc," he says. "Emissions from all these sources eventually accumulate into clouds," he explains.
Evidence gathered by IRIS, a sattelite operated by GHGSat, was more specific than that. It spotted a methane plume hovering right above Lakhodair landfill in October 2020.
Officials at the Lahore Waste Management Company (LWMC), the government agency responsible for running the landfill site, also acknowledge that the methane trapped in it might by bursting out. Muhammad Saad, a project manager at LWMC, says there are two reasons why this could be the case. Firstly, he says, the landfill is getting three times as much garbage as it should have during the first 10 years of its life. Secondly, he adds, monsoon rains provide a conducive environment for the garbage to convert into methane.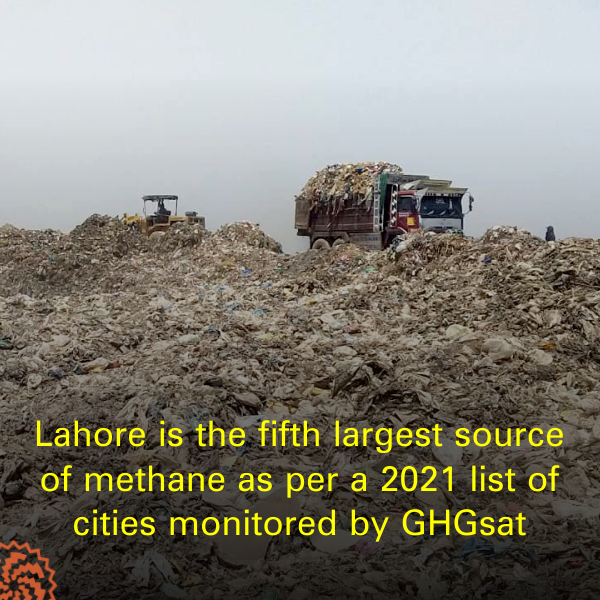 "The vents created in the landfill to let this methane out in small quantities get choked because of the excessive garbage being dumped here," says Saad. "When the gas concentrated under many layers of trash cannot find a regular outlet, it bursts out in the form of clouds," he says.
Saad also insists that LWMC is aware of the problem and is doing whatever it could to prevent the formation of methane clouds. "We cleared the vents at Lkahodair in September 2021 to let the gas get out regularly," he says.
The data gathered by IRIS, however, suggests the vents might have been choked again because it spotted three plumes above the landfill in April 2022 alone. The one spotted on April 15th was releasing as much as 4.2 metric tons (4195 kilograms) of methane every hour.
Omar Chaudhary, who works as senior manager communication at LWMC, says the company is making plans to burn methane being produced by the landfill. This, he says, will make it "less hazardous". Scientific evidence suggests that this method can work.
But until the company implements it, methane emissions from Lakhodair will keep happening both in small quantities if the vents are working and in large plumes if they are choked. Such emissions in recent time have already made Lahore the fifth largest source of methane as per a 2021 list of cities monitored by GHGsat.