Muhammad Mushtaq looked much older than he was. Only 38 years old, he had a wrinkled face and withered body like that of an old man. About 15 years ago, he was a healthy young person. At the time, he used to play football every evening and was considered one of the top players in his native area.
His tall stature, broad forehead, high nose and large eyes set him apart from the average village youth. His dressing was also different from other people in the village as he often used to wear pants and shirts.
He was a resident of Chak 12/AH in Mian Channu tehsil of Khanewal district in south Punjab. His father had married twice and he was the youngest of 13 siblings. He had attended primary school but never had a job.
Despite his joblessness, he was married off at the age of 23, says Rana Zulfiqar, his older brother. Over the next few years, he had a daughter and two sons, all of whom are currently under the age of 13.
A few years after his marriage, Mushtaq's behavior became very aggressive. He would often beat his wife and even get into fights with his siblings.
Once Zulfiqar had to go away from his village for some work. So, he gave the responsibility of feeding his cattle and cleaning their dung to Mushtaq. When he returned three days later, his cattle were half-dead with hunger and their dung was scattered all around. As he angrily scolded Mushtaq, his reaction made him think that his brother was not in a stable mental condition.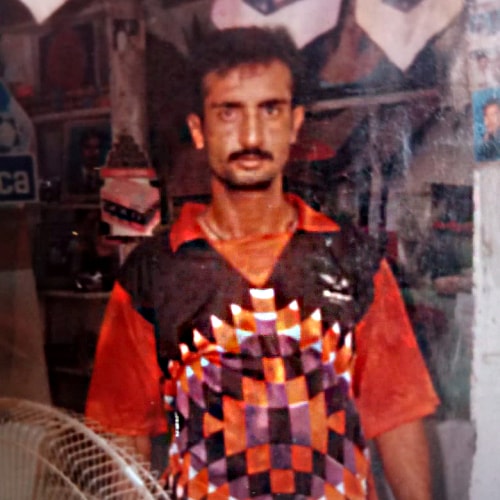 Deceased Muhammad Mushtaq

Zulfiqar told his stepbrother, a retired employee of Pakistan Air Force, about this incident. They both then decided that Mushtaq should be taken for an examination by the air force psychologists.
These specialists examined him for the next few months and eventually told his family that he was suffering from a mental illness call schizophrenia. They also stated that his illness had reached its final stage and was incurable.
People with this disease experience hallucinations all the time. They have nightmares even when they are awake, they cannot speak properly, their memory and ideas get mixed up and they are often depressed. Schizophrenic people need to be on medication to control these symptoms.
Mushtaq's life became highly dependent on medicine after this diagnosis. In order to deal with their side effects, he used to bathe several times a day in the summers. It was during this time that he got into the habit of smoking cigarettes and became even more introverted.
He would also often leave his house without telling anyone and roam around in nearby villages. Whenever he had to return home, he would tell people the name of his village and someone would help him reach home.
About four years ago, his wife became so fed up with his illness that she got a divorce from him. She left their children with him and remarried. He would often stay up all night afterwards.
During winters, he would often burn paper at night to warm his hands. This became such a regular thing that one of the walls in his room is still stained with smoke. Zulfiqar, however, says that Mushtaq only used to burn waste paper and he never set fire to any books. Several books are still lying on a shelf in his room.
Wandering into a death-trap
Mushtaq left Chak 12/AH some time ago and went to Karachi to live with his brother Rana Muzaffar. But without telling anyone, he returned to the village in early February 2022.
After spending a few days in his village, he went to visit his sister who lives in a town called Talamba – about 40 kilometers away from his home. On February 12th, 2022, he left his sister's house and started walking down the road that leads from Talamba to Mian Channu. After covering a distance of about six kilometers, he reached the Shah Muqeem Mosque, surrounded by lush green fields and located by the roadside. It has been built by Ramzan Shahid, a resident of a nearby village, Dangrawala, on his own land.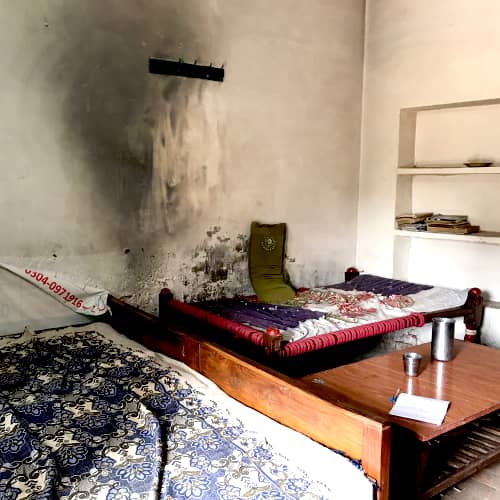 Muhammad Mushtaq's room
On that day, a religious ceremony was being held in this mosque due to which a large number of people were present there. Eyewitnesses say one of them allegedly saw Mushtaq burning some reported sacred papers after Asr prayers. As soon as they found out about this, the people in the mosque started beating him. Later, he was handcuffed and locked in a room.
Soon afterwards, the news of the incident reached the police in Talamba. The local station house officer (SHO) rushed to the mosque along with three other officials. While they were trying to get Mushtaq out of the room to take him with them, hundreds of people from the village of Jangal Deraywala, located a kilometer away from the mosque, surrounded them.
Shortly before the evening prayers, the mob started chanting religious slogans. They beat up the policemen and snatched Mushtaq from their custody. After that everyone in the mob started hitting him with whatever they could get their hands on. Some people tied him up with ropes and dragged him out of the mosque. All this while, the mob continued to use sticks, bricks, and axes to beat him, while many others in the mob made videos with their mobile phones.
When Mushtaq succumbed to his injuries and died, his body was hung upside down from a tree just behind the mosque. The police had to negotiate with the locals for about two hours before they could take down his body.
It still took several more hours to identify Mushtaq as he did not have a mobile phone or any identification documents on him. His brother Zulfiqar was called to Talamba police station at around 5 am next morning to inform him about his brother's death.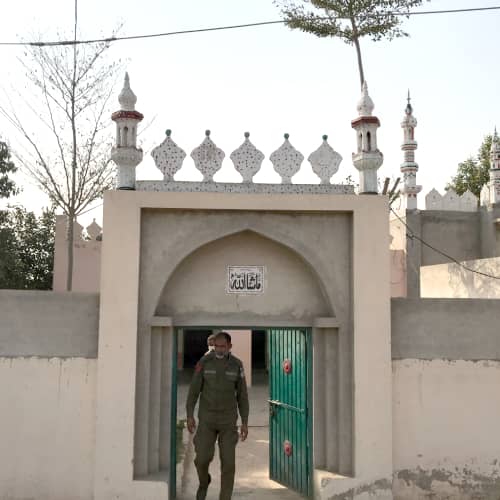 Shah Muqeem Mosque
One incident, two stories
On the afternoon of February 16th, 2022, Zulfiqar is sitting outside his house at Chak 12/AH among 20 or so people who are offering condolences to him on the death of his brother.
Most of the inhabitants of this village, including Mushtaq's family, belong to the Rajput community which migrated from India to Pakistan after the partition of Punjab in 1947 and settled here.
The majority of the people living in the village follow the Barelvi sect, whose adherents have strong religious sentiments when it comes to blasphemy. In the last few years, Tehreek-e-Labbaik Pakistan, an organization affiliated with the sect, has staged several violent protests on this issue in central Punjab and Islamabad-Rawalpindi. They not only damaged public and private property but also killed police officials. The mob that killed a Sri Lankan manager for allegedly committing blasphemy at a factory in Sialkot in December 2021 also included some young men belonging to this organization.
But no one in 12/AH considers Mushtaq a blasphemer. Local residents unanimously believe that he was "brutally murdered" for no apparent reason and without taking his mental state into consideration. Therefore, while talking to Zulfiqar, they not only offer traditional condolences but also strongly condemn the incident that his brother had to face.
Also Read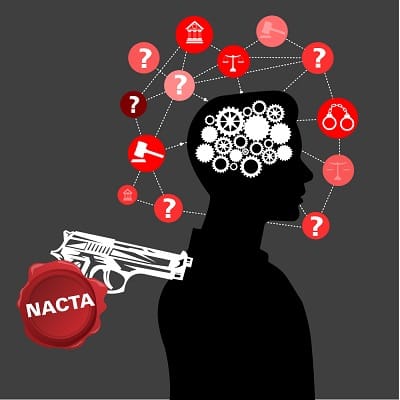 How Schedule Four has become a tool to silence political dissidents and human rights activists
This is the reason why when Mushtaq's funeral prayer were offered one day after his assassination, it was attended not only by a large number of locals but also by many people from nearby village. During the prayer, the police were also present in large numbers to prevent any untoward incident.
Zulfiqar seems very calm while talking about his brother's life but as soon as he mentions his murder, his eyes start welling up. "The way people in the mob tortured my brother was far worse than how one would treat one's animals," he says. He also often wonders "why nobody asked my brother about his family or tried to understand his state of mind" while he was being tortured. "I wish someone would have asked him where he came from and how he reached this mosque," he says, holding back his tears