Almost all the houses in Mohan village have cracks in their inner walls. Some of these cracks are so large that one can see through them. Local residents say these started emerging after October 2017.
Mohan is located within Salt Range in Choa Saidan Shah tehsil of Chakwal district. Its residents believe that the root cause of their problems is Gharibwal Cement Factory. It is situated 14 kilometers south of their village and extracts limestone from a mountain which is only two kilometers away from their homes (to use it as a raw material for manufacturing cement).
Local residents say the extraction process involves the use of explosives such as dynamite so it "shakes their houses and frightens the children and women living in them."
Another major complaint that the villagers have against the factory is that it has cleared a 25-acre forest at the foot of a local hill for mining limestone. This has deprived them of the sole source of obtaining firewood for their homes. A 300-feet deep ditch has also developed near the village as a result of limestone mining. At least 70 cattle worth about 2.5 million rupees have fallen in this ditch and died, local residents say.
These animals included three goats belonging to 60-year-old Maqbool Hussain Awan. They fell into the ditch on November 20th, 2020. He says that it took him half a day just to get his dead goats out because "there is no way to enter the ditch".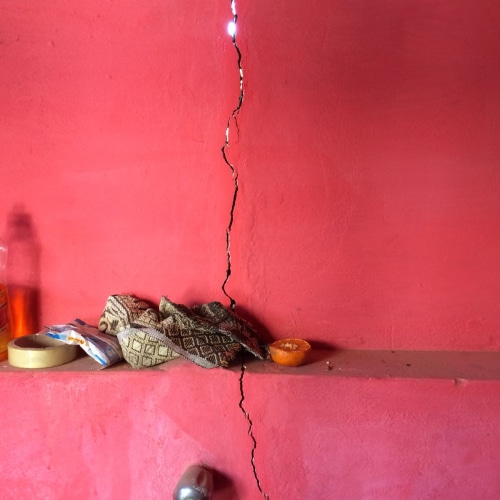 Dynamite is used to breaking up rocks, causing walls to collapse.

Malik Azeem Awan, a resident of Mohan, has been protesting along with a few other local residents in various ways since 2017 against the damage being caused to their houses and the local natural environment. He says the first protest in this regard was held in October 2017 in which he and 35 residents of the village staged a sit-in outside a police post in a nearby town called Basharat.
In October and November 2021, they also sent several petitions to the Prime Minister of Pakistan, the Chief Justice of Pakistan, the Chief Minister of Punjab and the district administration of Chakwal. In these petitions, they mentioned issues such as deforestation, destruction of houses and the formation of the ditch as a result of limestone digging. They also pointed out how the dynamite explosions had caused the village's groundwater level to go down drastically. "Previously this water was found at a depth of 70-80 feet but now you need to dig at least 300 feet deep to find it," says Awan.
Environmentally hostile industrial practices
Gharibwal Cement Factory is located at the border between Chakwal and Jhelum districts in northern Punjab. It started as a private business in 1965 but was taken over by the government in the 1970s. Later, in 1992, two businessmen, Tauseef Paracha and Abdul Rafiq Khan, bought it from the government. This factory produces 2.1 million tons of cement annually. According to its financial statements, it earned a profit of 3.49 billion rupees in 2021.
The residents of Mohan believe that a major factor behind this huge profit is that the factory is recklessly exploiting the natural resources of their village. Despite taking full advantage of these resources, however, it has not contributed at all to the welfare of the local people. On the contrary, it is continuously causing financial and environmental damage to their environs without taking any responsibility for it, says Awan.
The head of the factory's management, Muhammad Ishtiaq, categorically rejects all these complaints. On the other hand, he says: "Some people in the village have been making baseless allegations against the factory management for the last few years for their personal interests." The factory, according to him, has "leased government-owned land for limestone mining since 2013 in accordance with government regulations and with the permission of the Department of Mines and Minerals and the Forest Department". He adds: "If we were violating any law, these departments would have cancelled the lease."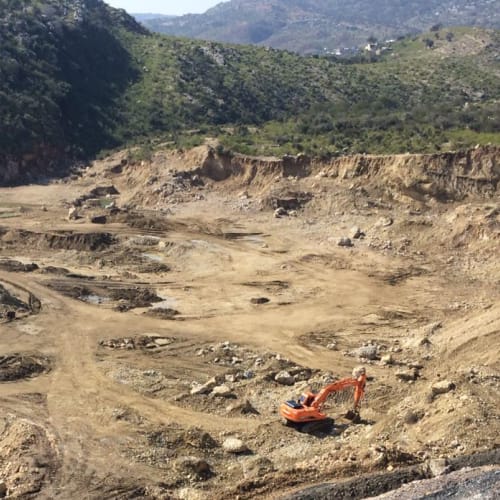 Gharibwal Cement Factory has cut down the forest to get limestone.

Explaining the leasing process, an official of the Forest Department based in Chakwal says his department "surveys the forest land required by a cement factory for mining limestone and generates a report based on this survey which is then sent to the Mines and Minerals Department". Only after reviewing the report, the two departments jointly enter into a lease agreement with the factory, he says.
Under the agreement, the factory management pays an annual rent of 200 rupees per acre to the Forest Department. It also pays 21,808 rupees per annum to the Mines and Minerals Department for replenishing the excavated land. Similarly, in return for giving mining rights of limestone to the factory, the Department of Mines and Minerals receives a royalty of 115 rupees per thousand kilograms of cement produced from it. According to this calculation, the department received 241.5 million rupees from Gharibwal Cement Factory in 2021 alone.
Chakwal based officials of both departments say the cement factories can mine limestone without any hindrance as long as they continue to pay the amounts mentioned above. However, the guidelines issued in 2001 under the National Forest Policy state that if forest land is required for an industrial purpose, it must be ensured that this does not affect the human population dwelling close by. The policy also states that it is the responsibility of the Forest Department to provide alternative resources to the local people so that they can meet their economic and domestic needs linked to the forest.
Also Read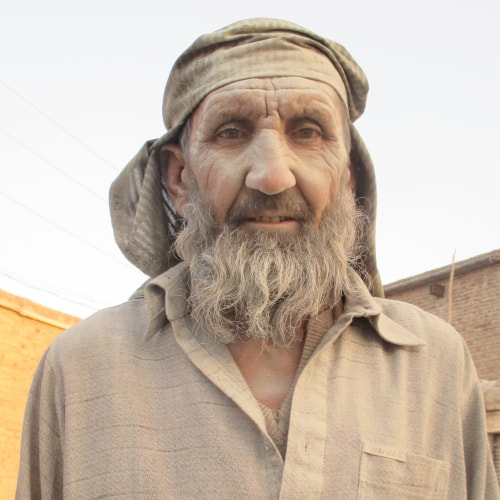 Death by work: how stone grinding factories in Punjab are causing an incurable disease
In order to ensure compliance with these guidelines, the cement factories using forested land are told to replace the forests they have cut down by planting new ones of similar size somewhere else. Gharibwal Cement Factory is planting this new forest at a village called Parera, which is about seven kilometers away from Mohan.
Awan believes that planting a forest at Parera will not solve his village's problems. The new forest, according to him, is so far away from Mohan that its people will not be able to get firewood from there. Secondly, he says, it will take more than 20 years for the new forest to grow. Until then, the people of Mohan will have suffered so much due to the environmental damage caused by deforestation that it would be impossible for the new forest to compensate for it.
World Wildlife Fund for Nature, an international non-governmental organization working to improve the natural environment, confirms these concerns. A report released in December 2004 states that the No Objection Certificates (NCOs) issued to cement factories in Chakwal District by the Environment Department were prepared on the basis of questionable, superficial and incomplete information. Even when it was clear that these factories would have a devastating effect on the natural environment, forests and water resources around them, no steps were taken to address these issues, it says.