Consider Paris – one of the most sought after urban locations in the world. Now consider Paris being rebuilt in Gujranwala which is easily one of the least desirable places in Pakistan due to its chaotic sprawl and ineffective civic services. But that is what a housing scheme, named Le Paris – A City of Love, is promising.
Several newspapers carried full page advertisements in January 2021 showing that the housing scheme would be built on 4,800 acres of land (at an unspecified location). It was shown to include the replicas of many famous tourist destinations found in Paris: Arc de Triomphe, Grande Arche, Champs-Élysées and Eiffel Tower – except that some of these places were spelled wrongly in the adverts. A hospital to be built in collaboration with a healthcare centre in Paris, amusement parks inspired by Disneyland, world-class educational institutions and Asia's largest mosques based on a French design would also be a part of the scheme.
The advertisements claimed the scheme to be Pakistan's "largest project for a buzzing economic activity", being set up in response to Prime Minister Imran Khan's "futuristic economic vision". It was touted to result in high growth for 40 different industries, create millions of jobs and attract a large influx of foreign investment.
The advertisements announced that anyone interested in purchasing a plot of land in the scheme would have to buy a registration certificate worth 125,000 rupees. Only those who possess this certificate will be eligible to take part in a ballot for the plots which will be obviously not many – considering that the scheme is going to be built on an area 12 times smaller than the city of Gujranwala.
These certificates, according to the advertisements, have a return value of 140,000 rupees. This means that those who will fail to get a plot of land in balloting can return their certificates at a profit (though the advertisements fail to mention when exactly the balloting process will take place).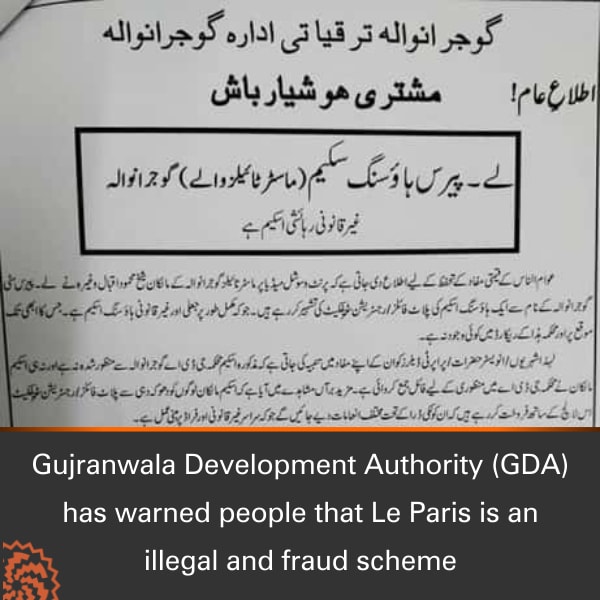 The certificates are primarily being sold in order to make a list of "prospective buyers", says a staff member of the company that is planning Le Paris. "We are selling them at a nominal fee because there will be too many applicants to accommodate in 4,800 acres if the registration is free for all," he says, requesting anonymity because he is not designated as the company's spokesperson.
The certificate owners will also be eligible to take part in a lottery in which the highest prize is promised to be 50 million rupees in cash. Originally, this lottery was to be held on 31st March 2021 but it has been postponed indefinitely. Le Paris management claims the postponement has been caused by the rising cases of coronavirus in Gujranwala. The real reason could be different.
House of cards
Gujranwala Development Authority (GDA), a government entity mandated to oversee the development of housing schemes in the city, issued a warning to the general public in March 2021. It stated that Le Paris was a fake and illegal housing scheme which did not have GDA's approval and that its lottery was also an illegal act which "amounts to fraud". It advised prospective investors to "not carry out any financial deal with [the company behind Le Paris]" and warned the company that legal action could be taken against it.
The Lahore-based legal adviser of Le Paris says the company has applied to GDA for a preliminary permission but a GDA official confirms to Sujag that it has received no such application.
The Securities and Exchange Commission of Pakistan (SECP), that regulates private businesses in Pakistan, has also announced through a press release on 19th March 2021 that the company behind Le Paris is bound by law to desist from engaging in any lottery scheme and that such a scheme is in violation of the Companies Act 2017. The commission, therefore, has advised people to "refrain from investing their hard-earned money in any unauthorized scheme".
The legal advisor of Le Paris calls SECP's warning as "baseless". He says the company that is setting up Le Paris is duly registered with SECP and it "has not sold any plots so far". All it is doing, according to him, is "registering buyers who will buy plots in the scheme in future". This, he believes, is not illegal. He also tells Sujag that he is going to write a letter to SECP in response to the contents of its public warning.
Another major problem with Le Paris is that nobody knows where exactly it is going to be built. A property dealer listed as "authorized" on the scheme's website tells Sujag that it will be built on the Lahore-Gujranwala GT Road, to the west of Kamoki toll plaza. The land he mentions is filled with heaps of garbage with no tangible signs of a future housing scheme.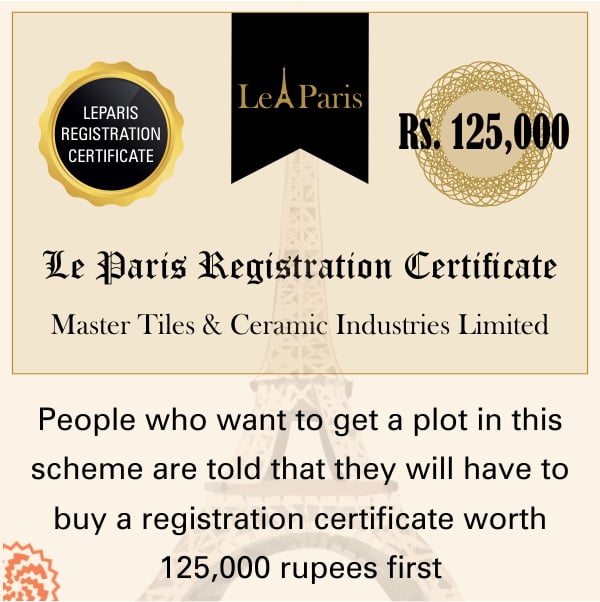 A Gujranwala-based investor, who invests in property regularly, says the sponsors of Le Paris have not even contacted the owners of that land. "The landowners do not know yet that a housing scheme is going to be built on their land," he says without wanting to be recognized by name.
The marketing department of Le Paris, however, tells Sujag that the location of the scheme is "confidential". A member of its staff says the location is not being announced because such an announcement would allow landowners to increase the price of their land before it can be purchased for Le Paris.
The critics of the scheme contend that it is nothing more than an attempt by the company behind it to take advantage of the tax benefits that the government is giving to real estate and construction sectors. They point to the fact that, since October 2020, the Federal Bureau of Revenue (FBR) has allowed prospective builders and real estate developers to register with the Naya Pakistan Housing Scheme so as to avoid high taxes and get immunity from official queries into the sources of their income.
What gives credence to this contention is the fact that the advertisements for Le Paris claimed that it was being built in collaboration with the Naya Pakistan Housing Scheme. They also said that 20 per cent of the land in Le Paris would be used for building 40,000 low-cost housing units – as per the requirements of Naya Pakistan Housing Scheme.
No documentary evidence, however, is available that can substantiate the existence of this collaboration.
The critics also allege that Le Paris has been launched because its principal sponsor, Sheikh Mahmood Iqbal, is finding it extremely difficult to return bank loans worth 17 billion rupees. So, they say, he has come up with an ingenious scheme to collect money from the unsuspecting public.
Sheikh Mahmood Iqbal is a known businessman in Gujranwala. He is the chief executive officer of Master Tiles, a company famous for manufacturing ceramic flooring. In an audio recording of a call he is reported to have made to his brother, Sheikh Maqsood Iqbal, he can be heard as admitting that he is under acute financial pressure and is, therefore, planning to launch a real estate project.
The legal adviser of Le Paris neither confirms nor denies that the voice in the phone call is that of Sheikh Mahmood Iqbal.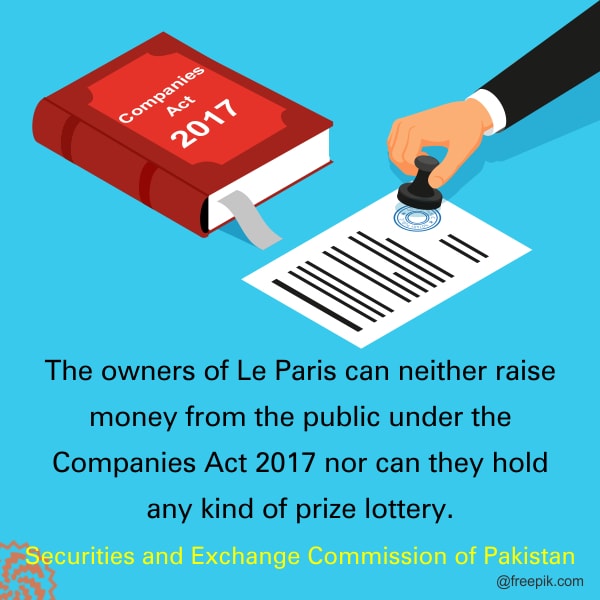 Sheikh Maqsood Iqbal, too, runs a housing project in Gujranwala — Master City – which has its own share of controversies. In June 2020, for instance, GDA auctioned several of its plots to obtain fines imposed on it for the legal violations committed in its execution.
Buyers beware
Allegations of wrongdoing and warnings by the government departments have not deterred many people from investing in Le Paris. Anecdotal evidence suggests that thousands of its registration certificates may have been purchased already. This could be attributed to the massive advertisement campaigns run by the company sponsoring the housing scheme.
The campaign started on 25th January 2021 with detailed adverts appearing in many news and non-news media outlets. In all of these, Prime Minister Imran Khan's picture is flashed at the top, with the scheme's self-professed association with the Naya Pakistan Housing Scheme being touted very prominently.
Over the next two months, Le Paris ran another series of advertisements: this time on various social media platforms. Famous presenters could be seen in these adverts flaunting a copy of the registration certificate and urging the public to become a part of the scheme. A Lahore-based advertisement agency was also engaged to reach out to various digital media platforms for the broadcasting of adverts that were filmed like news reports.
Mere warnings by GDA and SECP stand little chance of being noticed amid this advertising blitzkrieg. So, why have the two government entities failed to take any other action against Le Paris?
A GDA official tells Sujag that the authority can only issue warnings and cannot take any concrete action. "We have written letters to the Pakistan Electronic Media Regulatory Authority (Pemra), Pakistan Housing Authority (PHA) and SECP about Le Paris. This is as much as we can do," he says.
Also Read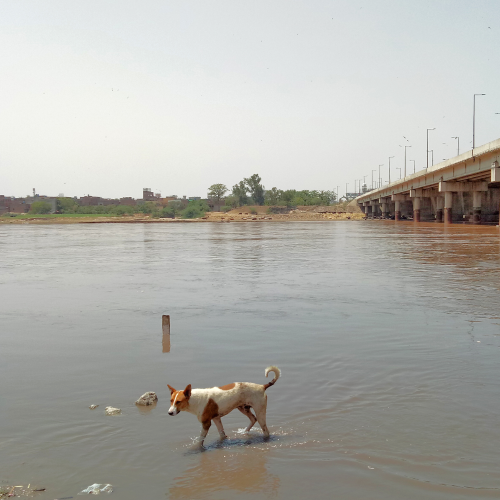 'Ravi Urban Development Authority Act is repugnant to the constitution and the law governing LDA.'
The situation is strikingly similar at SECP. Muhammad Kumail, a deputy registrar at its Lahore office, says: "We have issued warnings to the public but we cannot do more. Any further action can only be taken through law-enforcement agencies like the National Accountability Bureau (NAB) and the Federal Investigation Agency (FIA) and they only work if someone complains to them."
When asked if SECP itself will lodge a complaint again Le Paris, he says it cannot do so since its primary role is to regulate and not prosecute business concerns.
These jurisdictional riddles mean that the government is unwilling to stop a potential scam that can deprive many gullible people of their money.
A Lahore-based lawyer, Usama Khawar, however, believes there is still a lot that the government can do – if it wants to. "If Pemra can ban tobacco industry's advertisements because they violate the law, why can't it take any action in this case?" he says and adds that all regulatory bodies, including SECP, are fully authorized to initiate legal action against any company that is found to be violating the law of the land. Similarly, he says, both NAB and FIA can also take action against a delinquent business concern on their own – and they have done so in the past against many individuals and companies.
This report was first published by Lok Sujag on 3 Apr 2021, on its old website.