Taj-ul-Nisa, a 43-year-old lady health worker, lives in the remote hilly village of Lelai in Bisham tehsil. Recently, she had to attend a meeting at the Rural Health Center (RHC) in Meera, so she paid Rs 4,000 to a Jeep driver to get there.
However, she had not received her salary for six months, so she borrowed money from her neighbour to pay the rent.
She says that she has rarely received her salary on time in the past six years. But this time, the department has completely forgotten to pay the health workers' wages. In Khyber Pakhtunkhwa, 3,540 lady health workers, 217 lady health supervisors (LHS), and 189 drivers have been without salaries for six months.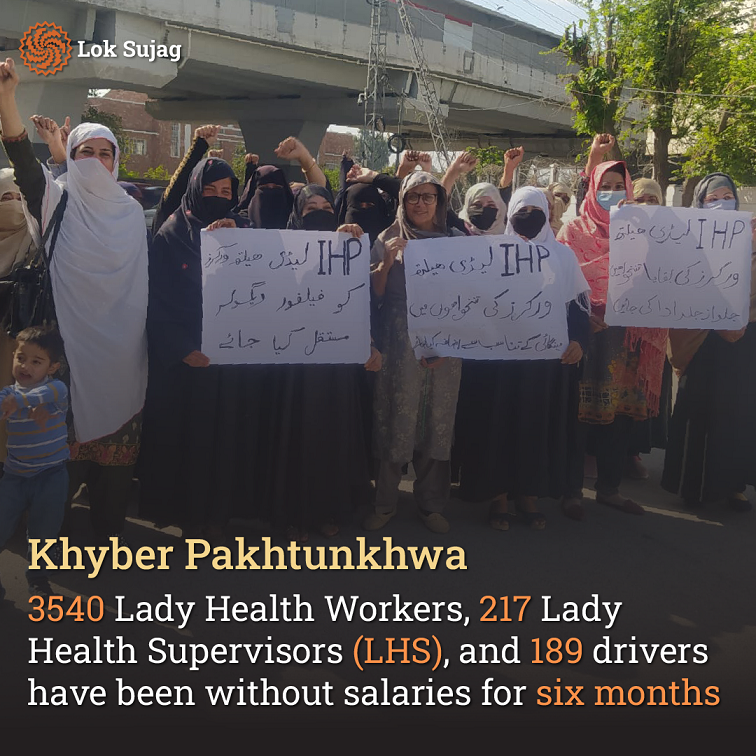 Despite facing difficult conditions, these workers provide services across the province in family planning, mother and child health, and polio campaigns. Tragically, many lady health workers have lost their lives in terrorist incidents during the anti-polio campaign.
Taj Al-Nisa says she was recruited under the Integrated Health Project (IHP) in 2017. She used to receive her salary after one or two months, but there have been no payments for six months.
"Inflation makes it tough to manage expenses. If my children are late in paying their school fees, the school sends them back home. Shopkeepers refuse to give loans, and the debt to relatives has reached Rs one lakh. We considered taking a loan from the bank several times, but I consulted my husband, and we were worried about the bank's interest. My husband earns daily wages, and I took up this job to support him."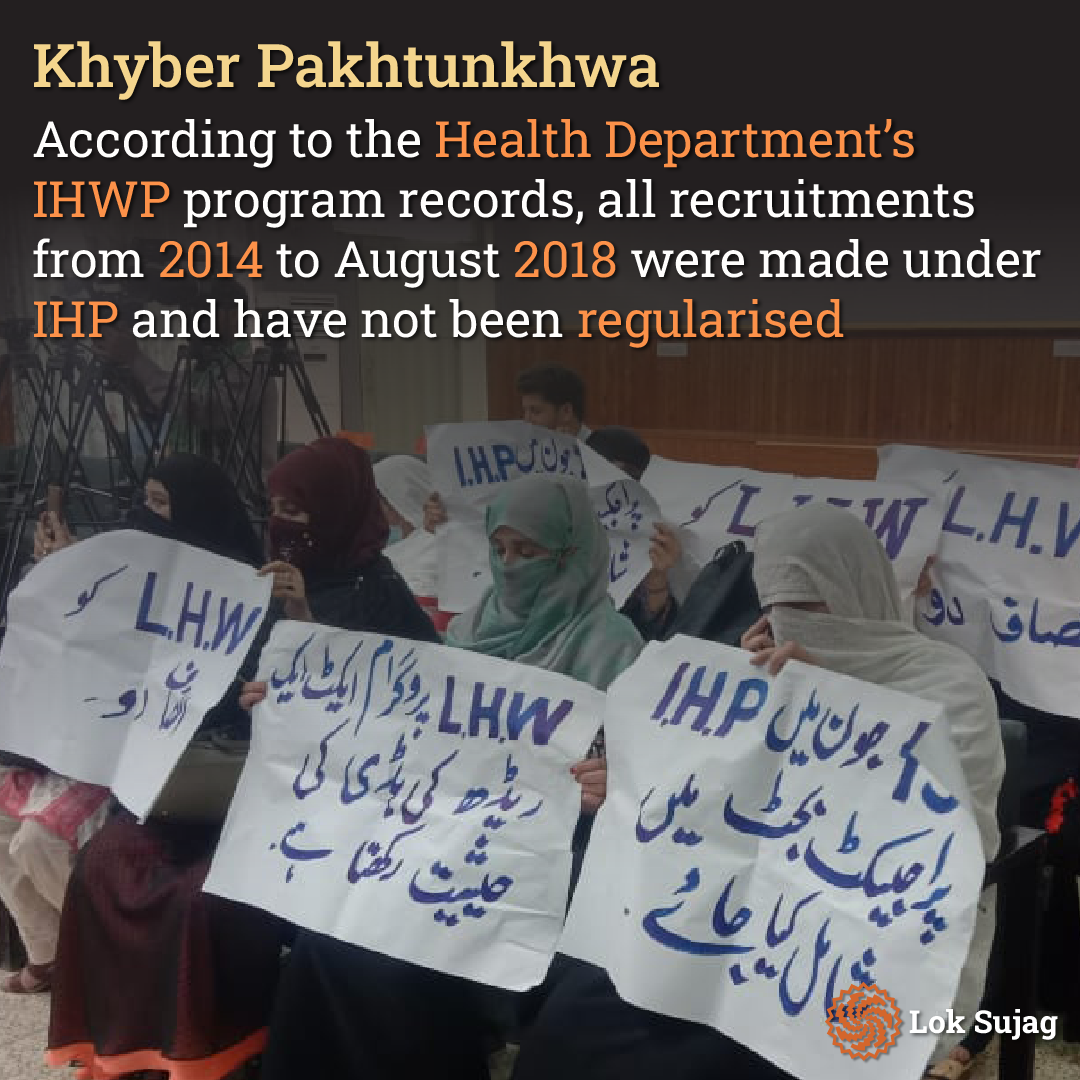 According to the Health Department's LHW program records, all 2014 to August 2018 recruitments were under IHP and have not been made permanent.
All the workers recruited before 2014 have become permanent, and their salaries range from 32 to 39 thousand.
Azmat Ara, a 29-year-old lady health worker from Malakand and a mother of three children, shared that during her recruitment, she was informed that she would be made permanent after completing fifteen months of training.
"I have been working for eight years now. We never received our salary on time, and our job was never made permanent. We are assigned many extra duties, like anti-dengue and polio campaigns and vaccination programs. During elections, we also have to perform police duties. We must work in all conditions, whether scorching hot or raining, cold or snowing, leaving our young children at home. But the way the department treats us is very hurtful and painful."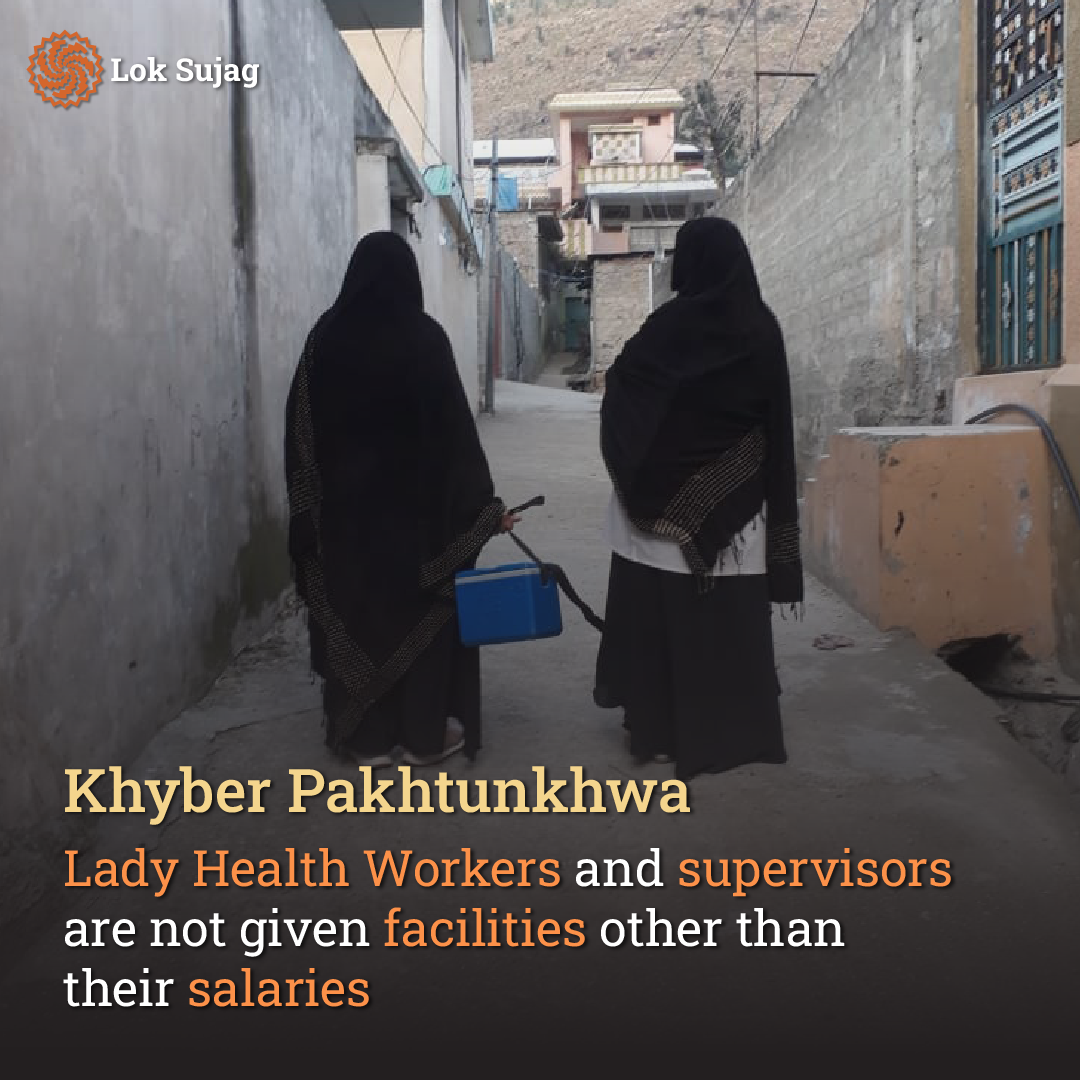 Lubna, the Lady Health Supervisor of Swat, was recruited in 2017. She mentions that all government employees receive their salary on time, regularisation, and other benefits. Lady health workers are paid 25 thousand, and supervisors receive 30 thousand. Besides this, there are no additional benefits or salary increments. They don't even get money for car petrol and maintenance.
"It's been six months, and now there's no one among our relatives from whom we can borrow money. On Eid-ul-Adha, when people asked for their money back, we had to borrow from more people to repay the loan."
Shahid Khan, the Information Secretary of the Lady Health Workers Association Khyber Pakhtunkhwa, says they have contacted many officials and politicians, including the province's governor, Ghulam Ali. However, all they received were empty consolations and promises. The health department of each district asked for documents multiple times for the employees' regularisation, but there has been no progress in this matter either.
Also Read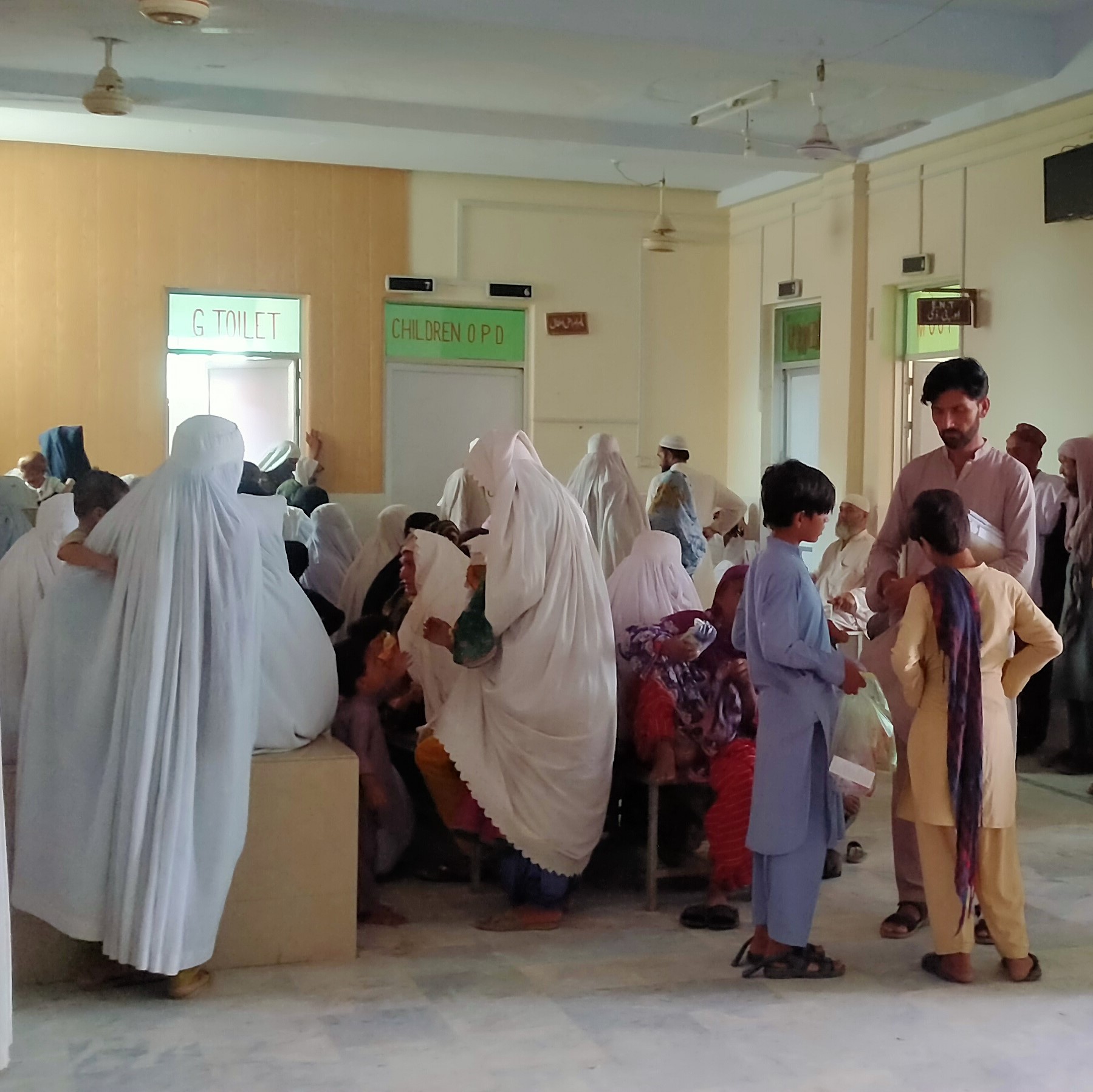 Decades of neglect: Tank district struggles with inadequate healthcare
He says he works as a driver in the department, but the salary of 25 thousand is not enough and is not received on time either. One of his sons has been sick for two years, and he doesn't have enough resources to get proper treatment.
The big problem is that this project was completed on June 21. If the provincial government doesn't extend it, the stoves of four thousand families will go cold.
Khyber Pakhtunkhwa, Director IHP, Dr Musa, shared with LokSujag that he recently took charge and is working to ensure that all employees receive at least some of their salaries. Last Ramadan, two salaries were paid, and three more will be paid soon.
He says that the main problem here is the lack of funds. Salaries are given based on the money released by the finance department. Like the previous government, the caretaker government also provides only ten per cent salary to the IHP employees. This situation will continue until the policy is changed.