Turnout in the recent by-election in Karachi's National Assembly constituency, NA 249, has been almost half of what it was in 2018 general elections – yet both the contests have turned out to be cliffhangers. Back in 2018, Faisal Vawda of Pakistan Tehreek-e-Insaf (PTI) defeated the president of Pakistan Muslim League Nawaz (PMLN), Shehbaz Sharif, by just 723 votes. According to the provisional results, Qadir Khan Mandokhail of Pakistan People's Party (PPP) has now beaten Miftah Ismail of PMLN by a margin of only 683 votes.
The latter, however, has challenged this provisional result and demanded a recount of ballots. The Election Commission of Pakistan will hear his plea on May 4th, Tuesday.
A single by-election no matter how closely contested, however, offers insufficient basis for drawing broad political and electoral conclusions. At the same time, its results cannot be overlooked altogether especially when they offer a peek into what is cooking in Karachi's politics at the moment. If this broth boils over, it has the potential to change the city's electoral scene in next elections.
Elaborated below are six trends the by-election has given rise to:
1: PTI's sand castle at the beach
Faisal Vawda secured 35,349 votes (or 26.9 per cent of the votes polled) in NA 249 in 2018, defeating no less a person than the head of Pakistan's biggest political party at that time. In the by-election, his party, PTI, has polled 25 votes against every 100 votes it received in the general elections. Consequently, its total votes have decreased to 8,922 (or 12.1 per cent of the polled votes), relegating it to an embarrassing fifth position.
Some other parties have also lost votes in the constituency but none so much as PTI has. Does this signal the end of its electoral success in Karachi?
In 2018, PTI won in 14 of the city's 21 National Assembly constituencies. It finished as a runner up in another five and stood at third position in the remaining two. If nothing else, the by-election result shows that the party is losing its charm for Karachi's voters despite having run the federal government for the last two and a half years – or perhaps because of it.
2: Down but not out
Tehreek-e-Labbaik Pakistan (TLP) received a surprising 18.3 per cent of the polled votes in NA 249 in the general elections 2018 – though this was its first electoral foray.
The by-election threw up another challenge to it as it was declared a terrorist organization only two weeks ahead of the polling day.
Referring to its recent protests demanding the expulsion of French ambassador to Pakistan, a notification issued by the Interior Ministry on 15th April 2021 said the federal government "has reasonable grounds to believe that Tehreek Labbaik Pakistan is engaged in terrorism, acted in a manner prejudicial to the peace and security of the country…"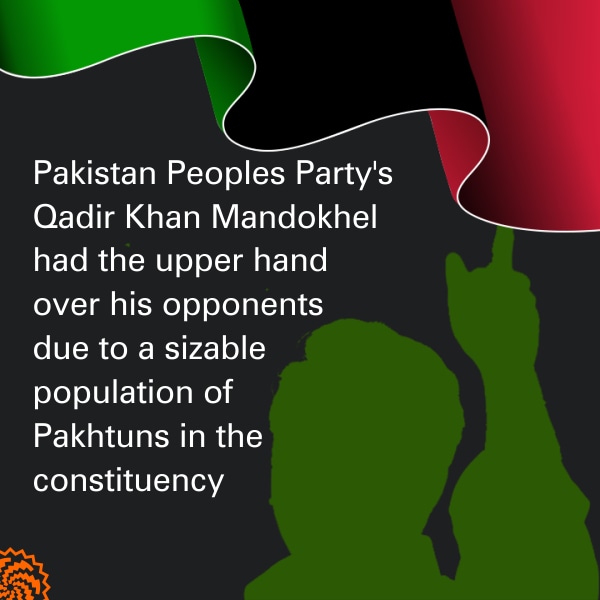 These are also sufficient grounds to dissolve a political party under the Elections Act 2017. The dissolution, however, requires the federal government to initiate a long procedure, involving the Supreme Court. Much before this process could even begin, the Election Commission of Pakistan had accepted the nomination papers of the TLP candidate along with those of others for the by-election in NA 249. On its own, the Election Commission has no authority to reverse this acceptance and stop the TLP candidate from taking part in the polls.
Reports from the constituency, however, suggest that the local administration did not allow TLP to organize public meetings and rallies, citing the federal government's order for its proscription. Still, it has polled 11,125 votes. These are certainly much less than 23,981 votes it received in 2018 but TLP's share in the polled votes has come down just by three percentage points – from 18.3 per cent to 15.1 per cent.
TLP, therefore, may not be on the rise anymore but its voter base is definitely intact. Barring a dissolution, it is set to play a prominent role in Karachi's electoral politics.
3: The sectarian divide
A candidate of Muttahida Majlis-e-Amal (MMA), which, in fact, mainly consisted of Jamiat Ulema-e-Islam Fazl (JUF) – polled 10,307 votes in NA 249 in 2018 general elections. For the by-election, MMA opted not to field a candidate and instead supported PMLN which is its main partner in the opposition alliance, Pakistan Democratic Movement.
So, where have its votes gone? They have certainly not all gone to PMLN. But they have also not benefited TLP, the sole religious party participating in the by-election. This is despite the fact that JUIF has been quite supportive of TLP's stance and actions in recent times.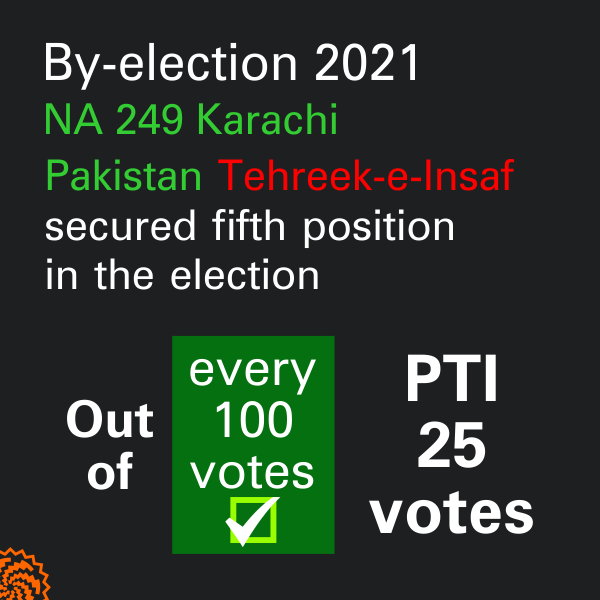 This suggests that religious voters do not cross sectarian boundaries unless there are strong political and religious reasons to do so. For instance, MMA was able to garner votes from the followers of all sects in 2002 because it included parties affiliated to all the various sects. Being an overwhelmingly Barelvi organization, TLP will, therefore, not find support among the JUIF's mainly Deobandi voters – unless, however, the two sides come together in some alliance.
4: A stable vote bank
Muttahida Qaumi Movement (MQM) Pakistan received 13,534 votes (or 10.3 per cent of the polled votes) in July 2018 elections in NA 249. In the by-election, it has received 7,511 votes (or 10.2 per cent of the polled votes). Since MQM has held its ground in percentage terms, it can be safely assumed that its total vote tally has gone down only as a result of the overall decrease in voter turnout which, in itself, is not an unusual thing in a by-election.
The same trend could sustain across Karachi in the foreseeable future.
5: Sweet dreams
Pak Sarzameen Party (PSP) emerged as a political organization in 2016. It is headed by Mustafa Kamal who had been Karachi's mayor (2005-2010) and was then elected as an MQM Senator in 2013.
PSP did very poorly in 2018 general elections. Out of its 21 candidates in Karachi's as many National Assembly constituencies, only Kamal himself could poll more than 10,000 votes to take fourth position in NA 253 Karachi Central I; 16 of its candidates ranked seventh or even lower.
PSP candidate on NA 249 for the general elections, Fouzia Hameed, also ranked seventh. She received a paltry 1,617 votes (or 1.2 per cent of the polled votes). In the by-election, however, the party's candidate has received 9,227 votes – or 12.6 per cent of the total polled votes. PSP, in fact, is one of the only two parties which have increased their vote share in real numbers in this by-election compared to the general elections.
This could be mainly because of the fact that this time round its candidate has been none other than Kamal. But the question is: whose voters has he attracted to himself?
One answer could be that Urdu-speaking residents of the constituency who voted for PTI in 2018 are now disappointed and have resorted to PSP. Tehreek-e-Insaf, after all, has polled 14.8 percentage points less votes than it did in the general elections. Some of this loss is highly likely to have contributed to PSP's vote gain of 11.1 percentage points in the by-election.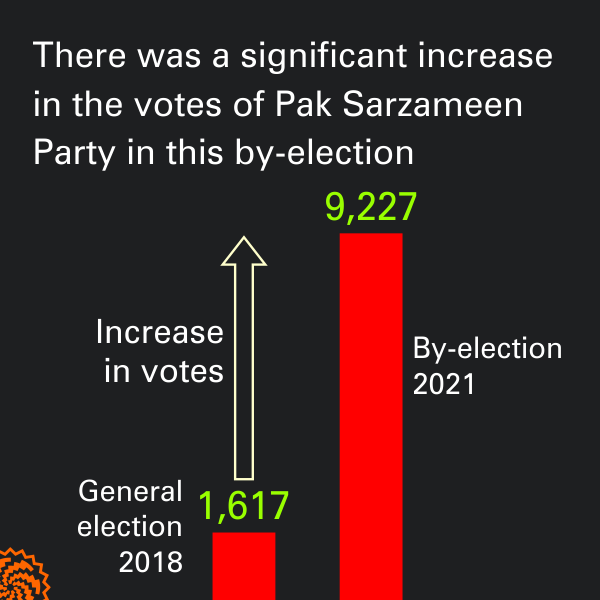 So, if we believe in the commonly held notion that PTI poached into MQM's Urdu speaking vote bank in 2018, the same poached voters now seem to be heading towards PSP. A single by-election, however, cannot be a reliable indicator to conclude that the exodus of Urdu speaking voters from PTI will always benefit PSP.
6: The dark horse
Pakistan People's Party (PPP) is being criticized by the Twitter-happy commentariat that it has won NA 249 by-election 'as a reward for its recent role in weakening the opposition alliance and, thus, strengthening the ruling hybrid regime'. The fact-checking of this claim is beyond the scope of this analysis. The electoral numbers, however, show that the PPP's electoral performance in the constituency could be due to the simple fact that all elections are local in the end.
The party's candidate in the constituency – for both the general elections and the by-election – has been the same person, Qadir Khan Mandokhail. Being a Pakhtun in a constituency that has a reasonably large population of the same ethnicity, he certainly had an edge over his rivals. According to daily Dawn, Mandokhail had moved to the constituency in 2018 only weeks before the general elections. Later on, he worked in the area especially during Covid19 pandemic and was able to win support of the locals. "I was amongst the people and provided them help and the candidates that won and lost were nowhere," Mandokhail told Dawn, claiming that locals had forgotten the names of the other candidates. Interestingly, Mandokhail had contested a Sindh Assembly seat in 2002 on PTI's ticket but failed to make any mark.
Mandokhail also seems to have been helped by a few other factors. One of them is the conspicuous absence of MMA from the contest. Though MMA rallies its supporters around religious slogans, it, in fact, draws the majority of its electoral support from Pakhtun voters.
Since it decided not to field a candidate in the by-election, this gave an opportunity to other candidates to mobilize Pakhtun voters in their favour. And Mandokhel seems to have done that more successfully than others.
It was probably the same reason why PTI also fielded a Pakhtun candidate, Amjad Iqbal Afridi, in the by-election as opposed to an Urdu-speaking one. This strategy, though, has backfired because it failed to enthuse PTI's Urdu-speaking supporters in the constituency.
The incumbency factor, too, played heavily against Afridi – and this could be the second major factor behind PPP's ability to garner more votes than it did in 2018.
NA 249 includes a number of settlements which do not have even basic civil facilities such as water and sanitation. In every election, candidates promise to fix these problems. PTI's Faisal Vawda was the last one to make – and then break – those promises. The voters in these areas would certainly have thought twice before voting for his party's candidate.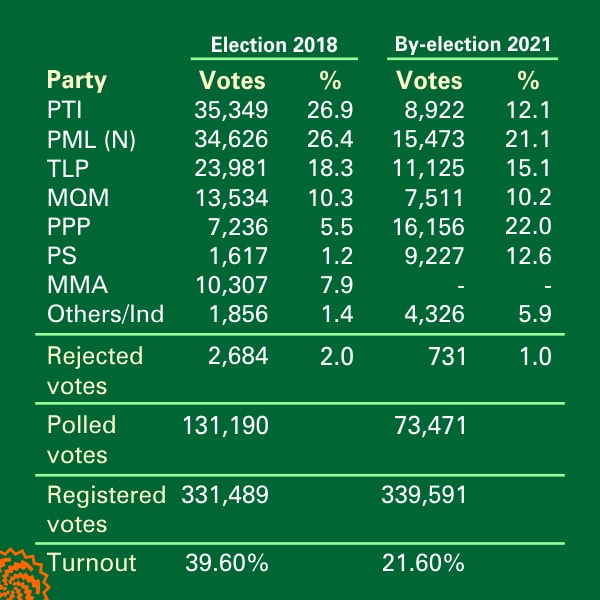 A good part of the constituents in NA 249 also belongs to working and lower-middle classes which have been hit hard by rising inflation and slowing economic activities during the PTI's two-and-half year rule. Their rejection of a PTI candidate is understandable.
PTI's internal rifts have also added to its woes during the by-election. Afridi's nomination as a PTI candidate was publicly opposed by the party's member Sindh Assembly, Malik Shahzad Awan. He, in fact, threatened to resign from his assembly seat in protest and withdrew his claim to the party ticket for NA 249 only a month before the polls – that too after a meeting with Sindh's governor Imran Ismail.
Awan's claim of being a more suitable candidate than Afridi was premised on the fact that NA 249 has a sizeable population of Hindko-speaking Hazarawals. Their number, indeed, was sufficient for Awan to win a provincial assembly seat from the same area in 2018.
Though Afridi-Awan rift was addressed eventually, the Hindko-speaking voters are unlikely to have come round to the idea of supporting Afridi squarely.
PPP, on the other hand, was not facing any of these distractions. It has added 8,920 votes to its previous tally of 7,236 in a constituency that has 339,591 registered voters. This is not really a surprising achievement, especially for a party that has been ruling Sindh without any interruption since 2008. Needless to say that PPP may not be able to repeat the same feat in another election with a higher turnout and different alignments among other parties and candidates.
This report was first published by Lok Sujag on 2 May 2021, on its old website.