A street brawl that occurred around three years ago changed Arshad's life forever.
It ensued from a minor altercation that led him and his friends to get into a fight with another group of boys. The scuffle resulted in his arrest – as well as of several other boys.
Arshad, then 15, was put in a police lockup. Despite being a juvenile, he was brutally tortured there with his hands and feet tied tightly. When the policemen got tired of beating him, he recalls, they hanged him upside down.
Unluckily for him, his parents were too poor to either affect an out-of-court settlement by bribing the police or engage a lawyer to get him released through court. So, when he was produced before a judge the next day, he was immediately sent in judicial custody, leading to his incarceration at District Jail Sheikhupura.
The treatment meted out to him at the prison was even harsher than the one he had faced in the police lockup. "The jail administration not only subjected me to torture but they also forced me to clean various parts of the prison and make bricks," he says.
Four days later when the court took up the case again, the judge was already convinced that Arshad had not committed any crime. So, he ordered his immediate release.
He is 18 now but the innocence on his face makes him look much younger. The few days he spent in the prison have also left such a deep scar on his mind that he mostly remains in a state of fear. This explains why he does not want his real name to be mentioned in this report.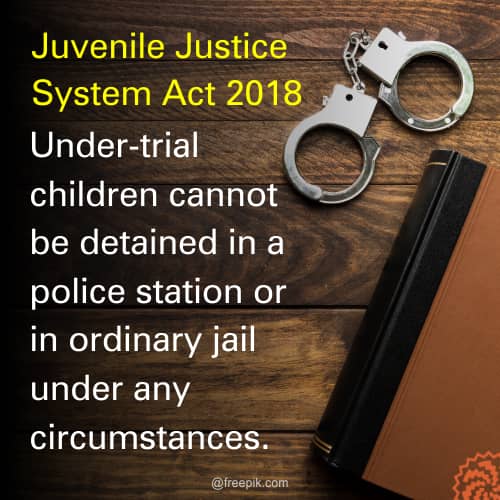 His imprisonment also cut short his educational career though, before that, he used to turn up at school very regularly. "After coming out of jail, I could not regain interest in my studies though one of my teachers made many efforts to convince me to give a serious consideration to continuing my education," he says.
He, thus, could not study beyond eighth grade and ended up as a labourer w¬orking with a grain dealer in Mananwala town of central Punjab's Nankana Sahib district.
Innocence lost
Punjab government has set up two jails for children — one each in Faisalabad and Bahawalpur districts. But the Borstal and Juvenile Jail in Faisalabad has yet to start accepting inmates and the Borstal and Juvenile Jail in Bahawalpur is also not fully occupied. It has only 59 inmates.
On the contrary, the total number of children imprisoned in 33 jails across Punjab is 734. (It means that just eight per cent of all imprisoned children are in juvenile prison facilities.)
The data compiled by Dastak, a non-governmental organization based in Lahore, reveals that only 100 of the child prisoners in Punjab are convicted. All the rest are undergoing trials.
Lawyers who provide legal aid to incarcerated children say that most of them are charged with minor crimes such as burglary and street fights. But they cannot afford to pay hefty legal fee to lawyers to get themselves released through courts. A Lahore-based lawyer, Haider Ali Butt, who is also associated with Dastak, has helped a number of such children to get released on bail. They were lying in jails for months, he says.
Though, legally speaking, the state is obligated to arrange lawyers for these children, it rarely does that, says Rubina Shaheen who has been working for AGHS, a legal aid organization in Lahore, for the last two decades. Even when a child is lucky to get legal assistance from the government, the lawyer provided to him never puts the required hard work in the case because he is not paid well. For this obvious reason, she has never witnessed any government lawyer succeeding in having a child prisoner released on bail.
Another human rights defender working with a child rights organization says the judges assigned to inspect prisons are authorised to release those children on personal sureties who lack financial resources to apply for bails. But, despite having this legal power, the judges never use it, she says requesting anonymity.
Shaheen points to another important issue.
Most of the imprisoned children have been implicated unfairly by police in crimes they have never committed, she says. They cannot get out of these cases because they do not have any social clout and financial resources to prove themselves innocent.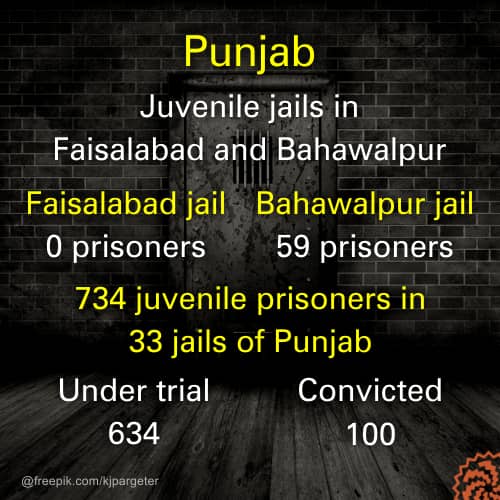 When a child is arrested for some minor offence, she says, the police implicates him in every unresolved theft and robbery that has taken place recently in its jurisdiction. She is presently working on a case in which "26 such cases were filed against a single child".
Even after a child gets out of imprisonment, his name remains in the police record. "In the event of any crime taking place in his area, the police summon him and throw him into the lockup. Sometimes, they also send him to the prison again," she says. "The police," according to her, "usually extract confessions from such a child through torture so as to claim credit for having resolved a case."
A child hailing from Mananwala is a classic example of this 'once a criminal always a criminal' approach.
Wishing not to be identified by name, he says he first went to jail when he was 15 on the charge of killing his uncle. This was followed by another short imprisonment in a case of bootlegging. Now, the police arrest him whenever any incident of buying or selling of drugs is reported in his area.
Shaheen has also come across a number of cases in which police present children arrested in different cases as the members of a criminal gang, implicating them in cases committed by some other gang. "These children, shown as working together, do not even have a nodding acquaintance with each other," she says.
Butt, who visits prisons regularly as an associate of Dastak, says the plight of arrested children does not change even after the police sends them into prisons. "Hundreds of imprisoned children lose their innocence much before becoming adults," he says.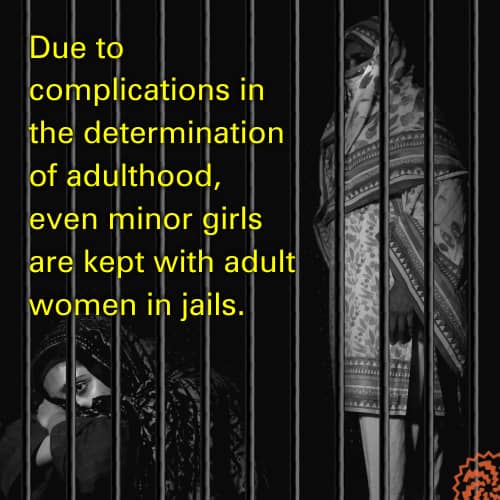 Another child rights activist who also works in prisons has met with around 170 imprisoned children. In the light of her experience, she says that they are having a hell of a life.
The jail authorities, on the other hand, always want to present a rosy picture, especially during jail inspections, she says. "Jail staff follows inspection team members like shadows. This hinders children from talking about the reality of their lives in jail. They fear that doing so may expose them to the brunt of jail staff after the inspection is over," she says wanting not to be identified by her name.
A former prison official verifies this account.
He says the entire prison staff is ordered to "prepare the visit" before researchers, lawyers or journalists arrive for an inspection. This preparation involves dressing the inmates well and cleaning every nook and cranny of the prison "so that the visitors go back with the impression that everything is perfectly fine."
A law sans implementation
Juvenile Justice System Ordinance was the first ever Pakistani law that sought to treat child offenders differently from adults. Promulgated in 2000, it exempted offenders under the age of 18 from capital punishment no matter how heinous their crime was. It also envisaged the formation of special courts to prosecute child offenders and provided for the setting up of special facilities to detain them.

The ordinance specifically prohibited the incarceration of under-trial children under any circumstances in police stations or in ordinary jails. During trials, they were required to be kept in special centres under the government's supervision. Even after their convictions, they were to be imprisoned in borstal institutions that focused on reforming and retraining them rather than punishing them. None of these two facilities, however, has been provided to child offenders so far.
On the other hand, the ordinance had not even taken off properly when a Lahore High Court judge struck it down on 7th December 2004 while hearing a rape and murder case. The judge questioned the very idea of putting the legal age of adulthood at 18 and said children in Pakistan mostly reached puberty much before that age. This, he said, was due to the fact they spend a lot of time in the company of people older than them, start doing jobs at an early age due to poverty and eat spicy food which makes them attain early puberty. They, therefore, should be given the same punishment for serious crimes as is given to those above 18 years of age, he ruled.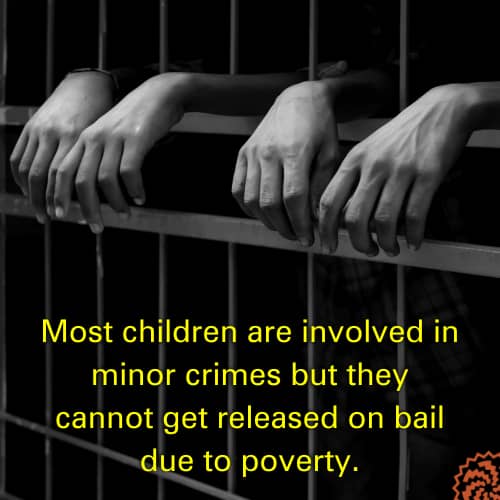 The judgement, however, drew sharp criticism from the civil society organizations working on child rights as well as from several legal experts. It was also challenged in the Supreme Court which eventually overturned it.
Later, in 2018 to be exact, the parliament turned the ordinance into a legislative act after making some improvements in it and retitled it as Juvenile Justice System Act, 2018.
This parliamentary approval notwithstanding, establishing the exact age of offenders in courts remains a complicated matter because most people lack the legally admissible documentary evidence of their own age. Others manage to tamper the record of their age to get undue relief from courts. In many other cases, judges decide on their own whether an accused is an adult or not.
Determining a girl's age is even more confusing. The oft-raised question in this regard is whether the Juvenile Justice System Act can be applied to a girl who has not yet reached the legal age of puberty but has already given birth to a child. As a result of this legal lacuna, not a single girl in any of the Punjab jails is currently living in the section reserved for child offenders.
Does this mean that underage girls never commit crimes or they are never sent to jail?
Responding to these queries, Shaheen says many young girls are in jails but they are not treated as juvenile offenders and, instead, are imprisoned along with adult women. While several separate rules exist in jail manuals for minor boys, she says, there is no special provision for minor girls in them.
Legal experts agree that the Juvenile Justice System Act does not discriminate between girls and boys as far as their trials and imprisonment are concerned. They, however, point out that the judicial and prison systems are not meeting many key requirements for its effective implementation. The scientific determination of a child's age is just one of them.