Noor Muhammad is in a perpetual state of anger because he fears that he is going to lose a large part of his agricultural land.
He hails from Daulatpur village in Pind Dadan Khan, a tehsil of northern Punjab's Jhelum district. On a bright day in early April 2022, he points towards his swaying wheat fields located a few furlongs from his home and says that they will all be gone soon.
Around 4,000 people live in Daulatpur. Most of them are small landowners who own less than two acres of land. The total agricultural land in the village is 1,337 acres. Of these, 993 acres are used for cultivation of wheat and other cash crops while the rest is used for cultivation of fodder and as a collective pasture.
Muhammad's white beard and wrinkled face indicate that he is about 60 years old. Sporting a turban on his head and wearing a light brown kurta and a white dhoti, he starts lamenting about the problems being faced by Daulatpur as soon as he enters his drawing room.
He carries a bundle of documents neatly organised inside a file cover. Taking out one of these documents, he says: "Here is the map that will destroy Daulatpur's agricultural lands."
The map is so complex that it cannot be easily understood by an outsider. To explain it, he draws several lines with a marker on the glass top of a table in front of him. Pointing to these lines, he says that a 300 feet wide canal is being taken out from Rasool Barrage built on the river Jhelum near Jalalpur Sharif, a town located a few kilometres east of his village. This canal will cover a distance of 116 kilometres to reach Kandowal area of Khushab district, he says.
This scheme has been officially named as Jalalpur Irrigation Project. Punjab government says it will cost 274.63 million US dollars and will irrigate 174,000 acres of land.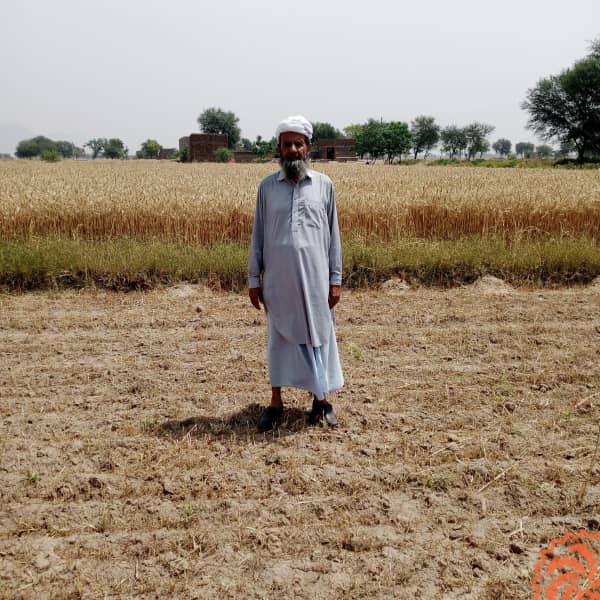 Noor Mohammad's eight acres of fertile agricultural land will be affected by the rainwater drain.
According to Muhammad's illustration, the canal runs north of Daulatpur. Due to its construction, he says, about 222 acres of land in his village has become unusable. That land, however, was not important from an agricultural point of view as it was located at the foot of the mountains in Salt Range, he says.
A distributary canal, about 185 feet wide, will also be taken out from this main canal. It will pass through the lands of Daulatpur to irrigate villages located to its south and west. This will also cause dozens of acres of local land to become unfit for agricultural purposes.
The most damaging part of Jalalpur Irrigation Project, however, is the construction of a rainwater drain that will begin from the Salt Range and will cut through Daulatpur's lands from north. It will then turn southwest to pass through a village called Chak Danial before ending in the river Jhelum. The main reason to construct this drain is to prevent rainwater from being wasted and to use it for agricultural and domestic purposes.
Eight acres of Muhammad's land is being affected by this drain; the total agricultural land of Daulatpur being included in it is more than 120 acres.
Local landowners are not taking all this lying down. They submitted a petition to the assistant commissioner of Pind Dadan Khan on June 8th, 2018, stating that the construction of Jalalpur Irrigation Project, "will wipe out almost all the agricultural area of our village". They particularly opposed the construction of the drain and pleaded that "the natural flow of rainwater should not be disturbed". Rather, they said, it should be allowed to flow to the river along its natural course.
A 'disastrous' route
Ejaz Hussain, 30, lives in Daulatpur and cultivates four acres of his family land along with his two uncles. One acre of this land is also coming in the way of the proposed drain.
According to an old government survey, he says, the drain was supposed to have a different route, one that passed away from his land. Like many other farmers in his village, he wants "to know on what basis was this route changed." He says he will have "no objection" to the construction of the drain if the government gives a satisfactory answer to his question.
He also claims that, on June 8th, 2018, assistant commissioner Pind Dadan Khan, on the request of Pind Dadan Khan's framers, contacted the National Engineering Services Pakistan, commonly known as Nespak, the company hired to design the drain. He directed its local project manager, Rana Abdul Rehman, to visit the affected lands within three days to allay their concerns.
But Nespak did not comply with his directive.
Muhammad and a few others soon filed a writ petition at the Rawalpindi bench of the Lahore High Court in which they said that their grievances should be heard and resolved before the construction of the drain was started. On September 10th, 2018, after hearing their petition, the court ordered assistant commissioner Pind Dadan Khan to listen to their concerns and resolve their problems in accordance with the law within 30 days.
But when the court order was not implemented within that period, Muhammad filed a contempt of court petition against the assistant commissioner. The court again ordered the matter to be decided within two weeks.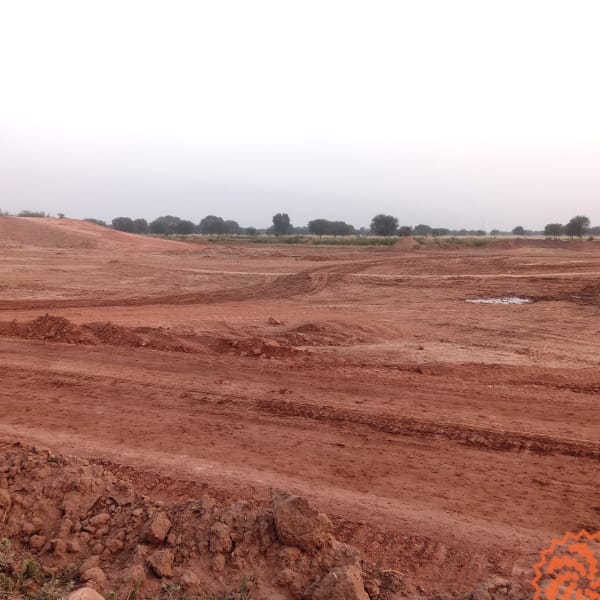 The Jalalpur Irrigation Project will cost 274.63 million US dollars
Gohar Zaman Wazir, the then assistant commissioner of Pind Dadan Khan, says all the parties to the dispute – namely Punjab irrigation department, Nespak and landowners of Daulatpur – were consequently given the opportunity to put forward their arguments. "The record exists for these proceedings," he says and claims that he "made a decision on merit, keeping in view all the legal aspects".
He wrote in his ruling that the route of the drain was not changed due to any pressure from any quarter but in line with the advice given by the experts who had reviewed various aspects of the project and had recommended changes in its length, width and depth. He also stated that a detailed survey was conducted for this purpose in which no landowner was discriminated against or favoured.
Residents of Daulatpur do not agree with this decision. They say they were not listened to before this decision was made. The assistant commissioner, on the other hand, says that he had sent several notices to the villagers but they did not show up on the scheduled time.
The landowners, headed by Muhammad, later moved the Lahore High Court against this decision. After two years and 11 months, the court rejected their petition, stating that, according to government regulations, they can appeal against it only to the additional commissioner. When, however, they approached the additional commissioner of Rawalpindi division, he told them that their application could not be accepted as they had not submitted it within the legally stipulated time.
Seeking donor support
Fayyaz Hussain, 31, is a resident of Daulatpur. He works as an engineer at a telephone company in Islamabad. In September 2021, he began sending e-mails to the Asian Development Bank, the international lender for Jalalpur Irrigation Project, to prevent his village's land from getting destroyed by the construction of the drain. In these emails, he pointed out several flaws in the official assumptions related to the drain.
He told the bank that the length of the drain has been increased with the change in its route – from six kilometres to 17 kilometres – and its width has also increased from 250 feet to 285 feet. Not only would these changes cost much more than the government's estimates, but, contrary to its claims, the drain would also not be able to handle all the rainwater that flows around his village, he stated in one them.
He also refuted claims by Nespak and irrigation department that the quality of the land becoming a part of the drain was lower than the one that fell within its old route.
Also Read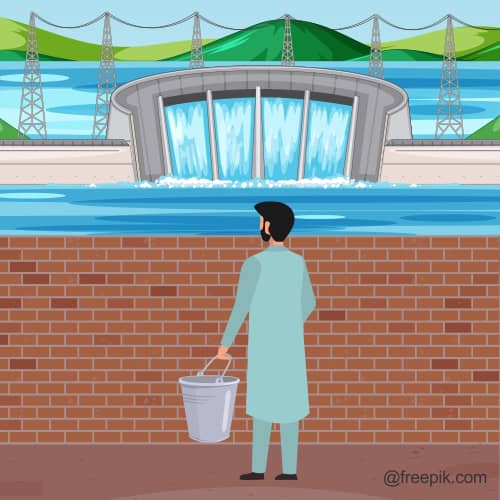 Thirsty by the river: Hydroelectric projects in Kashmir are not benefiting the local people.
As a result of this correspondence, the bank set up a committee to address the grievances of the landowners. On October 21st, 2021, this committee met the landowners of Daulatpur, the officials of irrigation department and the representatives of district administration at a place called Shah Kamir in Pind Dadan Khan. The committee met again with the same parties on February 22nd, 2022.
After conducting these two meetings, the bank decided that an independent body would review the whole project and compile a report about its impact. In the light of this report, a decision would then be made about the construction of the drain. In an email sent to the bank on February 24th, 2022, Hussain said that the landowners wanted themselves to be heard by this independent body before it completed its final report.
Asad Zafar, an official of the Asian Development Bank, says a clear procedure has been adopted to resolve the grievances of the people of Daulatpur in accordance with the rules of his institution. He heads the team set up by the bank to oversee Jalalpur Irrigation Project and has "advised the villagers to consult an irrigation expert before their meeting with the independent body set up to inspect the construction of the project, so that they could present their case properly".
Muhammad, however, says the farmers will not only approach the high court again but will also take all other possible steps to stop the construction of the drain even if the bank rejects their complaints. If the landowners of Daulatpur do not get justice, then the entire Jalalpur Irrigation Project will be in jeopardy, he warns. "The Irrigation department will have to dig the canals through our lands over our dead bodies," he says.