As the Chief Justice of Pakistan, Justice Iftikhar Muhammad Chaudhry was known for taking suo motu notices. Often he only needed a newspaper clipping to take such a notice. So, when he found in a newspaper column in 2012 that Hindus living in Pakistan were facing many difficulties in obtaining computerized national identity cards and passports, he immediately took notice.
After a detailed hearing on the issue, he concluded that the root cause of those problems was the absence of a law for the registration of Hindu marriages. He, therefore, directed the federal government to enact a law in this regard immediately.
His order, however, was not carried out.
After becoming the Chief Justice of Pakistan, Justice Tassaduq Hussain Jillani also ordered the federal government on 19th June 2014 to draft a law for the registration of Hindu marriages within two weeks and submit it to the cabinet for approval. In spite of his directive too, no such law could be enacted -- until April 2016 when Nisar Ahmad Khuhro, the then Sindh minister for law and parliamentary affairs presented a short bill in Sindh Assembly. "With the approval of this bill, a law will be enacted for the first time in the history of Pakistan to enable the registration of Hindu marriages," he said on the occasion.
Some opposition members in the provincial assembly then suggested that the draft should be sent to a standing committee so that it could be improved after a detailed discussion on it. Khuhro opposed the proposal, saying that Hindu religious leaders and legislators had already been consulted thoroughly during the bill's drafting. After his explanation, the assembly unanimously approved the new law.
It was this way that Sindh Hindu Marriage Act came into being.
Ramesh Kumar Vankwani, then a member of the National Assembly from the ruling Pakistan Muslim League-Nawaz, claims Sindh government hastily passed this two-page law only to outdo the federal government. This was done despite the fact that, as he puts it, a comprehensive draft of a Hindu Marriage Act was being deliberated upon at that time at the federal level with a possibility to include forced conversions in it as well.
Many other Hindu lawmakers also wanted Sindh Hindu Marriage Act to be extended beyond the registration of marriages to include issues such as divorce, alimony and childcare in it. In May 2018, therefore, Nand Kumar Goklani, a member of Sindh Assembly from Pakistan Muslim League-Functional, proposed several important amendments to the act. These included provisions for Hindu couples to divorce each other and for widowed Hindu women to remarry. He also suggested that women whose husbands leave them should have the right to demand alimony and that the law should similarly have provisions for the cost of rearing children in the event of a divorce.
Sindh Assembly unanimously approved all these proposals the same month and made them a part of Sindh Hindu Marriage Act. Speaking to reporters after the passage of the amended law, Goklani said his proposals were aimed at "ridding the Hindu community of old and outdated customs". Hindu women, he emphasized, did not have the right to divorce before these amendments were passed "because they were considered second-class human beings".
This amended law, though, could not be implemented immediately.
In the meanwhile, federal parliament also passed Hindu Marriage Act in 2017. It aims at regulating Hindu marriages and other family matters in the federally administered territories (such as Gilgit-Baltistan, Azad Kashmir and Islamabad) and the provinces of Balochistan, Khyber Pakhtunkhwa and Punjab. Many things included in this act are also present in Sindh Hindu Marriage Act. For example, both laws set the minimum age of marriage at 18 and require the mandatory presence of two witnesses when a marriage is solemnized.
They also have many things that are different.
As per Sindh Hindu Marriage Act, for instance, a marriage must be registered within 45 days of its solemnization (otherwise the marrying couple will be fined 1000 rupees). The federal Hindu Marriage Act, on the other hand, makes this registration mandatory within 15 days. In another difference, the federal law gives married couples the right to divorce each other without judicial intervention but Sindh Hindu Marriage Act does not have this provision. It only provides for a separation through a court which, in effect, would be considered a divorce.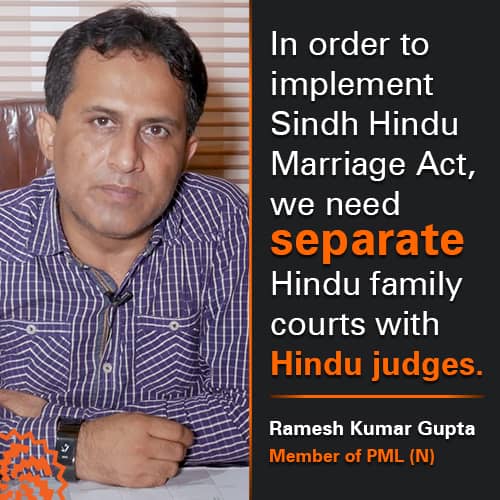 Ramesh Kumar Vankwani, who has left Pakistan Muslim League-Nawaz and is now a member of the National Assembly from the ruling Pakistan Tehreek-e-Insaf (PTI), says Sindh Hindu Marriage Act also does not specify which government department will register Hindu marriages, how the selection and registration of pundits will be done, what the procedure for obtaining a divorce will be and who will be responsible for childcare in the case of a divorce. But he alleges that not only Sindh's provincial government but the federal government, too, is not serious about enforcing laws on Hindu marriages. The federal government, he points out, has not made any rules and regulations for the implementation of Hindu Marriage Act 2017 whereas Sindh government only formulated such regulations after a lot of delay and is still not able to fully implement them.
Sindh Chief Minister Syed Murad Ali Shah, on the other hand, claims his government is very serious about enforcing Sindh Hindu Marriage Act. Speaking to a government delegation of the United States in February 2020, he acknowledged that the law had not yet been implemented entirely but, he said, the provincial department of minority affairs had already formulated rules and regulations for its implementation in 2017. These rules and regulations, according to him, explained how it would be implemented and which department and government officials would play what role in this regard. Shah also said that Sindh government had directed the officials of local governments to not only ensure the implementation of the act but also strictly enforce its rules and regulations.
Obstacles to law enforcement
A large portion of Hindu population in Sindh belongs to scheduled caste communities which do not have even basic facilities like education, health and employment. Their backwardness hampers their women from taking any legal action over such serious problems as bad marriages, divorces, domestic violence and forced conversions.
Hindu rights activists had hope that this would change after the passage of Sindh Hindu Marriage Act and women would use the law to obtain their rights. The situation on the ground suggests that, after five years of the law's passages, only a few marriages have been registered under it. (Muhammad Kafeel, secretary of Aliabad union council in Hyderabad City, says he has registered about 250 Hindu marriages since the passage of Sindh Hindu Marriage Act in 2016.)
One of the main reasons for the delay in the implementation of the act, according to political and social activists, is that both the Hindu community and the government functionaries are not well aware of it. For example, officials at a union council office, a few kilometers from Mirpur Khas district's village called Dargah Rahu Mushaq, say they have not received any information or instructions from the provincial government about the law (even though, under Sindh Local Bodies Act 2013, they are bound to register all births, marriages and deaths in their area).
Fakhir Shakir, Hyderabad's municipal commissioner, also says that most officials in the city's 96 union councils are not aware of Sindh Hindu Marriage Act. This is why, he says, "this act is confined to law books so far and is not being implemented on the ground".
His statement refutes a notification issued in 2019 by Khalid Hyder Shah, secretary of Sindh local government department. The notification directed his department's officials to convey the guideline prepared by Sindh government for the registration of Hindu marriages to the representatives of all union councils across the province.
Also Read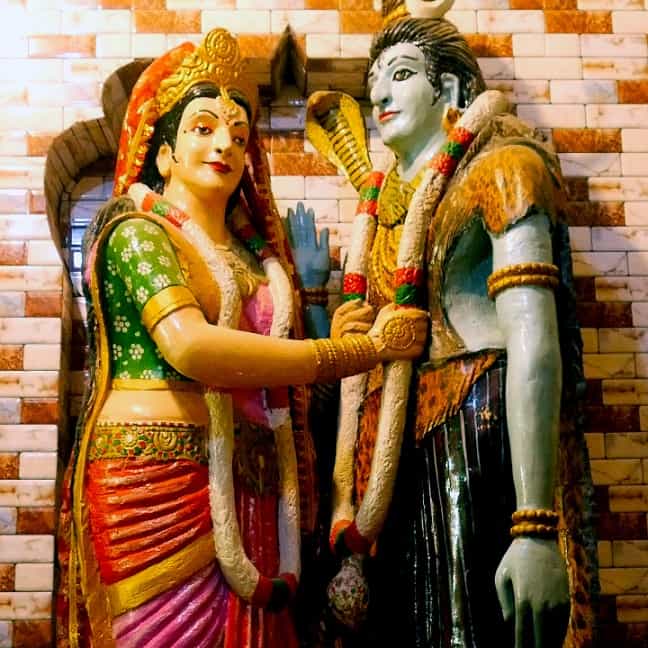 The few remaining Hindus in central Punjab: Prisoners of caste, creed and history
The absence of these documents at the local level, however, is not the only reason for the non-implementation of the law, says Kafeel. The other major reason, according to him, is the government's failure to register Hindu pundits.
M Prakash, a Hindu social activist in Hyderabad, also emphasizes that the presence of Hindu pundits, much like the presence of Muslim nikah-khwans, is mandatory not only to perform a marriage's religious rites but also to document and record it. But he points out that pundits have not yet been registered at the union council level in 95 percent areas of Sindh. This, in his opinion, is the biggest hurdle in implementing Sindh Hindu Marriage Act.
Religion and family
J Kumar Dhirani, vice-president of PTI's Sindh minority wing, says that, besides registering marriages, "the main purpose of Sindh Hindu Marriage Act was to prevent underage marriages and forced conversions of Hindu girls". But, he alleges, the provincial government is "neither providing any public awareness on these issues nor has it formulated any clear strategy to address them".
Ramesh Kumar Gupta, general secretary of Pakistan Muslim League-Nawaz's provincial minority wing, has similar views. In order to implement Sindh Hindu Marriage Act, he suggests, the government should set up separate family courts for Hindus and appoint Hindu judges in those courts. These judges, he says, should not only be familiar with Hindu religious beliefs and customs but they should also have complete command of the laws of the land so that they do not have any difficulty in understanding and resolving problems regarding Hindu divorces and alimony etc.
The main reason for this demand, according to Gupta, is the fact that such cases are often heard by Muslim judges who view them from the perspective of laws made for Muslims. "This does not make it easy for them to arrive at a fair decision."
This report was first published by Lok Sujag on 9th July 2021, on its old website.