On August 5, 2023, Ali Rind, a 40-year-old employee of Hyderabad Electric Supply Company (HESCO), lost his life due to an electric shock when he was working on a power pole, repairing a transformer in the old cattle market area of Chambur city. He suffered an electric shock when he touched the wires while fixing the transformer.
Imdad had been working at HESCO as a private employee (commonly referred to as 'One-Five staff' by regular employees of HESCO) for the past 12 years. Before that, he had also worked for HESCO in the Matli area of Badin. However, it is not known how much salary or compensation he received for this job. He resided in the Shah Latif Colony of Chambur and was the father of six children.
His eldest son, Ayaz Ali, who is 21 years old, has also been working for HESCO as a private employee in Chambur for the past two years.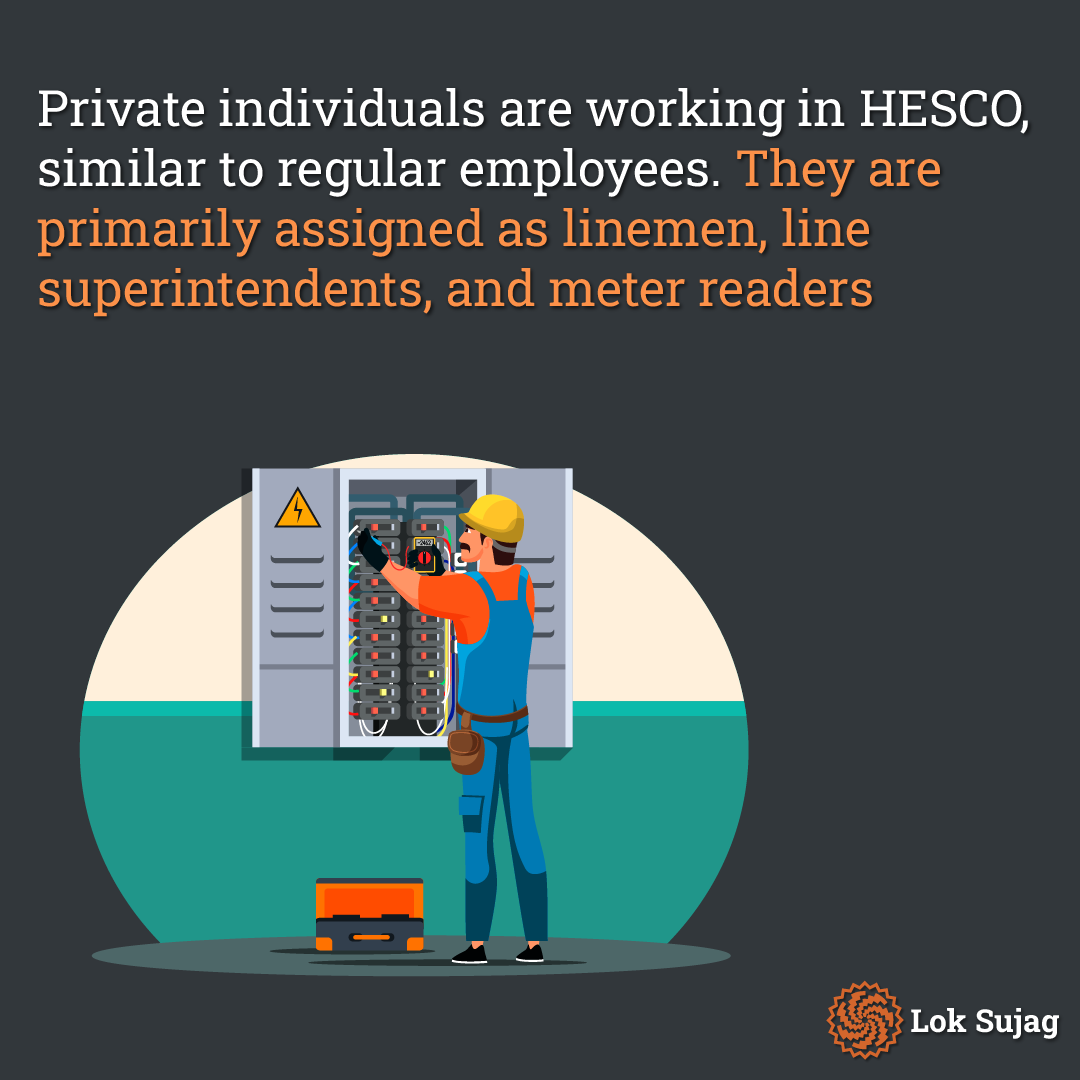 He mentioned that HESCO's Chambur office used to receive complaints from consumers about electricity faults, broken wires, or the need for transformer and meter repairs. Their father was often sent to the site to resolve all these issues.
Ayaz Ali himself is involved in the monthly billing of electricity lines in the HESCO division. When he gets repair work, he also takes it up. Ayaz Ali's younger brother, Arshad, works as a labourer. However, both brothers work as daily wagers.
Ayaz explained that he has to pay a monthly rent of 12,000 rupees for his house.
After his father's demise, some representatives of HESCO and a few officials came and provided financial assistance of one and a half lakh rupees. However, no one has inquired about them since then.
Fifty-year-old Allah Jhario, another employee of HESCO, lost his life a month ago, in July 2023, due to an electric shock while working on an 11,000-volt line pole near the shrine of Watai Faqir in Tando Allahyar.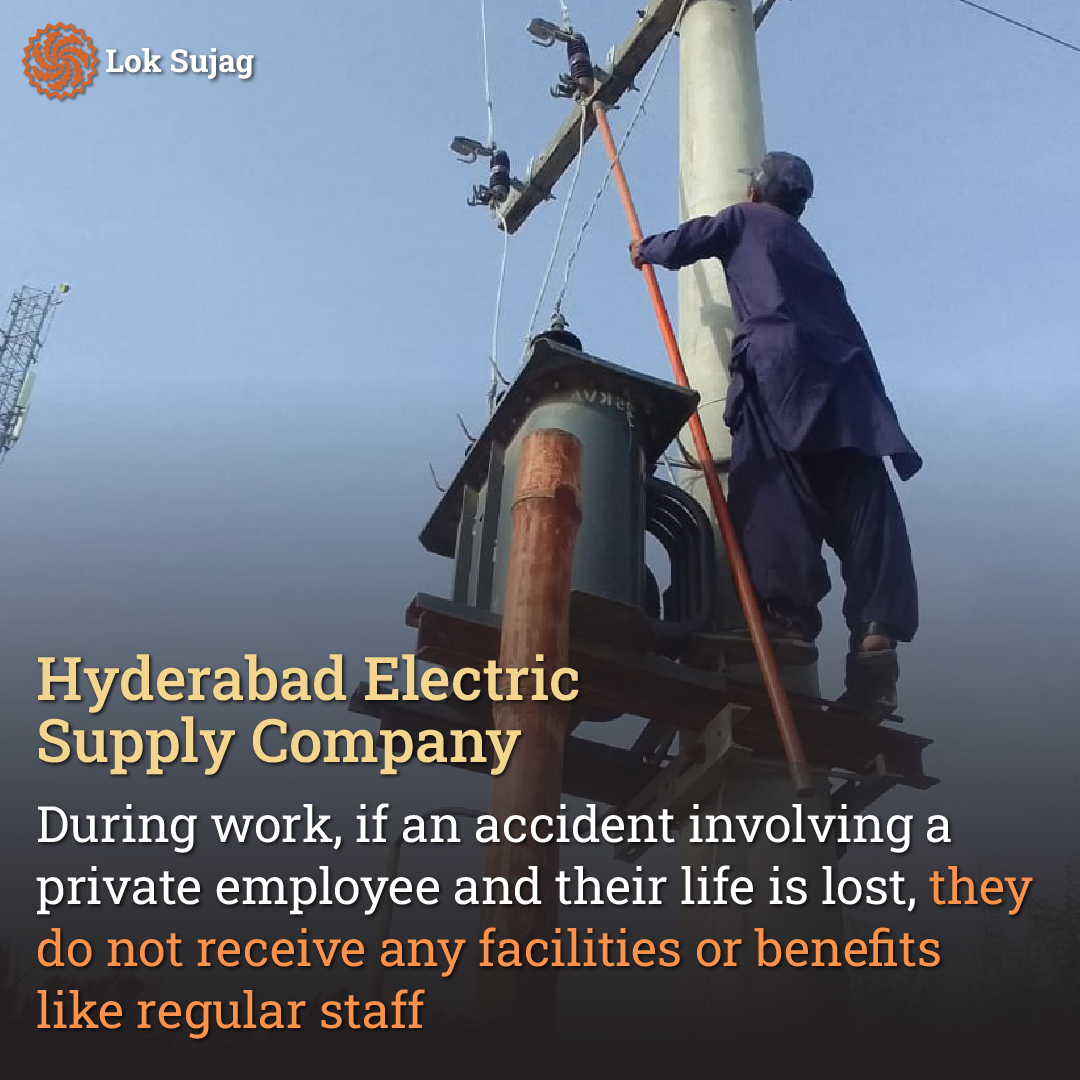 Allah Jhario was a resident of Shahpur Dorpur village in the Matli district, and he had been working with HESCO for 30 years in the Matyari and Tando Allahyar areas.
Allah Jhario's brother, Saifullah Khaskheli, is a truck driver. He said that their brother was taken to the work site by HESCO employees, and after leaving him at the pole, they left. Two different lines were passing through that pole.
One line was switched off but the other one had current, and that's where Allah Jhario got an electric shock.
He says that the lower part of Allah Jhario's body was completely burnt. HESCO employees and union representatives promised to provide the family with three lakh rupees in assistance, but it has not been delivered yet.
Sifal's younger brother, 28-year-old Mammo, also worked (in a private capacity) with HESCO in Matiari. He was also electrocuted while working in the pool four years ago and died after three months of treatment in different hospitals.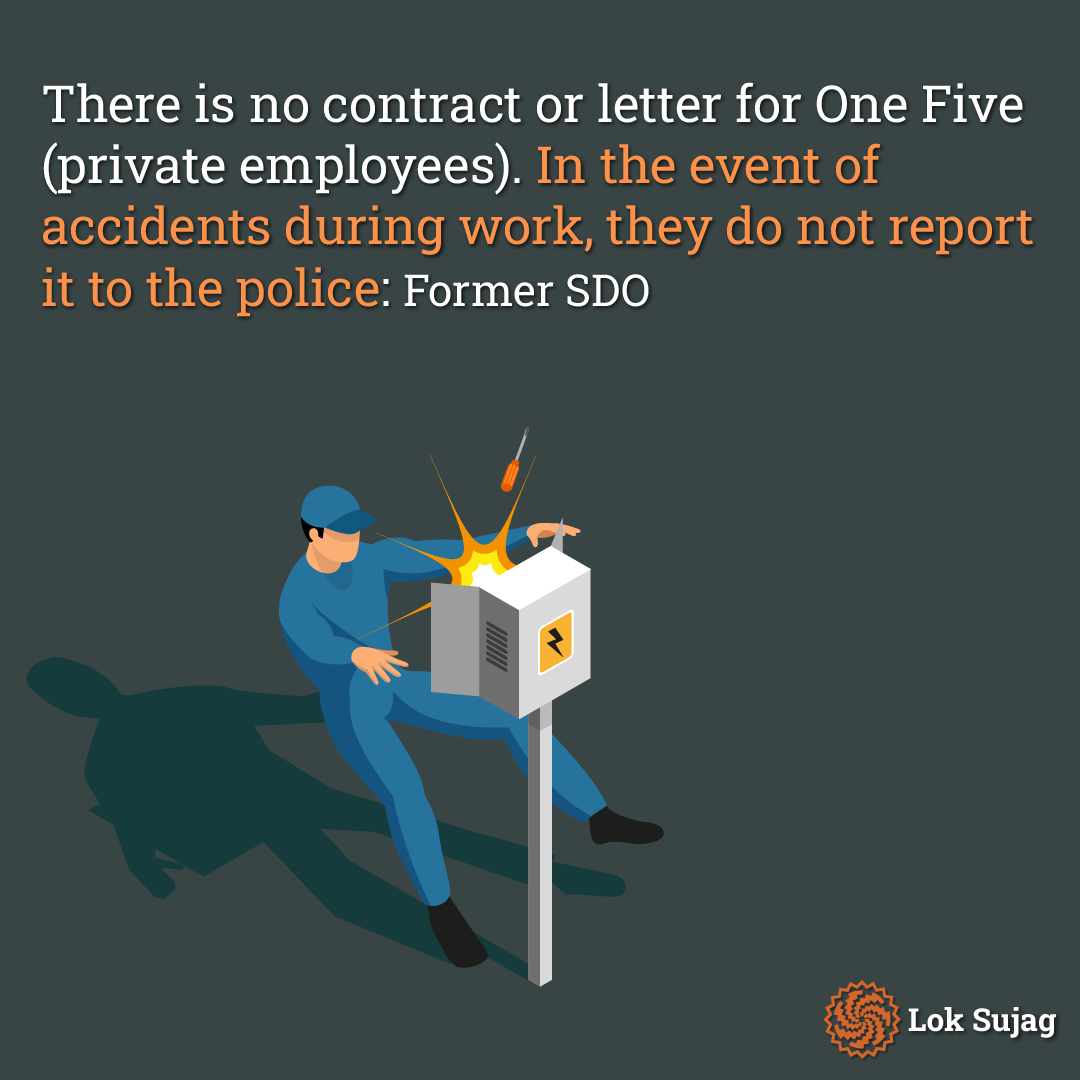 Khan Muhammad, a 28-year-old resident of Tando Allahyar, works as part of the "One Five Staff" at HESCO. He is involved in maintaining transformers and connecting wires, handling all tasks related to connecting 11 thousand KV Wires. However, he does not receive any benefits from the electricity company or the government.
He reveals that in the past, around 50 private individuals were working alongside HESCO employees in this division. After a series of accidents caused by live wire incidents, only 15 private individuals remain in Tando Allahyar.
According to HESCO, if an employee of the company dies during duty in an accident, the family is given 400,000 rupees as compensation. If an employee becomes disabled, they also receive 400,000 rupees. The company's expenses at Patel Hospital in Karachi cover the injured employee's treatment. However, the One Five Staff (private employees) receive none of these benefits.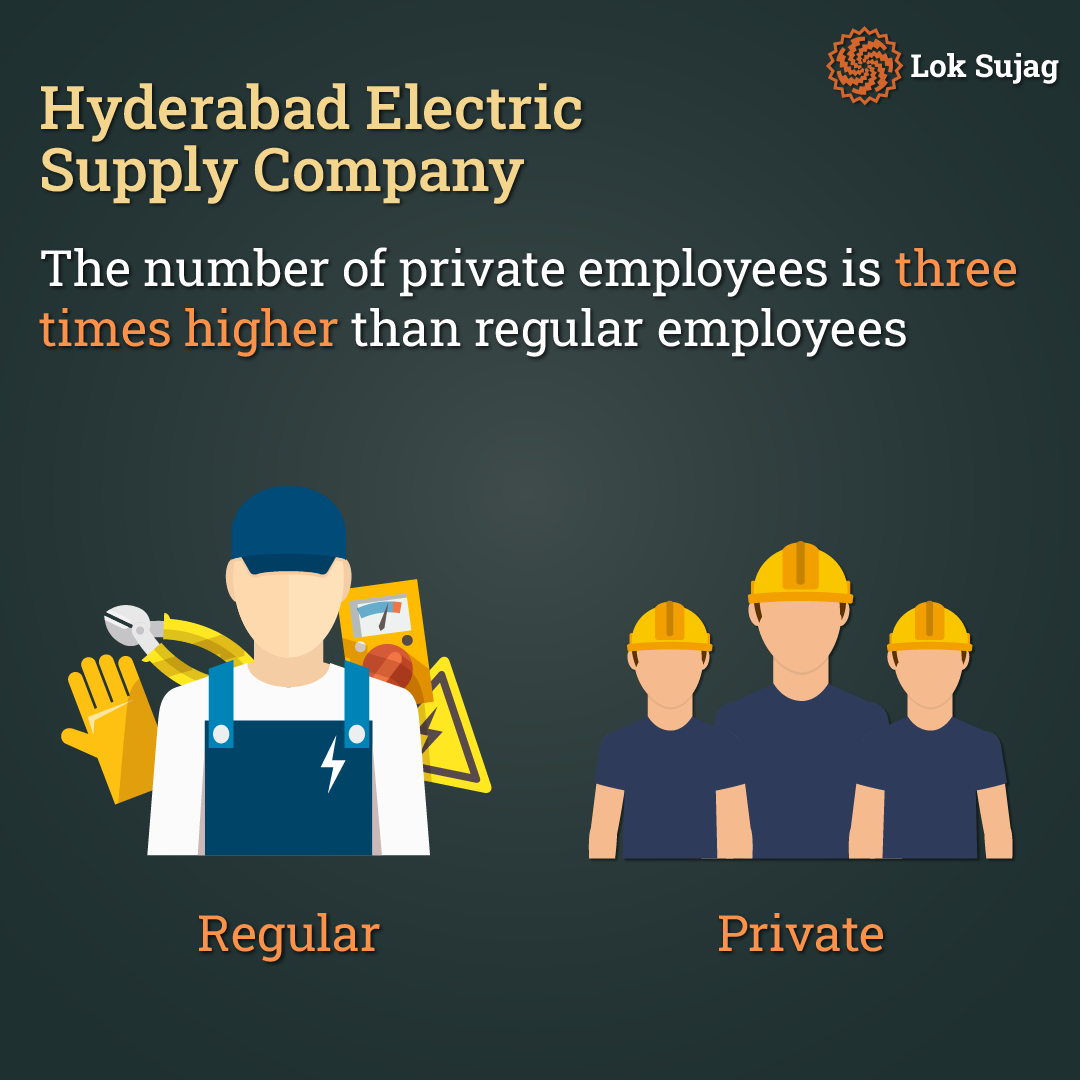 Not only Imdad Rind, Allah Jhario, Khaskheli or Mamoon, but several other young private employees have also suffered accidents while working at HESCO, and no one has inquired about their families. No cases have been filed or investigations conducted in the event of any fatalities.
HESCO operates in three divisions: Hyderabad, Mirpurkhas Special, and Nawabshah, covering 13 districts. The total number of consumers is 1.3 million, including residential, commercial, and agricultural tube well consumers.
HESCO's area is divided into 17 divisions and 72 subdivisions. Approximately 60 field operation workers are appointed in each subdivision, totalling 3,965 employees, while hundreds of positions are vacant.
According to the All WAPDA Hydro Electric Workers Union (CBA), multiple accidents occurred during work from July 2022 to August 2023. Five regular employees lost their lives, and 12 others were injured.
HESCO spokesperson Muhammad Sadiq has also confirmed these figures. He mentioned that most of those killed or injured were linemen. Injuries include a hand, foot, or both amputation and disuse of the lower body.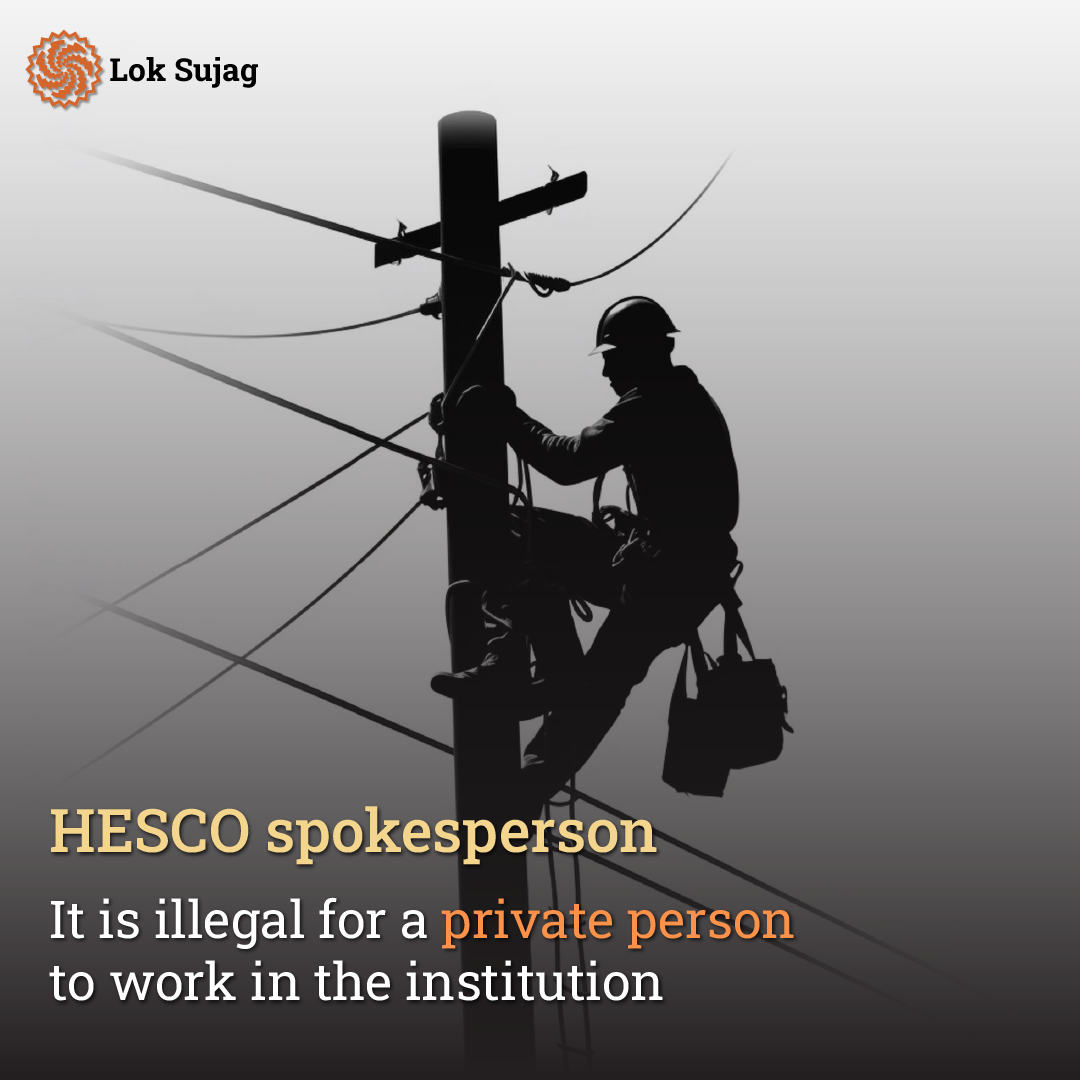 No one, including the CBA union, has the verified data of private employees working in HESCO. However, a union official claims that they are three times the number of regular employees in HESCO and around one lakh private individuals are working in distribution companies across the country.
HESCO spokesperson says that it is illegal for a private person to work in the institution. Such people are caught and handed over to the police, and the company files a case against them.
The spokesperson might not be aware of it, but the company's operational officers are aware of it. One former SDO who has worked with HESCO for years provided information, on condition of anonymity, that private individuals are working at HESCO as regular employees. They are primarily assigned as linemen, line superintendents and meter readers. They do not have any formal training, education, or age restrictions; the only requirement is their ability to perform the job.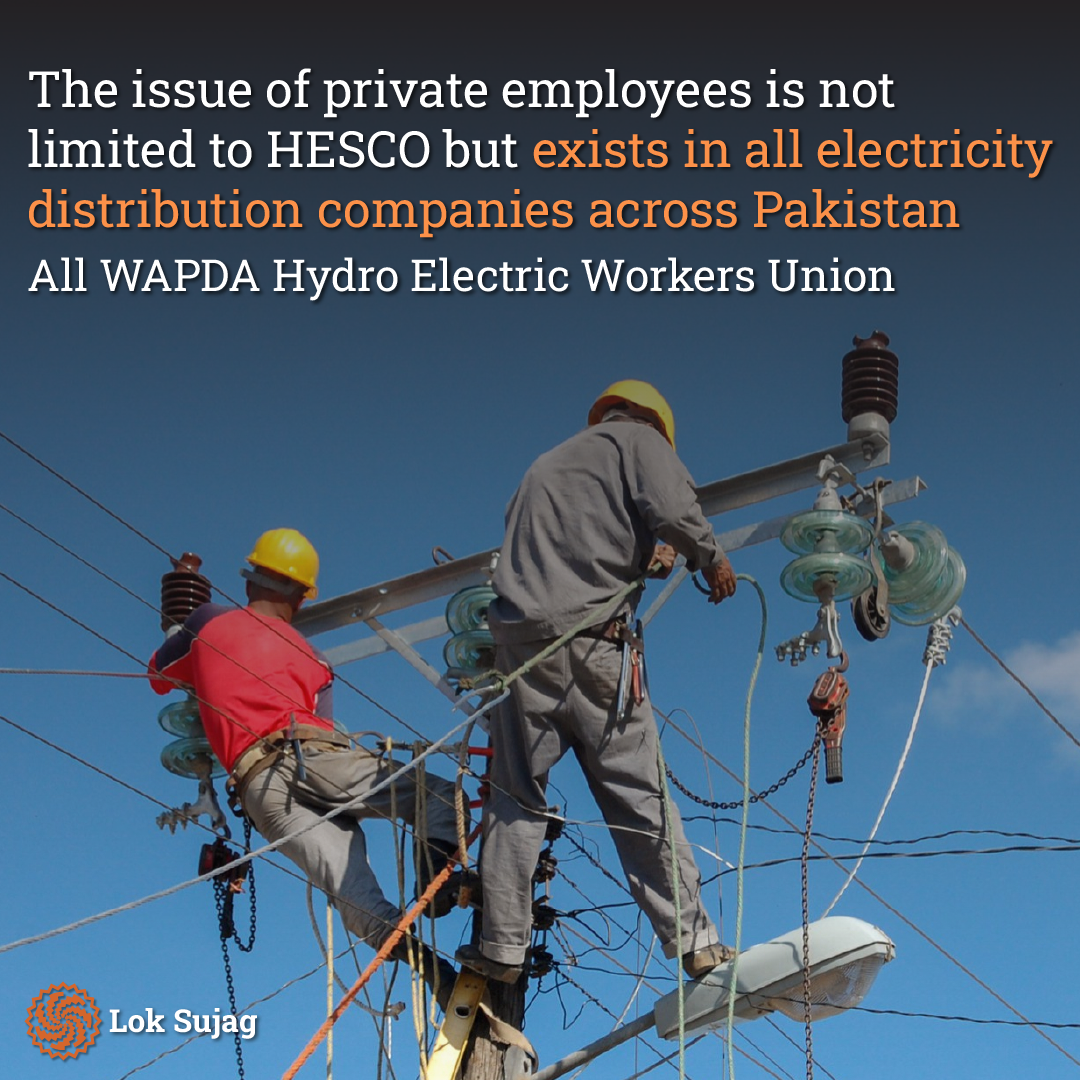 He disclosed that some HESCO employees do not come to work. Such people have kept One-Five staff in their place. Some officials do not do night duty. These officials also outsource their duty to private people on wages.
The ex-officer said that One-Five owners get at least 2 thousand rupees (gratuity, bribe or earnings, whatever you call them) from the customer. He gives 1,000 to the lineman or line superintendent and keeps the rest.
Handling 11,000-volt wires, poles, and transformers pays around 30,000 rupees. So, they earn well from it. Regular employees pay up to 20,000 rupees monthly to the One Five for performing their duties, while the rest is earned from consumers.
According to the SDO, One Five (private employees) do not have any contracts or letters. In the event of accidents during work, they do not report it to the police or inform HESCO. HESCO tells the families of the deceased employees that the person was engaged in illegal activities at the time of the accident.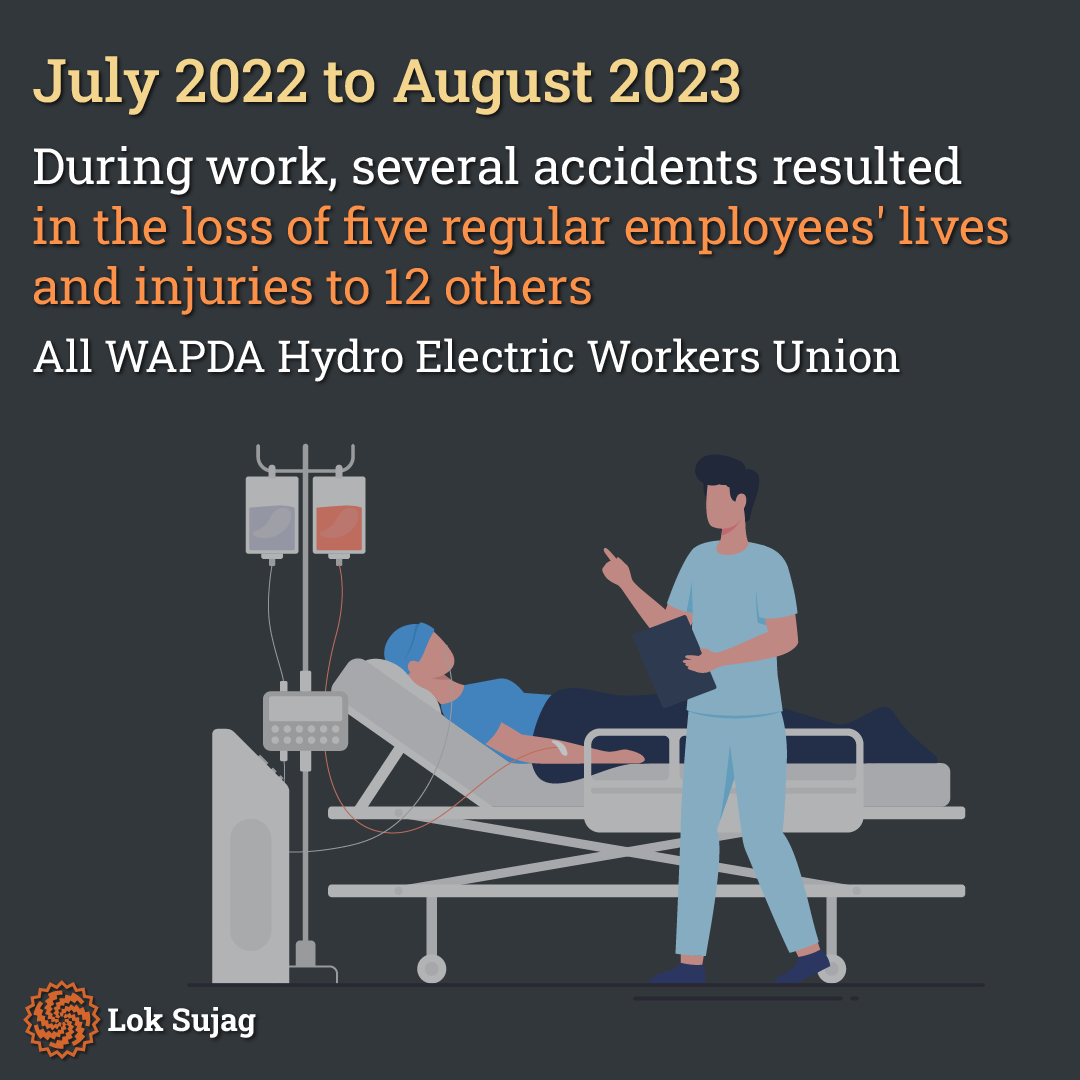 Abdul Latif Nazamani has been elected President of the All WAPDA Hydro Electric Workers Union (CBA) for the fifth consecutive term. He believes the shortage of employees in all divisions is why SDOs and line superintendents employ private individuals. He strongly opposes this practice.
He says that private individuals are untrained. They do not have the necessary equipment and tools. They do not wear specialised clothing and boots for electrical work. This increases the chances of accidents.
Also Read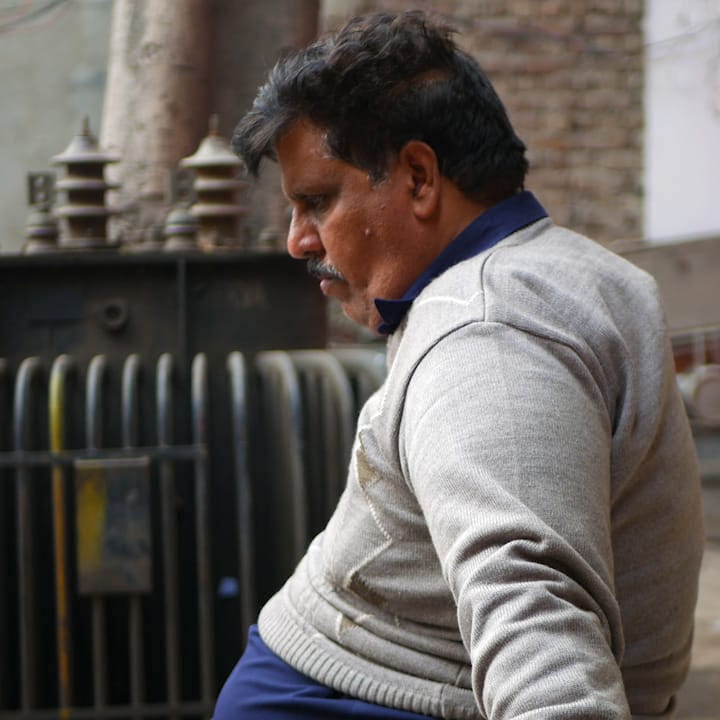 Hanging by a wire: The risky life and times of an electricity lineman in Lahore
He states that this issue that private employees have is not only HESCO's problem but is prevalent in all electricity distribution companies across Pakistan. While electricity consumers and connections are increasing, companies need to increase their workforce. The extra workload has led to an increase in accidents.
Pakistan Electric Power Company issued directives to all distribution companies in 2017 to ensure the implementation of these rules and regulations. XENs and SDOs were responsible for enforcing these regulations. However, the facts reveal that supervisors often hire private employees who are more susceptible to accidents.