Khalid Farooq Salamat went to France for study in 2007. He got admission at the Paris Diderot University where all the expenses of his education and accommodation were to be paid by the Higher Education Commission (HEC), a government body that oversees higher education in Pakistan. The commission also provided him with funds to travel to Paris, money for buying books and financial resources for conducting research work and defraying his medical expenses.
Instead of coming back to Pakistan after completing his doctorate, however, Salamat started pursuing further education abroad. He is now working as a veterinary researcher at the Roslin Institute of the University of Edinburgh in the United Kingdom, according to an article published in a research journal.
HEC, on the other hand, informed him that he would have to return all the money given to him because he had not come back to Pakistan as per his commitment.
According to the information available on HEC's website, the total amount owed to him is 13.5 million rupees. HEC has sent him several letters and notices but he has not responded to any of them. A case has been filed against him to get the money recovered.
Saima Ijaz also availed a government scholarship in 2008 to pursue a PhD in business management at Massey University in New Zealand but dropped out without informing HEC. Legal action is now being taken to recover 20 million rupees from her.
Similar action is being taken against Abbas Maqbool. HEC says he owes 22.1 million rupees to it. In 2007, he was awarded a scholarship to study at York University for a PhD in biotechnology but, after completing his studies, he started doing a job in a laboratory in London.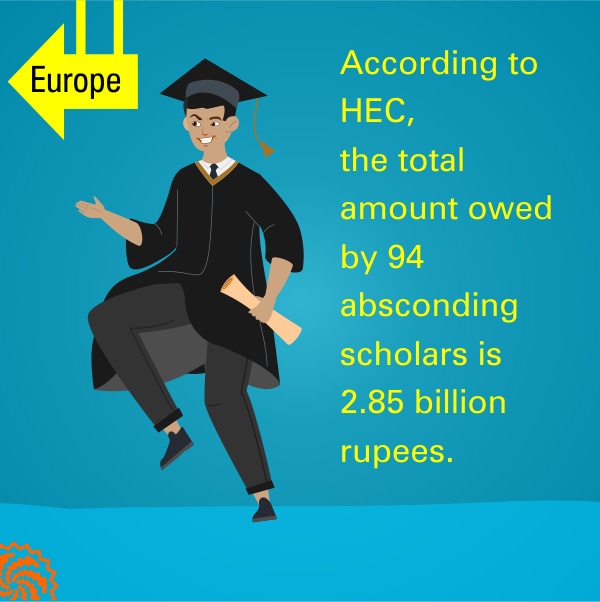 A list available on HEC's website has the names of 94 such people who were all awarded scholarships to pursue doctorate studies abroad but they either dropped out or started pursuing further studies or got jobs abroad after completing their education. According to HEC, the total amount owed by these absconding scholars is 2.85 billion rupees. Legal action is being taken against all of them for the recovery of money from them.
An important aspect of this issue is that all these people went abroad between 2007 and 2012. Even before and after that period, hundreds of others also went to foreign educational institutions on HEC scholarships disbursed under 14 different programs. No consolidated data is available on how many of them did not return to Pakistan.
HEC itself has presented different numbers at different occasions in this regard. For instance, according to a report published in Dawn newspaper in September 2020, HEC told a sub-committee of the Public Accounts Committee that 82 students who had gone abroad on scholarships did not return to Pakistan. HEC also told the committee that 52 other students who went abroad on scholarships could not continue their education after they failed in exams there. A total of 952 million rupees were spent from the state exchequer on the education of these 134 students.
On the other hand, a report in the Dawn newspaper published in February 2018, reports HEC as telling a Senate standing committee that it had sent 5,780 students abroad for higher education. Out of these 3,807 had completed their studies and 1,537 were still studying while another 428 had not returned to Pakistan.
HEC also stated that 55 out of those students who did not return to Pakistan have returned the stipend money and fines; 11 more are undergoing various stages of repayment. Another 116, however, are being prosecuted. Legal action will also be taken against the remaining 338 scholars, the commission indicated.
Why should the students return home?
All those who go abroad for higher education on government scholarships sign an agreement with HEC which binds them to return to Pakistan within a month after receiving their degree. Under this agreement, they are also required to work in Pakistan for at least five years after they have completed their education. They pledge that they will neither study in a foreign institution nor work abroad in those five years.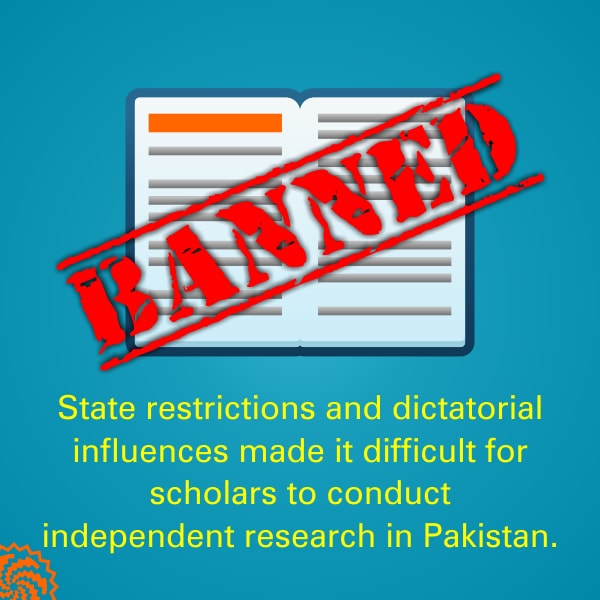 The violation of this agreement by a large number of scholarship recipients shows that HEC has failed to fully enforce it. To find out if the commission has taken any steps to change the situation for the better, Sujag contacted several of its officials but none of them responded. Ayesha Ikram, its media director, has not answered an email sent to her many weeks earlier.
The question is: why don't those who study abroad want to come back?
A researcher who has studied abroad on a government scholarship tells Sujag that he spent about three years at the University of Punjab as an assistant professor after completing his education abroad but, because of the state restrictions, he could not spend the remaining two years in Pakistan. The university's dictatorial approach towards academia made it difficult for him to do independent research in Pakistan, he says.
According to him, researchers who have a critical view of the state policies are, indeed, intimidated and threatened. "They are told not to do research that could be used by anti-state elements."
This situation left him with only two options. "One was that I stop researching topics of my own choice and give the state the right to decide which social, scientific and political questions were important and which were not. The other was that I leave Pakistan."
Pointing to another aspect of higher education in Pakistan, he says technical degrees were encouraged during the era of General Pervaze Musharaf by discouraging research in social sciences and literature. Similarly, instead of improving the quality of research, emphasis was laid on increasing its volume. In this situation, he says, he couldn't continue working in Pakistan.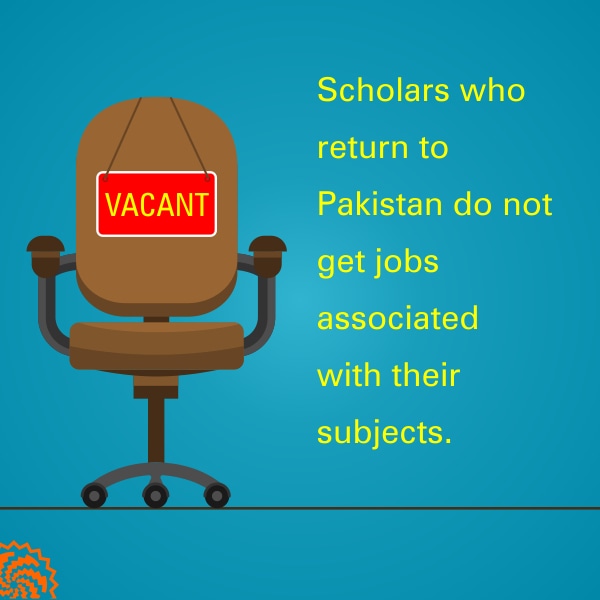 Then he cites another reason. Pakistanis studying in foreign universities become accustomed to the educational culture, lifestyle and clean environment abroad, he says. So, he adds, it becomes difficult for them to return to Pakistan to work and live in a different environment.
He also remarks that there is a lot of political interference in the management of Pakistani universities due to which faculty members have to rely on links with powerful groups instead of merit for appointment to a permanent position. "People who study abroad prefer to settle there instead of returning to this kind of atmosphere".
Another important issue in this respect is the provision of government jobs for the scholars returning to Pakistan. The posts associated with their subjects in Pakistan are often either not vacant or do not exist at all.
In 2009, HEC formulated an interim recruitment program to address this problem. Under it, researchers returning from abroad were to be employed at a government university for one year at HEC's expense but, during this time, they were required to find a permanent government job for themselves.
Dr Mahmood Hassan, an associate professor of physics at the Punjab University, says this program has not been very effective. He says the scholars do not get another job after spending one year at the university as most public universities are reluctant to bear the cost of their employment. At a time when some universities are not even able to pay the salaries of their existing employees, as has been seen recently at the University of Peshawar, it is not surprising that their management avoids additional expenses on hiring new staff members.
Also Read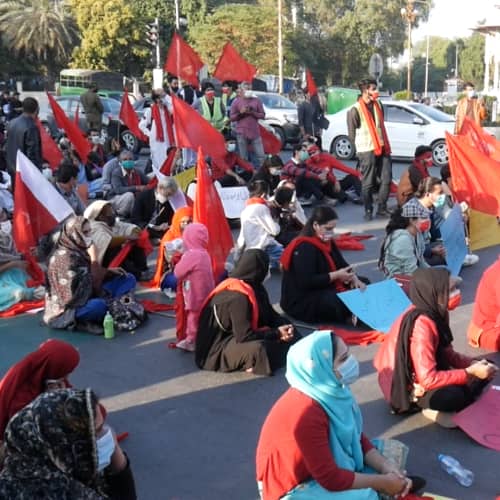 Bleak Prospects: Students losing careers as HEC fails to check illegal education institutions
Dr Faisal Bari, who teaches economics at the Lahore University of Management Sciences (LUMS) and is also a member of HEC's board, believes the solution to all these problems is not to impose fines on educated people moving abroad. Instead, he says, "we should make our university system so engaging that these people do not feel forced to return to Pakistan."
If a person studying abroad on a government scholarship starts pursuing further studies after completing his doctorate, Bari says, he should be allowed to do that and should be persuaded to come back later.
Dr Tariq Banuri, chairman of the Higher Education Commission, is also not in favour of pursuing punitive and legal measures against scholars who have not returned to Pakistan after completing their studies abroad. In a recent interview with a magazine, he said, "instead of threatening the non-returning scholars by sending letters to them to return the scholarship money and the fines, they should be persuaded to pay back in instalments so that the money can be used to provide a scholarship to another student."
This report was first published by Lok Sujag on 12 Mar 2021, on its old website.