Fifty-six-year-old Zeenat Begum is outside the Tehsil Headquarters Hospital's emergency room, holding her grandson and a doctor's slip. Her grandson needs an X-ray of his leg, but the hospital's X-ray machine is not working. The doctors advised her to get the X-ray from a private laboratory.
Zeenat is from Dulian village in the Hasan Abdal area of Attock. Her husband has passed away. She was on her way to Jehanabad with her seven-year-old grandson, Zain Ali, to meet her daughter when a rickshaw hit them in front of Cadet College, injuring Zain's leg.
Doctors at the hospital said they needed to see the extent of the damage to Zain's leg bone through an X-ray before treating him. Since Zeenat doesn't have enough money to get X-rays from a private laboratory, she has called her son to come to the hospital and get it done from a private lab.
Zeenat's suffering is a common problem faced by all the two-and-a-half lakh residents of Hasan Abdal.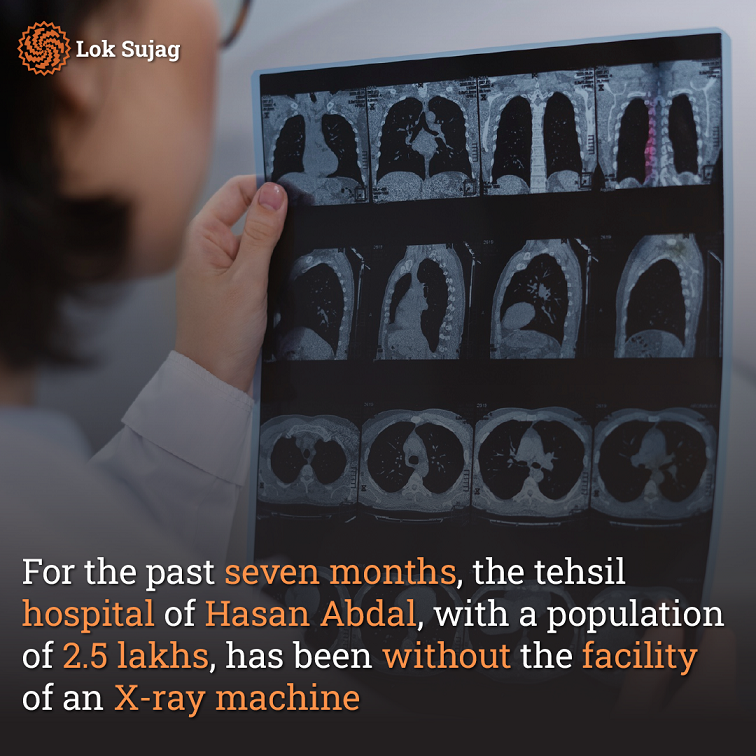 Asad Nazir from Mohalla Mehrabad says that many patients coming to the hospital cannot afford to get their X-rays done from expensive private laboratories. Those with injuries, including broken bones, are referred to District Headquarters Hospital Attock or Rawalpindi. Recently, Asad's child was also referred to Holy Family Hospital Rawalpindi, but unfortunately, he passed away in the ambulance.
Asad Nazir says that having an X-ray in the government hospital is essential for the medico-legal examination of those injured in fighting incidents. However, since the X-ray machine at the tehsil headquarters is out of order, the victims have to travel 40 km to DHQ Hospital, Attock. This not only makes the treatment expensive but also causes a waste of time.
The Tehsil Headquarters Hospital (THQ) X-ray machine stopped working on 22nd December 2022 and was declared beyond repair. The Punjab Health Department purchased a new digital machine worth Rs 12 lakh and sent it to THQ Hasan Abdal about two months ago, but it has not been activated yet.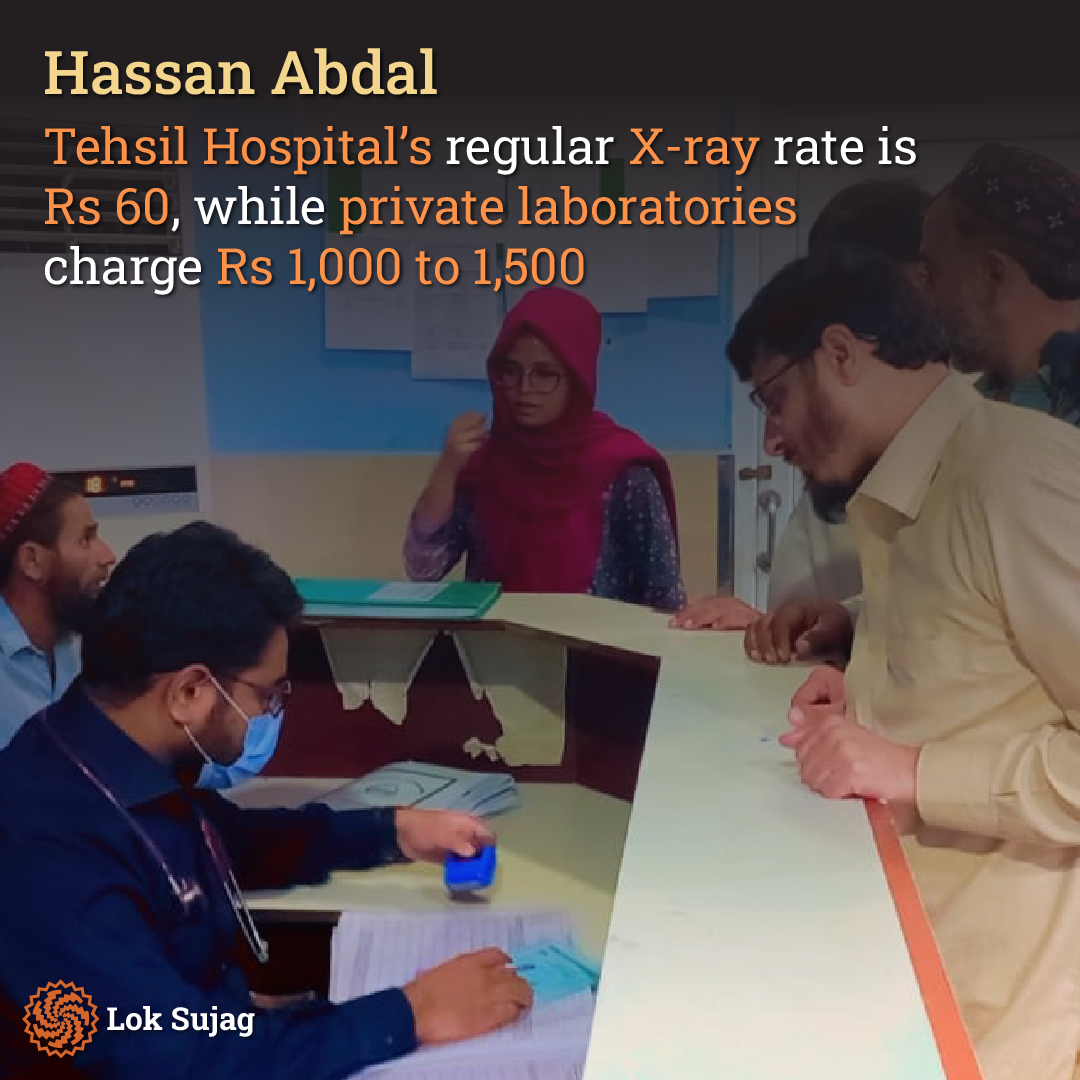 Local social activist Mohammad Shahid alleges that the new machine is not being installed due to the collusion of doctors and private laboratories. He claims that the machine is now deteriorating and lying in the hospital parking lot. The normal X-ray rate in the hospital is Rs 60, while private laboratories charge Rs 1,000 to 1,500. According to Shahid, the owners of private laboratories have bribed the hospital administration to prevent the machine from being activated, causing losses to poor patients.
Speaking anonymously, a hospital official revealed that private laboratories owners give doctors a daily 'share' for diagnostic tests. This is not a secret; some doctors have even set up their private hospitals and laboratories. So, it is not in their interest to have the THQ machine functional.
The hospital administration reported that more than 900 outdoor patients visit here daily, with around 120 patients treated in the emergency department. According to the Rescue 1122 spokesperson, ten trauma patients are transferred to THQ every day. Additionally, the number of patients brought by private ambulance vehicles and Edhi is in addition to this.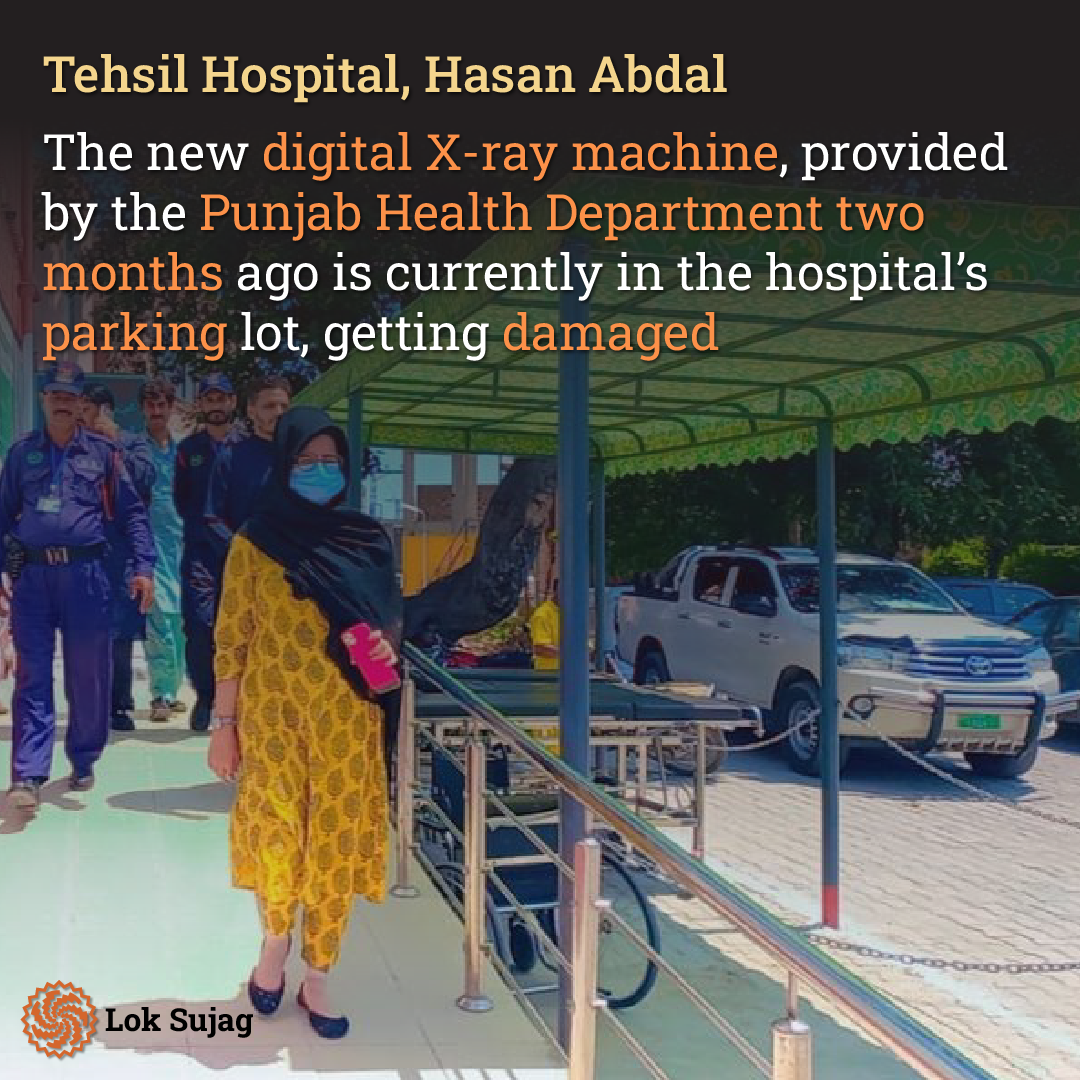 This area is the junction of Rawalpindi Peshawar Road, Karakoram Highway, Peshawar Islamabad, and Haripur Hazara Motorways. The hospital also receives the injured from road accidents as they are brought here first for treatment.
Asad Nazir says private X-ray laboratory owners know these injured people come from other cities. As a result, they charge these patients much higher fees.
Also Read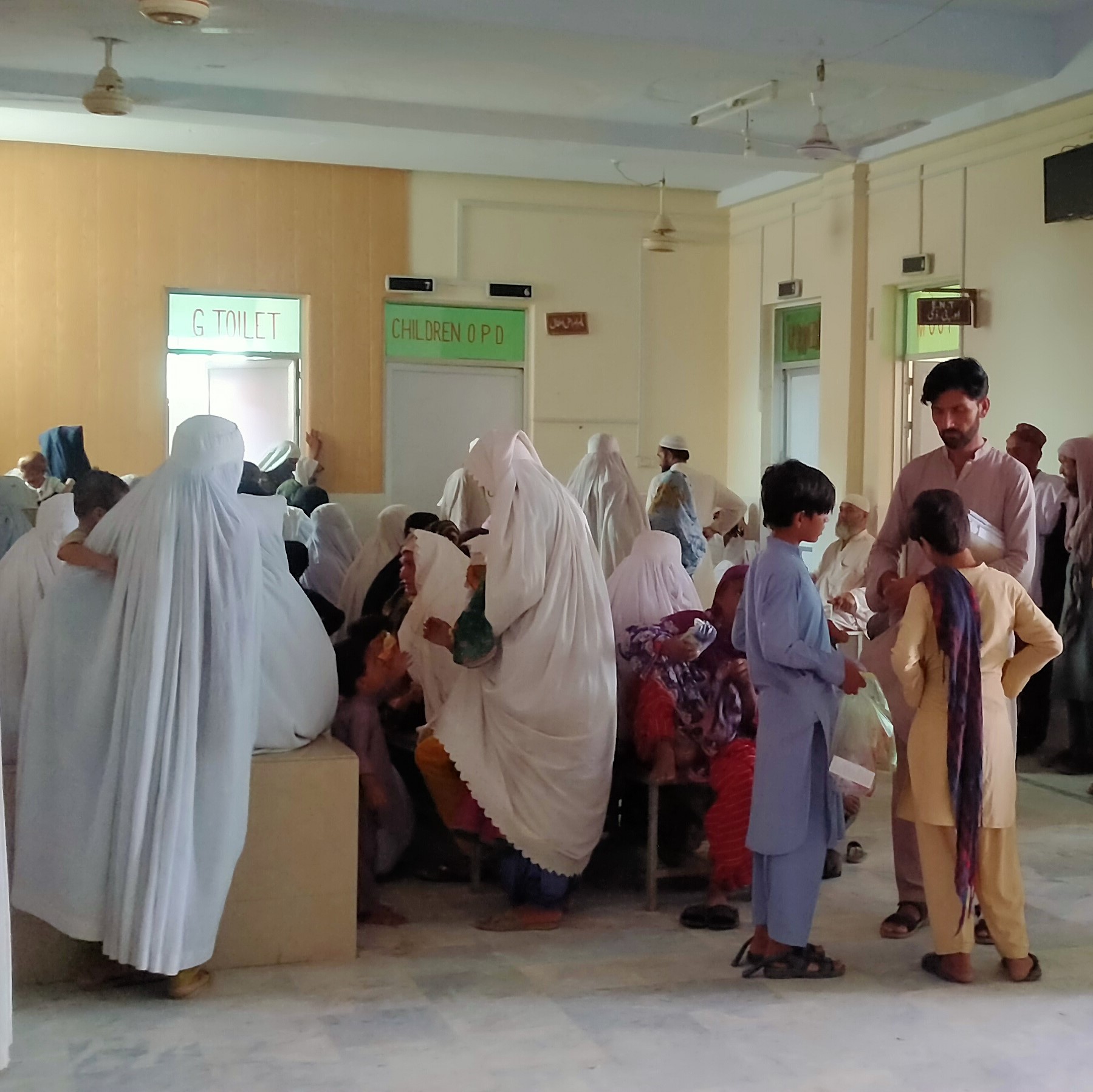 Decades of neglect: Tank district struggles with inadequate healthcare
When asked about this issue, the hospital's medical superintendent, Dr Shaukat, explained that the machine could not be activated because the installation team from Lahore had not yet arrived. Moreover, the hospital currently lacks space to keep the new machine, so it is being kept in the parking lot. Once the old machine is removed, the new one will be installed.
Dr Shaukat did not mention why the team to install the machine from Lahore has not arrived yet or when they are expected to come. He also did not explain why the old machine has not been removed from its place despite being damaged.
Regarding this matter, the Chief Executive of the District Health Authority, Dr Asad Ismail, states that the company's technicians supplying machines are installing machines in remote areas of the province. Once they complete their work in those areas, they will come to Hassan Abdal and install the new machine here.