Nowdo, a resident of village Kalmat- a coastal area of Gwadar has been fishing for the past thirty years. This is the only source of income for his household, comprising seven individuals. He possesses his boat to catch fish, and until a few years ago, he used to earn a monthly income of 40,000 rupees through fishing.
He explains that a few days ago, around 30 trawlers from Sindh attacked their boats near the coast. These individuals cut the nets of Kalmaat's fishermen and destroyed their anchors, resulting in seven boats being carried away by the sea.
From Gwadar to Jiwani along the lengthy Makran coast, there are eleven significant populations. These include Gwadar, Ormara, Makola, Kalmaat, Pasni, Charbandin, Shamal Bandin, Kappar, Sarbandin, Gwadar Pleri, and Jiwani.
Approximately 80% of the local population here depends on fishing for their livelihood, constituting nearly two hundred thousand families.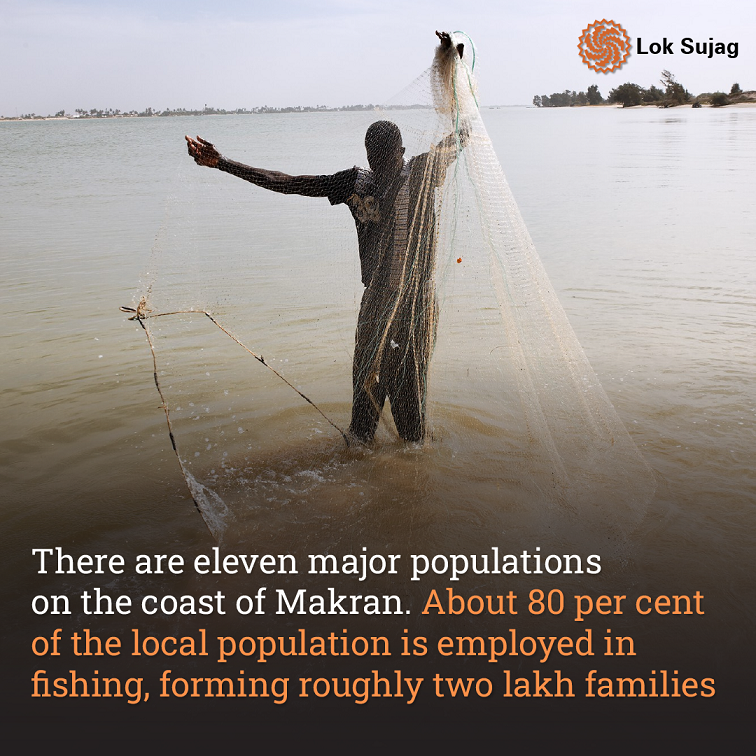 All the fish and shrimp caught in this area are transported to Karachi for export. In the coastal communities, Kalmaat and tehsil Pasni have a colony of fishermen. It is located about 20 kilometres from the Coastal Highway and has a natural jetty (khadi) from which boats easily access the sea. This population comprises around three thousand fishing households.
The fishermen of Nowdo mentioned that Kalmat was famous for high-quality fish and tiger prawns. He would go out early in the morning and return safely in the evening. "The children of the village used to wait at the beach for the boats. We would give them 'Poplet' and 'Mushka.' They would go and sell these fish and then use the money used by widows and other poor people to run their houses."
Expressing his pain, he said that due to this 'trawler terrorism,' fishermen not only return empty-handed from the sea but individuals like Bakhtiar, Murad Bukhsh, Mauladad, Liaqat, Muhabat Khan, Rahim Dad, and many others, including himself have also been deprived of their boats as well.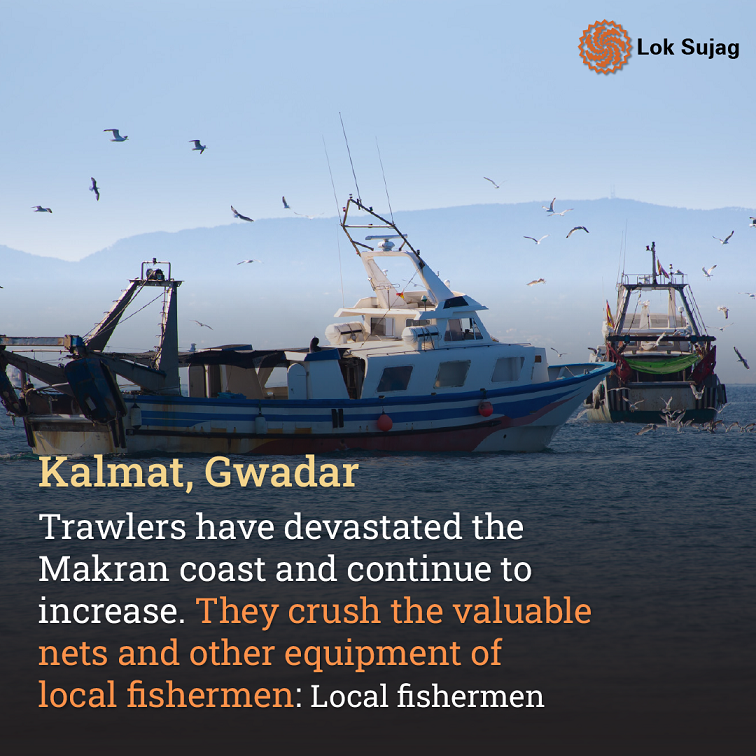 Rahim Dad says that last month, he had purchased a net for one lakh rupees on credit from a contractor. But now, all his hopes have been shattered. The concern now is how to repay the debt and fulfil the household needs.
He says it was a pleasant day with hopes of a good catch. He and his fellow fishermen were sitting in their boat with a fishing net cast in the sea. Suddenly, someone shouted, "Look, there's a trawler!
"The trawlers were passing over my nets. We started shouting, and those trawlers intentionally damaged our nets and even pelted stones at us in response to our protests."
Under the Balochistan Fisheries Ordinance 1971, the provincial government has jurisdiction over sea boundaries up to twelve nautical miles. It is within the authority of the provincial government to grant fishing permits. According to this law, local residents have rights up to twelve nautical miles, and this area is off-limits for trawler operations.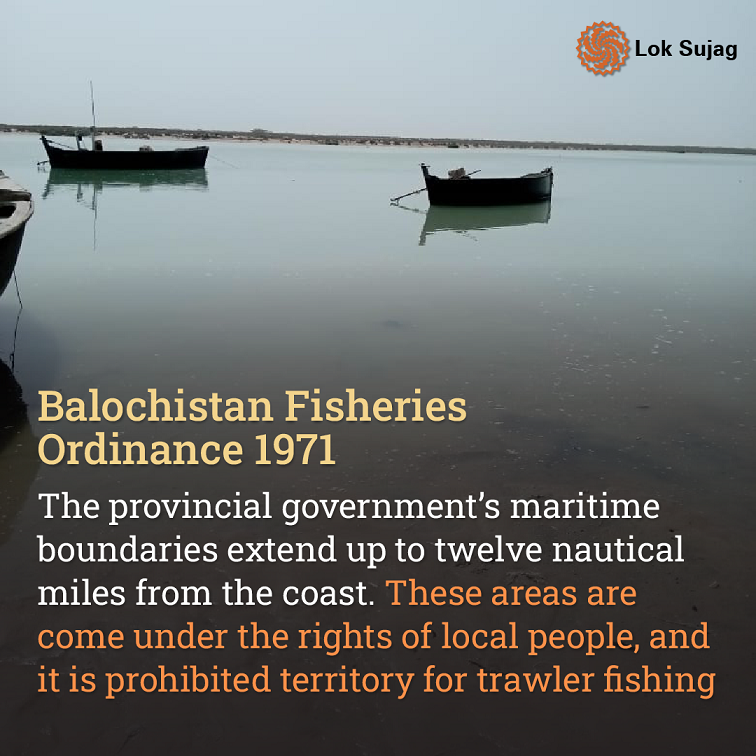 Thirty years old Jumma is also a resident of Kalmat, and he has been involved in fishing for thirty years. His son is also engaged in the same profession. He explains that the trawlers have wreaked havoc on the coast of Makran, and their numbers are increasing daily. These trawlers arrive aggressively and damage the valuable nets and other equipment of local fishermen. Impoverished fishermen cannot bear such heavy losses.
He says that the fishing boats are small, and each boat has three or four people earning their livelihood. Their nets are also small and designed differently for each fishing season. However, a single large trawler destroys everything. Now, fishermen from Kalmat are not going to the sea in protest.
Aziz Ismail is the President of the Pasni Fishermen's Association. He explains that these trawlers, along with the Coast Guards and MS Marines, cannot be stopped.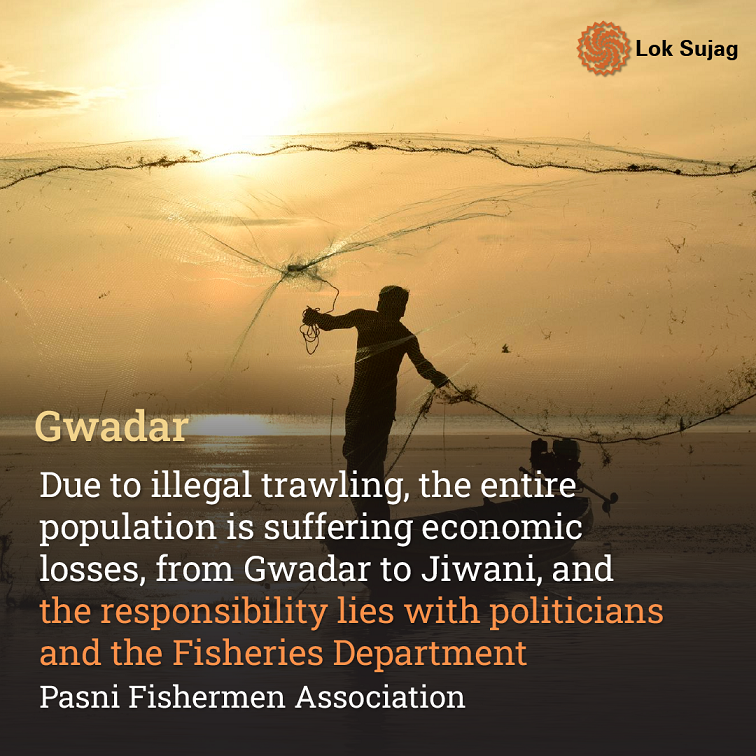 "But it is our unfortunate fate that influential people are involved in this illegal trawling. They do not want to end this business of exploitation. While we are unemployed, local businesses are closing down, and local fish companies are shutting."
He said the fishermen are giving up on fishing in the sea due to trawling. The economic murder of the entire population, from Gwadar to Jiwani, is happening because of trawling, and the responsible parties are the politicians and the fisheries department.
The fisheries department officer, who spoke with Lok Sujag on the condition of anonymity, explained that the department is trying to stop these trawlers day and night. So far, they have caught these trawlers about twenty times, but these individuals manage to escape through the courts and then return for fishing.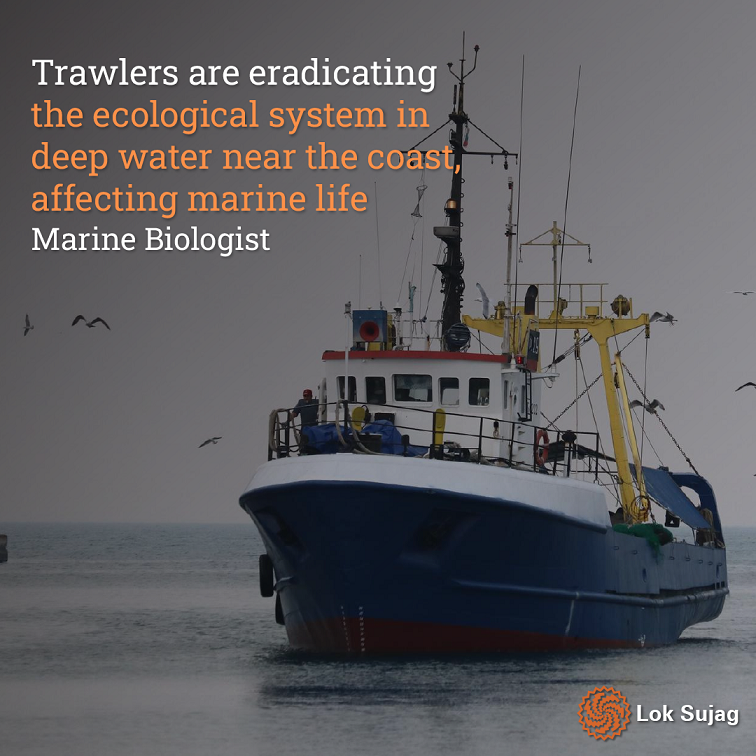 He says that some of these trawlers are also equipped with modern weaponry. When officials approach them, they start firing. There might be influential people behind them. It's also possible that fish companies are involved, providing them with supplies, such as ice and fuel, and they procure fish from there.
Some local individuals might also be informants for the trawler operators. The officer mentioned, "When we go out for patrolling, the trawler operators run away.
Also Read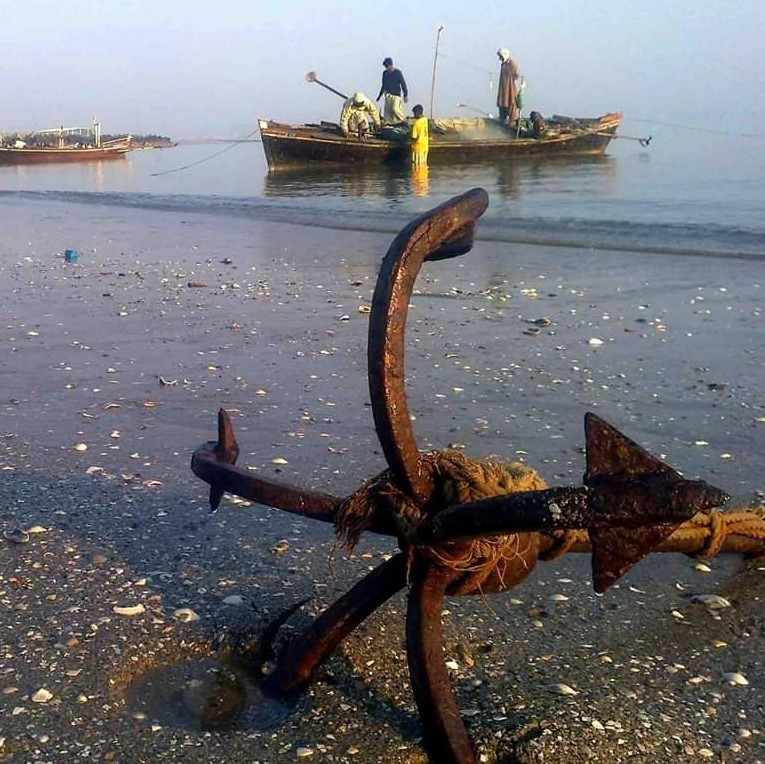 Fishing communities struggle as seas lose their bounty: A tale of Pasni's changing waters
We can patrol for twenty-four hours, but they don't come near the coast. The trawlers return to the shore as soon as the team returns. We can only stop them to a certain extent."
The Coast Guard and M.S. Marine refer this matter to the Fisheries Department and are unwilling to talk about trawling.
Aquatic life expert and PhD scholar Wajid Ali explains that fishing trawlers with powerful nets scrape the seafloor, damaging marine ecosystems and destroying the eggs of turtles and other sea creatures in deep waters.
He says trawlers are eliminating the ecosystem established in deep waters near the coast. This is an interference in nature and a threat to fish species. It is imperative to resist this in any case.
Global organization WWF's Assistant, Moazzam Khan, agrees with Wajid Ali. He explains that trawlers' equipment sweeps the sea like ploughing the underwater ecosystem. This practice is detrimental to aquatic life.