Sheikh Muhammad Saeed spends most of his day searching for clean drinking water because, according to him, the government had installed a water purification plant at considerable expense, which has been out of order for a long time. Therefore, he keeps looking for a house where clean water comes from the tap, and the residents are willing to provide it.
Muhammad Saeed is from the historic village of Faqeerabad in the upper district of Attock, formerly known as Lawrencepur. The population of this village is approximately around eight thousand, and most of the localities do not have access to underground water. In a few houses, clean water is available, and other villagers often visit these households to collect water for their use.
He explains that three years ago, the government installed a filtration plant here, which only operated for a few days. According to him, the person responsible for operating this plant in the village couldn't sustain it due to financial constraints and other issues.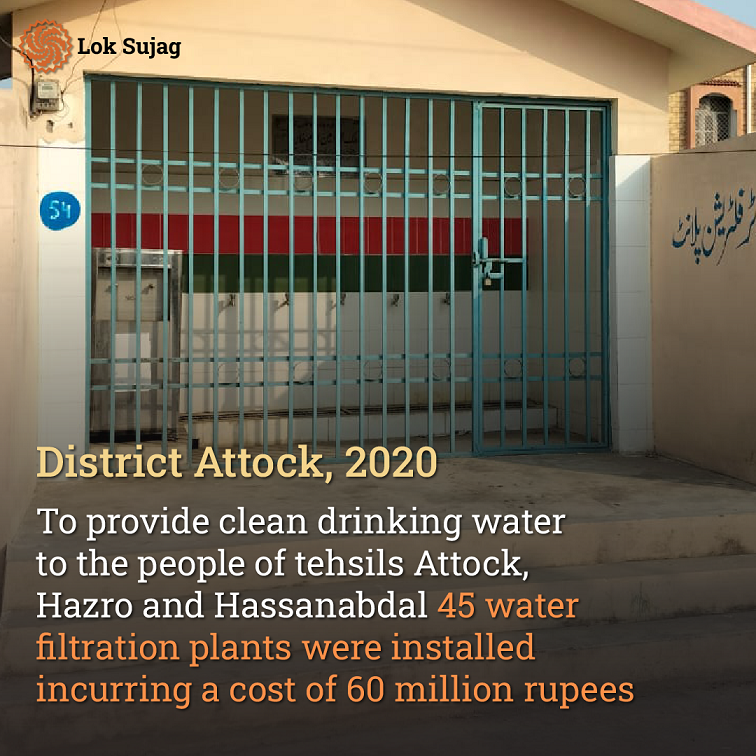 The situation in the village of Ghur Ghushi in the Tehsil Hazro of the same district is somewhat similar. Here too, a government water filtration plant was installed in 2020, which, according to residents, could barely function for a month.
According to the village resident Muhammad Safdar, the same issue occurred with this plant as well. The individual responsible for its operation could not manage it effectively. A significant reason for this was the difficulty of collecting electricity bills from every household, which was a challenging task.
According to him, another reason for the closure of this plant is its distance from the population centre. People from this area used to come here to fetch less water, so they were not willing to pay for electricity bills.
Three years ago, in 2020, the government installed 45 water filtration plants in the Attock district's three tehsils: Attock, Hazro, and Hassan Abdal.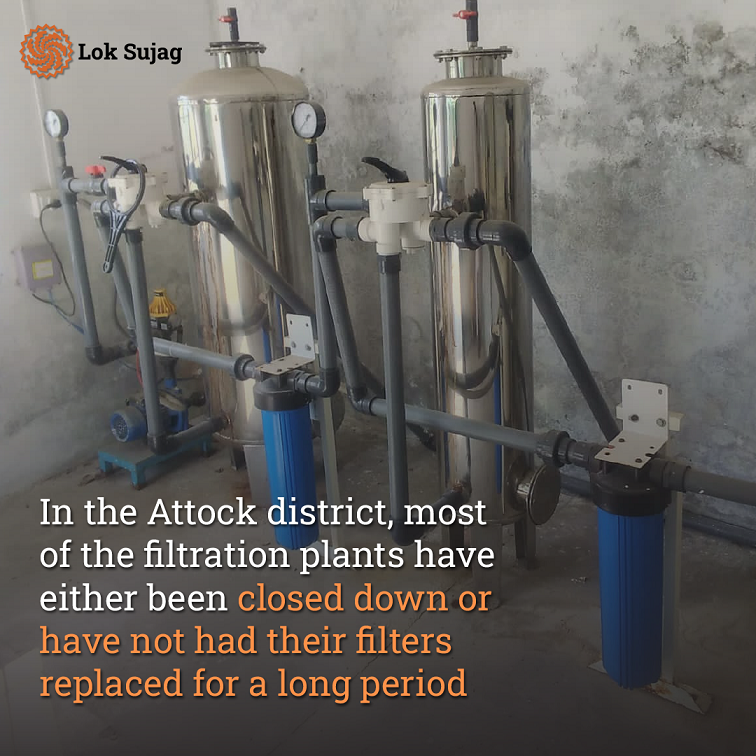 The cost of providing clean drinking water to the public through these plants was 60 million rupees (600 million PKR). The responsibility for the installation of these plants was assigned to the Department of Public Health Engineering.
Among these plants, five were installed in Attock city, six in the villages of Attock tehsil, including Faqirabad, Haji Shah, Golra, Sarwala, Dheer, and Gondal. In Hassan Abdal City, four plants were installed, and in the tehsil villages of Hasar and Shahia, one plant each was set up. Similarly, three plants were installed for urban population in the tehsil, while one filteration plant each was installed in the villages of Patti, Rahmoon, Maradia, Malaan Mansoor, Formuli, Hydera, Tajik, Waisa, Kamilpur Musa, Haroon, Hamid, Yaseen, Mullah, Khagwani, Kalu Khurd, Bahbudi, Ghorgashti, Shinka, Qutab Bandi, and Jalalia.
When these plants were installed, the Minister for Climate Change, Malik Amin Aslam, who is associated with Attock, informed the media that this step was taken primarily due to the increase in pathological contamination in some areas of Attock tehsil and Hassan Abdal, leading to diseases such as hepatitis, typhoid, and children's illnesses.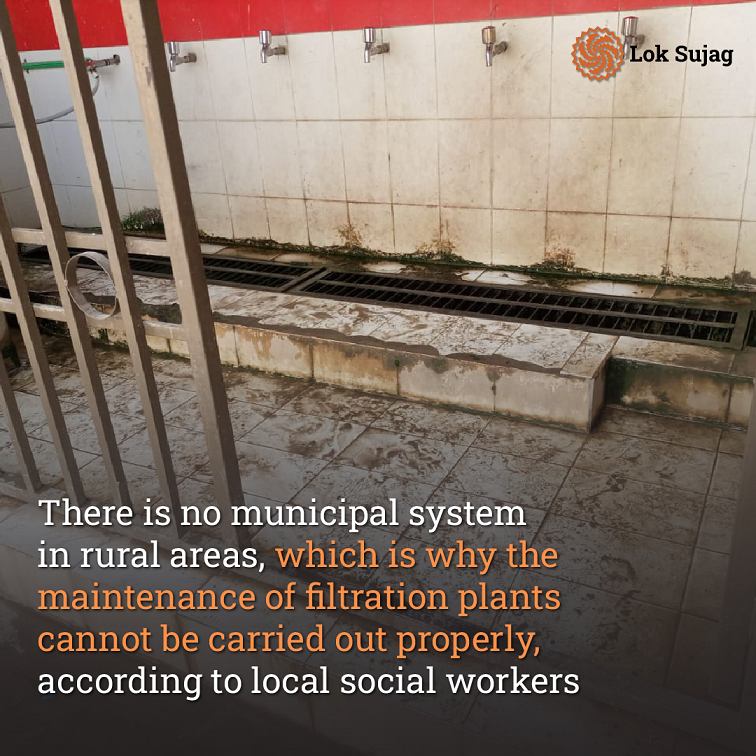 These plants were purchased from a well-known company and were then installed at designated locations by the same company.
When this representative inspected 30 out of the 45 plants, it was revealed that 8 of them were completely shut down, while most of the plants had not had their filters replaced.
After the installation of these plants, their maintenance was entrusted to the Municipal Committee in urban areas. However, in rural areas, no suitable infrastructure was established for their maintenance, and the responsibility was left to the rural residents. According to local sources, when the plants were installed, rural residents formed user committees for their maintenance, but they couldn't run them for long. This was mainly due to the financial requirements for electricity bills and repairs, as well as the need for timely operation and shutdown.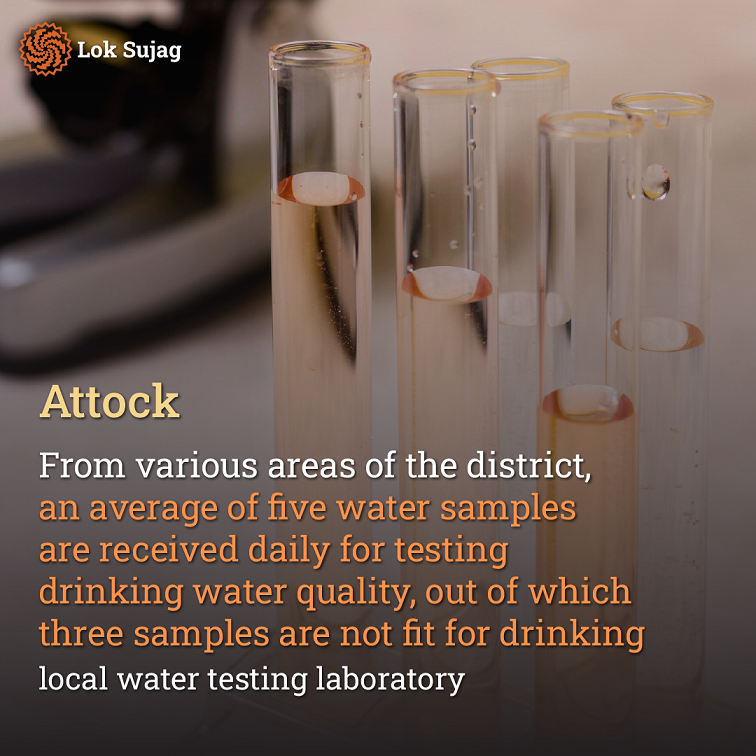 According to Arshad Naz, the Sub-Division Officer (SDO) of the Department of Public Health Engineering, their department is primarily responsible for the installation of water supply schemes or water filtration plants. In urban areas, municipal committees are responsible for their operation and maintenance. However, there is no such system in place in rural areas where government officials are assigned duty for this purpose.
He explains that before 1997, there was no such system, and both rural and urban areas were managed by the same department for running such projects. For this, the government allocated separate funds, and all schemes were successfully operated. However, this policy was later changed.
He also connects the failure of projects like water filtration plants in rural areas to the lack of government supervision and explains that at the beginning, local people take an interest in such projects, but their interest wanes over time. Additionally, these projects are often overseen by non-technical individuals who lack the knowledge for proper maintenance.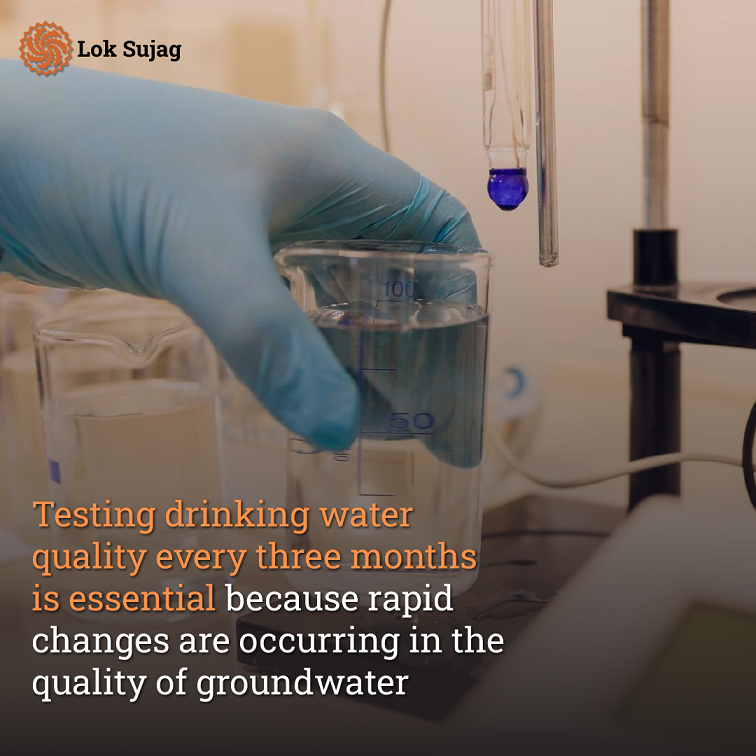 Their claims are corroborated by the fact that most of the plants in the Tehsil Hazro area are reportedly running without proper maintenance and care.
According to local residents, there is also a similar plant in the village of Hamid that is technically operational but, according to them, the filters have not been changed since its installation. As per the account of a resident, Muslim Khan, if the filters are not changed, how can it provide clean water?
They say that the government has wasted millions of rupees on it.
According to local residents, filtration plants in the villages of HasanAbdal Hasar and Kamilpur Musa are apparently operational, but they claim that in the past three years, there has been no maintenance or filter replacement.
Mohammad Sadiq, an employee of a private company in Attock City that sells filtration plants and has ten years of experience in installing and maintaining such plants, emphasizes the importance of regular maintenance for filtration plants.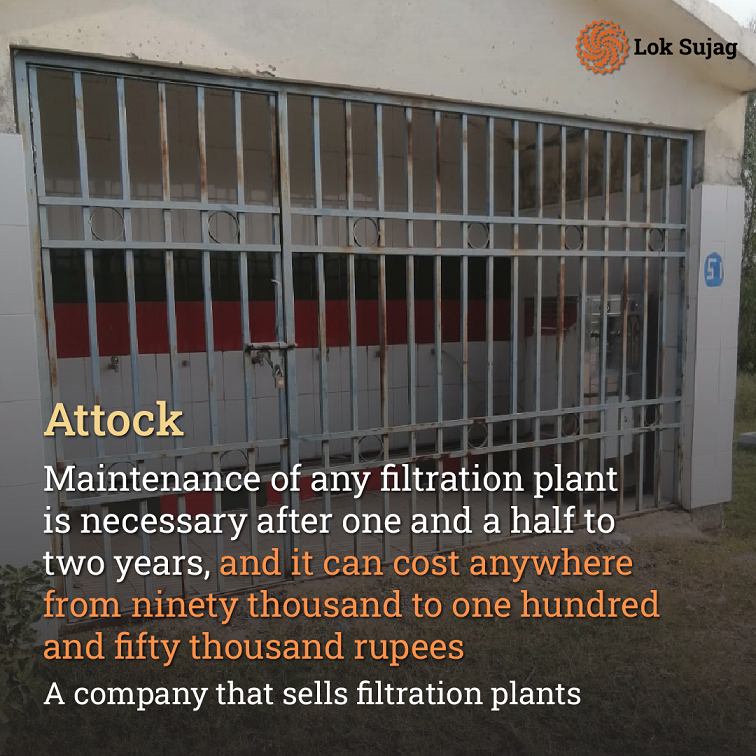 He mentioned that after one and a half to two years, it is essential to maintain any filtration plant, and the cost can range from ninety thousand to two hundred and fifty thousand rupees. Without proper maintenance, there is no significant difference between underground water and water obtained from such plants.
According to him, timely replacement of the filter is crucial, especially considering the varying levels of contamination in different areas' underground water. For example, in areas where water is highly contaminated, and the plant is used extensively, the filter may need to be replaced as often as three times a year.
However, not every place is the same. In this district, there are villages like Waisa, Shinka, and Jalalia where these plants are operating successfully, thanks to the efforts of the local residents.
According to Shahzad Khan, who runs a social organization in Waisa, the population of their village is more than 10,000. When the plant was being installed, they informed the authorities that it wouldn't meet the full demand, but the authorities went ahead with it anyway.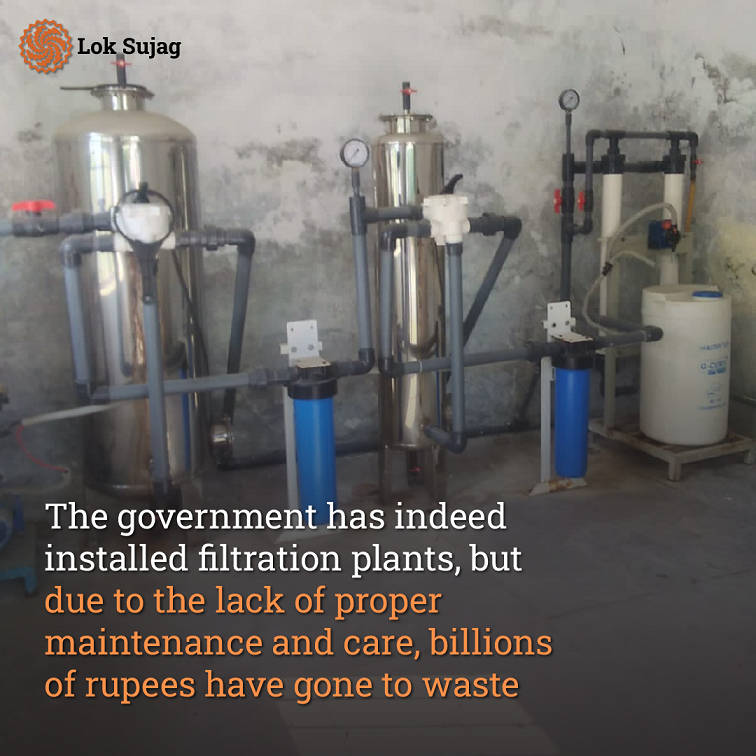 According to their statement, their organization later spent 800,000 rupees to improve the plant's capacity and quality, and now local residents are managing it themselves. They also budget at least one lakh rupees annually for the plant's maintenance. Additionally, the organization is responsible for paying the electricity bill, which ranges from 15,000 to 20,000 rupees.
In Shinka and Jalalia, local social organizations are responsible for the maintenance of these plants.
Former Nazim Rana Shaukat of Attock City says that the government spent billions of rupees to install filtration plants for the betterment of the people, but due to flawed policies, these plants are not being properly maintained. As a result, it is not only burdening the national treasury but also not benefiting the public.
Also Read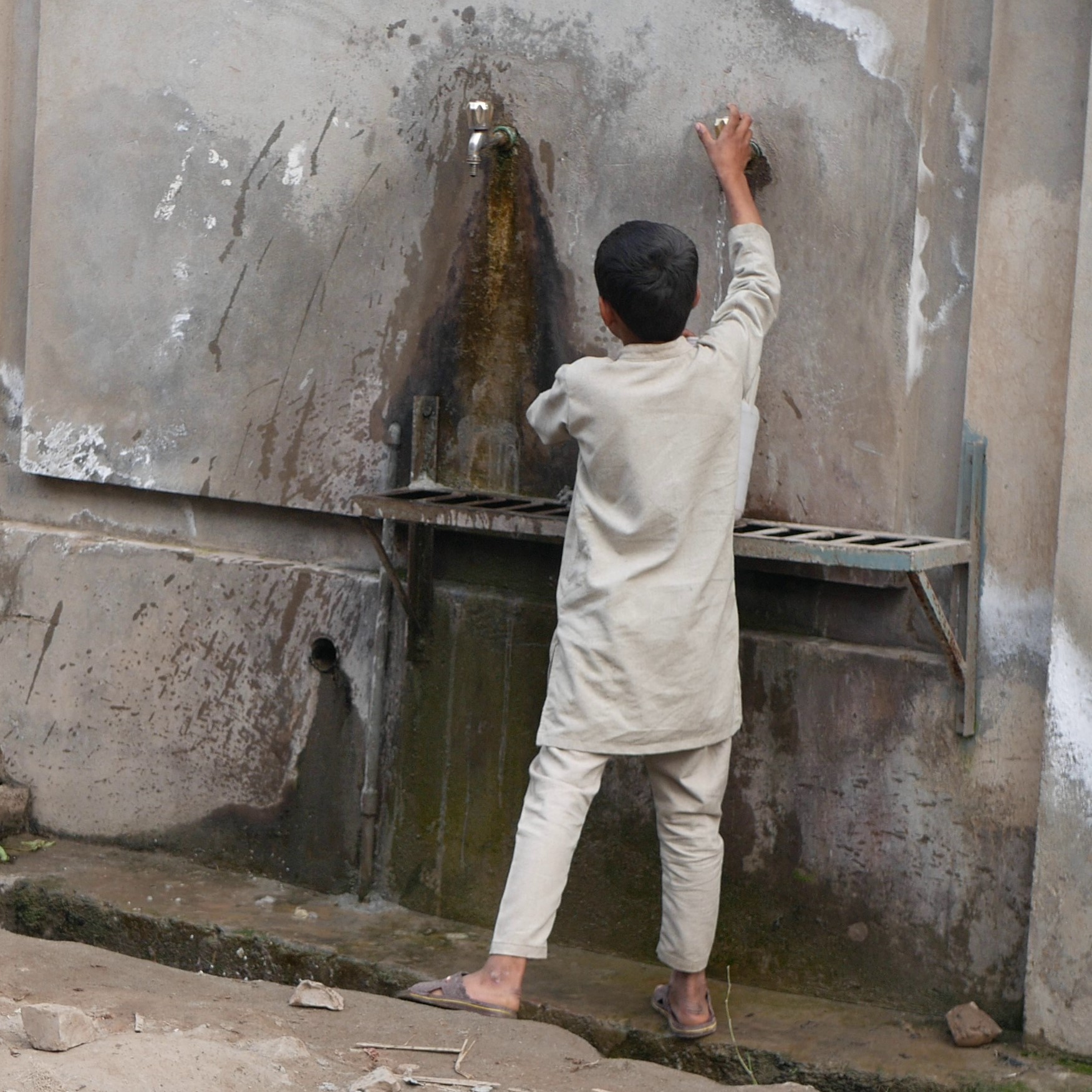 Water crisis in Ghotki: Failed filtration plants leave residents struggling with contaminated water
Social worker Shehzad Khan, who works on rural issues, explains that in rural areas, there is no municipal system or permanent institutions like roads, sewage, and other infrastructure that are established in cities. Therefore, when the government installs water filtration plants or sewage pipelines in villages, it becomes their responsibility to operate, maintain, and incur all associated expenses. In contrast, in towns and cities, these responsibilities fall under the government's jurisdiction.
He points out that the responsibility for water supply, sewage, and sanitation should be taken by the government, similar to how these services are managed through established institutions in towns and cities. In this way, such projects can be successful.
In Attock, Fahad Hasan Khan, who works at a laboratory established for water testing, explains that this laboratory receives an average of five water samples daily from various areas of the district, out of which three samples are not suitable for drinking. Fahad Hasan Khan emphasizes the importance of water testing for people, stating that awareness about getting their drinking water tested is lacking. He also mentions that according to experts, it is necessary to test drinking water every three months because the quality of groundwater is rapidly changing. Keeping this change in mind, every household needs to install a water filter.