On 8th January 2021, the Pakistan Bureau of Statistics (PBS) published a survey detailing the socio-economic impacts of Covid-19 in Pakistan. The survey reveals that the lockdown following the first wave of the virus resulted in more than twenty million people losing their jobs in a three month period between April 2020 and July 2020. During that period, another 6.5 million people saw their incomes decrease.
According to this survey, around 55.74 million people were economically active in Pakistan in March 2020. Following the start of the lockdown in April 2020, however, this number began to decrease and shrank to around 35.04 million by July 2020. This means that more than 20 million people lost their jobs as a result of the lockdown.
The survey further reveals that the lockdown between April 2020 and July 2020 economically affected around 17 million households in Pakistan, which amounts to around 53 per cent of the country's total number of households. Khyber Pakhtunkhwa was the worst affected region by the lockdown as 64 per cent households living there were hit by the economic impact of the pandemic. It was followed by Sindh where 59 per cent households were affected while the percentages of affected households were 51 and 49 respectively in Punjab and Balochistan.
Around 30 per cent of these households faced moderate shortage of food during the lockdown, 10 per cent faced severe food insecurity whereas 22 per cent of them ran out of food and 29 per cent had to skip meals.
The survey also records that 8 per cent of the affected households were forced to sell all their livestock for sustenance. Another 30 per cent households had to take loans, 5 per cent had to sell household assets and 8 per cent decided to discontinue their children's education.
Out of all the affected households, 33 per cent were forced to receive financial assistance from various sources. Government institutions provided financial aid to 19 per cent households while 18 per cent took financial assistance from the private sector. Only 2 per cent households were financially helped by non-governmental organizations. On average, these households received Rs 20,904 during the lockdown.
According to the government survey, the construction sector was worst hit by the corona-induced economic crisis as 80 per cent of its employees lost their jobs. Similarly, 72 per cent employees of the manufacturing industry, 67 per cent employees of the transport sector and 63 per cent employees of the retail industry lost their jobs. The survey claims that the decline in activities of just two sectors - construction and manufacturing - accounted for around 46 per cent of the total economic shock in the country.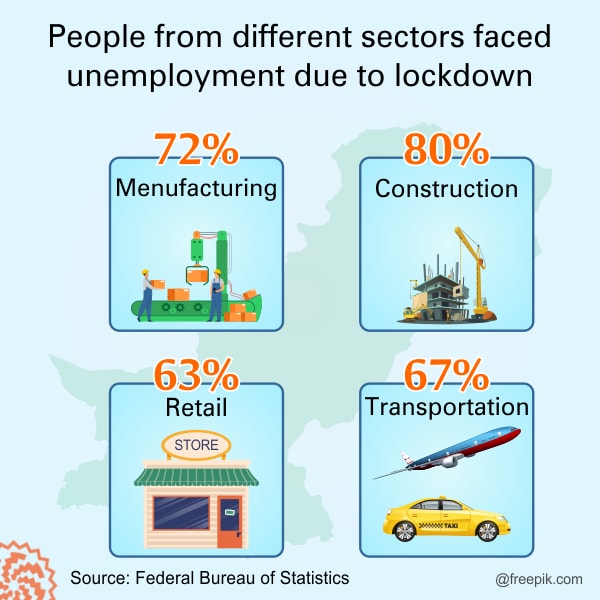 The survey also tracks a recovery period starting from August 2020 after the lockdown was eased. In the three months that followed, it claims, around 17 million people became economically active again.
Despite this recovery, around 2.7 million people who lost their jobs after March 2020 and who had been economically active before the pandemic, have still not been re-employed. Consequently, there has been a 2 per cent increase in Pakistan's unemployment rate which, according to economic experts, is alarming. Similarly, monthly incomes of all Pakistani households have decreased on average by 5 per cent after the pandemic.
Does the survey show the reality?
Hamza Ijaz, a researcher and founder of Masawi, an independent research organization, believes that even though the PBS survey is authentic, it is based upon a questionable assumption: it has gathered information from 6000 households from across Pakistan but 70 per cent of these households are from urban areas.
The authors of the survey justify this assumption by arguing that the virus has spread at a higher rate in urban areas than in rural areas. Due to this reason, they believe, it makes sense to gather more information from urban households than from rural ones. Hamza Ijaz, however, believes that it is wrong to assume that the socio-economic effects of the virus would be proportional to its spread in a particular area.
"I think that the ratio of the survey respondents should have been at least 60-40 for urban and rural areas, if not 50-50, in order to have a clearer picture of the national economic situation," he says.
A survey published by the Asian Development Bank (ADB) in October 2020 backs his argument. This survey was carried out to investigate the economic impacts of Covid-19 and locust attacks in rural Sindh and it reveals that the majority of farmers in Sindh were critically affected by the pandemic.
According to the ADB survey, 65 per cent of wheat farmers and 67 per cent of vegetable and fruit farmers were not able to take their produce to the market because of the lockdown. Even worse, 61 per cent of tomato farmers were not able to sow their crop and 81 per cent of milkmen reported that they had no way of delivering milk daily to their customers because of a lack of transportation.
Interestingly, the ADB survey reports that 58 per cent of Sindh's rural households were financially affected by the pandemic. The ratio of such households in rural Sindh, according to the PBS survey, is 51 per cent. In other words, the ADB survey confirms that fewer Covid-19 cases in rural areas do not mean that the these areas were less economically affected than the urban ones. If the PBS survey was not based on this assumption, the economic situation might have been better investigated.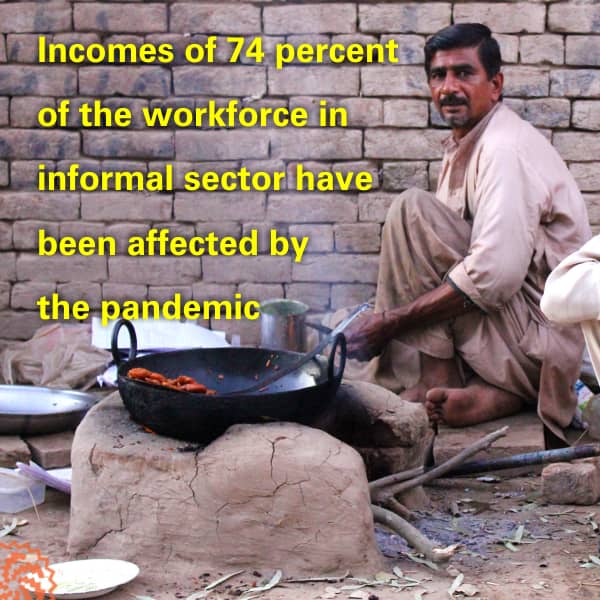 Pakistan has never faced such an economic blow before.
What can the government learn from these findings?
The policy adopted by the Pakistan Tehreek-e-Insaf (PTI) government to contain Covid-19 has been controversial from the very beginning. The ruling party has remained opposed to a complete social and economic lockdown in the country and has, instead, followed a policy of 'smart lockdowns'.
Prime Minister Imran Khan termed the smart lockdown policy a "success story" while speaking at the 75th session of the United Nations' General Assembly in September 2020. He has also repeatedly claimed that the government's policy has helped "control virus, stabilize the economy and protect the poorest segment from the worst fallout."
Given this context, the PBS survey gives rise to an important question: is it a testament to the government's success in curbing Covid-19's socio-economic impacts or do its findings reveal that some swift and urgent policy changes are required from the government?
A Lahore-based senior researcher and associate professor of economics believes the government certainly cannot be blamed for the economic shock following the Covid-19 pandemic because similar shocks were experienced throughout the world. He, however, argues that the economic situation might worsen if the government does not take some important decisions on an urgent basis.
This urgency, as he puts it, is because, "I have not seen such an urban economic shock in the country throughout my life."
He also believes that 2.7 million people remaining unemployed even after the recovery period is a massive problem. To hope that these conditions will improve on their own is like living in a fool's paradise.
He says, "A 2 per cent increase in the unemployment rate as a result of these unemployed people means that the recovery has not been completed and there is still a lot that needs to be done," he says.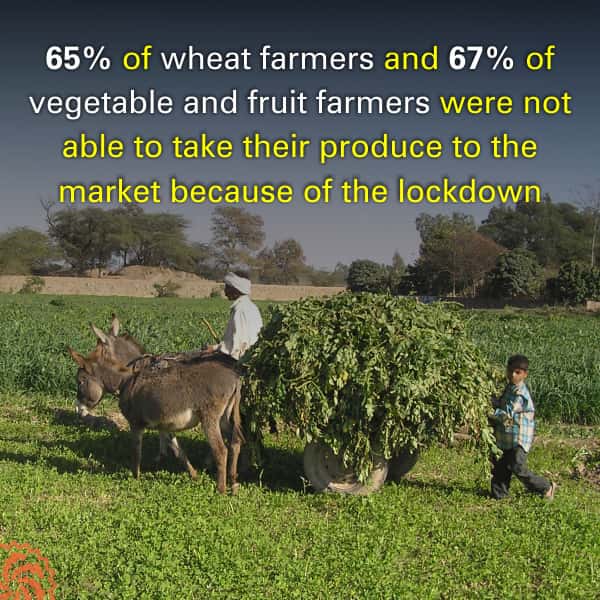 He similarly points out that the loss of income due to the pandemic has also not been recovered yet."The average income of households has decreased by 5 per cent but what is worse is that a high increase in food prices has made this decrease even more painful for low-income households," he remarks.
It is also important to note that the loss of income has not been sustained by everyone at the same rate as working class communities and those working in the informal economy have suffered more than urban elite and middle classes.
Is Pakistani economy capable of sustaining the shock?
The PBS survey reveals that 19 per cent of the households which had to seek financial assistance received this assistance from the government's programs. The premier government financial assistance initiative in this regard has been the Ehsaas Program, inaugurated in April 2020. The government sources say that this program distributed Rs 12000 each to 15 million households during the pandemic.
Despite this, economic experts believe that it has become imperative to acknowledge the limitations of these programs and devise newer strategies to cope with the economic shock inflicted by Covid-19.
The Lahore-based researcher says the last poverty census was carried out in Pakistan in 2011 and most of such programs developed after that census were focused on rural areas since these areas had a higher number of extremely poor households. The PBS survey has inverted this equation by revealing that urban areas have sustained a bigger economic shock due to Covid-19 than the rural ones. The government, however, does not possess the requisite experience or capacity to provide financial assistance in urban areas.
The researcher, therefore, asks an important question: What system the government would like to have in place to be able to survive a similar economic shock in the future?"
Another major problem in this regard is the informal economic sector includes daily wagers, street hawkers and/or people who earn from selling inexpensive goods on a daily basis.
Also Read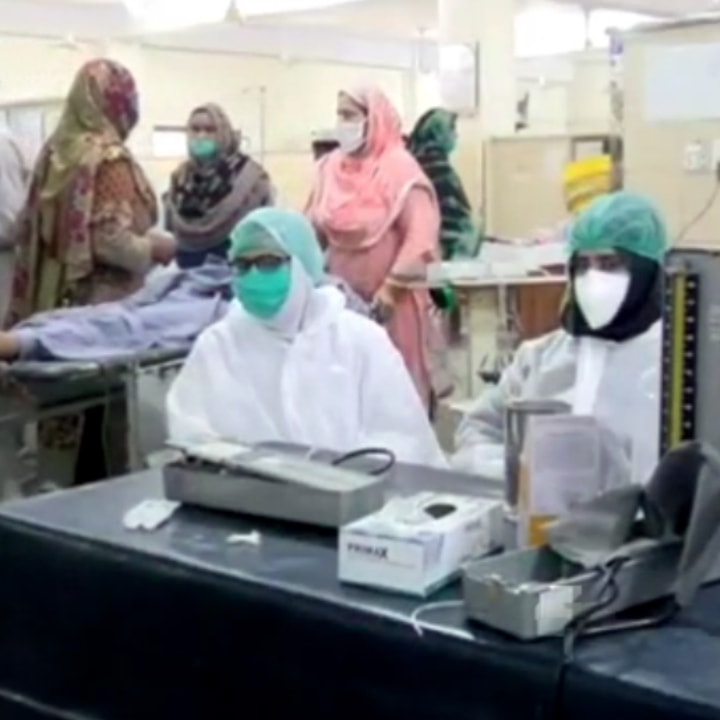 Testing times: How low number and suspect quality of corona tests are affecting the pandemic cure
It is difficult to develop an accurate estimate about the loss incurred by this sector due to a dearth of statistical data. The last Labor Force Survey carried out in 2018, however, reveals that 45 per cent of Pakistan's workforce operates in the informal sector. Given that the PBS survey shows 74 per cent of the workforce in this sector has been affected, this means three out of every four people working in this sector have seen their income going down during the pandemic.
Hafeez Pasha, Pakistan's former finance minister, says the economic impact of Covid-19 on these people is the most worrisome aspect of this pandemic. He therefore, believes the Ehsaas program should now focus on the informal economy. "The best way to do this would be to direct union councils to register everyone who is associated with the informal sector so that the coverage of Ehsaas program can be extended," he says.
He also believes that the State Bank of Pakistan should collaborate with other banks to find out how many small and medium enterprises (SMEs) have been covered in the government assistance packages and how much more still needs to be done for them.
On the basis of the economic impacts sustained by the informal sector, Hafeez Pasha also believes that -0.4 per cent growth in the Gross Domestic Product (GDP) as shown at the end of the last fiscal year was understated. "Based on the current unemployment and other economic indicators, my calculations suggest the GDP growth rate would be at least -2.5. The government will have to reveal this in the next economic survey," he says and argues that it must also devise its economic recovery plans accordingly.
This report was first published by Lok Sujag on 27 Jan 2021, on its old website.