The residents of Tehsil Daharki in the Ghotki district of Sindh have heard about clean water, but it has never been their fortune. The local people here consume brackish and harmful water from wells. Over the past decade, there have been rumours of a water supply scheme being initiated in the city, but there seems to be no possibility of it being completed anytime soon.
Safdar Saleem, a resident of Sami Colony, works in a private organisation and actively participates in social work. He says there has been a long delay in the implementation of this project, and now the Public Health Department has changed the design of this scheme. The downside is that even if the scheme is eventually completed, it may not benefit a significant portion of the population.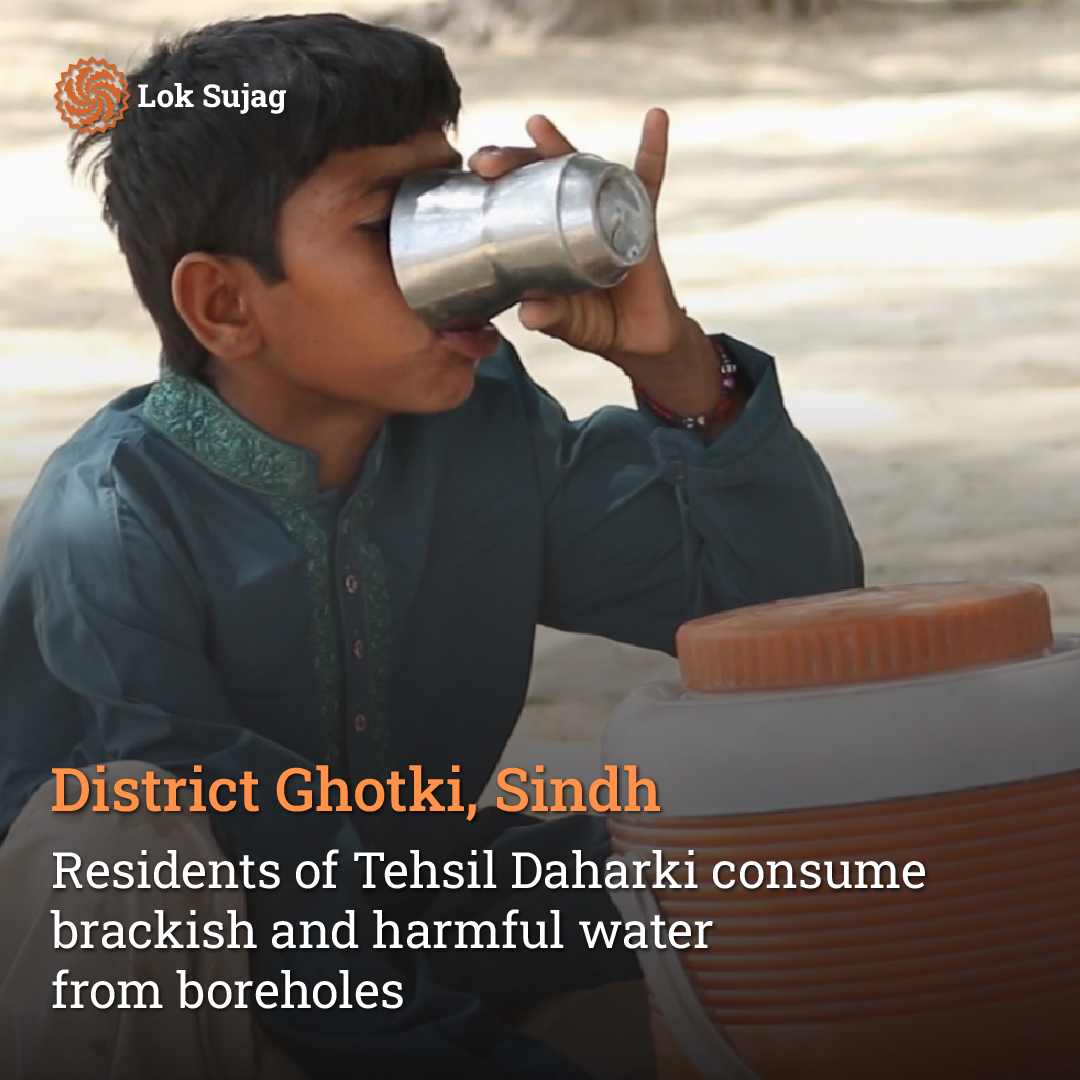 According to doctors, the excessive salinity in the water of Daharki makes it unsuitable for drinking, but we still use it due to compulsion.
According to a research report, the water's hardness should be 300, but it is 692; calcium should be 75, but it's 674; magnesium should be 50, but it's 766; and potassium should be 774, whereas sodium is present at 774 grams per litre, making it unfit for consumption under any circumstances.
In 2014, Sindh allocated a budget of 190 million rupees for providing clean drinking water to Daharki City through a mega project, which has not been completed to date. The project aimed to supply clean drinking water to all residential areas of the city, but this has not yet been realised.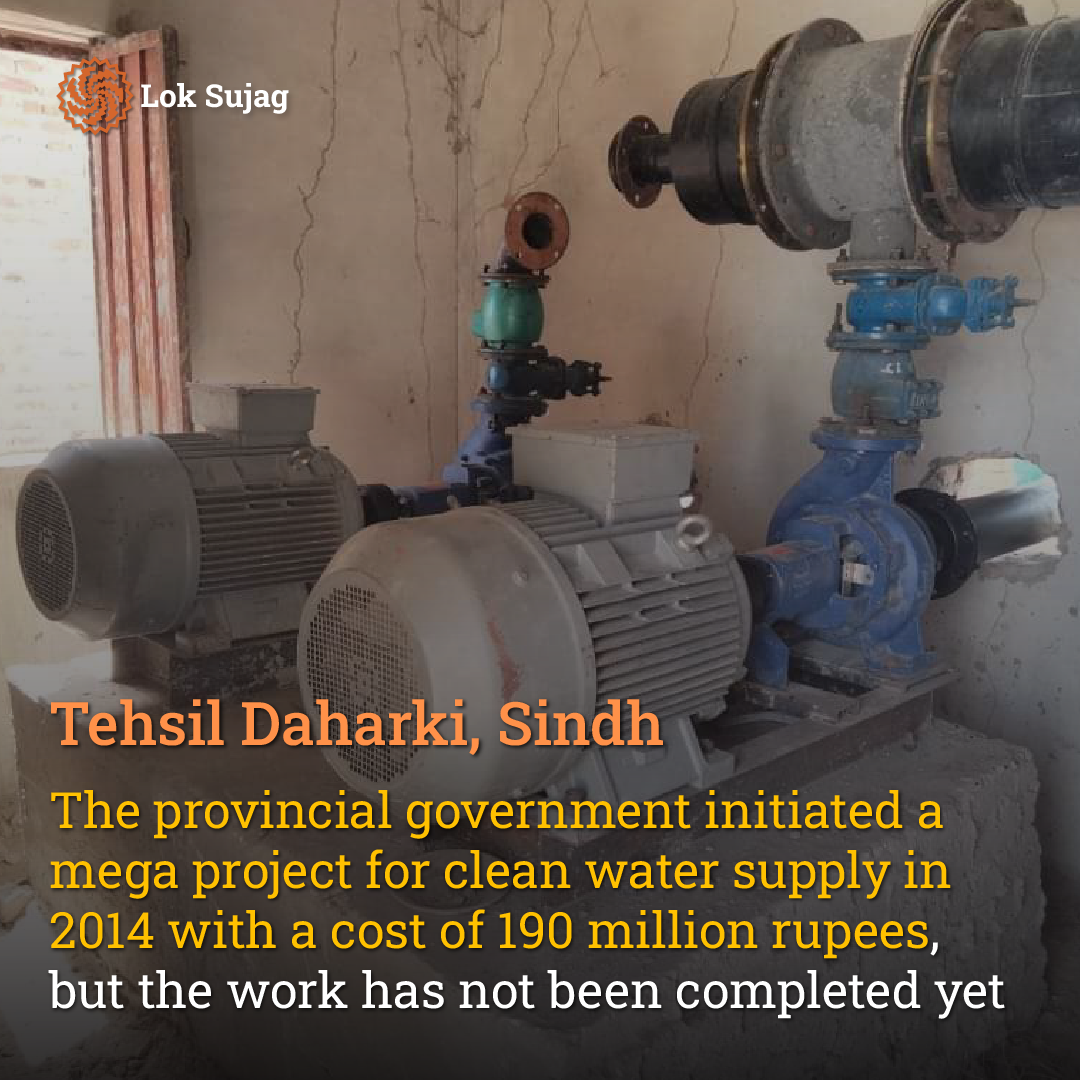 The work of laying main pipeline lines in Main Bazaar, Zafar Bazaar, Cinema Road, Gulab Shah Colony, Abdul Sami Colony, Muslim Colony, and other areas remains incomplete, and the work at the main station has also been pending for the past ten years. The residents have protested multiple times to complete the scheme, but the matter remains unresolved.
In the areas of Daharki where pipelines have been laid for water supply, most of them are unable to withstand the water pressure. A month ago, water was released as a trial into these pipes, and most of them started leaking. The repair work for these leaks is still ongoing.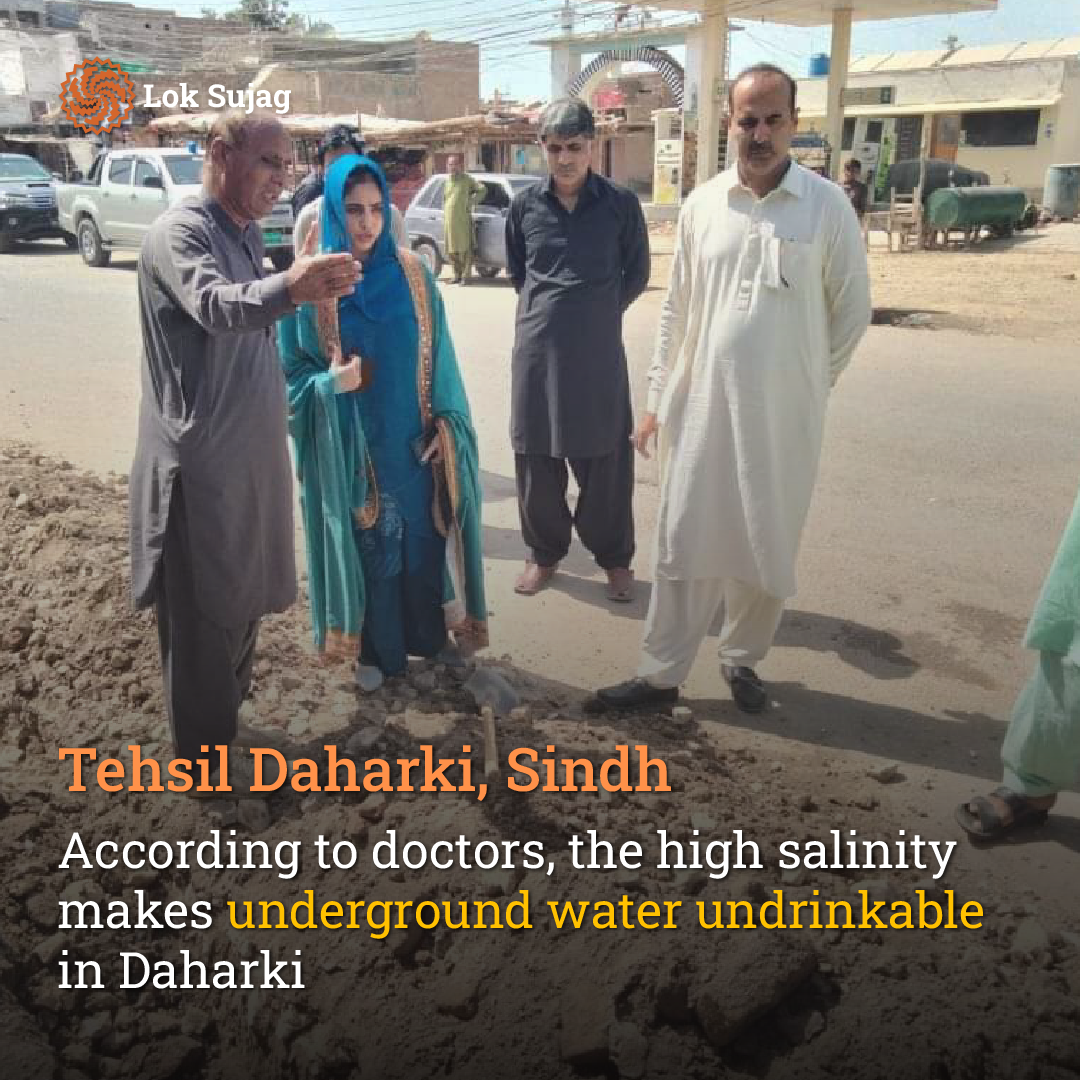 Assistant Engineer Majid Dayo of the Public Health Department has stated that this project is in its final stages, and the pipeline installation work will be completed in a few weeks. He mentioned that pipes will be laid at 12 points in the city, including Chohan Mohalla, Cinema Road, Dahar Wah, Police Station, Checkpoint No. 5, and Bashir Colony. After this, it will be the responsibility of the town administration to extend the water lines to individual households.
According to the 2017 census, the population of Daharki city was one hundred and thirty thousand. Due to the incomplete water supply scheme, the residents here are forced to purchase and drink clean water.
Also Read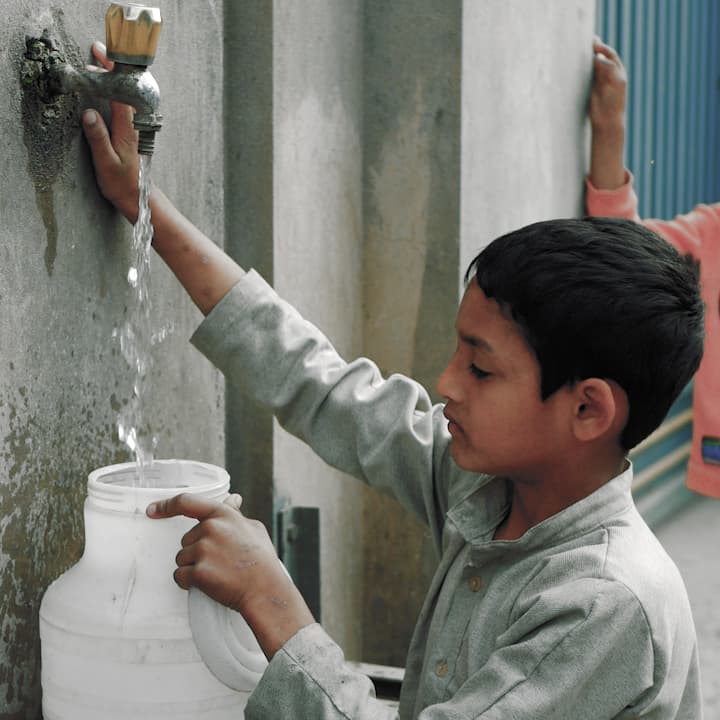 The deadly sweat of a factory: 'Ground water in Sambrial has become fully polluted'
In the city, the Khidmat Khalaq Foundation has installed a water plant from where people fill water. However, this water also comes at a cost, and those who cannot afford to buy water with money are consuming underground water, which is high in salinity and harmful to health.
According to doctors, the high salinity levels make the underground water in Daharki unsuitable for drinking.
According to a scientific report, the hardness in this water measures 692 instead of the standard 300, calcium levels are at 674 instead of 75, magnesium is at 766 instead of 50, and potassium is at 774. Additionally, sodium is present at 774 milligrams per litre, making it unsuitable for consumption.
Recently appointed Assistant Commissioner Rida Talpur in Daharki has taken notice of citizens' complaints and directed Engineer Meher Das from the Public Health Department to immediately assess the water supply project and issue orders for its speedy completion. She stated that the administration is making every effort to ensure that the residents do not have to wait any longer and can soon avail of the clean water facility.