As soon as a farmer in central Punjab would set fire to the remnants of his harvested rice crop, government officials sitting in their offices became aware of it. With the help of modern technology, they reached that farmer in less than an hour and initiated government action against him.
In the first phase of this process, the Space and Upper Atmosphere Research Commission (Suparco) would inform the district administration about places where ground temperature was higher than the surrounding places. To identify human settlements in those areas, the administration would use the Global Positioning System (GPS) which is used in digital and online maps.
When the government officials found the village where the fire was burning, they sent a government committee to verify the identity of the farmer who had set his fields on fire. Based on this verification, the provincial agriculture department would request the local police station that a case be registered against that farmer. Following this request, the police would register a First Information Report (FIR) against him.
These reports are filed under Section 144 of the Pakistan Penal Code (PPC) that concerns harm to public order and the Punjab Natural Calamities Prevention Act, 1958. As a result, every farmer who burns rice residue could face up to a month in prison, or a fine of 200 rupees – or both at the same time.
In October this year alone, 14 such reports were lodged against farmers in Kasur District -- located southeast of Lahore on the Pakistan-India border. Similarly, 13 such cases were registered last month in Hafizabad district which is located on the eastern bank of the Chenab river. According to a report released by the Punjab Agriculture Department on November 2, a total of 504 FIRs were lodged against farmers in different districts of the province for burning rice roots and stalks in fields. Nineteen farmers were also arrested.

A report by the Provincial Disaster Management Authority (PDMA) similarly stated that the government identified 3,667 cases of field fires as of November 9 – and registered 817 FIRs against farmers.
Farmers complain this is not appropriate.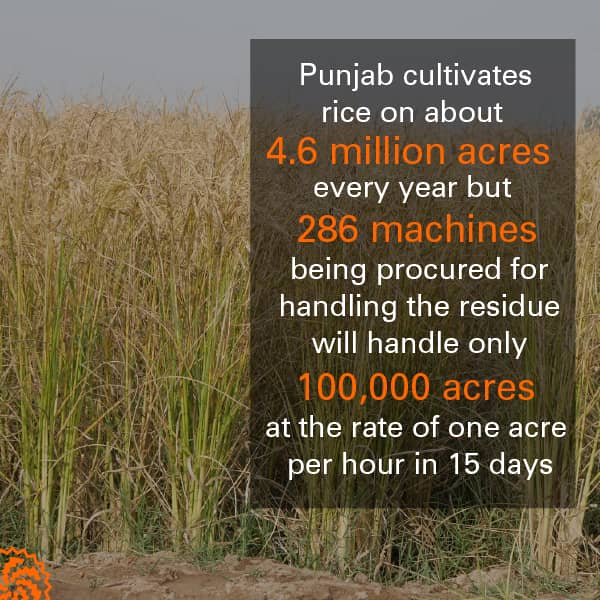 Muhammad Akram cultivates ten acres of land in a village near Hafizabad city. He says the government officials were registering the same case against farmer who set fire to two acres of land as they were making against a farmer who set fire to 100 acres. As a result, small farmers have to run around between police stations, courts and jails while big farmer don't have to bother much about all this because they have money and influence to get away with their 'crime'.
Why are the fields burning?
Farmers complain they do not have the technology to eliminate the rice crop's residue without burning it. Small farmers in particular - who cultivate less than five acres of land - are not financially able to rent heavy machinery and use it to remove rice's roots and stalks.
But the same government administrators who use latest technology to identify fields on fire and show extraordinary efficiency in lodging cases against those responsible for lighting those fires do not go beyond paperwork in providing the necessary machines to farmers.
These officials, however, claim that farmers are getting everything they need to stop burning the crop's residue.
District officers of the agriculture department stationed in Hafizabad and Kasur claim their subordinates are going from village to village, making announcements in mosques that rice's stubble should not be burnt. According to a report released by the Punjab Agriculture Department, the number of such announcements had reached 21,496 by November 2. "Similarly, at the union council level, our representatives are meeting with farmers to provide them with training on the use of other methods instead of setting fires in the fields and to raise awareness about air pollution caused by these fires. Farmers are also being provided with written material in the form of leaflets," says one district officer.
The department report claims that 286,209 farmers were trained in 1,637 training sessions as of November 2.
Dr Waqas Ahmed, a senior official of the agriculture department in Kasur district, also says the federal government has launched a 'National Plan for the Promotion of Rice Production' this year at a cost of 6.5 billion rupees. Under this program, according to him, farmers are being provided machines at a discounted rent to destroy the crop residue so that they do not have to burn the fields.
Hafizabad's assistant commissioner revenue, Adnan Irshad, makes a similar claim. He say Punjab's provincial government has imported seven large chopper/shredder machines in Hafizabad district this year to prevent farmers from burning the rice residue. These machines cannot uproot the stumps of the crop but can destroy its stalks and are "being rented to farmers at discounted rates".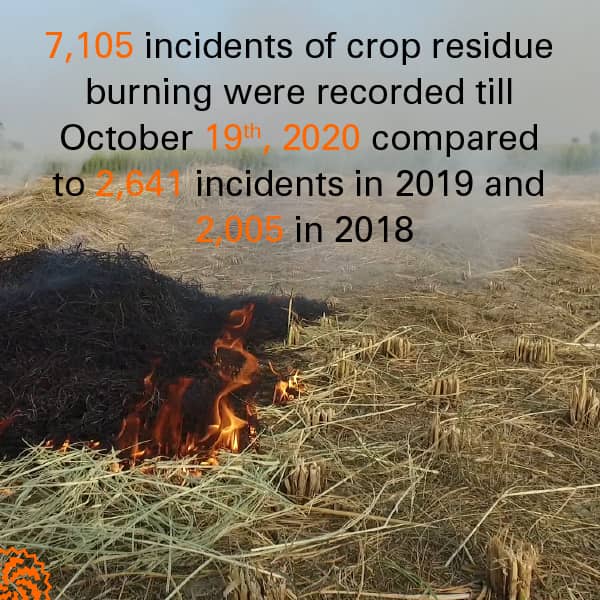 Similarly, a recent government press release states the Punjab government would provide 143 chopper/shredder machines and the same number of happy seeder machines to farmers at an 80 percent discounted rent as compared to market rates. These machines, together, cut the rice stalk, mix it in the field and also sow wheat in it.
On the other hand, however, farmers says they do not have time to procure this government machinery, a process which often involves money and influence, because they only have just two weeks between harvesting rice and sowing wheat.
Another very important point in this regard is that Punjab cultivates rice on about 4.6 million acres every year but the 286 machines promised by the government will be able to handle only 100,000 acres at the rate of one hour per acre in fifteen days -- even if they work 24 hours a day.
In spite of the importing these machines and putting them to work day and night, therefore, farmers on the remaining 4.5 million acres have no choice but to burn the stalks and roots.
The fact is that these machines have been imported mostly on paper. Although the government has imported a few chopper/shredder machines, the rest have not yet reached Pakistan. Similarly, the production of happy seeder -- which will be made mostly in Pakistan -- is not yet complete.
Nazir Ahmed, 80, has seen this difference between the government claims and the ground realities many times in his life. He has been cultivating ten acres of land in Sheikhupura district for the last six decades and does not trust the government's words at all. "Neither any representative of the agriculture department has come to us nor do we know of any scheme under which we will be provided machines to dispose of crop residue at a discounted rate," he says.
Amjad Ali, a farmer from Narowal district, has a similar complaint. "Neither do people from the agriculture department come to us nor do we have any alternative sources to destroy the rice stubble," he tells Sujag.
According to him, even a simple harvester can cost between 2.5 million to 3 million rupees so it is not possible for a farmer like him -- who owns 20 acres of land -- to buy these machines. "Even before renting them, farmers with much less land than me will think twice. The machines' rent may increase their cost of crop production beyond their financial resources."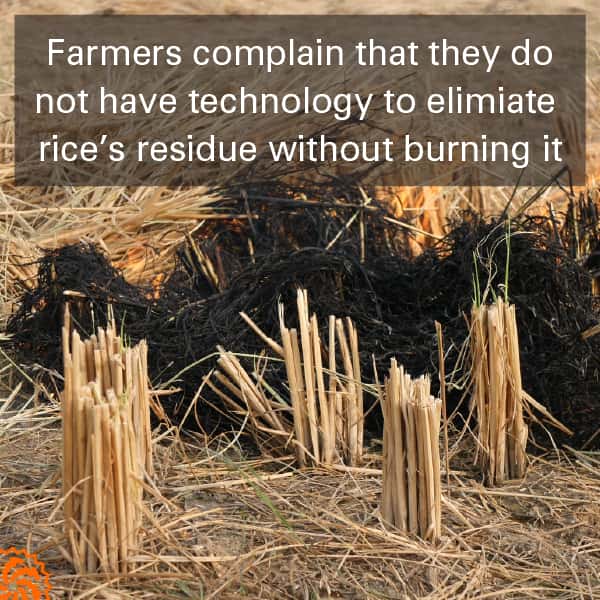 Sultan Ahmed Bhatti, a farmer living near the town of Sukheki Mandi in Hafizabad district, is fed up with the non-availability of the government-promised farm machinery. He, therefore, has designed a couple of machines himself and modified some other imported implements to suit the local needs.
He says the price of machines and their rent can be reduced only if they are manufactured within Pakistan. But the kind of technical skills and technology this requires, according to him, is not available with any government department. "Therefore, when the government last tried to make happy seeders under the name of Pak Seeders, it failed."
People who make agricultural implements locally, like Shabbir Ahmed, too, are not ready to work with the government. He and his ancestors have been making agricultural implements in Hafizabad district since 1962-63. His company, Kelani Agricultural Industries, is known for its excellent quality. "In the past, we used to manufacture machines for farmers at a discounted price under an agreement with the government but we were always paid seven or eight months late and even that after various unnecessary deductions,' he says. "So we ended this agreement."
Whatever farmers and agricultural implements manufacturers say, all is well for Director General Anjum Ali Buttar stationed at the Punjab Agriculture Department's head office in Lahore. He insists that no case has been registered against any farmers for setting fire to fields anywhere in Punjab but at the same time he blames farmers for not listening to the government. "Wherever farmers have to pick rice to grow vegetables, they will burn the rice residue no matter what the government does," he states.
He also claims that "our situation is much better than India's".
What is the situation across the border?
When the rice crop's residue began to burn in October in Indian Punjab, fields caught fire three times more than they did last year. One reason for this is that the recent rice crop was sown on more land than before but the agriculture department officials say, even given the larger area under the crop, the incidents of residue burning are far higher this year than they were before.
Official figures confirm this trend: 7,105 incidents of crop residue burning were recorded as of October 19 -- compared to 2,641 incidents in 2019 and 2005 in 2018.
Officials also claim that many village panchayats have passed resolutions against the burning of the crop residue but these resolutions appear to be ineffective on the ground. In Mansa district, for example, a village panchayat has passed a resolution against the residue burning and is trying to prevent such incidents in its own village but panchayat members say small and economically weak farmers cannot be forced to not burn their residue.
The government's other efforts also do not seem to bear fruit. For instance, the government of Indian Punjab is providing 50 percent subsidy to farmers on the purchase of machinery required for the disposal of the residues. So far, 11,000 machines have been procured by farmers under this scheme. The government has also set up about 17,000 special centers where low-income and economically weaker farmers can rent these machines for free while medium and large farmers are being charged 80 per cent less than the market rate.
The trend of burning crops, however, is still on the rise.
Also Read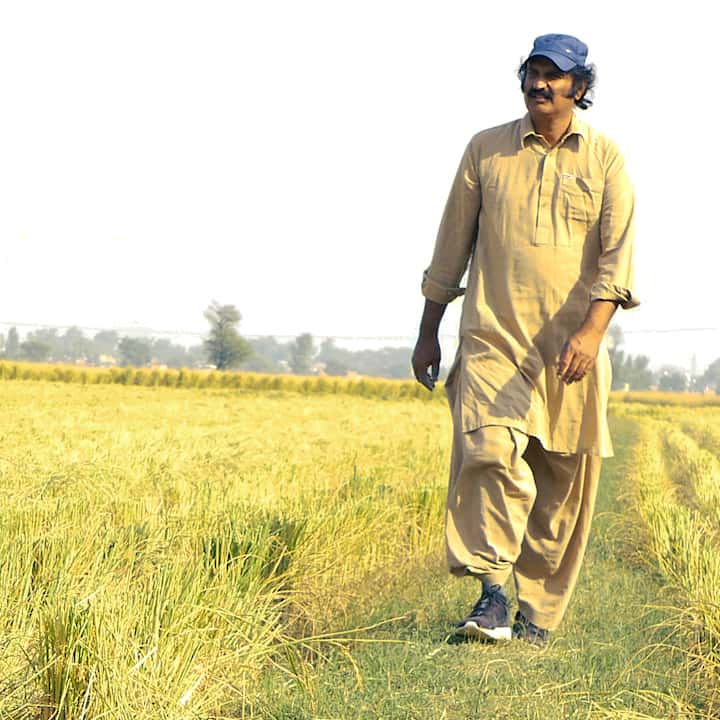 How to handle rice residue in central Punjab: A farmer's self-devised method to avoid farm fires
Explaining this, many small farmers say that although the government has waived the rent of machines, they still need tractors to use them in the fields for which they have to pay 1,000 (Indian rupees) per hour -- including on the supply of diesel.
Jarnail Singh, a farmer from a village in Bathinda district, says: "Even the machines being provided without rent are of no use to us because we still need tractors to use them but we cannot pay the rent to hire a tractor. The supply of machinery by the government, therefore, is of no use to us."
Manmohan Kalia, joint director of the provincial agriculture department, acknowledges that "many farmers are still burning their crops despite the machines provided by the government". He, however, also claims "about 60 percent of farmers in (Indian) Punjab are willing to destroy the rice's residues in other ways than burning them."
But hundreds of thousands of burning fields refute his claim.
Mahendra Singh, a farmer from Bathinda, says the only solution to the problem is that the government give them support in cash. "If the government provides us with 200 (Indian) rupees for removing 200 kilogram of rice stubble or 4000 (Indian) rupees for removing it from one acre then we can get rid of the residue without setting fire to it.
But the Indian government has no intention of paying farmers in cash.
Note: Neil Kaml from Indian Punjab, Fatima Razzaq from Lahore and Afrasiab Nizami from Depalpur have contributed reporting to this story.
This report was first published by Lok Sujag on 15 Nov 2020, on its old website.