Shehnaz Cornell cannot get a divorce because her religion does not allow that. And she often cannot get work as her prospective employers want her to convert from Christianity to Islam.
She was married off when she was 18 years old. Her husband, then aged 35, was always suspicious of her character and would frequently punish her for thing as small as talking to his own nephews. She was routinely beaten on such pretexts as being younger than him and not serving the right food at the right time.
"On one Easter," she says, "I was waiting for him at home. When he did not come home I went to the church with my in-laws. He came back at night and beat me up for having gone to the church without him." He then turned her out of the house.
Shehnaz lives alone in an old, shabby, two-room house in Bahar Colony, a mainly Christian neighborhood near Model Town, Lahore. She has worked as a maid in the recent past, but is now jobless. For many months, she has been surviving solely on the generosity of her close relatives.
"I can only find work at Christian households because Muslim families do not employ Christians for work in the kitchen" she says. "Now even Christian households are not employing domestic help because of the coronavirus pandemic."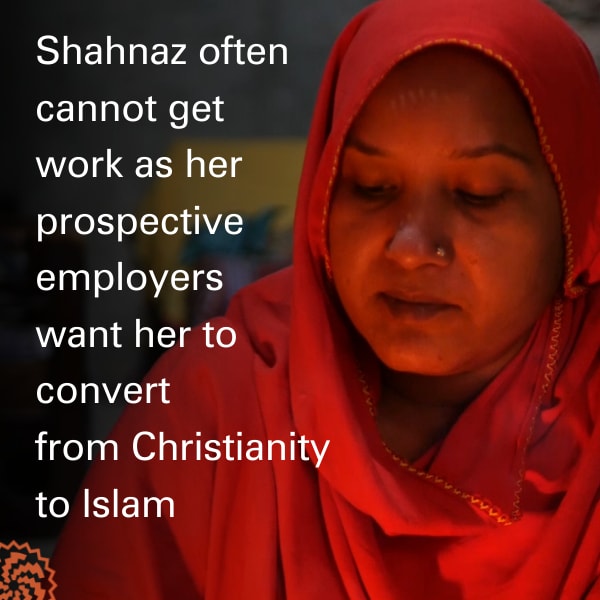 She also narrates how a Muslim family with which she worked asked her to convert to Islam if she wanted a better life. "The husband of the household said that I could become a Muslim and marry his uncle," she says and insists that "I will not change my religion even if it means living in continued poverty."
The cycle of violence
When Shehnaz did not get pregnant several years after her marriage, the physical violence she was facing turned uglier. "My husband would hit me with anything that his eyes fell on – sticks, washing bat, rolling pin – and would hit me anywhere. Once he twisted my arm and it broke," she tells Sujag.
Despite the fact that the doctors said that she could get pregnant after a minor surgery, she could not afford to spend money on herself as she needed to provide for the household expenses. "All my income would go into paying rent, buying food and getting medicine," she says.
Her husband would often disappear for months, leaving her alone to sustain herself. "He would return on his own will, live for some months with me and leave again. He stopped giving me any money long ago," she says.
In July 2020, when Shehnaz lost her job because of the coronavirus lockdown, the cycle of abuse got worse and her husband left their home again. She has not heard from him since and does not know when he will return, if at all.
"He only comes to me with more liabilities and to inflict more violence on me. I want to get out of this relationship," she says.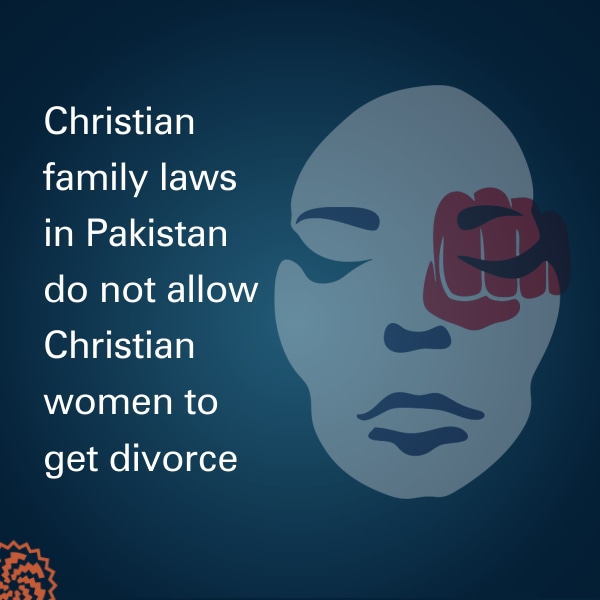 Despite having borne the torture for years, Shehnaz cannot get out of her toxic marriage as divorce is not allowed under the Christian family laws prevalent in Pakistan. She has filed for a divorce in a court of law as she thinks that she does not need a husband who cannot provide for her and only comes to her when it is convenient for him.
Talking to Sujag about the fact that it is impossible for a Christian woman in Pakistan to get a divorce, former Bishop of the Church of Pakistan, Dr. Alexander John Malik says that Christian marriage laws in the country do not allow that.
"Many times, women are married off and later their families come to know that their husbands are either drug addicts or alcoholics or are simply not good matches for their girls," he says. "There is no relief available to these women under our law so they cannot come out of these toxic situations."
Bishop Malik says that the Christian Marriage Act has been in place since 1872. "It has been 150 years that it has not been updated," he adds and emphasizes the need to reform it.
This report was first published by Lok Sujag on 14 Jan 2021, on its old website.