When twelve-year-old Shukoor suddenly fell ill, his parents gave him traditional medicine (herbal remedy) available at home, but it didn't work. During the night, he started experiencing stomach pain and vomiting. Concerned for their son's health, Shukoor's father, Mohammad Khair, became worried and immediately took him to the medical centre in Aranji, located 25 kilometres away.
Mohammad Khair narrates that on the way, there was a severe flood in the Puralli River, which forced them to turn back. Shukoor remained restless and in pain throughout the night. He passed away the next morning.
This incident occurred on July 1. After Shukoor's son's death, Mohammad Khair came to know that the disease that inflicted his son was Cholera, and this epidemic had spread throughout the entire village.
Thirty-seven-year-old Mohammad Khair resides in the village of Hamnar, located in Tehsil Wadh, District Khuzdar. This area is approximately 60 kilometres from the city of Wadh and around 80 kilometres from Khuzdar.
After the outbreak of Cholera, the health department has declared an emergency in Khuzdar. Dr Noor Muhammad Qazi, the Health Director-General, states that complaints of Cholera could be reported from other areas as well; therefore, all hospitals in the entire district have been put on alert.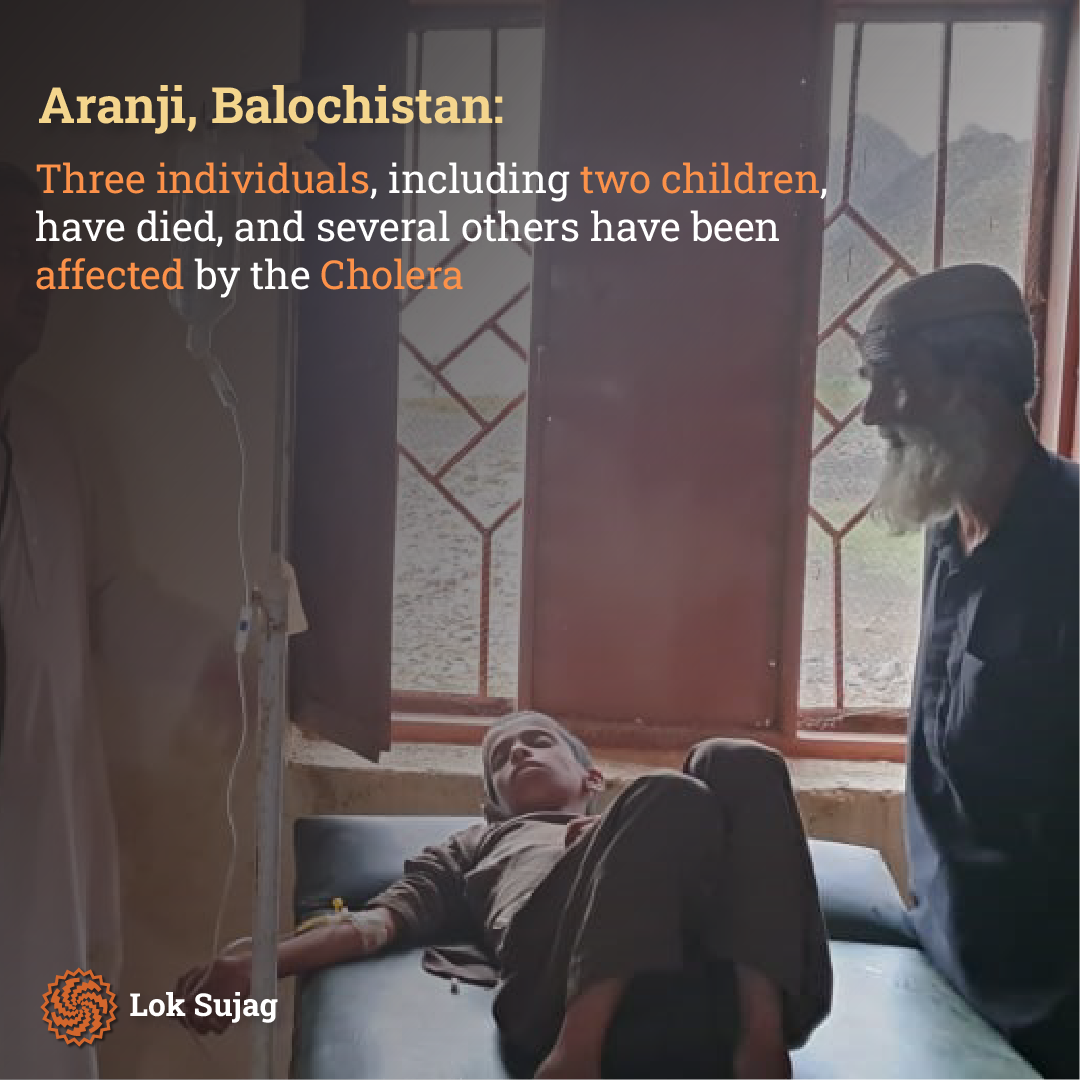 On July 7, the health department sent medical teams to the affected areas from Khuzdar. On July 8, teams were also dispatched from Quetta and Lasbela.
In this regard, a twenty-bed camp has been set up at the Basic Health Center in Aranji, where medical staff with medicines have been deployed.
Social worker Gul Ahmed explains that it was only when the uproar about the Cholera epidemic began on social media that the authorities took notice. During this one week, three people, including two children, had already died, and dozens were affected by this epidemic in Aranji, Harnai, and other areas.
Aranji and the nearby villages have been hit hard by the epidemic, where hundreds of people reside.
The affected villages are located 60 to 80 kilometres away from Khuzdar city. This challenging and remote hilly region lacks basic amenities such as internet, electricity, communication systems, clean water, education, and proper roads.
Big vehicles can be used for travel here. However, some places are inaccessible for these vehicles, and local people have to cover distances on foot, donkeys, or on camels.
In Aranji, there is a basic health centre, but there is no appointed doctor.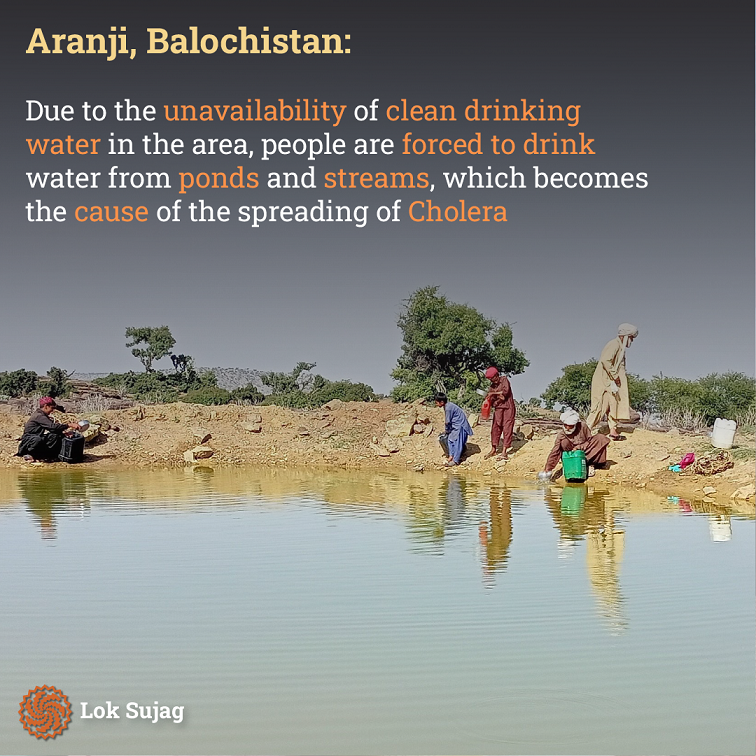 Mohammad Khair says that there is no medical facility in their village, Harnai. When his son was on his deathbed, they kept using traditional remedies. To reach the Aranji Hospital, they have to travel miles on foot or on donkeys. The situation is the same even during pregnancy-related issues.
Gul Ahmed also reveals that due to the unavailability of clean water in the area, people here are compelled to drink from ponds and streams. Consequently, waterborne diseases are common, which this is also the reason behind the outbreak of Cholera.
District Health Officer of Khadadar, Bashir Ahmed Banglazi, confirms that initial investigations indicate the use of contaminated water as the cause of the Cholera outbreak.
He mentioned that stomach pain, diarrhoea, and vomiting are the symptoms of Cholera. However, now the situation of this epidemic has been brought under control to a considerable extent, and blood samples of suspected patients and water samples from the area have been sent to the laboratory for testing.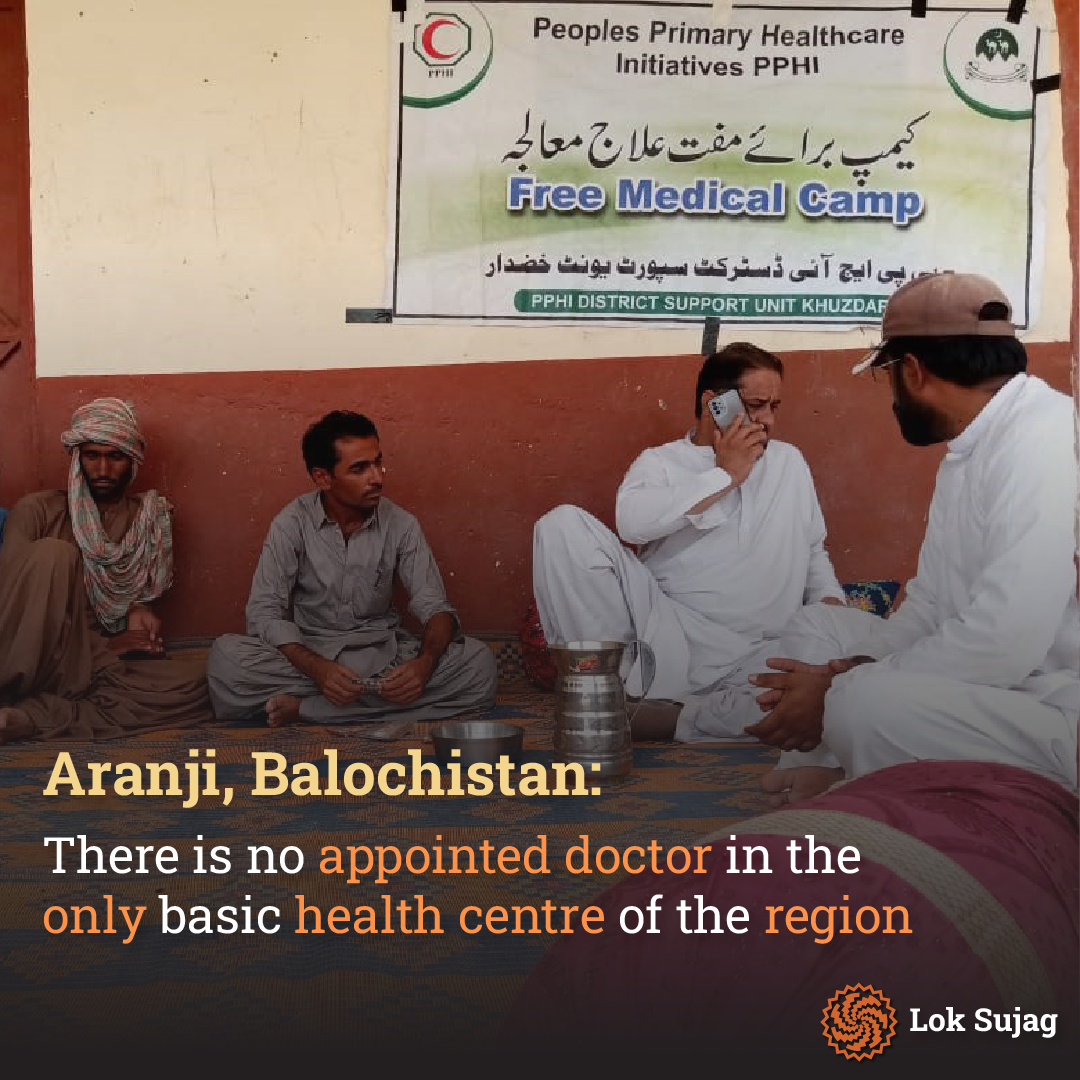 Dr Noor Muhammad Qazi, the Director-General of Health in Balochistan, informs LokSujag that there is an emergency in hospitals in Khadadar. As a result, Dr Lal Bukhsh, who had refused to perform duty in the affected area, has been dismissed from his position.
He mentions that further action is also being taken against three other doctors. Chief Medical Officer Dr Ghulam Sarwar, Senior Medical Officers Dr Ahmed Ali and Dr Abdul Wahab were also given written orders to report for emergency duty in Aranji, but they did not comply with the instructions.
According to the Director-General, specialised doctors, public health specialists, and paramedical staff are part of the teams working to control the outbreak. To stay updated on the latest developments regarding the epidemic and to facilitate communication between teams, a control room has been established in Quetta.
Also Read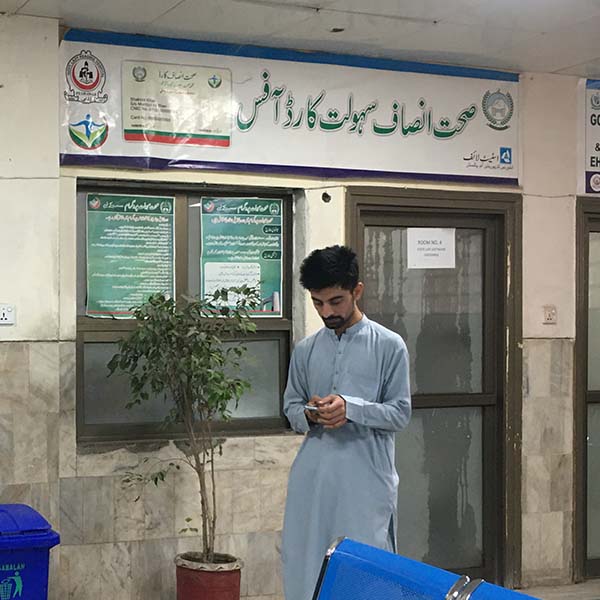 Report card: How the government-funded health insurance scheme is not working for many across Punjab
The District Health Officer (DHO) mentions that medical teams faced significant challenges in reaching remote and affected areas for several days. Due to flooding in the mountainous stream "Purali," access became difficult. When water levels receded, medical personnel and medicines were transported to the affected areas on motorcycles, donkeys, and camels.
The District Health Officer (DHO), Khuzdar, also reached Aranji and set up a medical camp in a mosque in addition to the health centre. DHO Bashir Ahmed confirms that more than 60 patients were treated in the affected areas of Kali Kabad Chot, Kali Doshi Abadar, and Kali Hamnar. He did not dispute the reported deaths.
Gul Mohammad mentions that only emergency measures have been taken in the affected areas. Who will inquire about the regions located three hundred kilometres away from the provincial capital after the epidemic?
He has demanded that steps be taken to provide clean water and healthcare facilities here so that people's difficulties can be reduced.