One night when Ali Raza was going to bed in his prison barrack, he saw a 15-year-old inmate trying to reach a ventilator sill high up on the wall – as if he was trying to get out of jail. A closer look revealed to Raza that he was, in fact, tying himself to the ventilator's bars with a piece of cloth so that he did not fall down from the sill while sleeping.
This, indeed, was the young prisoner's ploy to protect himself from a possible sexual assault at night.
Raza, then 16, was imprisoned in the children's ward of Sheikhupura District Jail on the charge of killing his paternal uncle. Looking at the child tied to the vent, he cried all that night.
Almost three years have passed since that incident but it is as fresh in his memory as if it happened only yesterday.
A resident of Mananwala town in Nankana Sahib district of central Punjab, Raza has spent several months in jail in two different cases. On a September afternoon this year, he is sitting at a grain dealer's shop in his hometown, recalling the memories of his incarceration.
He is dressed in a light brown shalwar kameez, with his shirt front open as if he has never buttoned it. His tired red eyes look like those of a drug addict.
Raza says children in prisons are exploited by older prisoners in every possible way. They are deployed to do a variety of menial tasks, ranging from mowing lawns and cleaning sewers and toilets to moving drugs from one place to another within jail. And then they are also ordered to satisfy the sexual desires of adult inmates.
As a pre-emptive measure against a possible sexual assault, he says, many child prisoners do not sleep on their cots. They rather look for safer places where no one imagines them to be sleeping.
Despite these precautions, he remarks, only those juvenile prisoners remain safe from sexual abuse who are either influential or whose relatives or acquaintances are also in jail. "If a child comes out of a prison and claims that he has not been sexually abused, I can say for sure that he is lying," he says.
Muhammad Shafiq, a middle-aged man sitting in the same shop, endorses what Raza says. He has served time in a prison for three months in 2007 and says the jail manual clearly states that adult inmates should not be allowed under any circumstances to enter the ward allocated to children under the age of 18. In practice, however, "several prisoners enter the children's ward at night and no one stops them."
Swimming against the tide
Anjum Iqbal, a resident of Lahore, did his bachelors from a public-sector university and started teaching. Later he passed the provincial competitive examination and was posted as assistant superintendent at Mandi Bahauddin District Jail in August 2014. (A few months afterwards, he was transferred to his hometown Lahore).
On the very first night of his job as a jailer, all his intellectual ideals regarding crime and punishment dashed to the ground. "I learned for the first time that there is a marked difference between what we read in books and what happens in reality," he says.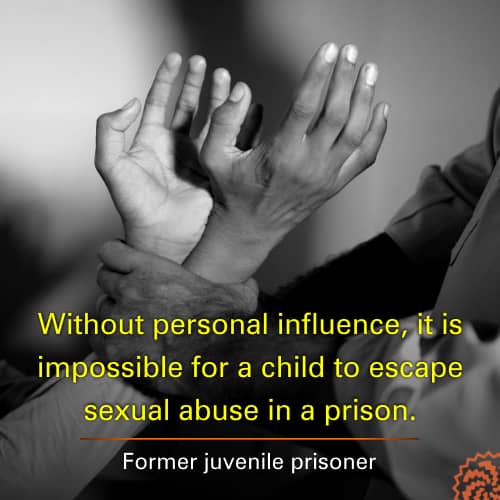 The next day, during his first-ever visit of the jail, his experienced colleagues advised him that he must "learn how to swim but simultaneously he should develop skills to avoid the crocodiles". In other words, it was important for him to have a command over prison rules and regulations but, at the same time, he would have to make sure that their implementation did not earn him the ire of influential prisoners and his own superiors.
The prison head also gave Iqbal a useful tip: "If something goes wrong, I will blame it on you and you can blame it on me."
It did not take him long after his posting to reach the conclusion that "it was next to impossible for child prisoners to avoid sexual abuse." This, according to him, is mainly because 90 per cent of them are incarcerated in general jails which are over-crowded with adult prisoners. (Punjab government's record shows that only two out of 41 jails in the province are not over-crowded.)
He says the strength of jail staff is so low in comparison with the number of prisoners that it is next to impossible for jail administration to implement any rules. Under these circumstances, he says, sexual tendencies of every jail inmate cannot be monitored and no mechanism can be developed to protect vulnerable prisoners from sexual assault either by influential prisoners or by prison staff.
Even when jailers are aware of the sexual leanings of inmates, the prisoners who subject other prisoners -- particularly child prisoners -- to sexual abuse are never put under any special supervision, he says. He blames this on both inadequate human resource and administrative deficiencies. Even when it becomes unavoidable to hold a sex offender accountable, (instead of putting him on trial in a court of law) jail administration handles his case on its own (mostly by subjecting him to torture) in order to hush it up.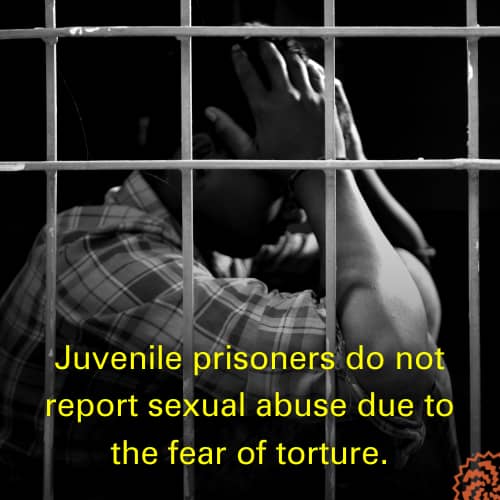 Narrating a similar incident, Iqbal says that, a few weeks ahead of his posting in Mandi Bahauddin Jail, a prison employee was caught while he was sexually abusing an adult prisoner. But, instead of taking some serious disciplinary action against him, he was simply transferred to another prison.
Iqbal also came across a number of incidents in which prison officials were also involved in harassing child prisoners. They were known by all and sundry "to have child prisoners as their captive sex partners".
He believes that the parents of imprisoned children are also aware of these risks in most cases but they cannot do anything about them due to a lack of financial resources. To substantiate this, he talks about an incident which occurred in 2016 when a teenager boy, Ibrahim, belonging to an influential family, landed in a jail after he had killed two youngsters by hitting their motorcycle with his speeding car on The Mall in Lahore. When the court sent him to a jail on judicial custody, his influential family ensured that he was either kept in the jail hospital or a jail official was always there to keep an eye on him in his barrack. They knew that, otherwise, they would not be able to protect him from a sexual assault.
Fed up with all these flaws in jail management, Iqbal finally left his job in March 2017 and switched back to teaching. (To protect him from the likely consequences of his revelations, his real name has been changed.)
Why the cases of abuse go unreported
Qasim Dad Goraya, personal secretary to the Punjab Inspector General of Prisons, concedes that everyone associated with jails, whether inside them or outside, is aware of the sexual abuse of juvenile prisoners. But, he says, the victims never tell a court or complain to any civil society organization working with jail inmates which is why the perpetrators always go unpunished.
He also acknowledges that the prison department does not have a mechanism in place to determine the nature of complaints by young inmates against prison staff or other inmates. There is also no way of knowing how many of these complaints are forwarded to jail administrations and how many of them are taken up to initiate legal action against the offenders, he says.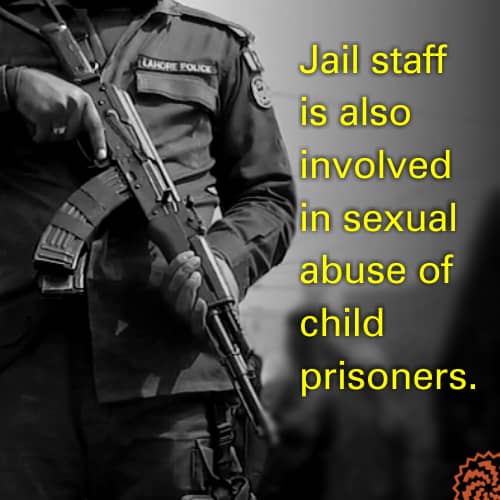 Goraya and a number of other government officials, however, claim that various steps are being taken to improve the living conditions within jails. For instance, they say, the Punjab government has appointed 19 psychologists in prisons across the province since March 2019.
These psychologists have been assigned the task of ensuring the mental and psychological health of prisoners and providing expert advice to those inmates who are suffering from trauma due to oppression or sexual abuse.
Recently, two of these psychologists visited Lahore to attend a conference. Sharing their experiences on its side-lines, they said, on the condition of anonymity, that detaining children of all age groups in the same prison ward creates an informal hierarchy among them. Consequently, older children not only force the younger ones to do their chores, they also abuse them sexually. "It's just like senior boys in a school or college bullying the juniors," one of them said.
They also revealed that most of the child prisoners are jailed on the charges of having committed sex crimes or they have been sexually abused so much before coming to a jail that it becomes a "matter of routine for them."
One of the experts said a majority of imprisoned children hail from working class. So, before landing in jail, "they have either worked as shop assistants or as apprentices with mechanics". Their employers not only "subject them to corporal punishment, they also abuse them sexually."
On the other hand, he says, during his two-year work as a psychologist, "at the most, two jailed children have told me about being sexually abused". Even these two did not lodge an official complaint, he says.
The main reason behind this refusal to register complaints, according to him, is that prison staff applies the same oppressive procedures to children that they use for adult prisoners. Consequently, incarcerated children always risk being tortured physically so, to avoid this, they "do not raise their voices even for the redress of their legitimate grievances."