At 85 years of age, Hatim Khan did not find it easy to leave his home in the mountainous region of Skardu and visit his children living in the plains. That is why he went to his son's home in Lahore on 5th April 2021 after months of being away from him.
While Khan was staying with his son, Covid-19 started infecting their household and his wife, son and some grandchildren all developed the symptoms of the pandemic. He, too, fell sick with similar symptoms but he had to also rush to Islamabad to be with his daughter because she was facing some emergency.
It was in Islamabad that Khan received the news that his Covid test had come out positive. His lungs were already partially functional because, at one point in his life, he was diagnosed with asthma. So, soon after contracting Covid, he started having breathing problems and his blood oxygen saturation fell down from the normal level of 90 or above to just around 60.
Panic-ridden, his family took him to a hospital where he was admitted to a Covid Intensive Care Unit. After receiving medical oxygen through a mask and a cylinder for a few days, his health improved so his family brought him home.
Soon, however, he suffered another bout of low blood oxygen level. This time round his children could not immediately find a hospital where he could get oxygen. All healthcare facilities in the federal capital had only as much oxygen as they could provide to their existing patients. None of them was admitting additional patients.
So, while Khan was fighting for breath, his children were making desperate efforts to find oxygen for him. His daughter-in-law finally called her brother who happens to be the governor of Gilgit-Baltistan region and asked him to help them procure an oxygen cylinder. The governor in turn called Punjab Health Minister Dr Yasmin Rashid who, a day later, called Khan's family and told them that they could get oxygen from a shop in Lahore's walled city.
Khan's condition, in the meanwhile, was worsening. He was already slipping away when the oxygen cylinder finally arrived. On May 2, he breathed his last.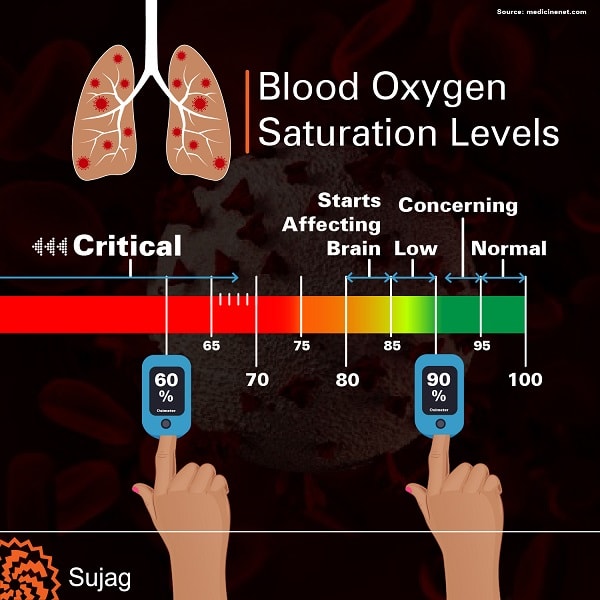 Maqsooda Bibi, too, has suffered a lot because of not receiving oxygen in time.
A resident of Manawan village on the northeastern outskirts of Lahore, she started to have mild fever in late April. Later while she was developing some typical Covid symptoms, she consulted a doctor in her village who gave her medicine to cure the fever. A few days afterwards, she found herself breathing with great difficulty so her daughter rushed her to the emergency department of Lahore's Jinnah Hospital.
It took a single test to determine that Bibi was suffering from Covid-19. Still the hospital management did not admit her in. Her daughter says the doctors informed her that her mother was not in a critical condition and did not require to be put on oxygen supply.
Four days later, Bibi's blood oxygen saturation dropped to a dangerous level. She was brought to Jinnah Hospital again and was admitted immediately to the Covid emergency ward. She, however, continued to breathe with extreme discomfort and was subsequently shifted to the Covid Intensive Care Unit at the same hospital.
She was still there in the second week of May.
Her daughter believes her mother had to go through all this only because she was not given oxygen immediately after she was first diagnosed with Covid.
The doctors at the hospital, on the other hand, say they have no choice but to use the oxygen available with them with extreme caution. They fear that a sudden surge in Covid patients during the ongoing third wave of the pandemic might leave them with insufficient oxygen for all of them. That is why, they say, they are giving it only to patients in critical condition.
Dr Saad Tahir, a senior doctor working in the Covid wards of Jinnah Hospital, says his hospital is receiving more patients who need oxygen – and also more urgently -- than in the earlier waves of the pandemic. Though he says the hospital is facing no shortage of oxygen as of now but that is still a possibility because "oxygen is being used constantly in the Intensive Care Units as well as in emergency wards and also the Covid wards".
Dr Kashif Bashir, the administrative and clinical focal person of Jinnah Hospital, also says the consumption of medical oxygen has doubled at the hospital between early March and the second week of May this year.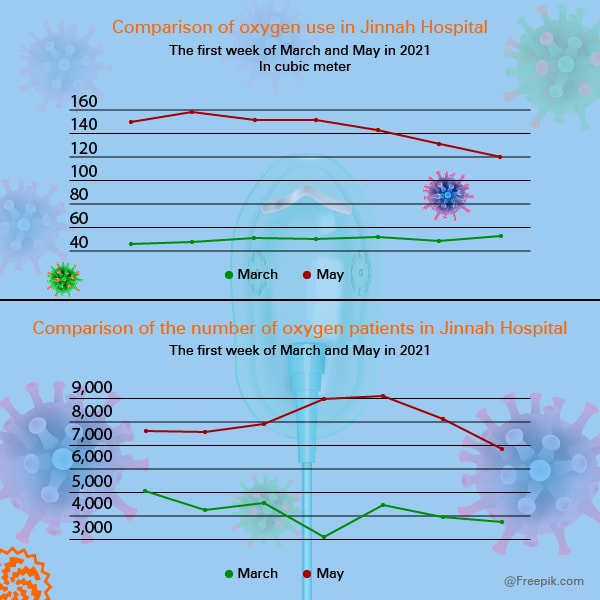 The government data backs that. It shows that Jinnah Hospital is using around six times more medical oxygen during the third wave of Covid as compared to its pre-pandemic usage. It would use 800-900 kilopascals of oxygen every day in normal times but this increased to 1800 kilopascals in the first wave of the pandemic, to 3000 kilopascals in the second wave and to 6000 kilopascals in the third wave.
Accordingly, Bashir says, "the hospital has doubled its oxygen reserves from 10,000 cubic meters to 20,000 cubic meters".
He also admits that the demand for oxygen is still increasing and there could be a crisis if policymakers in the Punjab government do not listen to the complaints being filed by hospital administrators like him. "Implementation of the policies has been way off the mark since the start of Covid," he says, "mainly because of a communication gap between policy makers on the one side and doctors and the public on the other".
Pakistan's oxygen level
Oxygen is primarily used in three sectors in Pakistan. The largest consumer these days is health sector which includes hospitals and pharmaceutical companies. The gas is also used in shipbreaking industry and a large chunk of it is consumed by industries involved in manufacturing steel, pulp, paper, chemicals, glass and petroleum. In Lahore alone, various industries use 1200-1300 oxygen cylinders a day.
Most large-scale industries and hospitals have their own oxygen plants to meet their needs. Ask Associates, a company that specializes in installing oxygen production plants, has installed twelve such plants at various industries just in 2020.
The largest producers of oxygen in Pakistan are Ghani Gas, Bhawani Gas, Sharif Oxygen, Agha Gas, Pakistan Oxygen Limited and Multan Chemicals. Another company, Fine Gas, used to produce 100,000 tons of oxygen annually but it has dismantled its production machinery recently.
Asad Umar, federal minister of planning, development and special initiatives, says the government has plans to import 6000 tons of oxygen, 5000 oxygen cylinders and 20 oxygen tanks to ensure an uninterrupted supply of the gas to hospitals and patients. The government has also barred the supply of oxygen to those industries which do not have their own oxygen plants.
Also Read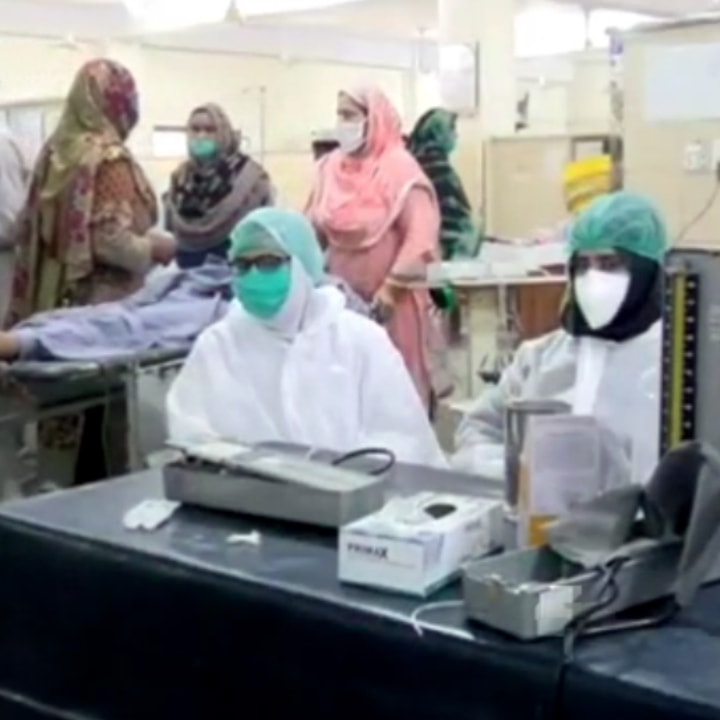 Testing times: How low number and suspect quality of corona tests are affecting the pandemic cure
These measures would not be needed earlier because, before the pandemic, Pakistan produced more oxygen than it consumed. Umar claims that Pakistan's oxygen production was 487 tons daily in 2020 (which, according to him, has been increased to 725 tons daily since then).
On the other hand, Pakistan's usual consumption of medical oxygen in non-Covid times was much less than many other countries. Take Vietnam, for example, which has a population of 97 million – around 45 per cent of Pakistan's population of 207 million. It consumed 250 tons of medical oxygen every day before Covid struck. In comparison, Pakistan consumed 100-110 tons of medical oxygen daily, says Karina Kocha, business intelligence manager at Gas World, a business consultancy firm based in the United Kingdom. This consumption has now increased to 300-500 tons daily, he says.
Since the arrival of Covid's third wave, many questions have arisen about Pakistan's capacity to supply medical oxygen to all the prospective patients. These questions were further underscored by an April 19 statement by Umar, who also heads the National Command Operation Center (NCOC) which oversees Covid-related policies at the federal level. He said Pakistan might face a medical oxygen shortage during the pandemic's third wave because the number of Covid patients being hospitalized now was 30 percent higher than it was in June 2020. In a later statement, he said the number of Covid patients who needed oxygen during the third wave was 57 percent higher than what it was in June last year.
These fears over a potential oxygen shortage have resulted in a dramatic increase in its demand. Not only hospitals and pharmaceutical companies are looking for more oxygen but the general public too is trying to access it more than it did before.
This increased demand, indeed, is easily discernible at every large hospital handling Covid patients. For example, daily oxygen usage at Lahore's General Hospital has increased from 1200-1400 cubic meters before the Covid outbreak to 2000-2200 cubic meters in the third wave. Similarly, the current daily oxygen usage at Lahore's Services Hospital is 9000-10,000 cubic meters whereas it was 3200-4500 cubic meters before Covid.
Consequently, the prices of medical oxygen, too, have increased.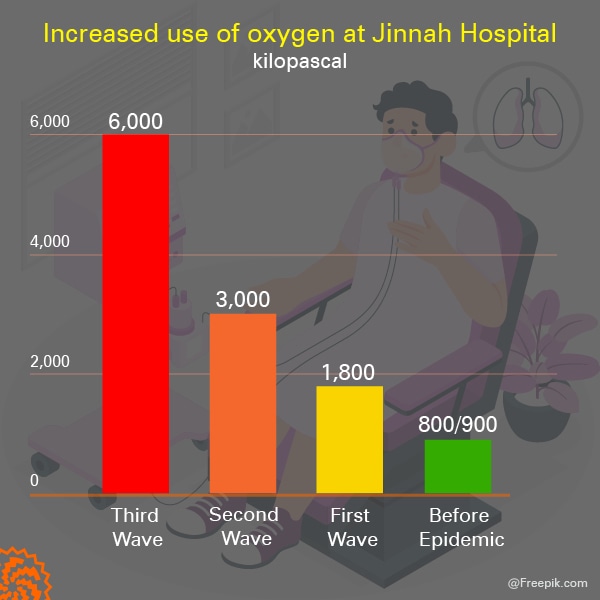 Though hospitals in general are not yet facing oxygen shortage but logistics are certainly coming in the way of its supply in some areas.
Mohammad Rizwan (not his real name) is an oxygen distributor in Lahore. He confirms the price hike and says: "Oxygen was being sold at 40-45 rupees per cubic meter before Covid but now its price has reached 150 rupees per cubic meter." He believes that this rise has been caused by the fact that some people are buying and hoarding oxygen cylinders in order to create their artificial shortage. They then sell these cylinders at higher rates, he says.
Tahir Mahmood, general manager of an oxygen-producing company, also believes the prices have increased only at points of sale. If oxygen producers and distributors had raised the prices then hospitals would also be complaining about oxygen having become costlier, he argues.
For instance, healthcare facilities in Punjab's remote towns and smaller cities will certainly struggle to keep their oxygen supplies running if the number of Covid patients suddenly increase there. This is mainly because hospitals in these towns and cities do not have a large oxygen storage capacity so they have to rely on a constant supply of oxygen refills arriving from the bigger cities. Any impediments in the transport of these refills can be very dangerous for the patients at these facilities.
Just to cite one example, Muzaffargarh's district hospital needs around a hundred oxygen cylinders a day. If refill for these cylinders does not arrive in time from Multan or Lahore, the patients dependent on them will literally struggle to breathe.
This report was first published by Lok Sujag on 28 May 2021, on its old website.