After being accused of blasphemy, Muhammad Iqbal (fictional name) and his family have been living in anonymity. During this time, one of his sons committed suicide, two sons lost their jobs, one had to leave school, and their relatives disowned them.
After spending over four years in jail, Iqbal was released on bail and now lives in a small house in the Mughalpura area of Lahore. According to Iqbal's wife, Fauzia Bibi, their family's social and economic life has become difficult after this incident. Her husband neither talks to anyone at home nor goes out.
Before this incident, Muhammad Iqbal was a politically active figure in his locality. According to Fauzia Bibi, about five years ago, on the 10th of Muharram, during the recitation of the Holy Quran at their home, her husband mistakenly shared a controversial religious post he had received on his mobile phone.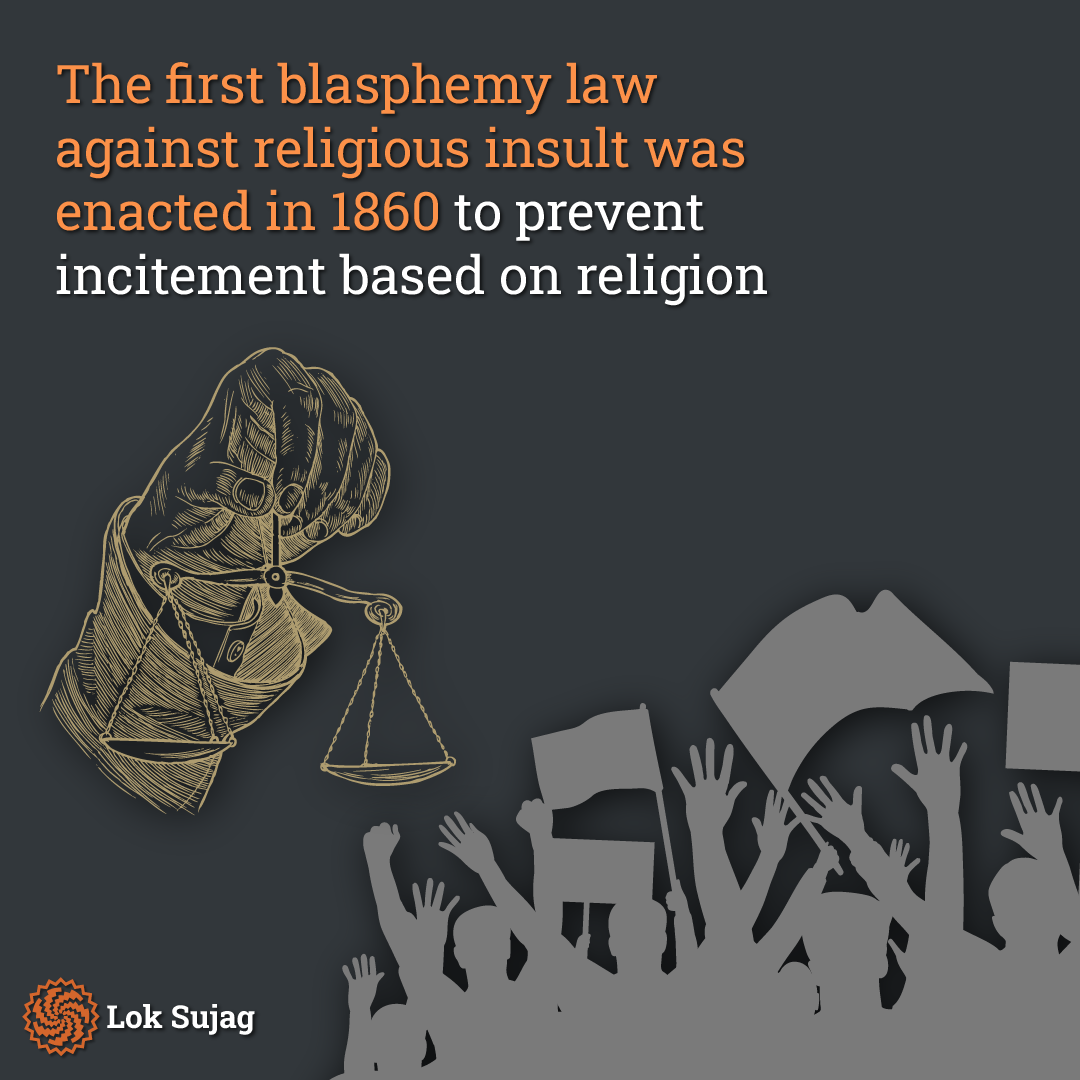 Sometime later, the police arrived at their house, and a crowd had gathered at the door, shouting religious slogans. Seeing the agitated crowd, Iqbal went into hiding.
According to Fauzia Bibi, the blasphemy charges against her husband were rooted in political opposition. The person who filed the blasphemy case against him had personal animosity towards her husband, and they also had bitter exchanges of words.
During Iqbal's period of hiding, this individual sent them a message expressing remorse and seeking forgiveness, acknowledging their innocence. He promised to issue a favourable religious decree (fatwa) in their favour if they were to meet him.
Upon receiving this message, Iqbal met this person, and the police were waiting to arrest him. Fauzia Bibi states that even though her husband was on interim bail, the police detained him for eighteen days before presenting him in the court, in accordance with a High Court order.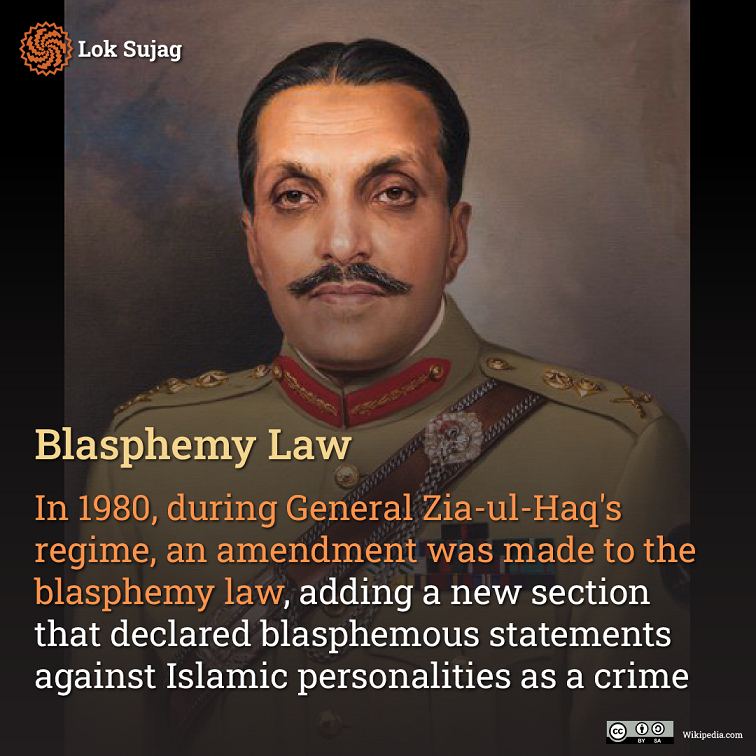 After spending over four years in jail, Iqbal was granted bail, following which their family left the area and relocated to Mugalpura.
Fauzia Bibi says that after this incident, fear and social ostracism severely negatively affected the mental health of their youngest son, who one day took his own life. Their two older sons were working in a company where news of the accusations against their father reached the employer, leading to their dismissal. The youngest son, who was in the eighth grade at the time, left his education due to the hostile behaviour of fellow students following the incident and began working as a labourer.
Fauzia Bibi further explains that the person who had filed the case against her husband had also offered to withdraw the case in exchange for ten lakh rupees, but they did not have the means to pay such a hefty amount. After this incident, Iqbal's family has been entangled in a continuous cycle of court proceedings and faces constant harassment. Fauzia is worried that her husband may be arrested again at any time.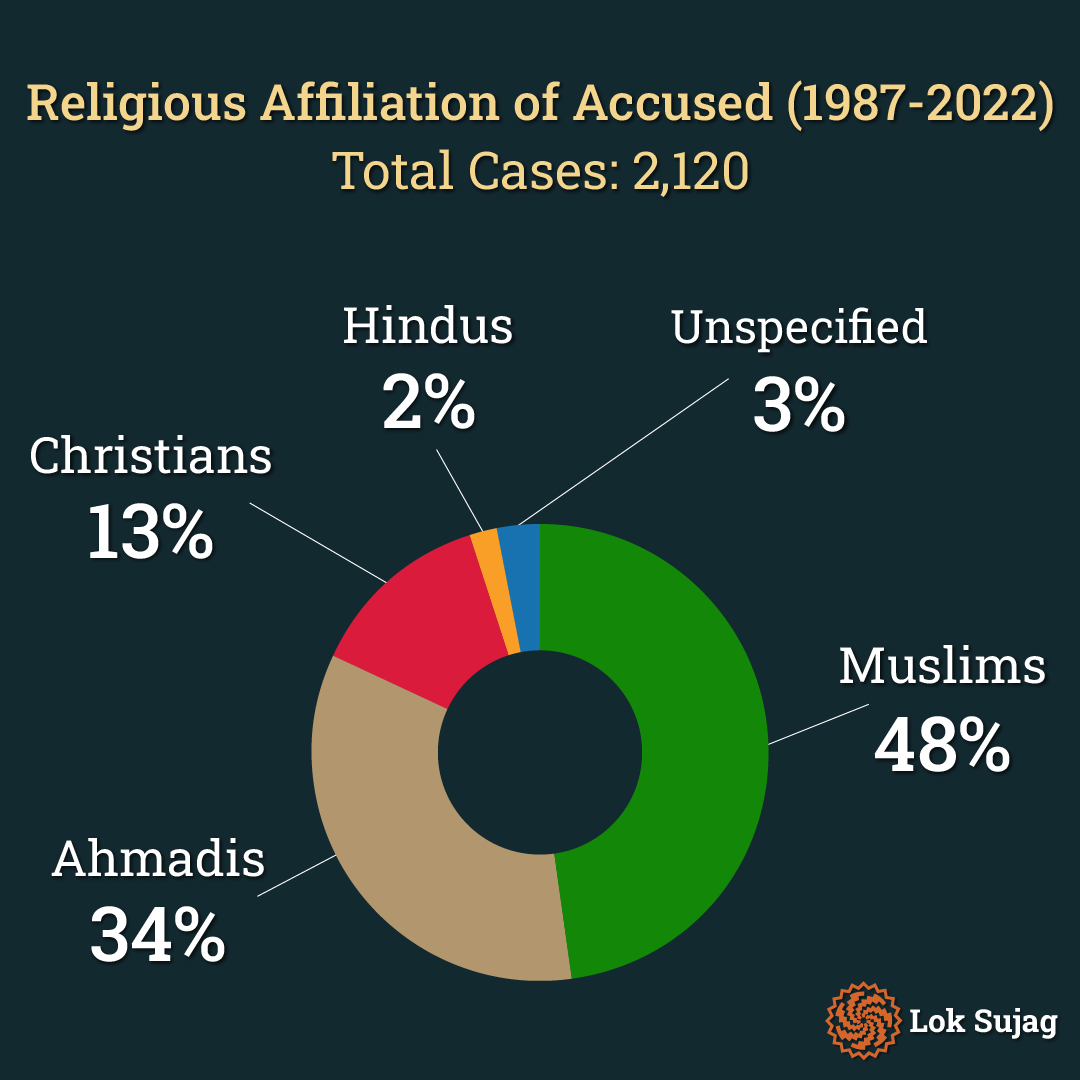 The first legislation against blasphemy was enacted in 1860 to curb religious incitement based on religion. Under this law, offences such as disrupting a religious assembly, unauthorised entry into the cemetery of another religion, insulting someone's religious beliefs, or intentionally desecrating a place of worship or sacred object were deemed crimes. The maximum punishment for such crimes was ten years and a fine.
After the partition of the subcontinent, this law remained in effect in Pakistan. In 1980, during the government of Zia-ul-Haq, a new section was added to this law, making derogatory statements against Islamic personalities a crime. Subsequently, in 1982, blasphemy against the Quran and 1986, blasphemy against the Holy Prophet of Islam were included as offences under this law.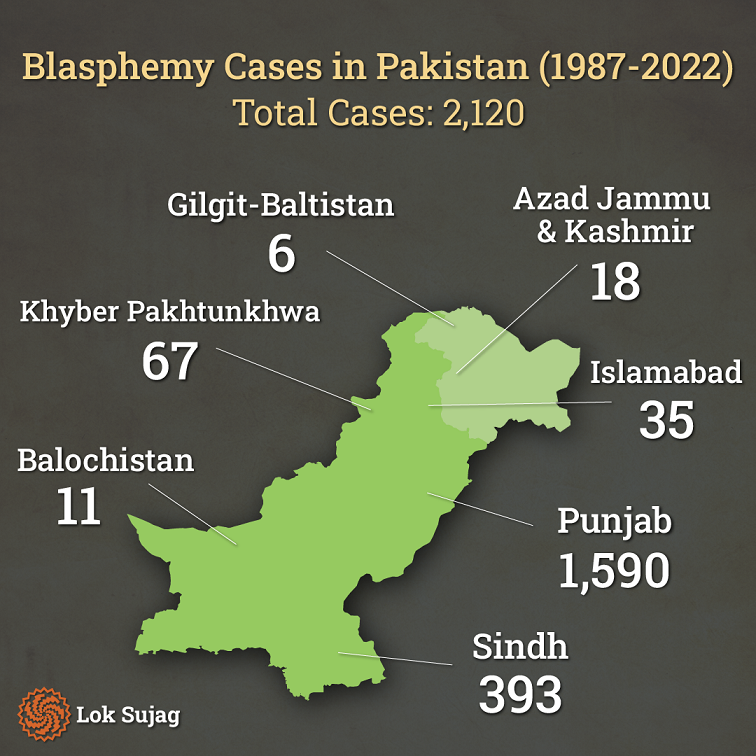 According to the non-governmental organisation Center for Social Justice, from 1987 to 2022, there have been 2,120 blasphemy cases registered in Pakistan. Among these, 1,590 were in Punjab, 393 in Sindh, 67 in Khyber Pakhtunkhwa, 35 in Islamabad, 18 in Azad Jammu and Kashmir, 11 in Balochistan, and 8 in Gilgit-Baltistan.
In the past 35 years, 48 per cent of the individuals accused in such cases are Muslims, 34 per cent are Ahmadis, 13 per cent are Christians, and 2 per cent are Hindus, while 3 per cent have no recorded religious identity.
Until the current year, 236 such cases have been registered. This unusually high number of blasphemy cases prompted the Director of the Center for Social Justice, Peter Jacob, and the Head of the People's Commission for Minority Rights (PSMR), Justice (Retired) Nasira Javed Iqbal, to call on the government to take note of the situation.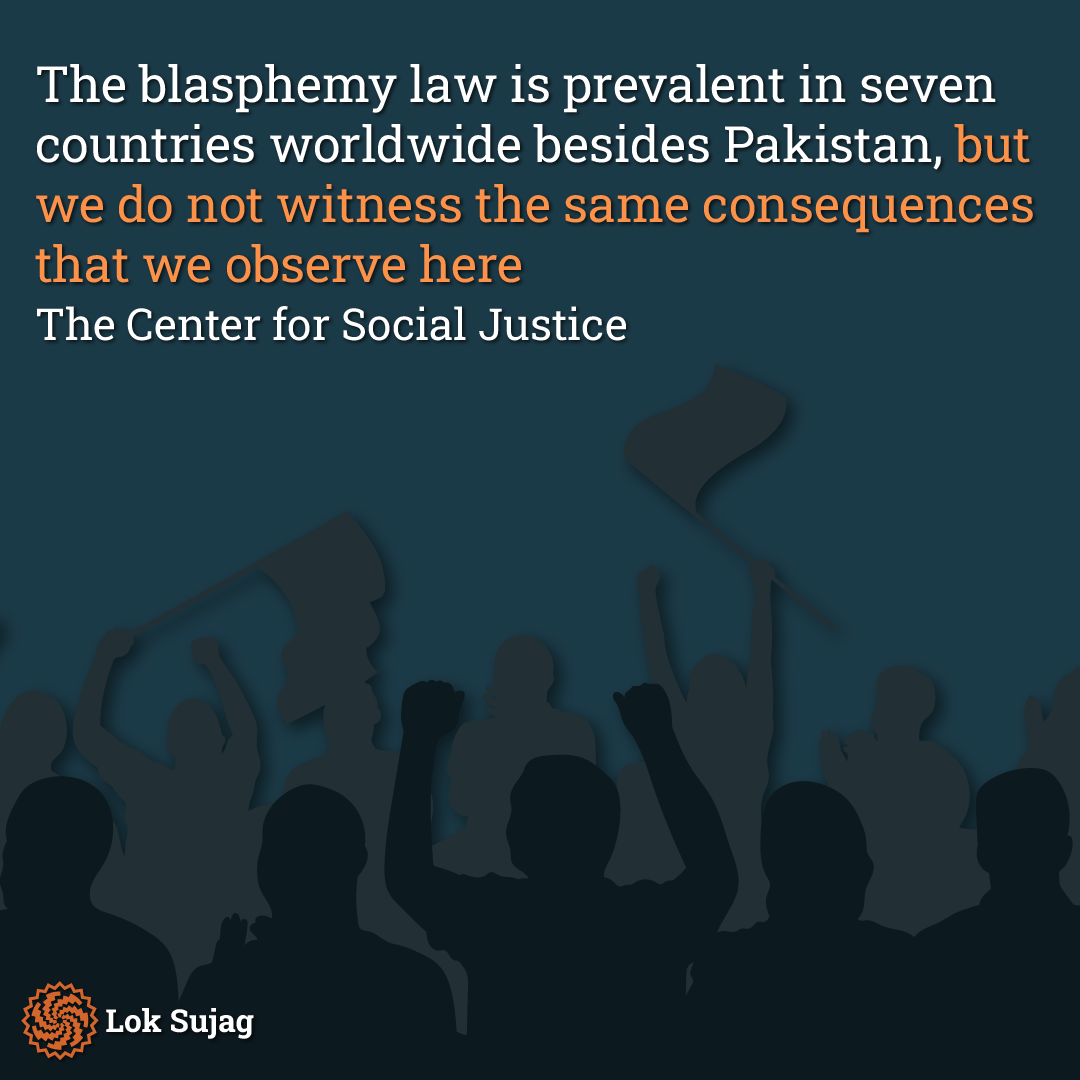 In Gilgit-Baltistan, an individual, Alamgir, after blasphemy cases, faced social ostracism, threats to his life, social isolation, and economic difficulties.
He used to write about social and societal issues in newspapers and criticise the role of state institutions in various matters. However, he was falsely accused of blasphemy for writing a similar article, which led him to go into hiding out of fear for his life.
He stated that after the incident, his home was attacked twice. His children had to leave school, and his financial situation deteriorated due to their concealment and limited activities. This had a direct impact on his family, and due to his uncommitted sin, his family's life came to a dead end.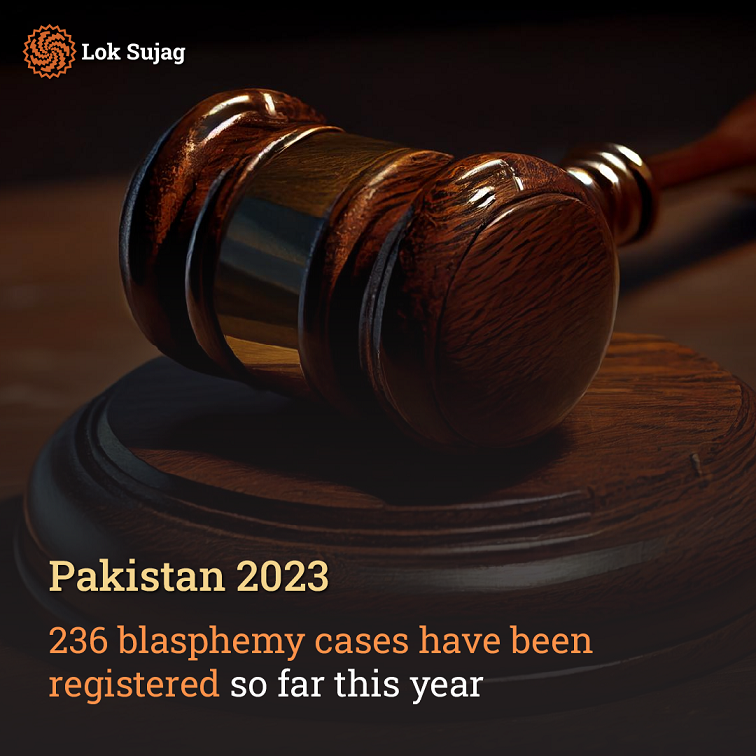 Peter Jacob mentions that blasphemy laws are prevalent in seven countries worldwide, including Pakistan. However, the outcomes we witness here are not seen elsewhere. He emphasises that the standard of evidence required in blasphemy laws is not akin to the principles of justice, which usually demand clear and convincing evidence to prove someone guilty. This law does not specify any burden of proof or provide a clear definition of the crime. Furthermore, the flaws found in the draft of this law were not rectified in the population laws either.
Also Read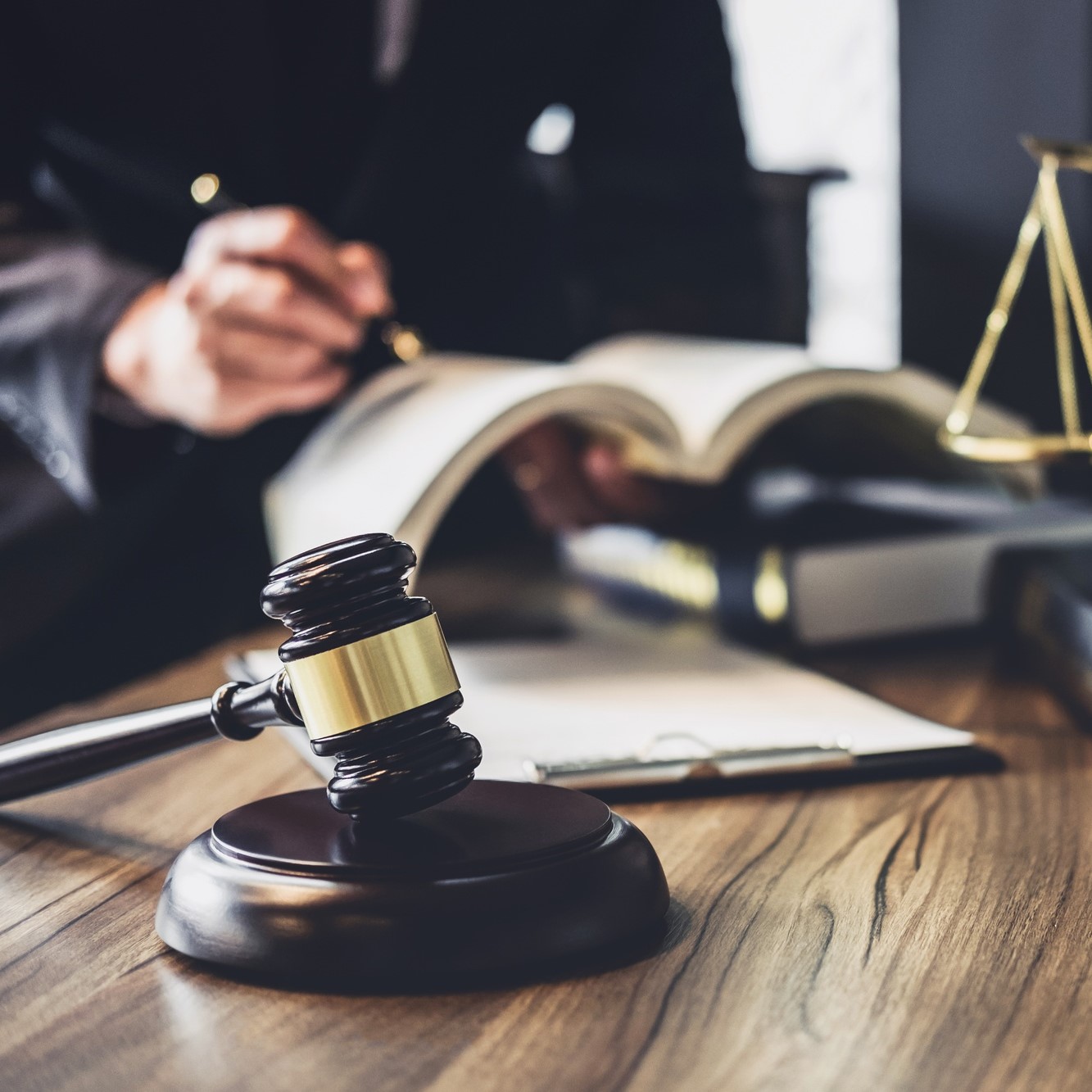 Blasphemy law amendments: A divisive debate and growing concerns in Pakistan
This situation results in that when someone is accused, and an FIR (First Information Report) is registered against them under blasphemy allegations, they often immediately surrender to authorities because they perceive jail as a safer place. We witness daily that accusations of blasphemy lead to violence, including murder, arson of homes, loss of businesses and jobs, and social isolation.
Asad Jamal, a lawyer with extensive experience in handling such cases, points out that after being accused of blasphemy, the accused and their entire families are jeopardised. They face such immense pressure that they may not even be able to appear in court due to fear.
He mentions the case of Junaid Hafeez, who has been imprisoned on blasphemy charges for several years. He explains that in 2015, he had requested witnesses to testify in his favour during a university lecturer's trial, but due to the sensitivity of the case, everyone apologised. Asad Jamal highlights that it also becomes challenging for lawyers to take up the case in such cases.