People working for an academic publishing house, Bentham Science, were told verbally on April 15th, 2022 that they should halt their work "till further notice". Several of them confirm that the order came from Dr Atta ur Rahman, one of Pakistan's most celebrated scientists and educationists.
Only a couple of days earlier, he had vehemently denied having any administrative or financial role in Bentham Science. In a text message sent to me, he stated that he was the editor of only one of its many journals. He insisted in the message that his involvement even with that journal was "purely academic" and included no financial or administrative authority.
The odd thing is that he was, in fact, listed as the Executive Editor of Bentham Science -- the second most important post on its editorial board after the chief editor -- on its website during most of the first half of April 2022. Both Google cache and the Wayback Machine – two digital tools that can retrieve and reveal lost and deleted entries from online records – confirm that.
Bentham Science was founded in 1994 by Rahman and his friend Matthew Honan, an American academic. It is registered as a private business entity at Sharjah Airport International Free (SAIF) Zone, a tax-free area in the United Arab Emirates. Its editorial board includes people from a diverse set of places such as Greece, Germany, India, China, Belarus, Czech Republic, Saudi Arabia, Poland, Mexico, Turkey, Israel, Portugal, Slovakia, Korea, Iran, Australia, France, Spain, United States and United Kingdom. As per the LinkedIn profiles of its 169 employees, 63 of them are from Pakistan alone.
Out of these Pakistani employees, 22 have received their degrees from Karachi University where Rahman works as a professor emeritus. He also started his teaching career from the chemistry department of the same university. Later, he worked as the founding chairman of the federal government's Higher Education Commission (HEC) which emerged in 2002 out of the defunct University Grants Commission. He also served as the chairman of Prime Minister's Task Force on Science and Technology in the outgoing government of Imran Khan.
Rahman has been working simultaneously as the director of International Center for Chemical and Biological Sciences (ICCBS), a research facility based in Karachi University, since long. It comprises of Hussain Ebrahim Jamal Research Institute of Chemistry and Dr Panjwani Center for Molecular Medicine and Drug Research – both of which are run mainly on grants from HEC.
Several people who have worked for Bentham Science say it started its operations from a small room within the premises of Hussain Ebrahim Jamal Research Institute of Chemistry. They also say that many employees of the institute – such as Mehmood Alam, who was then working as the personal assistant to its director Rahman and its junior technical officer Ahmadullah – started working simultaneously on bringing out various journals for Bentham Science as soon as it came into existence. Whether they were paid separately for this additional work is not clear.
It was only in 2000 that Bentham Science moved its operations to a rented apartment in Karachi's Gulistan-e-Jauhar area. In 2002, it shifted to a sprawling set of houses in Zoramin Residency located in Scheme-33 of Gulzar-e-Hijri neighborhood on Karachi's University Road. Those who have worked with it say its offices never had any signboards that showed as to what was happening inside them.
These buildings, though, were not rented for Bentham Science. They could not have been because the publishing house is not registered with any government department in Pakistan. This makes it ineligible to have and run offices within the country. They, indeed, were rented for Information Technology Services, a digital technology firm owned by Rahman's four sons – Jalil-ur-Rahman, Sohail-ur-Rahman, Shakil-ur-Rahman and Obaid-ur-Rahman.
An agreement to cover everything
Information Technology Services was set up when Rahman was federal minister for science and technology in the military government of General Pervez Musharraf. During his ministerial tenure – spread over March 2000 and September 2003 – the government provided many tax exemptions to the companies wishing to do business in the then fledgling digital sector. Information Technology Services came about at the right moment to benefit from those exemptions. And it continues to do so.
More pertinently for this report, Bentham Science and Information Technology Services made an agreement on July 1st, 2003, to work together. The official address of the latter, as mentioned in this agreement, is the same place in Gulzar-e-Hijri where, according to several insiders, the latter carries out its activities.
The agreement says the nature of services to be provided by Information Technology Services to Bentham Science "will include, but not be limited to", the designing and development of software, e-marketing, e-solicitation (sending emails and newsletters to prospective editors, writers and readers), web development, printing, publishing, dispatching and data-storage. It provides Rahman an excuse to deny the existence of Bentham Science in Pakistan. In a text message he sent to me last week, he claims that the publishing house neither has an office in Pakistan nor does it employ anyone here.
But the fact that this agreement was just a cover to run Bentham Science from Pakistan first became apparent through Ahmedullah. Besides being a staff member at the Hussain Ebrahim Jamal Research Institute of Chemistry, he was also employed at Information Technology Services – first as a composer and later, between 2005 and 2011, as the director of its composing department.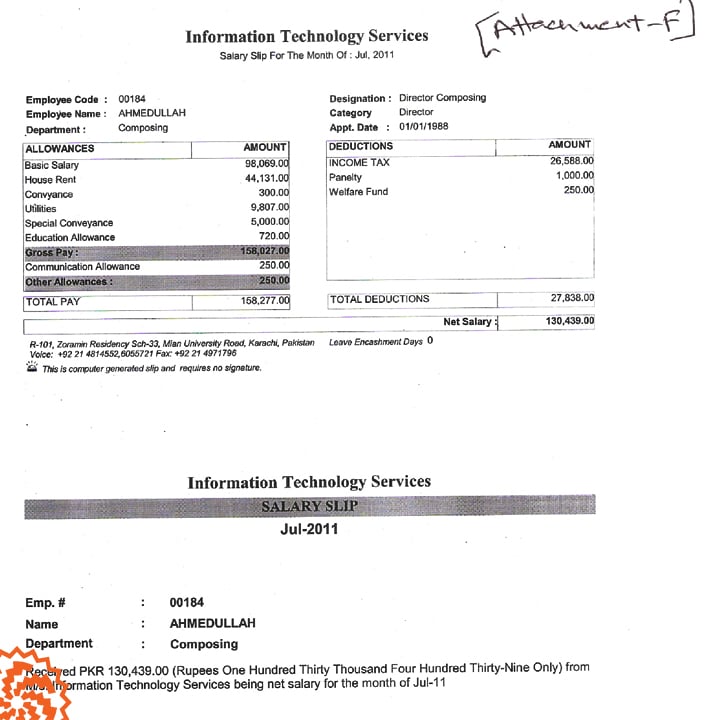 He claims that he was forced to leave his job in early 2012 on trumped up charges. Internal emails of Information Technology Services show that Rahman sent a message to Alam, who on paper works as a director at Information Technology Services, on May 27th, 2009 through an email address mehmood@bentham.org. It was also copied to Mathew Honan at mathew@bentham.org, Jalil-ur-Rahman at jalil@bentham.org and Obaid-ur-Rahman at trueobaidurrahman@yahoo.com. Its subject was "CONFIDENTIAL Ahmadullah's Performance – should he stay at Bentham?"
This email exchange clearly shows that Alam and Rahman's son, Jalil-ur-Rahman were using Bentham Science email addresses even though its website never mentions them as the members of its staff. The exchange also reveals that Ahmedullah was working for Bentham Science even when, for all legal intents and purposes, he was an employee of Information Technology Services.
The email, signed by Rahman as Atta, confirms this by stating that: "I had complained to you a few days ago that a student of HEJ [Hussain Ebrahim Jamal Research Institute of Chemistry] had informed me that he was having his thesis typed and formatted at Bentham [Science] by Mr Ahmadullah who was being paid for this job. I was also told that this was quite common for him to do this work "on the side" during work hours. I am told that he has been doing this routinely for years. I would like to have a full report please on what is going on."
The most surprising thing about this whole affair is that Rahman did not have any legal authority to interfere in it. Firstly, he held no executive post in Information Technology Services at that time. Secondly, as per his own claim, he has never had any executive position at Bentham Science.
Another surprising thing about his queries is that the agreement between Bentham Science and Information Technology Services is purely transactional. The former sends work orders to the latter which, in turn, claims the reimbursement of expenses made while doing that work. The agreement, thus, does not give Bentham Science and its editors and executives any authority to interfere in the internal affairs of Information Technology Services.
Except that they can – and do -- interfere because the two organizations are joined at the hip through Rahman.
A proof of this link appears in an email thread initiated in February 2007 by Alam from his email address mehmood@bentham.org with the subject IMPORTANT DECISION FOR DOCUMENTATION. In it, he is seeking the approval of both Rahman and Honan for an increase in the remuneration of composers working at Information Technology Services. Unless those composers -- as well as Alam himself -- were working for Bentham Science, he neither needed to inform the two about the increase nor was he required to seek their approval for it.
Despite this being legally so, Alam asks Rahman in one of the emails sent to him at ibne_sina@hotmail.com and copied at attast@comsats.net.pk (which Rahman was then using as the chairperson of HEC): "I shall be very grateful if you could kindly provide formal approval [for increase in compensation] so that it can be sent to the finance department."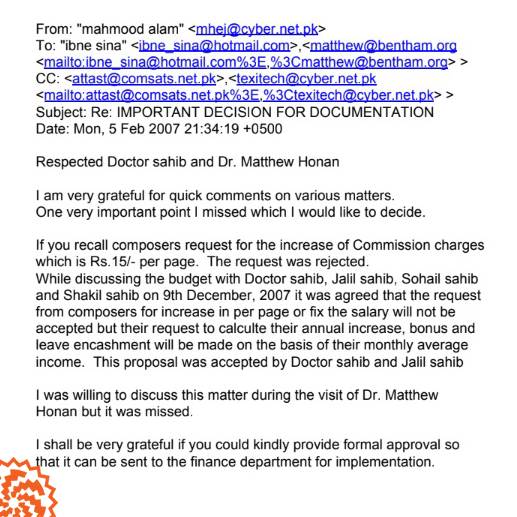 Rahman responds in the same thread from ibne_sina@hotmail.com that the increase will be "subject to approval from Mathew [Honan]" who is copied in the thread through his email address mathew@bentham.org.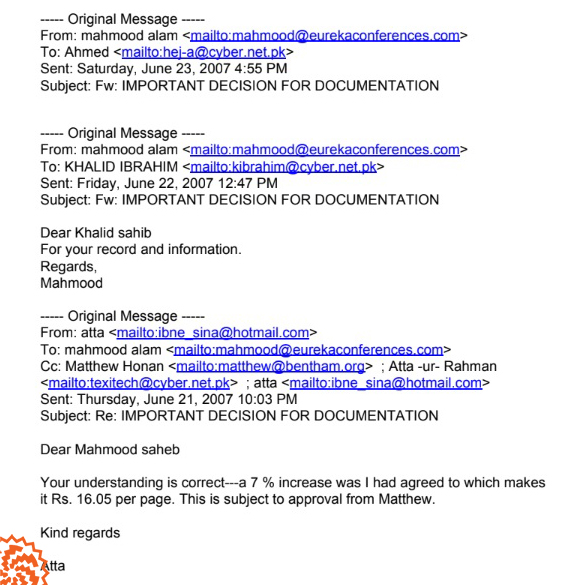 This thread suggests that the head of Pakistan's topmost regulatory institution for higher education was not just micro-managing the affairs of a private business entity in which he had not legal role, he was also doing so on the behalf of a foreign firm.
An open scam?
Phillip Davis, a graduate student at Cornell University in the United States, received several unsolicited emails from Bentham Science in 2008-09, asking him if he wanted to have his research published in one of its open access journals. (Such journals have sprung up in recent decades across the world as a result of Open Access Movement which demands that all research papers should be freely available to everyone through the internet. Its main objective is that students and researchers do not have to spend hefty amounts of money on buying subscriptions to access and use research journals.)
The emails that Davis was receiving from Bentham Science told him that his work would be peer reviewed before it was published but he would have to pay 800 US dollars for each paper accepted for publication. In some emails, he was also offered a position on the editorial board of some of Bentham Science journals. This position, he was informed, would entitle him to publish his own work for free. "I received solicitations for journals for which I had no subject expertise at all," he later wrote.
Prompted by these solicitations, Davis decided to test the editorial credibility of Bentham Science. He generated a context-free and senseless paper using a software that drafts illogical papers about computer science. Kent Anderson, executive director of international business and product development at the New England Journal of Medicines, collaborated with him in its preparation. Among other things, it carried such gibberish: "In this section, we discuss existing research into red-black trees, vacuum tubes, and courseware. On a similar note, recent work by Takahashi suggests a methodology for providing robust modalities, but does not offer an implementation."
The paper was also given a meaningless title, Deconstructing Access Points. Using pseudonyms, the authors dropped another hint of it being a hoax by stating that they worked for Center for Research in Applied Phrenology -- CRAP.
The paper was submitted to The Open Information Science Journal, published by Bentham Science, on January 29th, 2009. Four months later, Davis received an email from Sana Mokarram, an assistant manager at the publishing house. She told him: "This is to inform you that your submitted article has been accepted for publication after peer-reviewing process… I would be highly grateful to you if you please fill and sign the attached fee form and covering letter and send them back via email as soon as possible to avoid further delay in publication."
Commenting on similar practices by Bentham Science, Jonathan A. Eisen, a professor at the University of California at Davis in the United States, described it as "an annoying commercial entity only here to make money". In a blogpost, titled Really Sick of Bentham Open Scam, that he wrote on June 30th, 2009, he said that he was getting spam emails from its various open access journals. Such emails were being sent to many other people as well, he added.
Richard Poynder, a Britain-based commentator who has written extensively on open access journals, stated in a similar blogpost on April 23rd, 2008 that Bentham Science had launched a very aggressive, but often misdirected, marketing campaign to reach out to editors, writers and subscribers.
He also wrote how Gunther Eysenbach, a senior health care research scientist at the University of Toronto in Canada, "had had enough" of this campaign by March 2008. He then quoted Eysenbach complaining in his own blog: "In the past couple of months I have received no less than 11 emails from Bentham, all mostly identical in text and form, all signed by 'Matthew Honan, Editorial Director, Bentham Science Publishers' or 'Richard Scott, Editorial Director, Bentham Science Publishers', 'inviting' me to submit research articles, reviews and letters to various journals."
Poynder also cited the experience of John Furedy, Emeritus Professor of Psychology at the University of Toronto in Canada, who received an invitation to be editor-in-chief of the Open Behavioral Science Journal published by Bentham Science. He initially accepted the invitation but "after doing so he found himself being bombarded with further invitations".
When, however, Bentham Science, "failed to reply to the questions he raised about the new role he had taken on he decided the best course of action was to withdraw his acceptance". But even after resigning, "he was surprised to see that his name had been added to the list of editors on the journal's website".
His name, indeed, continued to stay on the website for quite some time "despite repeated requests" by him to remove it.