Farhana was a fair plump woman, with round oval eyes and straight black hair typical of South Asian women. Her fair complexion was another of her prominent feature.
"I was a beautiful woman...especially my eyes. People would compliment me on them but now look what is left of them," she says. As she takes off her glasses to wipe her tears, her left eye appears permanently closed.
Her face melted when it came in contact with acid in 2012. Her nose, lips and an eye all became one big lump of flesh. Her right cheek was also corroded completely; all that remained of it was the jaw bone.
Farhana had to be hospitalized for five months before the doctors could operate on her skin. Her lips were reconstructed by injecting a layer of fat to make up for the absence of flesh. Patches of skin were gradually added to remake the shape of her face.
Even after 13 surgeries, however, she looks nothing like her old self. She still has difficulty breathing but further surgeries of her nostrils are impossible because her skin cannot tolerate more procedures.
Farhana, like most middle-aged married women in our part of the world, wanted a better life for her five children. When her husband suggested marrying their daughter to his drug-addict nephew, she refused. "He beat me up and forced me to obey his orders but how could I throw my own daughter into the misery that I had myself endured?"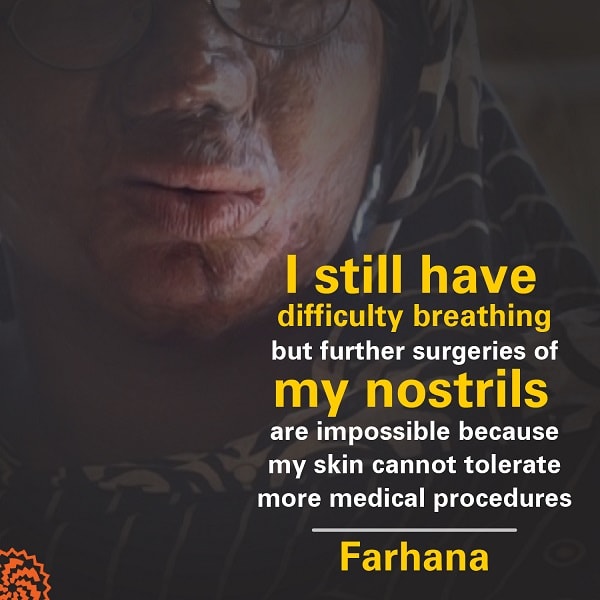 "The acid was splashed all over my face and I felt I was put in a burning hell. I could smell my flesh burning and all that was there was pain," is how she describes the attack that she came under in 2015.
Raheela's attacker was her ex-fiancé and neighbour. He threw acid on her six months after her family ended their engagement. A constable in the police, he had coerced her family into agreeing to marry Raheela to him but the engagement did not last because of his boorish behaviour.
Raheela had taken her intermediate exams and was awaiting result then. It was eid and, like every young girl, she left her home in Gulshan-e-Iqbal area in Karachi to get bangles and henna. But instead of henna adorning her hand, she got acid on her face.
Raheela's entire face was burnt and turned black and most of her facial features were corroded away. All that remained was thin flimsy flesh and protruding bones. She went through seven reconstructive surgeries at Agha Khan Hospital, Karachi, in two years and has had eleven more surgeries afterwards. Now one can see patches of skin stitched together to cover her cheeks, artificially created openings serving as her lips and a patch of skin where once her eye was.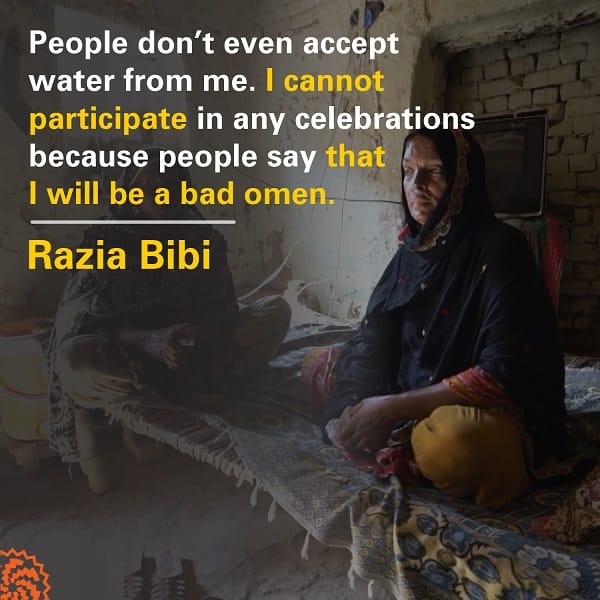 It has been five years since Raheela was attacked but her case is still under trial in Karachi. Because of delays in the proceedings, the attacker, who confessed in media footages of committing the crime in the name of love, has got many more chances to intimidate her. His family has also been pressuring her to withdraw the case.
"Many a times I would see motorbikes following me. I would tremble with fear when going to the court again and again to record statements. They would call me and all my family members threatening to kill me," Raheela tells Sujag.
Her case has been moved from an anti-terrorism court to the high court and is now undergoing trial in a sessions court. She has left the city in the meanwhile, fearful for her life, and is currently living in hiding.
Forced into silence
Razia Bibi was asleep in her house at 4:00 am about ten years ago. Earlier in the day she had an argument with her in-laws as her husband was planning to travel out of their village, Tarinda Basharat in district Bahawalpur. As she turned in her sleep, she felt a burning liquid poured on her. She wished it was a dream but this was going to be a stinging reality for the rest of life. Her husband's elder brother had emptied a can of sulphuric acid on her. Some acid also fell on her two years old daughter who was lying next to her.
In the scorching heat of southern Punjab, Razia Bibi, a mother of eight, kept screaming for help but no one came for her rescue. Her in-laws did not tell anyone about what had happened to her. In the morning, she finally sent her son to run to his aunt who lives almost 11 kilometres away. At 11:00 am, after seven hours of the acid attack, Razia Bibi was rescued and shifted to the Burns Unit of Nishtar Hospital in Multan.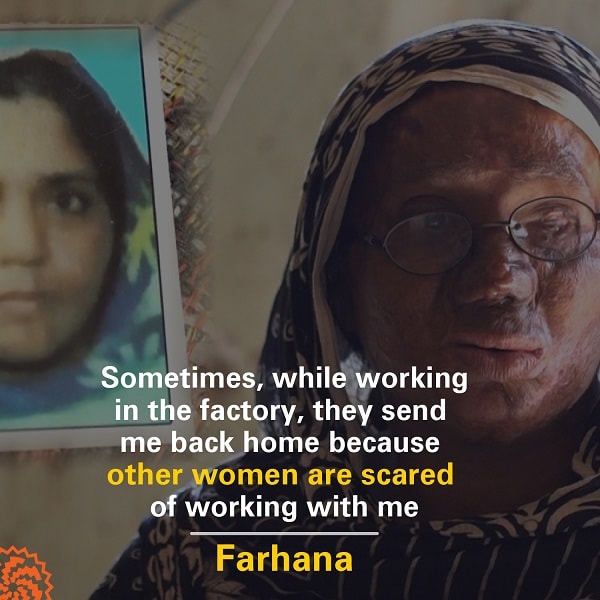 She was a tall fair woman but now she covers her face with a brown chaddar and all one can see are her kohl-lined eyes. Underneath is a face patched with grafts of skin and popping veins. "Unlike Farhana Baji, my eyes remained safe," she says.
Razia Bibi also had to face ostracization from the people around her. She had difficulty finding a house as people would compel her prospective landlord to not allow a 'cursed woman' inside the locality.
"They would not accept water from my hands. I could not participate in any celebrations because people said that I was a bad omen. So I just stay at home hoping for my husband to bring in some money after a day of hard work", she tells Sujag.
Razia Bibi's case also offers a typical example of the crippled justice system has Pakistan has. She was divorced immediately after the police had filed a case against her in-laws on her complaint. Her father was very old and was living with her stepmother and step-siblings. She, therefore, feels that –and rightfully so-that justice is beyond the reach of a lone woman. "I had no male family member to pursue my case or protect myself".
A few months after the acid attack on her, their local landlord called a Jirga- a gathering of the elders of the village- and made the aggrieved parties sit down to settle the case. "What happened has happened already. Let's not prolong the conflict further," said the landlord. "They forced me to forgive the person who had ruined my life. I signed a 'forgiveness deed' and then I was sent back home," says Razia Bibi.
What the numbers hide
Gendered violence is rampant in Pakistan. Within this violence, acid attacks have been a primary way of targeting women. In the past few years this trend, however, has slightly changed.
Also Read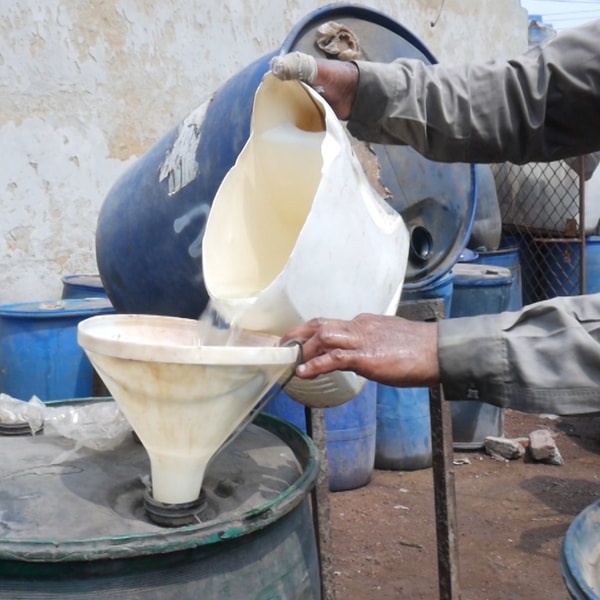 The perpetual cycle of suffering: Life and times of an acid victim in Punjab
Most of the acid attacks still happen against women but the ratio of men being attacked with acid (in comparison to women) has considerably risen. Now, indeed, acid is being used as a cheap and easy way of taking revenge in almost all types of personal and property disputes. Its use is no longer limited to crimes of honor and passion.
In recent times, acid attacks have also being carried out against children. Most of the acid attacks on them have happened when they were accompanying adults who were the primary targets of those attacks but they suffer harsher burns as their skin is sensitive.
The overall trend shows a decrease in the incidences of acid violence, with 101 cases reported in 2015 and only 27 in 2019. These numbers may be misleading though. A nuanced analysis will show that, while acid attacks may have decreased, there is little to rejoice as the overall incidence of violence against women has increased. For instance, the Punjab Gender Parity Report 2018 states that about 7678 cases of violence against women (VAW) were reported in 2017, as compared to 6,505 cases in 2015.This means that, even if acid is not being used, women are still not safe in Pakistan.
This report was first published by Lok Sujag on 14 Oct 2020, on its old website.