On a humid late summer night, Khalid Shah jolted Rimsha Javed awake and asked her to give him some water. As she walked to the kitchen, she saw him following her. Once the two were there, he tried to rape her but his wife Naureen, who happens to be Rimsha's elder sister, woke up due to the commotion and started confronting him. This made Khalid Shah flee.
A few years earlier, he had converted Naureen from Christianity to Islam before making her his second wife. They have two children. How Rimsha, 15, became a subject of his sexual depredations is a long tale of deception and coercion.
On 17th March, 2019, Khalid Shah, who by his own claim works for an organization promoting inter-faith harmony, went to Rimsha's house in Lahore's working class neighbourhood of Chungi Amar Sindhu while her parents were not at home. Naureen and another man were accompanying him. He told Rimsha – and her 13-year-old younger sister Neha – that their mother and father had met an accident and that he wanted to take the two of them to the site of the accident. Once they sat with him in his car, he took them to his own house and locked them up there.
These details are recorded in a First Information Report (FIR) registered at Chungi Amar Sindhu police station on 27th September 2019.
Rimsha says Khalid would regularly visit her and Neha during their captivity. "He carried a gun and two other men would always accompany him." According to her, "he wanted to marry me and make me his third wife" but he also warned the two girls that "he would kill them" if they resisted his moves.
A few days later, Rimsha alleges, he took her to his office and told her to undress. She says she was given some juice to drink that dulled her senses but she still tried her best to resist. "I gathered all the strength that I had in me to escape from his clutches but could not," she says. He then subjected her to rape.
When her father, Javed Masih, a 48-year-old labourer, came to know that Khalid Shah had kidnapped his daughters, he contacted the police for their recovery but was told that they were living with Khalid Shah on their own accord.
"I went to the police station a dozen times. I told them that my daughters were too young to have taken any decision on their own," Javed Masih says as he starts crying. "But no one would listen to me. They would not register my complaint."
The police registered a complaint finally about a month and a half after the girls had been abducted, thanks to the efforts of a non-governmental organization (NGO). To avoid police action against him, Khalid Shah then presented Rimsh and Neha in a court where they stated that they had converted to Islam without any coercion or intimidation and that they did not want to live with their parents. The court allowed them to live with Khalid Shah.
They stayed at his house for six months.
Rimsha alleges that he repeatedly raped her during this period. "He would send my elder sister and Neha to the market to get groceries and would drag me to a room," she says looking very upset.
Javed Masih, in the meanwhile, became paralyzed and lost most of his memory. Mentioning Khalid Shah's name, however, still riles him up so his family has told him that he has died. "He could not stand the fact that Khalid Shah was roaming free while his daughters were living in misery," his wife Rani says.
On 5th September, 2019, Rimsha and Neha managed to escape from captivity after Khalid Shah ran away from his house subsequent to his rape attempt aborted by his wife. After reaching back home, they tried to seek police protection but the police did not accept their request since they had already given a court statement favourable to him.
Some community activists took up their cause at this stage and made an attempt to get an FIR registered against Khalid Shah for sexually assaulting Rimsha. After some initial foot-dragging by the police, a case was registered against him on the orders of the Lahore High Court and he stopped harassing her family.
Rimsha's elder sister Naureen, too, has left Khalid Shah's house along with her two children and is now living with her parents in a town outside Lahore.
More than a year later, Rimsha is still traumatized. She used to be a light sleeper but now she spends most of her day sleeping, lying next to the children of her tormentor.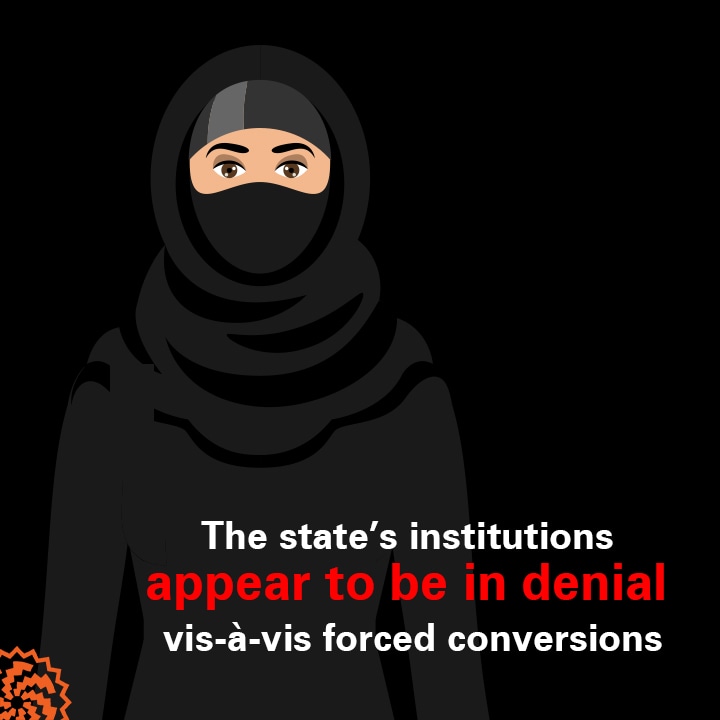 Catching them when they are young
Several similar cases have emerged in various parts of Pakistan over the last couple of years. In all of them, young Christian girls have been either lured or coerced by Muslim men -- who are often already married and, in most cases, are much older than the girls -- into leaving their destitute and powerless Christian families and embracing a new life of misery and subjugation. Following are just a few of these incidents:
Sadaf Masih, 13, was converted to Islam and married to a man aged 40 in February 2019. The incident took place in Yazman, a town in Bahawalpur district.
Sheeza Maqsood, 16, was converted to Islam at gunpoint in Gujranwala in June 2019. She was made to marry one of the kidnappers who had raped her for over a month.
Saneha Kinza Iqbal, a tenth grader, was going to a church in July 2020 in Jhang Bazaar area of Faisalabad when she was kidnapped. Her abductor was a 30-year-old Muslim man, Saeed Amanat, who was already married and had four children. He later converted her to Islam.
Neha Pervaiz, 15, was abducted, converted to Islam and married to a 45-year-old man, named Imran, in Karachi on October 24, 2020.
As is obvious in these cases, all these girls were below the marriageable age yet the police and sometimes even the courts have been reluctant to probe and adjudicate their cases.
The Centre for Social Justice, a research organization based in Lahore, has developed a working paper on the subject. Titled Silence of the Lambs, it states: "Conservative mindset believes that converting someone to Islam entails Sawab (heavenly reward) which may be a reason why government and police show lethargy when it comes to cracking down on cases of forced conversions in Pakistan."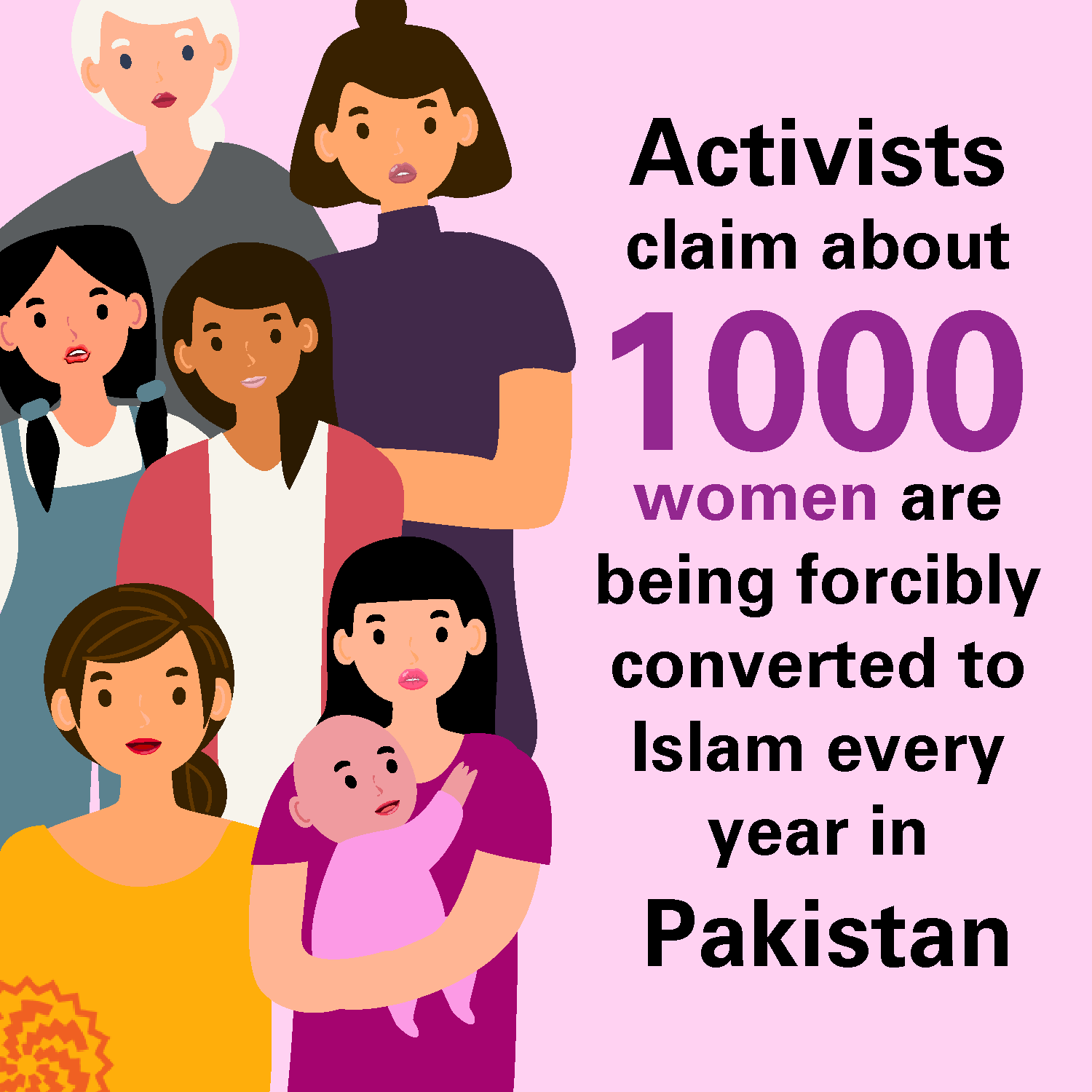 What happened to Charllotte Javed, 14, illustrates how self-made certificates of religious conversion are used in such cases. Her abductor, twice her age, showed a court a conversion certificate on a plain paper that stated that she had accepted Islam "willfully" and had been renamed as Ayesha. She was fortunate that the court did not accept the certificate and told the police to retrieve her. When she was presented in the court, she said she had been abducted, sold, forcibly converted and then forcibly married to her abductor. In April 2019, the court ordered that she be sent back to her parents.
Many non-governmental organizations report that there have been numerous similar cases in the last few years. The National (Catholic) Commission for Justice and Peace (NCJP), a church-affiliated organization, states that 1,733 religious conversions were reported in Pakistani news media between 2000 and 2012. A 2014 report by the Movement for Solidarity & Peace, an organization working on inter-faith harmony, claimed about 1000 women were being forcibly converted to Islam every year in Pakistan. The Centre for Social Justice has also published a list of 162 verified cases of non-Muslim women having been converted to Islam between 2013 and 2020.
The state of denial
Large segments of Pakistan's primarily Muslim population believe the issue of forced conversions is being overblown and is often presented without properly contextualizing each case. A researcher working at the government-funded Institute of Strategic Studies, Islamabad, recently published a paper calling most of these conversions as "falsely quoted by the media and hyped up propaganda of NGOs to hurt Pakistan's international image."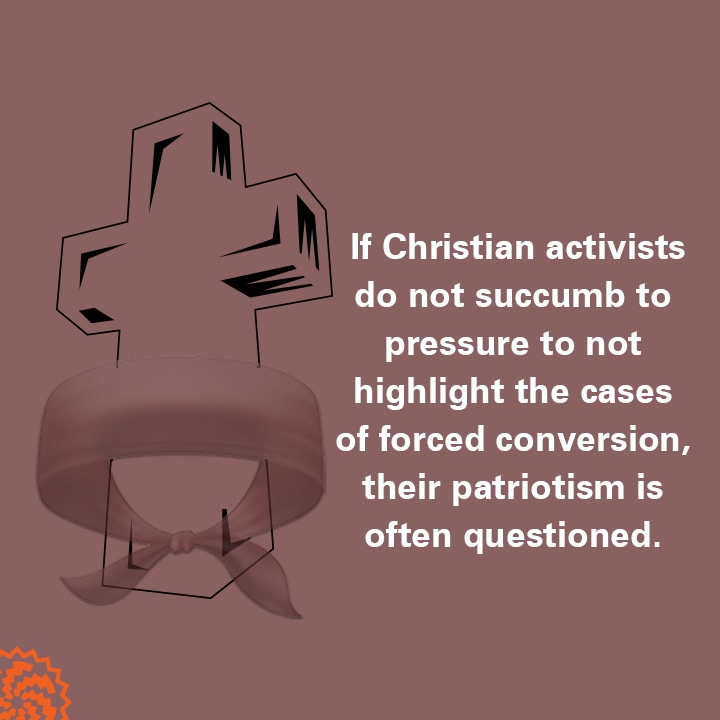 The state's own institutions also seem to live in a similar state of denial. Senator Anwar-ul-Haq Kakar, the head of a parliamentary committee formed to look into the issue of forced conversions, said last year that all the conversions the committee had investigated had some degree of free-will. In a meeting of the committee held in November 2020, he also said the Council of Islamic Ideology had been tasked to define what constituted a forced conversion. Given that the council does not have any non-Muslim representation, such a one-sided definition will only further strengthen the perception among non-Muslim Pakistanis that their voices do not count when it comes to making policies about them.
Many Christian activists also report being under pressure to not highlight the cases of forced conversion. If they do not succumb to this pressure, their patriotism is often questioned. That paranoia runs deep among them was manifested in November 2020 when some of them took out a procession in Karachi, carrying placards that condemned the French government for forcing secular polices on French Muslims and stated: 'We stand in solidarity with our Muslims brothers'. The irony is the actual purpose of the protest was to highlight the forced conversion of a Christian child bride, Arzoo Raja, who was kidnapped and taken as a wife by a Muslim man.
This report was first published by Lok Sujag on 14 Jan 2021, on its old website.