Sarfaraz, 42, left his home on a motorcycle in Thokar Niaz Baig area of Lahore in September 2020 as part of his daily routine to find work. When he reached a checkpoint in the cantonment, a security personnel signaled him to stop. He asked Sarfaraz to prove his identity by showing his Computerized National Identity Card (CNIC).
Sarfaraz pulled the card out of his frayed wallet and handed it over to the security personnel. He stared at it and read the name mentioned on it aloud: "Muhammad Sarfaraz".
Sarfaraz was shocked but he preferred to remain silent and quietly got his card back and left. After going a little beyond the post, he stopped his motorcycle on the roadside and began to look quizzically at his identity card. Being illiterate, he had no idea how his name was written on its shiny surface.
To rid himself of this confusion, he asked a passer-by to read to him the name written on the card. The passer-by told him that the name written on the card was 'Muhammad Sarfaraz'.
Born into a Catholic Christian family, he is certain that none of his ancestors were Muslims so he was quite perplexed how a Muslim name 'Muhammad' could be written as his first name. He later found out that 'Muhammad' was also clearly written as part of his signature on his CNIC.
He says, while filling up the CNIC renewal form, an official of the National Database and Registration (NADRA) "held his hand to help him write his name as a signature".
To resolve the issue, he went to a NADRA office in Garden Town area where he had renewed his CNIC a few months earlier. But the staff there referred him to another NADRA office in Garhi Shahu, another area in Lahore.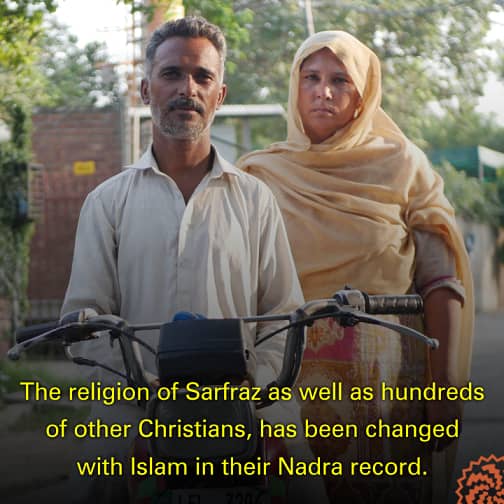 When Sarfaraz arrived at that office, the woman at the reception asked about his complaint. He told her about the error in his identity card vis-à-vis his name. The woman assured him that this was not a big problem because many people make mistakes in their data during registration which can easily be corrected later.
But she got panicked when Sarfaraz told her that he wanted to remove the word 'Muhammad' from his name.
Seeing her upset, Sarfaraz explained to her that he belonged to the Christian religion, which is why he wanted his name on his identity card to be in accordance with his faith. Hearing this, she told Sarfaraz that his problem was not related to the change of name but the change of religion. She also expressed her helplessness to resolve this issue.
When Sarfaraz continued to insist to have his name corrected, she sent him to a senior official who checked his record and told him that it showed his entire family as Muslims. The officer also informed him that NADRA could not correct this record on its own so he would have to approach a court to prove that he is a Christian.
The final arbiter of faith
A former judge of the Islamabad High Court, Justice Shaukat Aziz Siddiqui, while hearing a case in 2017-18, directed the government to compile a list of all government employees who belonged to Ahmadi religion. He also directed the government to compile a regular record of Ahmadis travelling abroad.
Justice Siddiqui stated in his judgment that, with regard to religious conversion, "the NADRA-provided data unravelled shocking information, showing that more than 10,000 people have converted to Ahmadiya faith in recent years."
The data further revealed that thousands of Pakistani Muslims have converted to many other religions, including Christianity and Judaism, while thousands of non-Muslim Pakistanis have abandoned their religion and converted to Islam.
Analyzing the situation, Justice Siddiqui said that such a large number of Muslims has converted to other religions owing to the government's failure to formulate any rules and regulations for Muslims abandoning their religion.
He then directed the authorities concerned to formulate rules, prohibiting Muslims to change their religion. Subsequently, NADRA started implementing a new rule in December 2018 under which a non-Muslim can declare himself a Muslim by submitting an affidavit and the testimony of two persons before NADRA but a Muslim cannot change his religion in official record.
However, all non-Muslim Pakistanis who have been mistakenly registered as Muslims in the NADRA record can get a court order to get the record rectified by proving their religious identity.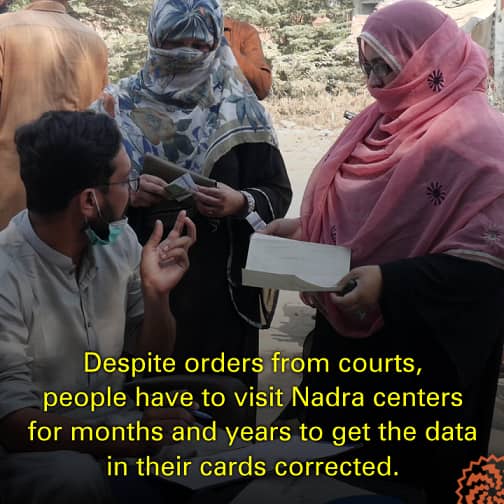 Sarfaraz filed a petition in the Lahore High Court on September 18, 2020, seeking a similar court order. Unluckily, in the backdrop of Covid-19 pandemic, the courts across the country shortened their working hours which hampered an immediate hearing of his petition.
A month later, when the hearing began, Sarfaraz was asked to testify in support of his claim. So, two of his neighbours and a member of his own family swore in the court that Sarfaraz has been a Christian since birth.
At a subsequent hearing, he was asked to provide documentary evidence proving him a Christian. He showed the court a letter from the Catholic Church of Pakistan, confirming that he was a Christian.
In April 2021, the court ruled in his favour and declared that NADRA could not produce any evidence that he had ever converted. Therefore, the court said, he should be regarded and treated as a Christian and his name should be changed from Muhammad Sarfaraz son of Muhammad Anwar to Sarfaraz son of Anwar.
It has been almost five months since the court order was issued but Sarfaraz has not yet received a corrected identity card. He goes to NADRA office regularly but every time he is asked to present some new documents, he says.
Due to this delay, he is unable to register the birth of his four children in the NADRA record. A school, meanwhile, recently refused to admit his daughter due to the absence of her Form-B to be issued by NADRA.
Sarfaraz is also worried about the cost of having his identity card corrected. He earns barely 900 rupees a day as a daily wager. Whenever he has to go to the court or NADRA office he has to spend a lot of money which makes it difficult for him to run his household expenses.
An honest mistake or a deliberate plan?
Parveen Asghar Bhatti, 63, a resident of Korangi Town in the southeast of Karachi, belongs to Christian community. In February 2018, she went to a NADRA office in Gulshan-e-Iqbal to renew her national identity card.
She received her new card 21 days later.
Since Parveen's religion was not written anywhere on it, she did not even think that her religion had been changed from Christianity to Islam in the NADRA record. She only came to know about this in August 2020 when her 15-year-old son Nathan Asghar Bhatti needed to get his domicile and birth certificate from the NADRA office for his matriculation examination.
Parveen's eldest son, Amir Asghar Bhatti, says the change made in his family's religion without informing them is "extremely distressing" for them. He wonders why the NADRA staff did not inform his elderly, uneducated and partially deaf mother about it at the time of the registration of her data.
He also complains that he has been going to various government offices for the past one year to get these particulars corrected but "no one is willing to listen to us".
Lahore-based Christian lawyers Akmal Bhatti and Samira Shafiq say many Christians like Parveen are faced with the same problem. According to them, hundreds of similar cases are being heard in the three courts set up in the Lahore High Court to deal with NADRA-related litigation. Courts in Karachi, Islamabad, Peshawar and Quetta are also said to be hearing many such cases.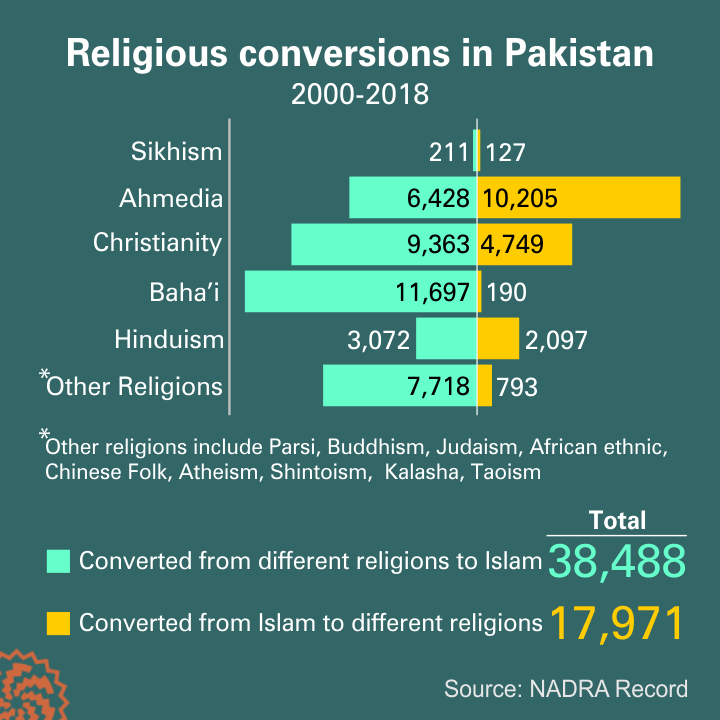 Bhatti and Shafiq themselves have appeared in dozens of cases in which Christian families have had their religion changed in the NADRA record. According to them, the main reason for this change is that old and illiterate people are not able to fully check their data at the time of registering it in the NADRA offices.
NADRA Public Relations Officer Faiq Ali Chachar, however, says that every effort is made at the time of data registration to inform the person concerned about it. "Although it is not the legal responsibility of NADRA to read out this data, its staff usually does so to minimize the possibility of error," he claims.
In his view, the registration of non-Muslims as Muslims is a human error which sometimes cannot be spotted despite thorough checking. The reason is that the names of many non-Muslims are so similar to the names of Muslims that they can be mistaken for Muslims, he maintains.
"For example", he goes on to say, "if someone's name is Matthew or the word Masih is written as part of his/her name then that name is clearly Christian but if someone's name is Anwar or Shahzad then a misunderstanding can arise".
But Christian lawyers also know many people who, despite having explicitly Christian names, have been declared Muslims in NADRA's record. Nadia Hameed, a Lahore-based Christian lawyer, says the number of such incidents is so high that human error cannot be blamed for each of them.
"In some cases, the NADRA staff must have deliberately changed the religious data of people due to its own religious bias."