The farmers in the famous Central Kurram region, known for its natural springs and orchards, are worried about their declining agricultural income. Saqib Muhammad, the owner of a grape orchard here, says that he used to earn five lakh rupees annually from farming, and his household's grain needs were also fulfilled for the entire year through this income. However, now, apart from this orchard, he has nothing left.
Sakhi Muhammad cultivated wheat, maize, and other crops on two and a half acres of land. In addition to these crops, he had grape orchards from which he would send up to five tons of grapes to markets in other cities every year, earning him a good extra income.
"When there was abundant water in Jilamae, the fields and orchards of every landowner here were flourishing. However, due to the water shortage, agricultural activities have decreased significantly. Natural springs have dried up, and only traces of rivers, streams, and springs remain. Currently, there are only two remaining natural springs in the area, from which it is difficult to meet domestic necessities."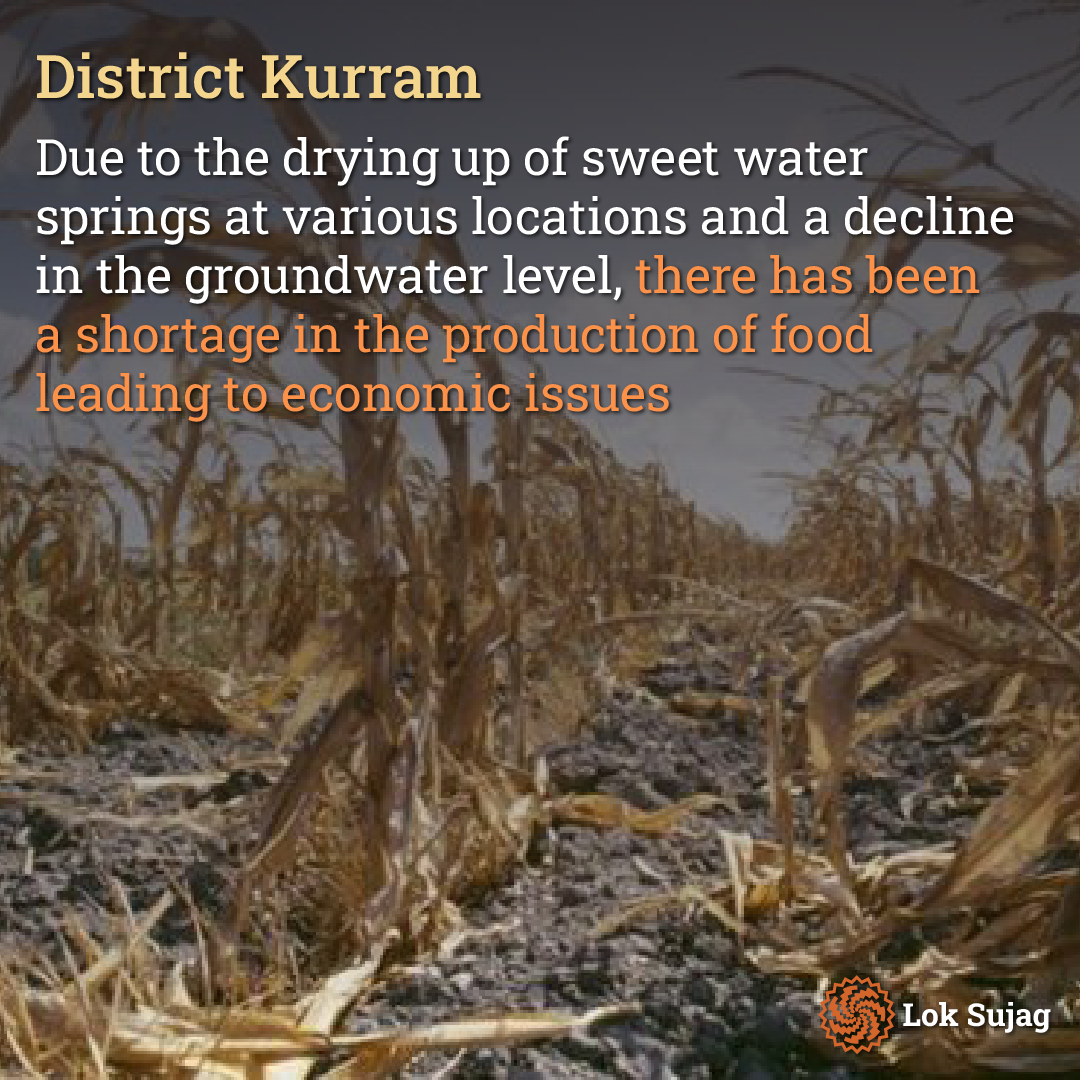 In various locations in District Kurram, the drying up of sweet water springs and the reduction in the groundwater level have led to a decrease in agricultural and food production and business-related issues. Gul Rahman, a farmer from the Pashtoon village, says that for the past few years, not only has there been a shortage of water for farming in his area due to the decline in groundwater, but in many places, people are praying even for drinking water. The changing weather patterns cause reduced or untimely rainfall, and the springs are drying up.
According to documents obtained through the Right to Information Act from the Pakistan Council of Research and Water Resources, in tribal areas, the groundwater level has decreased the most in the past 20 years in District Kurram, as per their information. According to them, in District Kurram, the groundwater level has dropped from 15 feet to 255 feet below the surface. The primary reasons are the lack of rainfall due to climate change and the excessive cutting of forests.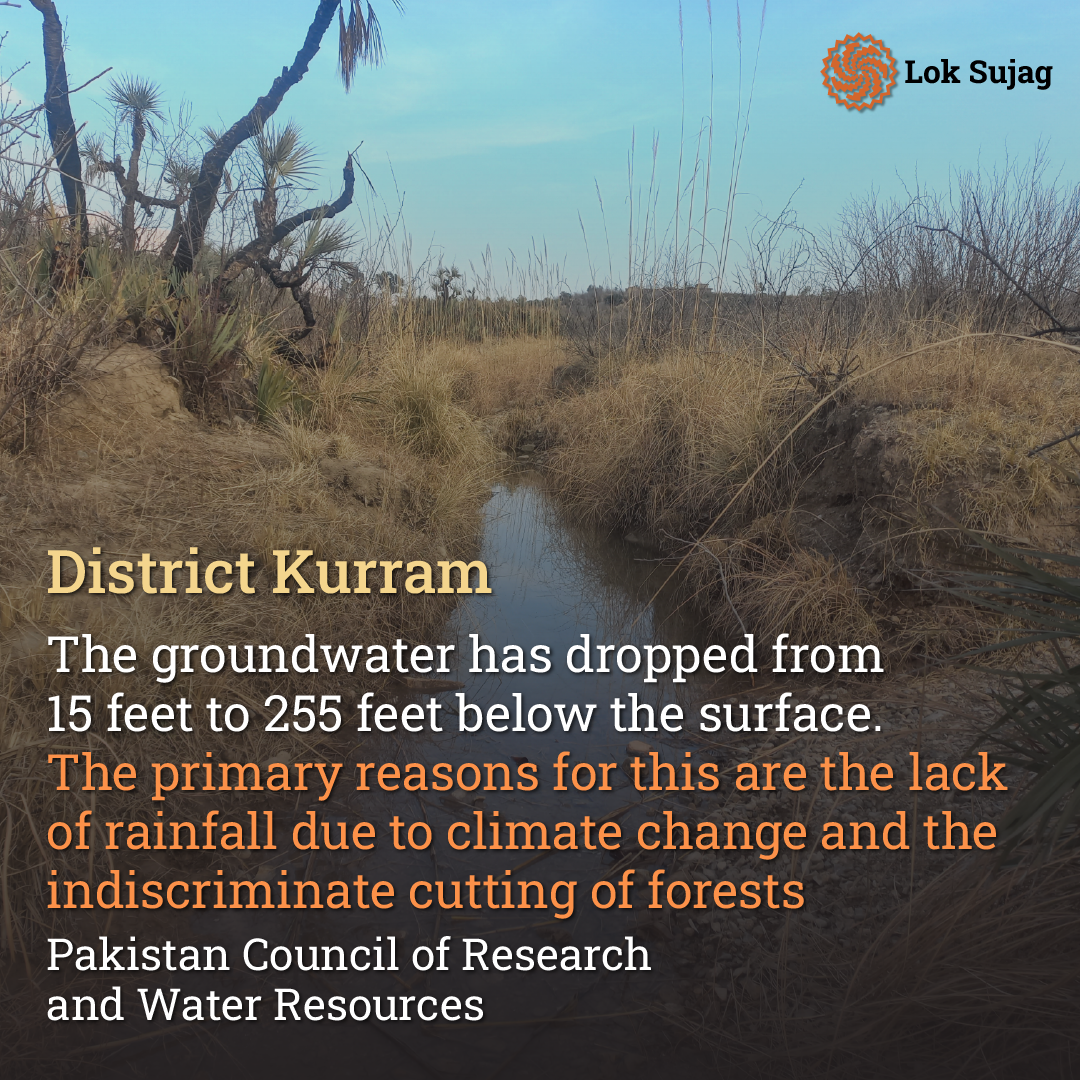 In tribal areas, Kurram, Mohmand, South Waziristan (Upper and Lower), North Waziristan, and the Khyber High-Risk Area are the regions where the groundwater level is rapidly declining.
According to the Department of Agriculture, the total land area in District Kurram is 834,988 acres, with slightly more than 144,000 acres being agricultural land. This includes land irrigated by the Kurram River, springs, and tube wells (aggregated land) covering 12,300 acres and rainfed land comprising 1,384.
Agriculture Officer Minhaj Ali in District Kurram says there has been a significant decrease in the arable land in Kurram over the past ten years. In Central Kurram, where people mostly cultivate wheat, maize, and vegetables, 70 per cent of the arable land has turned barren due to the lack of groundwater.
The Agriculture Department's Field Officer, Abid Hussain, says that a major reason for the decline in the water level is the absence of check dams and reservoirs. Here, there is only one rainfed dam (Mandha Dam in Lower Kurram), which has a width of 1,062 feet and a length of 86 feet. However, after several years of its completion, it developed a crack, and now it can only hold water up to 50 feet, which is no longer used for agriculture and does not supply water to the adjacent areas.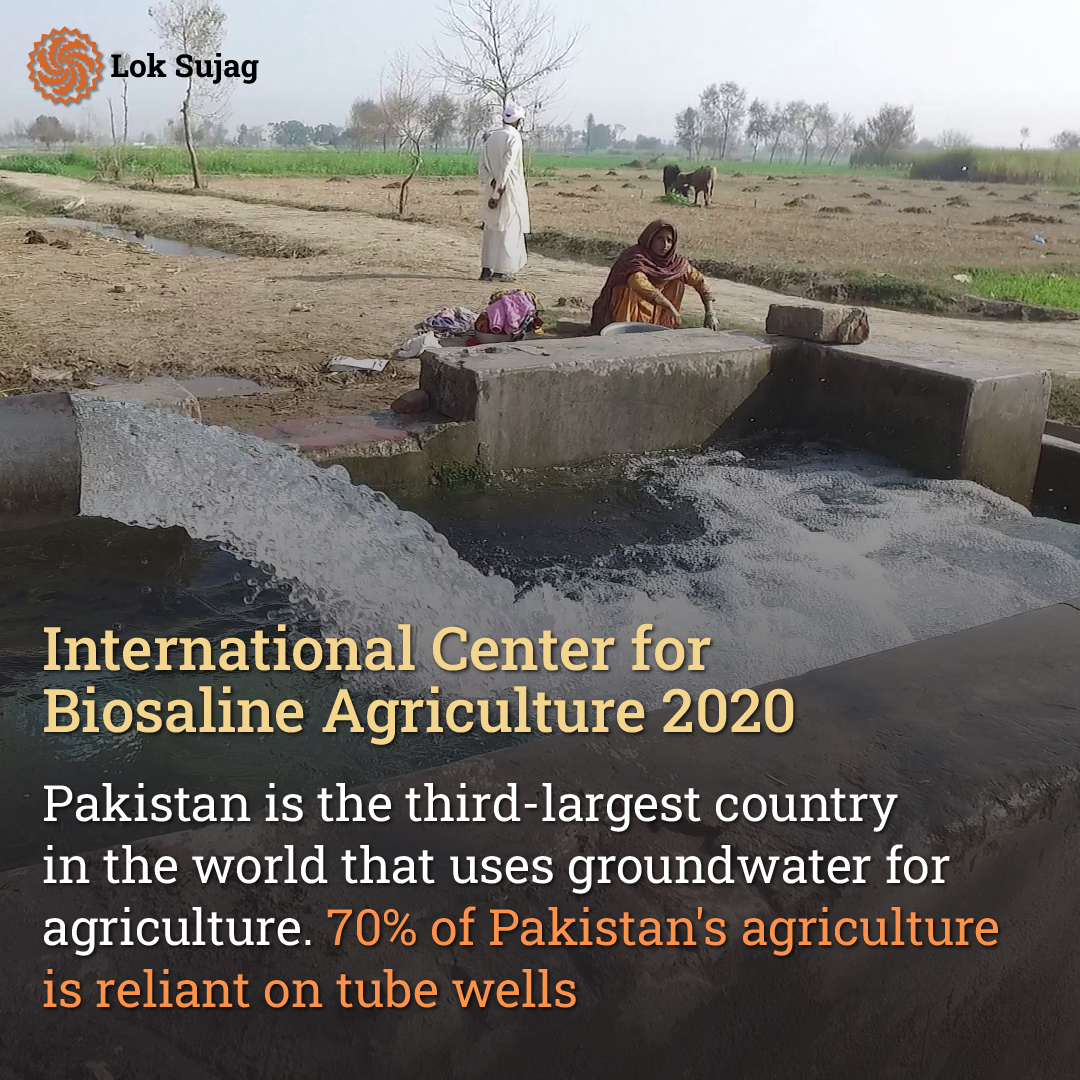 According to the unit for climate change at the Khyber Pakhtunkhwa Environmental Protection Agency (EPA), in 2014, the provincial government included southern districts, including Dera Ismail Khan, Kohat, Lakki Marwat, Tank, and parts of Dera Lower, Khyber, and Mohmand, in those areas where the groundwater is rapidly depleting. The primary reasons for this are the reduced rainfall due to climate change and the installation of tube wells through boring.
ParaChinar's resident, Imdad Hussain, says that the spring in their area, Satarakhel, was famous throughout the region, and the entire Lakman Khail tribe used its water. However, this spring has dried up, so people are using water from a spring located five kilometres away in the mountains, which is supplied through a pipeline.
"Previously, there used to be heavy snowfall here during the winters, which resulted in a significant amount of water in the springs. However, now it only snows two or three times throughout the year, and that too not for more than a day, which is why the water in the springs has dried up."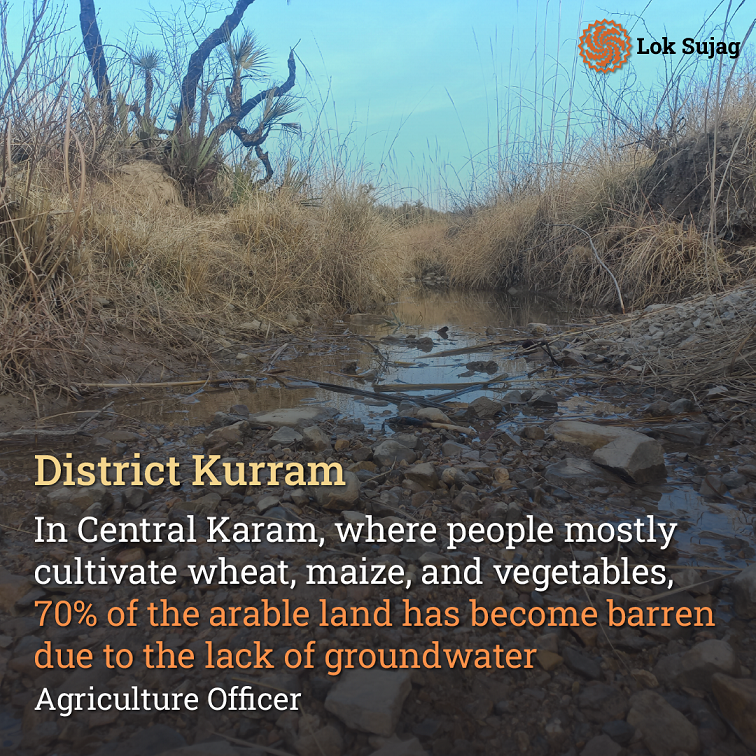 In District Kurram, there used to be abundant forests, but now they have almost disappeared. The forests used to be the source of sweet water springs everywhere. However, the growing population led to the indiscriminate cutting of forests to meet the fuelwood needs, which caused a decline in water resources in Central Kurram and the drying up of springs.
According to information obtained from the Pakistan Council of Research and Water Resources, there has been a 30 per cent reduction in forests in District Kurram from 2014 to the present.
Wajid Rahman, a geology expert, is associated with the Pakistan Oil and Gas Development Company (OGDC). He says that District Kurram was situated in the lap of the Koh-e-Safaid mountains, and the snowfall here used to maintain its water level. However, due to environmental changes and increased temperatures, the glaciers on Koh-e-Safaid have melted.
"Until ten years ago, there used to be snow here throughout the year, which resulted in an abundant supply of underground water, and people used to use the water from the springs. With the increase in population, boreholes (drilling) for installing solar tubes in houses started, which run all day, resulting in water wastage."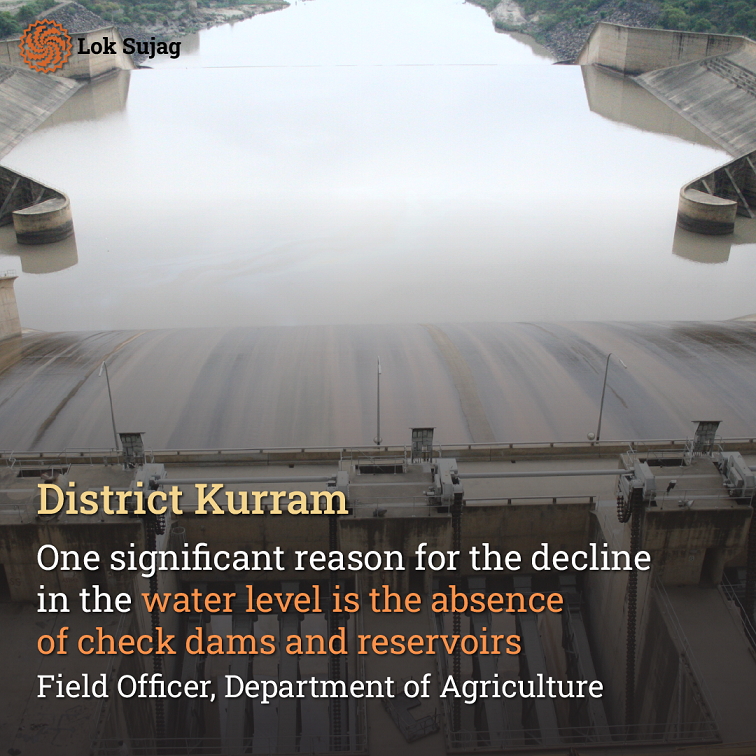 Comprising of three lakh population, the residents of Alizai and Masuzai- areas in the central tehsil have installed tube wells. Muhammad Sajid, a resident of Central Kurram's Masuzai Tang, says that after the village's spring dried up, water is brought from a pipeline located about six kilometres away in Saday Khwan, from a shared tank among three villages, and it is available for one village on a rotational basis.
According to a study by Asad Sarwar Qureshi in 2020 for the International Center for Biosaline Agriculture, Pakistan is the third-largest country in the world to use groundwater for agriculture. In Pakistan's agriculture, 70 per cent of the water is sourced from tube wells, and the country has approximately twelve lakh private tube wells.
Measures to address the shortage of groundwater
Pakistan's first national water policy was approved in 2018, in which the scarcity of water resources, including groundwater and river water, was recognized as a natural disaster. Following this, the federal government directed provincial governments to take appropriate measures to manage their resources effectively.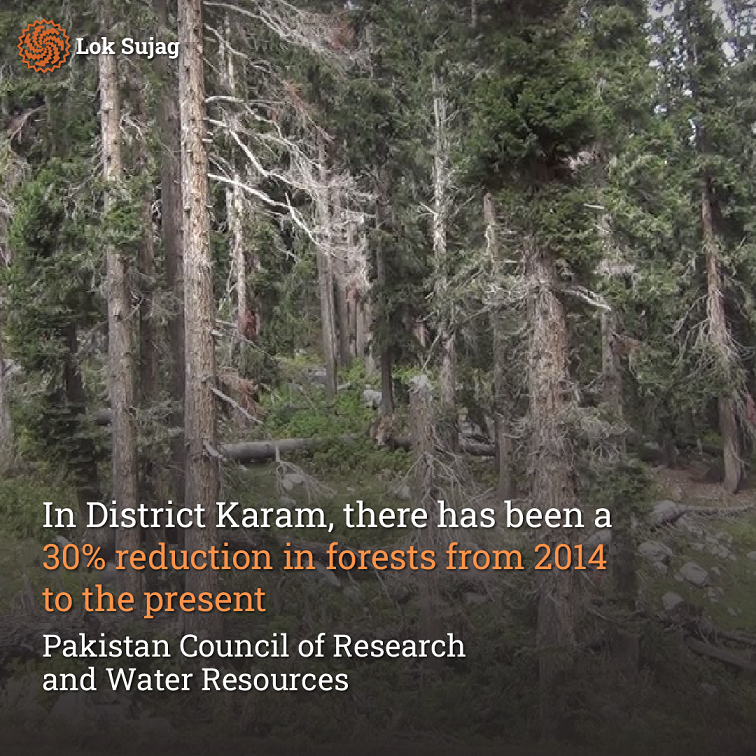 Khyber Pakhtunkhwa government passed the Water Act in 2020 and introduced policies related to climate change and its impacts. Under the Water Act, the provincial government was supposed to establish a Water Resources Regulatory Authority within six months, but this authority has not been formed yet. According to this Act, restrictions have been imposed on private tube wells in cities, but there are still hundreds of tube wells in the province.
The Directorate of Soil and Water Conservation, in collaboration with the Pakistan Council of Research in Water Resources, has agreed in July 2022 to address the groundwater crisis. Under this agreement, groundwater depletion will be monitored in the province, and reservoirs will be constructed there to collect rainwater for recharging groundwater.
Also read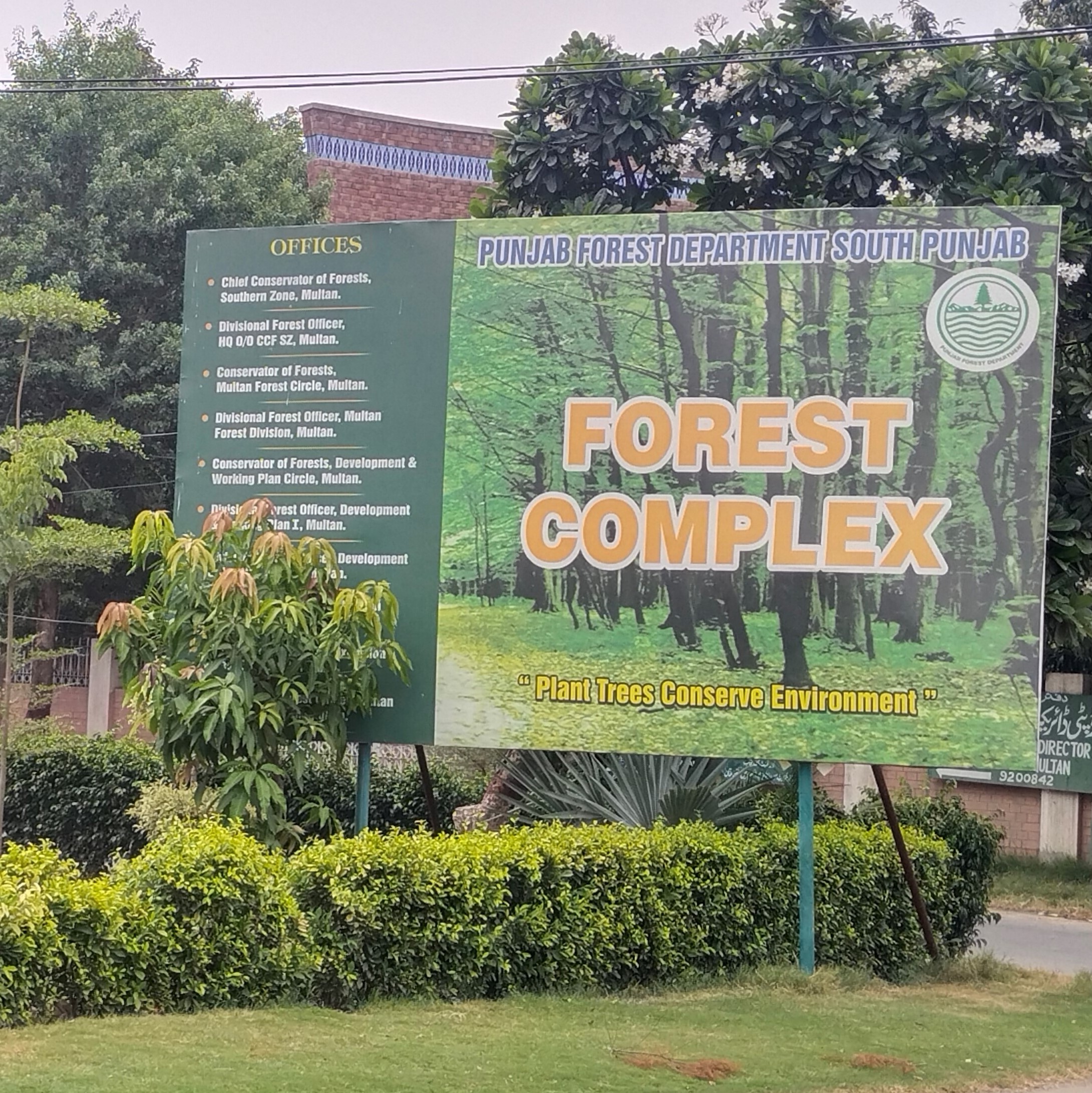 Environmental crisis in Multan: Deforestation, wood theft, and rising temperatures threaten ecosystem
According to the Department of Small Dams, Lower Kurram Dam will be completed by 2025. It can store water, covering an area of 5,462 acres. The groundwater level around this dam can rise to 15 to 60 feet within a radius of three thousand feet.
Water and Sanitation Services Peshawar engineer and hydrologist Aamir Gul Khattak says Pakistan is among the countries where much water is wasted. In Pakistan, water equivalent to 30 billion dollars is wasted annually due to rainfall, which could raise the groundwater level by storing it in dams.
He explained that instead of extracting groundwater for agriculture, raising the water table could be achieved through projects using rainwater and river water. It is also essential to raise awareness about afforestation, avoiding unnecessary water usage in cities, and the need for a national policy for water conservation.