A middle-aged woman with henna-dyed hair is looking for Kashmiri shawls at a small shop. As the shopkeeper tells her the price, the lines on her face get deeper with worry.
She is shopping for her daughter's wedding at Madina Market in Muzaffarabad — the capital of Pakistan-administered Kashmir — where a shawl is being sold for 10,000 rupees. Two and a half years ago, the same shawl was available at half the price.
At that time such shawls were being imported directly from Indian-administered Kashmir under a special trade arrangement. According to the rules of that arrangement, Kashmiris could do barter trade with each other through Titrinote and Chakothi, two villages located on the Line of Control (LoC), the temporary border drawn between the two parts of Kashmir region.
But this special trade has been shut down.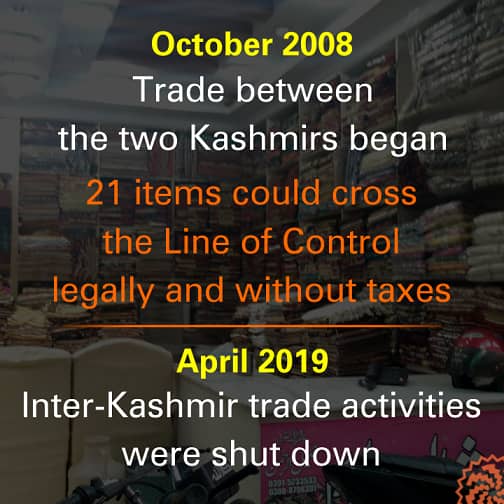 A shopkeeper in Muzaffarabad says now he has to import garments made in Indian-administered Kashmir via Dubai which has increased their cost. Another shopkeeper selling Kashmiri garments says he recently imported goods worth 700,000 rupees via Dubai for which he had to pay 400,000 rupees in customs duty and on transport charges for bringing them to Muzaffarabad through Karachi.
Both shopkeepers complain these additional costs have increased the price of their imports, leading to a significant drop in sales and a consequent decrease in their income.
The closure of trade between the two Kashmirs has also dashed the hopes of 53-year-old Gohar Kashmiri. Hailing from Bej Bahara tehsil in Anantnag district of Indian-administered Kashmir, he moved to Pakistan-administered Kashmir in 1990s and has never gone back. He says the trade was also a way for him to stay connected with his relatives on the other side of LoC.
He used to import fruits, vegetables and spices from India. The last time he ordered something was in 2016 when he imported 10 tons of onions. He then fell ill – but when he decided to resume his business after fully recovering, cross-LoC trade was banned.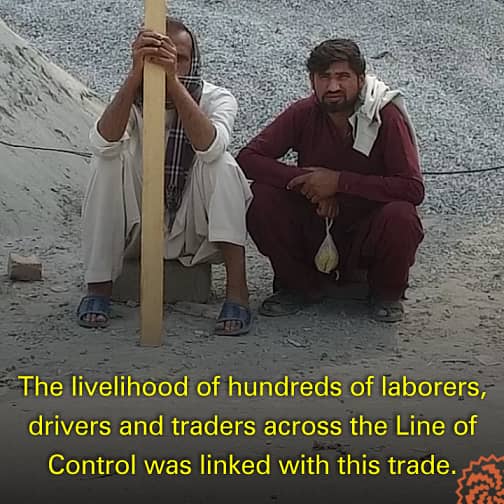 Saeed Ahmed, 45, also had to pay a heavy price for the closure of the trade. He lives in Chakothi on this side of LoC and imported mostly fruits, vegetables and medicinal herbs while sending dried fruits and pulses to the other side.
His last export was 40 tons of dates while his last import order consisted of bananas. Before these bananas could reach Chakothi, however, the intra-Kashmir trade was cut off and his imports were permanently stranded on the other side. Similarly, the 25 tons of dates that were to be sent across loC next week too rotted in a warehouse.
The trade embargo has also directly affected hundreds of truckers and workers.
Muhammad Manzoor Abbasi, a resident of Chakothi, is one of them. He is the sole breadwinner of his family of five but barely earns 300 rupees a day. According to him, while the intra-Kashmir trade was still going on, he used to unload goods from trucks coming from the other side of LoC and loaded them into Pakistani trucks. This way he would earn 1,500 rupees to 2,000 rupees every day.
With an end of the trade, Nayyar Ahmed is also facing unemployment. He used to work in a restaurant near LoC in Chakothi but now that the restaurant is closed, he is forced to work at a grocery store in the town of Hattian Bala. Due to his declining income, he says, he has stopped sending his children to school because he cannot afford to pay even the small fee of a government school.
Winners and losers
Trade between the two Kashmirs began in October 2008. A report by the Indira Gandhi Institute of Development Research, an Indian think-tank, states that it started in April 2005 when then-Pakistani President Pervez Musharraf and Indian Prime Minister Manmohan Singh met in New Delhi.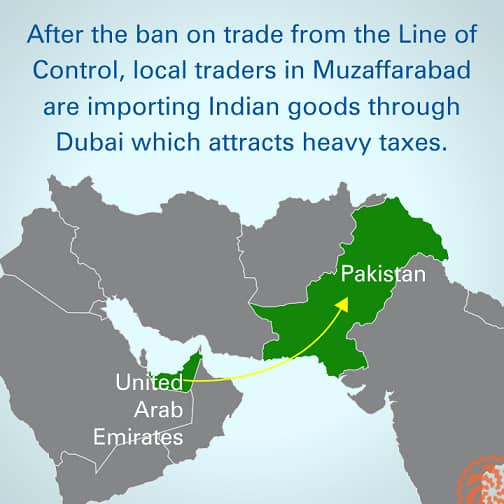 According to the rules of this trade, traders on both sides could exchange goods with each other without involving any money. Under the rules, 21 items could cross LoC legally and without taxes though a report by an American think tank, United States Institute of Peace (USIP), reveals that, in fact, only five or six of them were traded.
Samiullah Khan, a businessman from Srinagar, told the report's authors that one of the main reasons for the low number of traded items was the lack of demand for other items.
Initially, this cross-border trade was allowed only twice a week but later it was extended to four days a week. On each of these four days, 25 trucks loaded with various goods from each side would reach LoC where goods were unloaded from them and placed on trucks belonging to the other side. Ijaz Ahmad Mir, an office-bearer of the organization of traders from Chakothi, says hundreds of workers on both sides of LoC were engaged in loading, unloading and transporting goods as part of this trade.
The USIP report, similarly, says that 585 traders from Pakistan-administered Kashmir and 630 traders from Indian-administered Kashmir were involved in the trade. According to one of its authors, it created a system that not only provided employment to traders, drivers and labourers but also generated good income opportunities for those running hotels, food stalls and gas stations.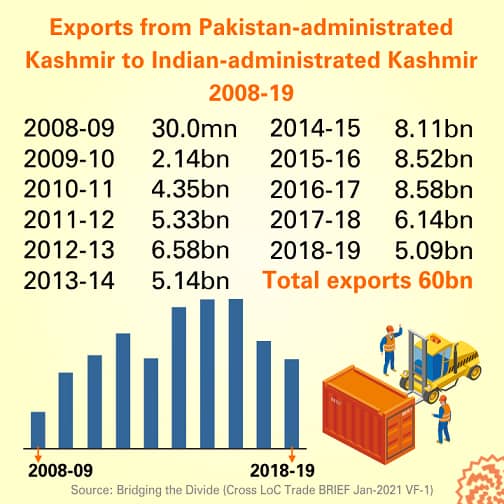 A report by the Bureau of Research on Industry and Economic Funding, a private research institute based in Indian capital, Delhi, also confirms that the number of people directly benefiting from intra-Kashmir trade was in thousands. According to its report, about 22,000 people were active in various sectors of that trade in Indian-administrated Kashmir alone.
But all that came to a grinding halt in April 2019 after the Indian Home Ministry accused some elements in Pakistan of using trade routes across LoC to carry out terrorist incursions into Indian-administered Kashmir.
As a result of the trade closure, most of the people involved in it are now facing various financial difficulties. Commenting on their economic situation, Hilal Turk, a representative of the business community in Indian-administered Kashmir, said: "Not only have hundreds of traders been affected indefinitely but the only source of livelihood for the workers living in the remote areas of Uri and Poonch in Indian-administrated Kashmir has been also taken away from them."