Amanullah Kanrani was sitting in the principal's office at a private college in Quetta on an October evening in 2020. After discussing the problems that have resulted in the imposition of a billion-dollar penalty against Pakistan over the breach of Reko Diq mining agreement, he said Pakistan had nothing to worry about. "They cannot enforce this award," he said.
Kanrani has been Balochistan's advocate general a few years ago and has had a ringside view of judicial proceedings in Reko Diq case both within Pakistan and abroad. He believed that the penalty imposed on Pakistan by the International Court for the Settlement of Investment Disputes (ICSID) can only be enforced under a Pakistani law, the Recognition and Enforcement (Arbitration Agreements and Foreign Arbitral Awards) Act, passed in 2011. According to his interpretation of this act, any international arbitration award can only be enforced by the high court concerned -- in this case the Balochistan High Court. "When the ICSID decision reaches the Balochistan High Court, it will be thrown out since the Supreme Court of Pakistan has already declared CHEJVA unconstitutional," he argued.
CHEJVA, or Chagai Hills Exploration Joint Venture Agreement, was signed by the provincial authorities in Balochistan and a multinational firm, Tethiyan Copper Company (TCC), in 1993 for the mining of copper and gold from eastern Balochistan's Reko Diq area. In July 2019, ICSID imposed a 5.976 billion US dollars penalty on Pakistan for unilaterally revoking CHEJVA.
Karani was visibly distraught over his inability to apprise the government about the provisions of the Recognition and Enforcement (Arbitration Agreements and Foreign Arbitral Awards) Act. He said no one was talking about it because both the the government and TCC, in spite of the imposition of the penalty, were looking for an out-of-court settlement. "Why are you deceiving and frightening the people?" he asked the government resentfully.
Ironically, the ICSID verdict was enforced within weeks of his rant.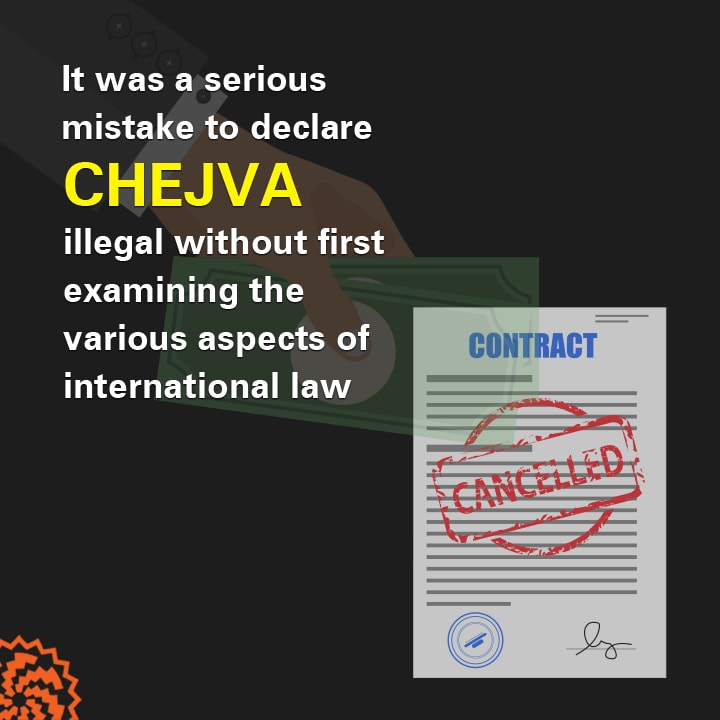 On November 20, 2020, TCC approached the High Court of Justice in British Virgin Islands for the enforcement of the ICSID decision. On December 16, 2020, that court ordered the seizure of Pakistan's two prized assets -- Roosevelt Hotel in New York and Scribe Hotel in central Paris – both owned by Pakistan International Airlines Investment Limited (PIAIL) which is registered in British Virgin Islands. The court also ordered the seizure of Pakistan International Airlines' 40 percent shares in a company named Minhal Incorporated.
While most people believe that Pakistan has all but lost its ownership of these assets, a PIA spokesperson tells Sujag that the airline is working with the Attorney General's office in order to have their seizure annulled. A hearing is this regard is set to take place on 15th March 2021 at the High Court of Justice in British Virgin Islands, he says.
Where did it all go wrong?
The imposition of the penalty, indeed, posed a serious financial threat to Pakistan. It is almost equivalent to a three-year financial assistance package that the International Monetary Fund (IMF) has recently approved for Pakistan. So, immediately after its imposition, Prime Minister Imran Khan announced the setting up of a commission to probe the reasons behind Pakistan's failure in Reko Diq case. A press release issued by the office of the Attorney General of Pakistan said: "The Prime Minister has directed the formation of a commission to investigate into the reasons as to how Pakistan ended up in this predicament; who was responsible for making the country suffer such a loss and what are the lessons learnt…"
The commission has not been formed yet although more than 18 months have passed since the announcement about it was made. Also, nobody knows so far who its members will be and how much time it will take to complete its probe.
Even if the commission comes about in near future, it will find it almost impossible to pin the blame on one individual -- or even a set of individuals. This is mainly because dozens of bureaucrats, elected politicians and unelected ministers have been closely involved with the case in its more than 25-year long history. Several government officials also point out that the flaws in the handling of the case were more systemic than individualistic.
These officials, who spoke to Sujag on the condition of anonymity, identify three major flaws in the government's handling of its dispute with TCC: 1) Pakistan had a weak case after it had revoked the agreement unilaterally; 2) international arbitration courts usually tend to favour multinational companies; and 3) Pakistan was not able to reach an out-of-court settlement with TCC.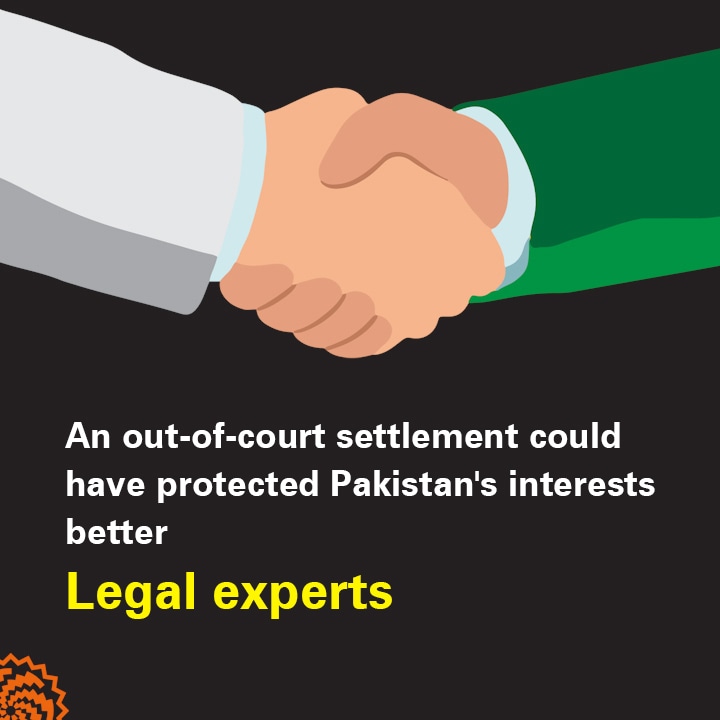 These officials also say that -- similar to the fiasco that Pakistan has suffered in its international arbitration with another foreign firm, Broadsheet LLC – the outcome of the Reko Diq case at ICSID has resulted from a combination of several factors: faulty legal and administrative decision-making, poor institutional oversight and inconsistent legal strategy.
These factors are underscored by a judgment that the Supreme Court of Pakistan issued in January 2013 and which declared CHEJVA as being void from its very beginning. Lahore-based lawyer Irfan Qadir, who was Attorney General of Pakistan when the decision was announced in 2013, says he was never called by the then Chief Justice of Pakistan Iftikhar Muhammad Chaudhry to get his opinion on the case even though he was the state's highest law officer at that time. "I was in the Supreme Court on the day the decision was announced and was expecting to be called to the court," he says. But that never happened.
If he had been called by the court to testify, he says, he would have informed the judges about the problems their verdict could cause. Since CHEJVA was governed by Pakistan's bilateral investment treaty with Australia, the court should have realized that declaring it illegal will have legal and financial consequences for Pakistan at international forums, he argues.
He points to Clause 15.4 of CHEJVA which states that if "amicable settlement has not been reached within one hundred and twenty (120) days of written notice of the dispute … (it) shall be submitted to the International Centre for the Settlement of Industrial Disputes…"
Qadir's arguments are echoed by a number of other legal experts. They all believe that the Supreme Court's decision to nullify CHEJVA without clarifying how it would affect international arbitrations was a major mistake. The court should have taken that aspect into consideration, they contend, because TCC had already filed a case at ICSID in 2011.
The corruption conundrum
One of the major reasons why the Supreme Court annulled CHEJVA was its finding that the signing and handling of the agreement involved corrupt practices. Chief Justice Iftikhar Muhammad Chaudhry wrote in his verdict that the case record "made shocking disclosures of extensive irregularities and corruption".
The court also referred to the conviction of Ata Muhammad Jafar who headed Balochistan Development Authority (BDA) when CHEJVA was signed and was also a signatory to it. An accountability court found him guilty in 1999 of having assets beyond means.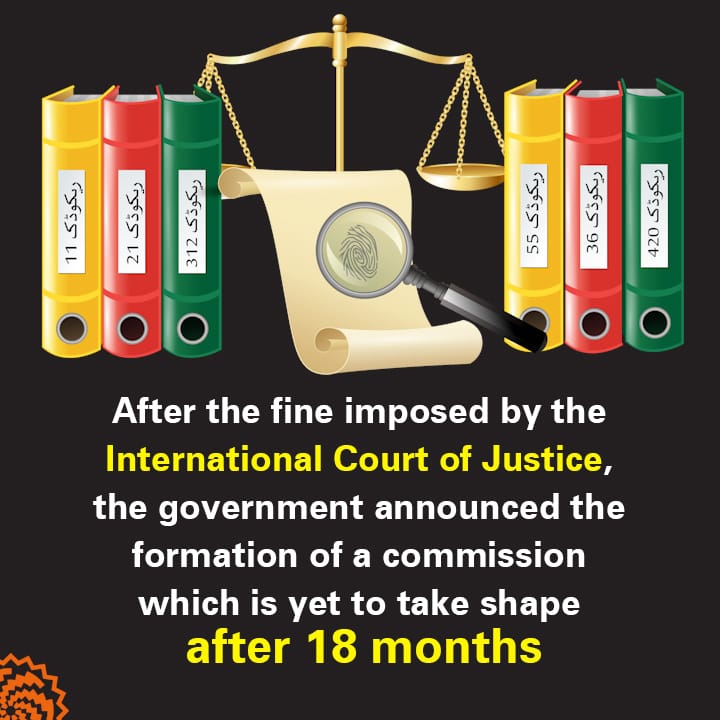 If, however, his corruption had been more specific – that he made his illegal assets through corrupt handling of CHEJVA – then Pakistan's worries at the international arbitration would have reduced considerably, says a legal expert based in Lahore. This is because international courts "frown upon deals made on the basis of bribes," he says.
The Supreme Court itself referred to a 2006 case at ICSID between a multinational travel retailer, World Duty Free, and the government of Kenya. The international court ruled in Kenya's favor because, to quote the Supreme Court, it "could not uphold claims based on contracts of corruption…to do so would be a violation of international public policy".
Still, the Supreme Court did not order any specific inquiry or investigation to find out those who were involved in corrupt practices with reference to CHEJVA. It, indeed, took the National Accountability Bureau (NAB) another two years to authorize an inquiry into Reko Diq mining project. The inquiry, initiated on a complaint by the government of Balochistan in 2015, in turn took five years to turn into a fully blown corruption case. Only on 2nd September 2020 did NAB charge 27 people on the allegations of corruption in the handling of the project. These included many former and serving provincial government officials as well as the representatives of TCC.
In November 2020, two of them, Ata Muhammad Jafar and TCC's former security officer, were arrested and given in NAB's custody.
But by the time NAB made these arrests, Roosevelt and Scribe hotels were already seized under orders by the foreign court.
Legal experts believe this situation can be ameliorated even now. If the NAB investigation brings to light new facts, they say, it could lead to a reopening of the case at the international court. "This will need a smart team of lawyers who can convince ICSID that the implementation of penalty imposed on Pakistan should be halted until the investigation is concluded," says a former attorney general.
The problem is that NAB often takes very long before it can find evidence to back its charges in corruption cases. In Reko Diq case, it is likely that the law of limitations become operative by the time NAB could complete its probe. If ICSID is not moved in a timely manner, the former attorney general fears, the situation will become so complicated that Pakistan will never be able to halt the imposition of the penalty even if NAB manages – on some distant day -- to convict the corrupt in the case.
Out of court settlement
Several lawyers who have inside information about Pakistan's handling of its case at ICSID say that the government never had a consistent strategy. While its lawyers were presenting a legal defence inside the court, some of its senior representatives were offering TCC an out of court settlement. These included Dr Muhammad Malik who, during his tenure as Balochistan's chief minister in 2013-15, tried hard to affect an out of court settlement with TCC. Another former chief minister, Aslam Raisani, is similarly reported to have said that, in lieu of mining rights in Reko Diq, mining companies and governments of many countries -- including China, Qatar and Saudi Arabia – were willing to pay TCC off so that it took back its case against Pakistan.
Also Read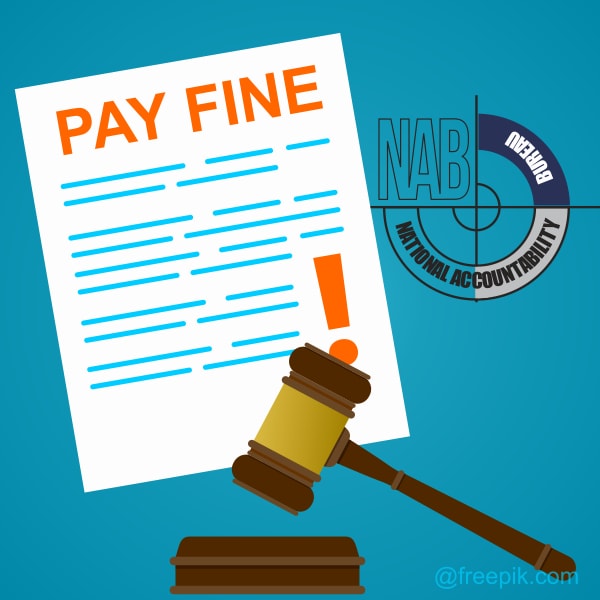 International arbitration over Broadsheet case: Why was Pakistan handed down a very heavy penalty?
A Lahore-based lawyer who has represented Pakistan at ICSID also claims that Pakistan was able to convince the arbitrators in 2012 to deny a TCC request for the maintenance of a status quo on mining activities in Reko Diq. This denial caused a drop in TCC's share values, he says and claims that, taking advantage of this situation, he proposed a settlement to TCC's legal team which they accepted. It involved the payment of a lump sum amount of less than a billion US dollars to TCC, he says but adds that it could not go through due to bureaucratic hurdles in Pakistan.
"I gave a presentation to the officials of Balochistan government. They told me that they'll discuss it with their higher ups and I would be called again to give another presentation but I never heard from them again," he says.
The lawyer believes an out of court settlement could have served Pakistan's interests better because, otherwise, the government could not have got out of the case at the international court without paying a hefty penalty. This, he says, is because Pakistan's own contract law says that any party which "has received any advantage under an agreement or contract that is found to be void is bound to restore that advantage or compensate for it to the other party".
A former attorney general also tells Sujag of another settlement that could have been reached after Pakistan had lost its argument over ICSID's jurisdiction to adjudicate the Reko Diq case. This opportunity, he says, was never pursued by the government.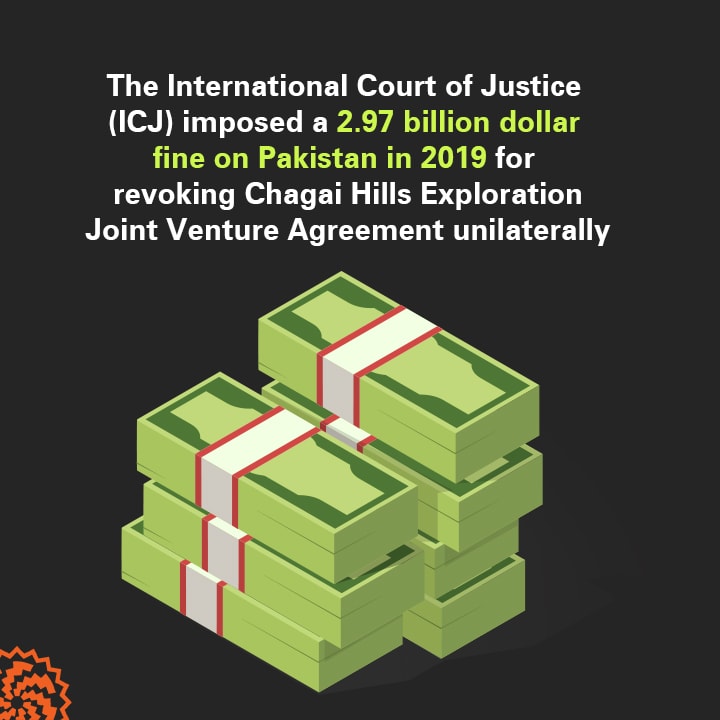 So, why did Pakistan not reach an out of court settlement with TCC and why has it failed to attract even a single serious investor for Reko Diq in spite of offers by many of them?
The most important reason for these failures is that Pakistan's legal team at ICSID underwent multiple changes during the proceedings – mainly because of the frequent political and administrative changes in the country. Similarly, frequent changes in bureaucracy hampered Pakistan from deploying the same set of officials to interact with TCC and other prospective investors. This means that Pakistan's legal and bureaucratic machinery was never completely sure whether to pursue the case inside the court or outside it.
NAB's fear was another important factor. Whenever Pakistan had an opportunity to reach an out-of-court settlement with TCC, senior government officials would refuse to approve it apprehending NAB's action against themselves. As Irfan Qadir puts it, "many honest officers pull themselves away from financial matters because they fear that NAB would institute cases against them".
A lawyer who has represented Pakistan at ICSID points to the same problem. He says that bureaucrats used to advise him to never go for an out-of-court settlement. "It is easier to justify to NAB the payment of billions of dollars in penalties because these have been imposed by international courts but it is impossible to defend a much smaller out of court settlement before NAB," is how they explained the reason behind their advice.
This report was first published by Lok Sujag on 3 Mar 2021, on its old website.