Shahnaz Bibi received a phone call on October 8th, 2021 at 8 pm. The person on the other side informed her that her 13-year-old daughter Kiran Shahzadi had sustained some injuries after falling from a roof.
Hearing this, she rushed to a house in Marghzar Colony in southwest Lahore where Kiran worked as domestic help. Her brother and her 15-year-old daughter, Irum Shahzadi, were also with her.
There they found Kiran's body covered in a white sheet of cloth.
The owner of the house, Shagufta Shaheen, told them that Kiran had actually committed suicide. She also showed them a room as the site of the alleged suicide. A scarf was hanging there from a ceiling fan with a chair neatly placed underneath it.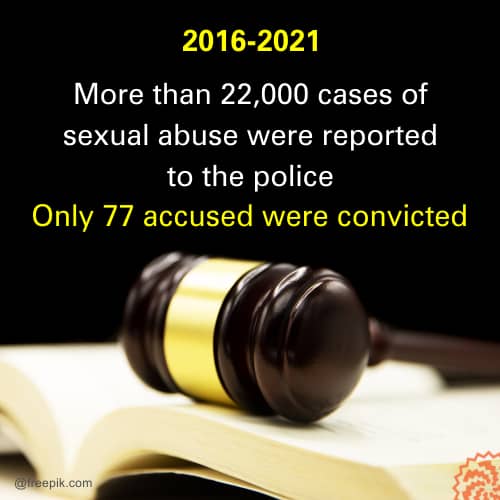 Shaheen then told Bibi to take Kiran's body home — situated in Dhollan village in Pattoki tehsil of Kasur district, bordering Lahore -- for burial. Irum recalls that they were not even allowed to touch the dead body. Shaheen, instead, warned them that they might have to face some negative consequences if they so much as talked about the suicide.
She, then, not only gave Bibi 100,000 rupees for the burial but also immediately arranged an ambulance so that the body could be taken to the village, says Irum.
Before Kiran's burial the next day, the women who were bathing her noticed scars on her neck and other parts of her body. They instantly brought this into Bibi's notice who stopped the funeral rites and lodged a First Information Report (FIR) with the local police, alleging that Kiran had been killed after being raped.
Demanding justice for the weak
A day later an autopsy has been performed on Kiran's body and it is lying among mourning women in Bibi's mudbrick house. A streak of blood coming out of her mouth has dried up on her pale cheek while her shell-shocked mother is beating her chest. A few other women are simultaneously preparing to give her the last bath.
Many local men have also gathered outside the house. Some of them are holding placards which carry demands for the government to take action against Kiran's murderers. After a while, her funeral prayers are offered in which a large number of villagers participate -- as do the representatives of various trade associations from Pattoki and Kasur.
Rana Muhammad Waqar, a local notable, says people have come all the way from Kasur and Lahore to join the funeral. But he laments the fact that not a single public office-holder or government official has bothered to be a part of it and, thus, console the aggrieved family.
He says Kiran's father Ghulam Nabi, who worked as a labourer at a brick kiln, died three years ago, leaving behind an unpaid loan of 200,000 rupees which he had borrowed from the brick kiln's owner. So, after his death, Bibi had to discontinue the education of all her five children (all below 16 years of age then) and put them to work in order to return their father's debt, he says. "This family desperately needs financial and moral support so that it can get justice in this case."
The police, meanwhile, has arrested two people in connection with Kiran's murder: Faisal Husain, a brother of Shaheen's husband, Anwaar Husain, and Anwaar Husain's 17-year-old stepson Qasim. Both of them are locked up in Hanjarwal police station near Marghazar Colony.
Shaheen, along with other members of her family, has gone into hiding while Faisal Hussain's family still lives in the same house where Kiran was killed. The police have spray-painted a circular mark on its gate to indicate it as a crime scene.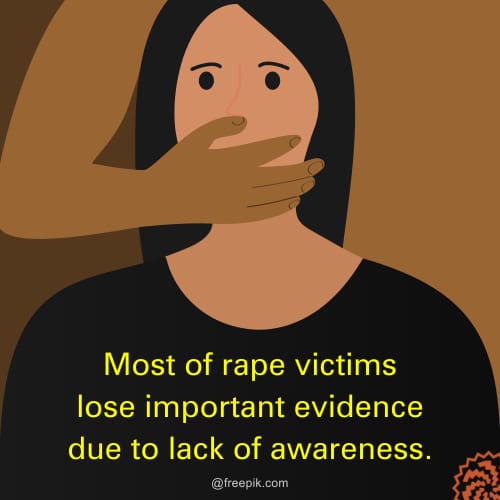 According to Faisal Hussain's 17-year-old daughter, Anwaar Husain is based in Congo, a country in central Africa, where he runs a business. She says her family lives on the ground floor of the house while her uncle's family lives in the upper portion.
Faisal Hussain's wife says the two families are not on talking terms despite living in the same space. She is worried that her husband has been arrested in a crime he has nothing to do with. "We too have children. We can't even think of doing this," she says. When asked about Kiran, she says: "She was a jolly girl."
How not to collect evidence
After 36 hours of the incident, Dr Faiza Qazi performed an autopsy on Kiran's body on October 10th, 2021 at Jinnah Hospital in Lahore. She says the body contained no sign to suggest that her death was caused due to a fall from a roof. "It is not a case of suicide but of murder because there were clear signs of strangulation on her neck."
Dr Qazi also believes that Kiran was repeatedly raped before she was killed. She explains that the shape of her genitals was not like that of a 13-year-old virgin girl's. Instead, she says, it suggested that the little girl had been subjected to sexual assault multiple times.
Also Read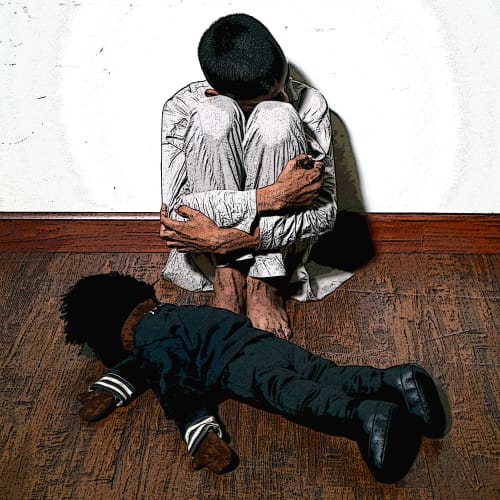 Rising incidents of children's sexual abuse: What makes the families of victims to pardon the perpetrators
The moharrar (rapporteur) of Hanjarwal police station, however, says gathering evidence of a rape through medical means is a complicated process. As many as 12 cases of sexual assault were lodged in his police station during the current year, he says, but most of them were dismissed after being declared "minor incidents" during initial investigations. This, he argues, was because medical examination failed to reach a definitive conclusion in each of them.
A Lahore-based additional district public prosecutor, Hafiz Muhammad Azeem, reached the same conclusion in an op-ed he wrote in an English daily, Pakistan Today, on February 22nd this year. "Timely DNA [deoxyribonucleic acid] sampling is a sine quo non to overcome the shortcoming in medical examination," he stated.
Dr Qazi agrees with him.
She says, in order to get an accurate result of a DNA test, it is essential to take samples from the victim within 36 hours of the rape. Otherwise, she says, "it becomes increasingly difficult to obtain conclusive evidence."
She also points out, that due to a lack of awareness, most of the sex abuse victims destroy such evidence themselves. For instance, she says, they do not go for a timely DNA test and they do not preserve the clothes they wore at the time of the incident.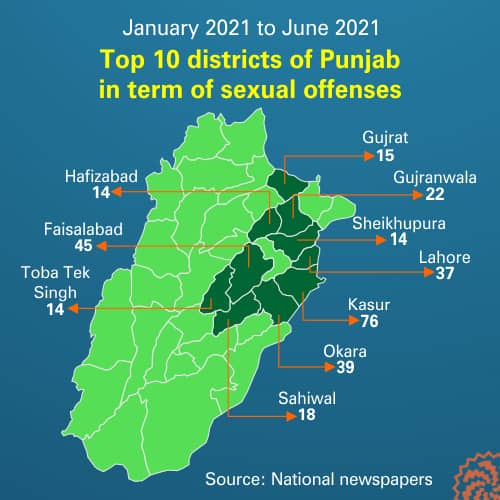 Due to these legal complications, a number of rape cases cannot even make it to a court of law.
Analysing the same situation, Azeem wrote in his op-ed that more than 22,000 cases of rape were lodged in police stations across the country during the last six years but only 77 of all those involved in them could be convicted.
Kiran's family and villagers have the same concerns. They fear that, taking advantage of medical complications and legal lacunas, the perpetrators of her rape and murder may also go scot-free.
They, therefore, want the Punjab government to take special interest in the case so that its real culprits could be brought to the book expeditiously.