When a traffic warden told Muhammad Farooq that his car was being taken into police custody, he became very worried. His car has been his only source of income for the last three years as he uses it as a taxi to earn his living.
It was in October 2020 that he was stopped by the traffic warden on Lahore's Ferozepur Road and asked for his driver's license. He was then taking some passengers from Kalma Chowk to Walton. After checking his license, the warden told him that, since June 2019, his car had been challaned five times for violating various traffic rules but now it was being impounded because he had not paid the fine for these challans.
Farooq claims he knew of only one challan issued during this period. A copy of this challan was sent to his home address by post and he had also paid the fine for it. He does not know when and where the remaining challans were issued.
When Farooq wondered aloud as to why he had not received those challans at home, the warden told him, "You will have to collect the information about those on your own by entering your vehicle number, your identity card number and the engine number of your vehicle at http://echallan.psca.gop.pk/."
Aftab Ahmed, a resident of Lahore, has faced a similar situation recently.
He has been using his car as a taxi for the last two years. On the evening of January 12, 2021, a traffic warden stopped him near Lahore's Barkat Market and asked for his driving license and national identity card. After looking at the documents, the warden told him: "Your car has been challaned 15 times in the last few months but you have not yet paid fine for any of those. Your national identity card, therefore, will remain with the traffic police until you pay the fine."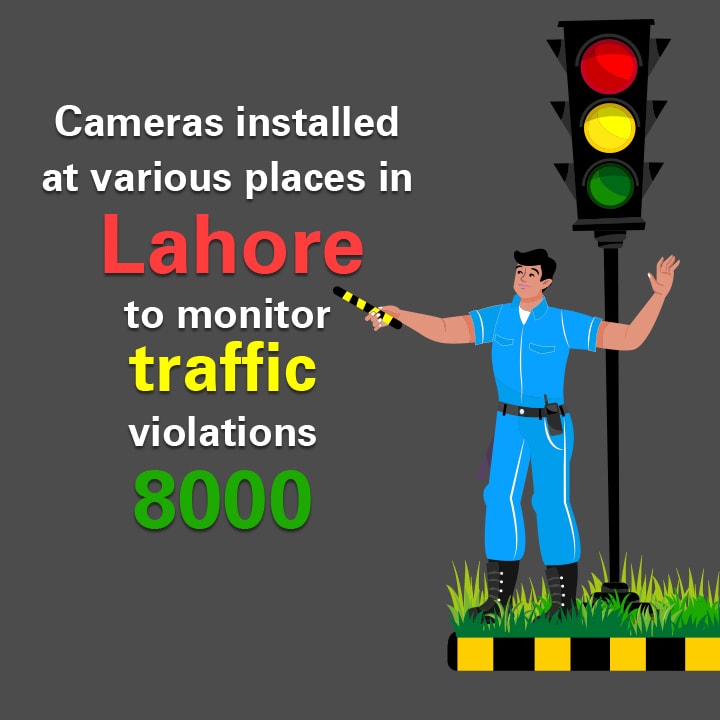 Since Ahmed has not received a copy of any of these challans at home, the warden told him: "You can visit http://echallan.psca.gop.pk/ to get the information about them."
After reaching home, Ahmed sought the information about the challans from the website but it showed 'no record was found' against his name. He then sent an e-mail to etclhr@psca.gop.pk for the registration of his complaint. A day later, he received a reply which stated:
"Dear user, please provide us the details of your vehicle. After which we will provide you with all the details of these challans."
Solutions or problems?
Electronic challans were introduced in 2018 when the Punjab Safe City Authority installed 8,000 cameras at various locations in Lahore.
The purpose of these cameras, on the one hand, was to monitor crime in the city and, on the other, to identify those who violate traffic laws.
An important feature of this system is that the challans have to be mailed to the homes of the traffic rule violators so that traffic police officers could not solicit bribes from them and they do not have to go to from one government office to another to receive challans and pay fine.To ensure the delivery of the challans, the National Database and Registration Authority (NADRA) and the provincial excise department (which is responsible for vehicle registration) have been linked to the system so that their data can be used to trace the vehicle owners and their addresses.
A year later, the whole system has fallen prey to the traditional bureaucratic inertia and mismanagement.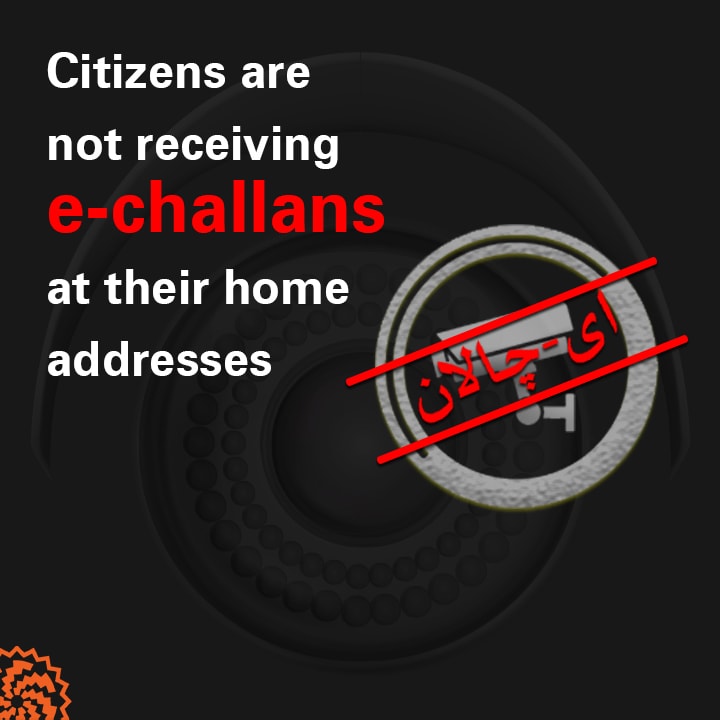 Haider Ali, a driver, says he did not know for a full six months that his car had been challaned and that the fine owed by him had reached 18,000 rupees. "When a traffic warden intercepted me a month ago, he threatened to confiscate my car because the deadline for the payment of fine had passed several months ago but the problem is that I had not received any of those challan," Ali says.
Many other drivers in Lahore also say that electronic challans have become a massive problem for them. The main reason for this is that people do not know when, how, and where they have violated any rule for which they have been fined. They also do not know how many challans have been imposed on them until traffic wardens stop them on the road and check their documents. They then have to pay a fine of several thousand rupees at once as a result of their ignorance, which is often very difficult to manage immediately for those who drive taxis.
The city traffic police does not take these complaints seriously.
Its public relations officer insists that his department sends all the challans to the driver's homes by post and the complaints that these challans are not being delivered there are false.
"It is a sensitive issue so I cannot provide any information about it," he says when he is told the names of the people who have not received the challans at their homes. He, however, is adamant that "this cannot happen at all."
He acknowledges that it may take longer than usual for some challans to reach their destinations but this, according to him, happens in rare cases. "Only those drivers whose vehicles are not registered in their own names receive these challans with a lag of one to two weeks," he says.
This report was first published by Lok Sujag on 18 Jan 2021, on its old website.