Saleh Muhammad Ranjha received a phone call on the evening of September 7, 2021. On the other side was the head of local police station who directed him to remain at home. Otherwise, he was warned, he would be arrested.
Ranjha is a middle level farmer from Khamb Kalan village of Phalia Tehsil in Mandi Bahauddin district of Punjab. He is associated with Pakistan Kisan Board — a farmers' organization — and serves it as its secretary-general. The organization had announced a protest in Gujranwala on September 8, but, according to him, police raided various locations in Hafizabad, Gujranwala and Mandi Bahauddin districts a day before the protest and arrested at least 70 people.
Ranjha's house was also raided but he had already gone into hiding.
The next day, he appeared in Gujranwala with many farmers who had escaped raids and arrests. But as they began to move towards their protest site, police set up roadblocks. This raised fears of a confrontation between the two sides.
To prevent the clash, high-level divisional officials in Gujranwala held talks with Ranjha and his associates and assured them that a meeting between them and the representatives of provincial and federal governments would be arranged by September 19.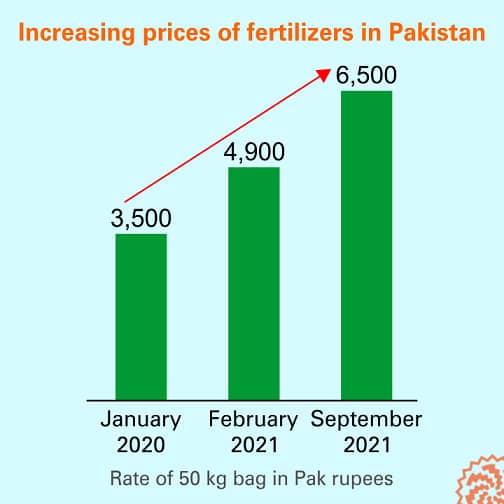 Ranjha says one of the main aims of the farmers' protest was to draw the government's attention to the rise in the price of diammonium phosphate (DAP) fertilizer. The price of a 50-kilogram bag of this fertilizer, he complains, has increased from 4,000 rupees to 6,500 rupees in a year. He fears that it will increase further in the coming weeks. The increase has made it difficult for many farmers to use the fertilizer, he says.
Other leaders of the farming community say that farmers not only in Gujranwala division but also all over Pakistan are worried about the rapidly-rising price of DAP. Their organizations in every part of the country are voicing their concerns over this price raise.
Khalid Mahmood Khokhar — leader of a faction of the All Pakistan Kisan Ittehad — also called on Prime Minister Imran Khan and Punjab Chief Minister Usman Buzdar in the second week of September to resolve the issue. Subsequently, the prime minister formed a committee in response to his demand for reduction in the fertilizer prices, he says. The committee, according to him, will advise the government on how to bring down these prices.
The forces of global marketplace
Pakistani farmers use an average of 2.4 million tons of DAP in their fields every year. Of this, 700,000 tons are manufactured at a Fauji Fertilizer Bin Qasim Limited factory in Karachi while the rest is imported from China, Australia and Saudi Arabia.
Only the fertilizer companies, however, import DAP in Pakistan. After importing it, they sell it locally in 50-kilogram bags under their own brands.
One of these companies is Fauji Fertilizer Company (FFC). Its senior official Shafiqur Rehman holds Covid-19 pandemic responsible for the surge in the local price of DAP. Owing to the Corona spread, he says, the DAP-manufacturing factories in most countries have either closed down or their production has decreased.
"The price of this fertilizer in the international market has increased almost two and a half times in the last one and a half years."
Its price, he claims, was 2,500 US dollars per ton at the start of 2020 but, as soon as the first lockdown was imposed to stop the spread of Corona virus, it began to rise and has now reached 7,000 US dollars per ton.
The farmers, on the other hand, don't agree. In their view, just as sugar mills are increasing the price of sugar unjustifiably so are the fertilizer companies; they are making huge profits by arbitrarily increasing the price of DAP.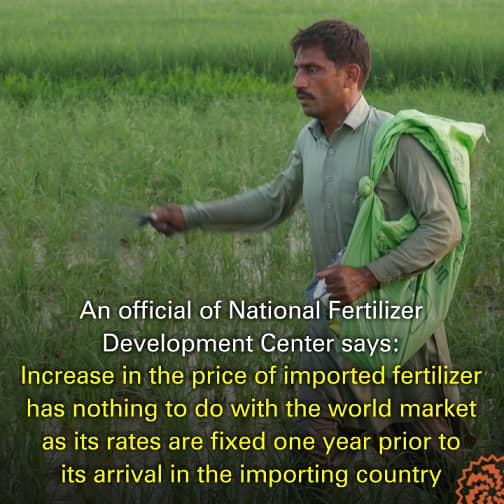 An official at the National Fertilizer Development Center (NFDC) — a government body that regulates fertilizer production and sales — seconds the stance of farmers. It was unjustifiable to raise fertilizer prices locally because of a rise in the global prices, he says. This is because international fertilizer deals are settled at least a year before the product arrives in the importing country, he explains. In other words, the DAP that arrived in Pakistan in February-March this year was actually purchased in the same months a year ago.
Wishing not to be named, he goes on to says the DAP sold in Pakistan in the first six months of 2021 was purchased by the importers when the global price had not yet begun to rise. Its price, therefore, had nothing to do with the price rise in global markets, he says.
Can fertilizer price be brought down?
The main component of DAP is phosphorus which is obtained from phosphate rocks. These rocks are abundant in North African country of Morocco where a state-owned company — Office Cherifien des Phosphates — currently has the legal right to use 70 per cent of the world's known phosphate reserves. Fauji Foundation — an organization set up for the welfare of Pakistan Army's employees — has entered into a business partnership with this company. This has resulted in the formation of a company — Pakistan Maroc Phosphore — with the aim to produce phosphorus, DAP fertilizers and other related products.
Fauji Foundation owns 12.5 per cent stake in Pakistan Maroc Phosphore while its two subsidiaries — Fauji Fertilizer Company and Fauji Fertilizer Bin Qasim Limited — hold 12.5 per cent and 25 per cent shares in it, respectively. The remaining 50 per cent shares are owned by Office Cherifien des Phosphates.
Pakistan Maroc Phosphore has the capacity to produce 375,000 tons of industrial phosphorus annually, most of which goes to Fauji Fertilizer Bin Qasim Limited that produces DAP fertilizer from it. The rest is sold in the global markets.
The official at the National Fertilizer Development Center says "his organization had suggested to the government that it should direct the Fauji Fertilizer Bin Qasim Limited to make fertilizer in Morocco and import the manufactured DAP in Pakistan instead of importing phosphorus and then producing the fertilizer locally. This will reduce its manufacturing cost."
Some Indian companies are doing the same. They buy phosphorus in Morocco, prepare DAP there and then bring it to their country to supply it to local farmers at relatively cheap prices, he says.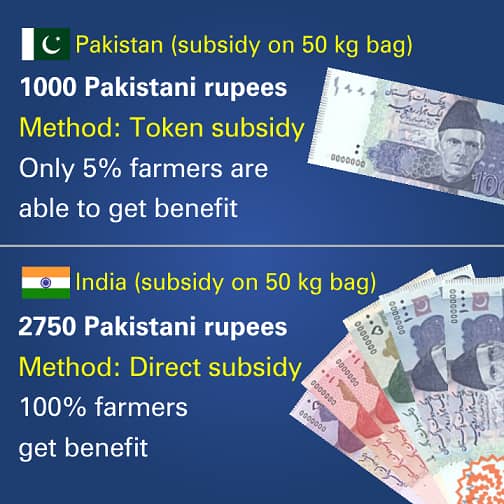 Harminder Singh Sodhi — a farmer from Moga district in the Indian Punjab — confirms that the DAP price in India is much lower than in Pakistan. The price of a 50-kilogram bag of DAP in his country is 1,200 Indian rupees (equivalent to 2,750 Pakistani rupees).
The Indian government has recently taken some important steps to maintain the price of fertilizer at this level. A report published on May 19, 2021 in an Indian newspaper, Business Standard, says that due to rising phosphate prices in global market, fertilizer companies in India wanted to increase the DAP price from 1,200 rupees to 1,700 rupees but the government did not allow them to do so. Instead, the newspaper says, the government increased subsidy on the price of fertilizer from 700 rupees to 1,200 rupees per bag.
But even if Indian farmers do not get this official assistance, the total cost of a bag of DAP in India comes to 5,500 Pakistani rupees which is 1,000 rupees less than its price in Pakistan.
Profiting from shortages?
Data from the National Fertilizer Development Center shows that the rise in the price of DAP has led to a decline in its use. According to the center's quarterly report, the use of all fertilizers during the Kharif season (from April to July) this year was 8.2 per cent lower than in the same months of 2020.The use of DAP, however, decreased by 24.7 per cent in the same period.
Many people involved in agriculture are concerned about this situation. For instance, Shafiqur Rehman says: "In most of Pakistan's agricultural lands, the amount of phosphorus content is 90 per cent less than its required amount and [the use of] DAP is the only way to make up that deficiency. If the fertilizer is not used in the phosphorus-deficient lands, per acre yield will definitely go down."
Asim Raza Ahmed — chairman of the Pakistan Flour Mills Association — believes that a decline in DAP use may lead to a wheat crisis in Pakistan next year. In many parts of the country, he says, cultivation of wheat is only a month and a half away so. "If the government does not take immediate steps to bring down the prices of DAP, farmers will not be able to use the required quantity of the fertilizer. Resultantly, it will adversely affect the overall production of wheat."
But fertilizer companies are not worried about the decline in fertilizer use as their profits are increasing dramatically. This was revealed in an analytical report published on August 6, 2021 by Argus — a British company that monitors the prices of energy sources and agricultural commodities in global markets.
The report discloses that Pakistan's three largest fertilizer companies — Engro Fertilizer Company, Fauji Fertilizers Company and Fauji Fertilizers Bin Qasim Limited — sold significantly less DAP in the first half of 2021 (January-June) than in the corresponding period of 2020. But, in the meantime, they made a lot of money. Of these, Fauji Fertilizers Bin Qasim Limited's profit almost doubled from the previous year and Engro's profit rose 53 per cent during the same period.
Rehman justifies that increase in the companies' profits, saying it is not due to high fertilizer prices but because of a reduction in costs due to Corona pandemic. "Fertilizer companies have reduced the number of their administrative staff. Their employees are also not undergoing training courses and large conferences are not being held," he says. This, according to him, has reduced their travel and accommodation expenses.
But Argus has a different opinion in this regard. It says the only explanation that can be given for such a rise in profits is that these companies are selling less fertilizer at a much higher price than before. Thus, on one hand, their production costs have decreased but simultaneously their income and profits have increased.